Manufacturing Resume: Examples, Skills, Objective & Guide
You're an efficient, safety-oriented and highly precise expert on the assembly line. Convey the same kind of energy on your manufacturing resume and the money will roll right in.
Supervisors simply cannot risk the financial damages that come with passing a poorly manufactured product onto the market.
And if your manufacturing resume isn't top-notch, you risk striking out and losing your career.
But don't worry, we've got you covered.
This guide will show you:
A manufacturing resume example better than 9 out of 10 other resumes.
How to write a manufacturing resume that will land you more interviews.
Tips and examples of how to put skills and achievements on a manufacturing resume.
How to describe your experience on a resume for positions in manufacturing to get any job you want.
Want to save time and have your resume ready in 5 minutes? Try our resume builder. It's fast and easy to use. Plus, you'll get ready-made content to add with one click. See 20+ resume templates and create your resume here.
Sample resume made with our builder—See more resume examples here.
Keeping your options open? Considering other roles as well? See these guides:
Manufacturing Resume Example
Elijah Dean
Food Manufacturing Associate
952-226-4525
elijahdean@zetymail.com
Summary
Dedicated manufacturing expert with 6 years in the workforce. Followed Good Manufacturing Procedures (GMP) to meet complex product specifications for a wide portfolio of 450 products. Processed up to 40 batches of products daily, analyzing for brix, acidity, and pH before sending off. Worked as primary trainer for new hires, onboarding 50% of all new incoming staff. Seeking to apply my expertise and skills towards ensuring the highest manufacturing quality at ABC Foods.
Work Experience
Manufacturing Associate
FoodWorks, Chicago, IL
January 2016–May 2020
Utilized a range of cleaning supplies in order to ensure a safe and sanitary work environment.
Provided training to a total of 60 new employees with an approximate cumulative value of $25,000.
Performed daily tasks at great time- and cost-efficiency while complying with numerous ISO and FDA safety standards.
Consulted shift supervisors about potential improvements to production process, reducing shipment delays by 10%.
Cooperated closely with supply chain, operations, and R&D departments to determine the best raw material sources.
Assembly Line Worker
Med-X Pharmaceuticals, Chicago, IL
August 2014–January 2016
Operated machines for automatic manufacturing and performed changes whenever the equipment required maintenance for optimal performance.
Labeled and packaged products, medical supplies, drugs, and PPE.
Accurately documented data and completes batch records as needed.
Education
Bachelor of Science in Materials Science
University of Illinois, Champaign, IL
2007–2011
Relevant Coursework: Physical foundations of materials, Mathematics for materials science, Crystallography, Lifecycle, processing and engineering of materials, Ethics and sustainability, Industrial applications
GPA: 3.6
Key Skills
Materials Science
FDA Regulations
Working in an Assembly Line
Process Improvement
Hand Truck Operation
Workplace Sanitation & Cleaning
Quality Control
Memberships
Materials Research Society (MRS)
Institute of Food Technologists (IFT)
Institute of Food Science and Technology (ISFT)
Publications
Trends in Food Science & Technology, April 2019 Special Issue, "Role of Assembly Line Workers in Plant-Based End-Product Quality"
Journal of Food Science, 2017/6, "Can Good Bacteria Pick up our Slack?"
This is how to write a perfect manufacturing resume:
1. Pick a Proper Manufacturing Resume Format
Manufacturing workers are employed in plants and factories to assemble products, oversee their safe production, and ensure all regulations are followed to the tee. As such, your manufacturing resume requires you to prove technical abilities, dexterity, and machine operation skills, among others.
If you wish to be successful in your job hunt, the manufacturing resume you submit needs to be ISO-compliant.
And so we come to the topic of the resume format. There are several to choose from, but the best option for manufacturing professionals is the reverse-chronological resume format.
Why?
Because of its ability to display your strengths and most relevant accomplishments upfront. That's efficiency!
Still on the topic of the layout of your resume, make sure you're using the correct margins on your resume (one inch on all sides). Pick a font that's easy to read—classics like Arial, Calibri, or Helvetica make for the best resume fonts. Set it to 11–12 points for the body and 14–16 for headings. You'll be dividing your resume into sections, and each will need a heading that's easy to find at a glance.
As you plan out your space, remember that for manufacturing jobs, a resume shouldn't be longer than a page. A two-page resume is only really acceptable for senior and managerial roles for candidates with 15+ years of experience.
Once you're done, save your resume file as a PDF. This will ensure that it looks the same on every device.
Read more: What Should My Resume Look Like?
2. Lead with a Manufacturing Resume Objective or Summary
Manufacturing jobs tend to have a barely noticeable unemployment rate of just below 3%. So, that means you're pretty much set no matter what, right?
Well—
It ain't that easy.
The reality is, the recruiter likely has a sky-high pallet jack full of job applications from all kinds of manufacturing experts.
But, you do have one weapon in your arsenal, or should we say, one special tool in your toolbox, that can help you get out of this nasty spot.
Enter the resume profile.
That's the introductory paragraph at the top of your resume. In it, you'll use three to four sentences to convince the recruiter you're their next hire, even if they don't know it yet.
You do it by highlighting the right aspects of your work experience, education, skills, and achievements from your career. There are two types of resume profiles: an objective and a summary.
If you've recently graduated from, say, your local trade school, write a resume objective. This is the type reserved for green manufacturing experts who have yet to set foot near an assembly line. Manufacturing objectives for resumes should focus on transferable skills and experience from volunteering, internships, placements, coursework, and so on.
Otherwise, if you're no stranger to holding a ¼ hex drive cordless screwdriver, a resume summary is where you're headed. Bring up the most impressive achievements from past jobs, outfit them with an array of numbers to add some context, and you're good to go.
Pro tip: Fitting in X years of your professional life in just a few sentences is no easy feat. If you can't seem to get over your writer's block, come back to this section with a clear mind once you're done with the rest of your resume.
3. Include Work Experience on Your Manufacturing Resume
No matter if you work in a dairy plant or a glass factory, don't neglect the impact a good work experience section can have on your resume.
How can you ensure it's all shiny and sparkling?
Follow these steps we've laid out for you below:
Your most recent job goes first, then the earlier ones below it, in the reverse-chronological order we've already talked about.
Each one should have your job title (can't omit it), your years worked, the company name, and some (up to 6) bullet points listing your general duties and noteworthy professional accomplishments.
These descriptions ought to start with an action word (assembled, built, supervised, etc.) for maximum impact.
Don't send generic resumes. Tailoring the resume to each manufacturing position you'd see yourself working in takes more time, but will likely yield miles better results.
Pro tip: Not that experienced? Just came out of school? Your education section should come first in the pecking order, so move it above the job description.
4. Mention Your Education on Your Manufacturing Resume
It doesn't matter whether the job you're applying for requires formal education or not—
Your resume needs to have an education section, even if it covers only the basics.
Follow this advice to get it done right:
List your highest level of schooling, be it a college degree or high school diploma.
Add the name of the school or institution and your years of attendance.
If you don't have much work experience, you can add extra items such as relevant classes or workshops you excelled at, extracurricular activities, or other academic achievements.
Read more: How to List Your Degree on a Resume
When making a resume in our builder, drag & drop bullet points, skills, and auto-fill the boring stuff. Spell check? Check. Start building a professional resume template here for free.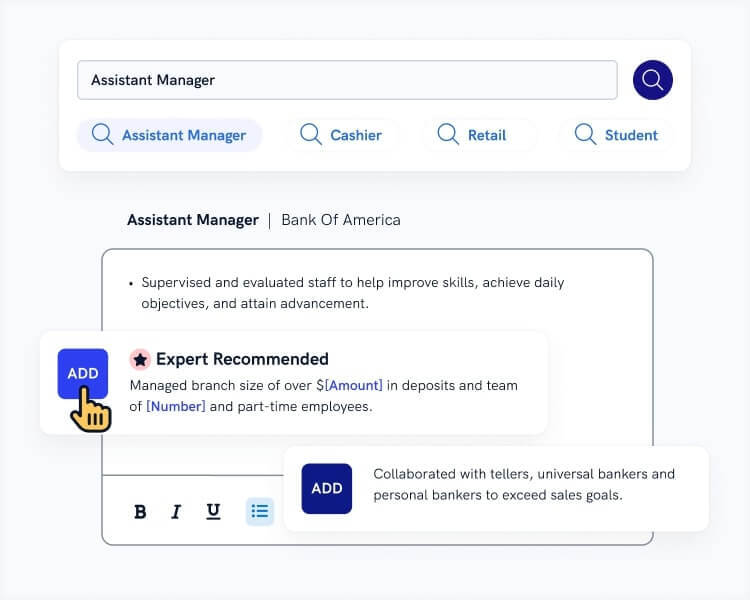 When you're done, our professional resume builder will score your resume and our resume checker will tell you exactly how to make it better.
5. Prove Your Manufacturing Skills
Here's a general, referential list of the best manufacturing skills:
Manufacturing Skills for Resumes
Working the Production Line
Power Tools
Assembly Line
Forklift Experience
Physical Fitness
Able to Lift 50lbs
Welding
Reading Blueprints & Schematics
Good Manufacturing Practices (GMP)
Precise Measurement Taking
Manual Dexterity
Hand-Eye Coordination
Ability to Work Under Pressure
Heavy Machinery Operation
Working with plcs
Slapping all of that onto your resume would be cheating, though. You'd get disqualified.
Do this instead:
Read more: 99+ Key Skills That Look Good on Any Resume
6. Add Extra Sections to Your Manufacturing Resume
We're nearing the end now, but before we wrap things up, we need to discuss extra resume sections.
They set you apart, they bring additional insight into your personality (and maybe even your skills), and are overall a great addition to any resume. Even if you work the production line, there's no reason to have others consider you just a pair of hands rather than a human being.
Think about adding such elements as hobbies or interests, volunteer work, or any foreign languages you speak.
The things foremen and manufacturing supervisors like seeing the most, though, are extra certifications and licenses, though the nature of those will, once again, come down mostly to your particular industry and role.
Read more: How to Make Your Resume Stand Out
7. Write a Cover Letter to Accompany Your Manufacturing Resume
Do you need to write a cover letter in 2022?
You absolutely do. Our HR stats show that every other recruiter won't as much as give your application a glance without one.
And contrary to popular belief, writing a cover letter isn't that difficult. It's actually quite simple if you know the basic rules:
Pro tip: Don't be afraid to follow up on your job application! During the hiring season, recruiters are busy all the time. It's possible your resume could inadvertently fall through the cracks, so poke them after a week or so has passed.
Plus, a great cover letter that matches your resume will give you an advantage over other candidates. You can write it in our cover letter builder here. Here's what it may look like: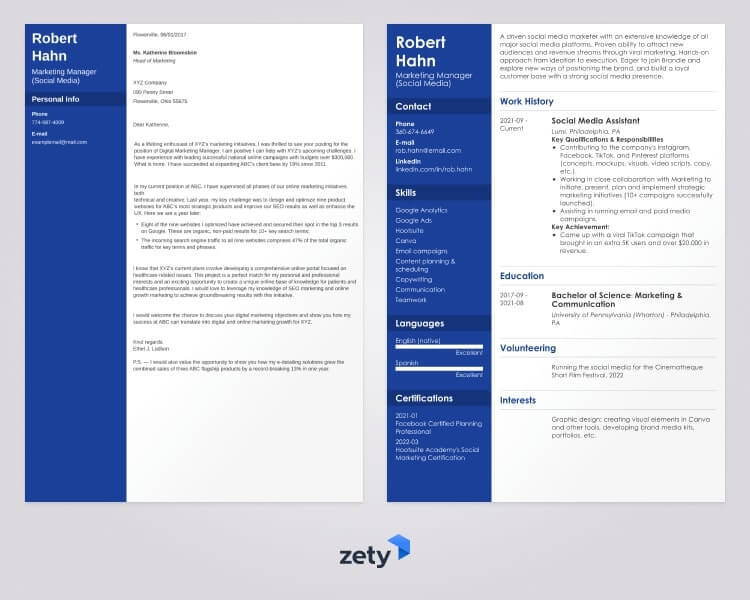 See more cover letter templates and start writing.
Looks like we're ready to ship!
This is how you write a perfect manufacturing resume.
Thanks for reading. If you have any questions pertaining to the manufacturing resume, feel free to ping us in the comments section. Or, alternatively, let us know your personal tips and tricks and help others succeed in their job-hunting efforts!
About Zety's Editorial Process
This article has been reviewed by our editorial team to make sure it follows Zety's editorial guidelines. We're committed to sharing our expertise and giving you trustworthy career advice tailored to your needs. High-quality content is what brings over 40 million readers to our site every year. But we don't stop there. Our team conducts original research to understand the job market better, and we pride ourselves on being quoted by top universities and prime media outlets from around the world.
Sources