How to Improve Your Resume: 12 Easy Steps to Beef it Up
There's always room for improvement. Learn our 12 best tips on how to improve your resume to make it one in a million.
You've sent out your resume time and again and the only thing you hear back is crickets chirping in the background or the occasional tumbleweed rolling across your street.
You've done what all the general advice says—your resume isn't too long, has a nice template, clearly shows your experience and skills.
What could you be doing wrong?
Well, it's not a question of what you're doing wrong, but more of what you could do even better.
Luckily for you, we've compiled the 12 best ways to improve your resume that'll take no more time than enjoying your morning coffee.
p id="cta1-above">Want to save time and have your resume ready in 5 minutes? Try our resume builder. It's fast and easy to use. Plus, you'll get ready-made content to add with one click. See 20+ resume templates and create your resume here.
Sample resume made with our builder—See more resume samples here.
How to Improve Your Resume
A resume is a living document—you should always be open to improving your resume. After all, an improved resume means higher chances of getting that dream job. That's something everyone can get on board with.
The good thing is that it's easier and takes less time than you think.
Here are the 12 best ways to improve your resume in minutes:
Use Resume Keywords
This one should be a no-brainer, but it's sadly often overlooked and could be the reason behind your resume constantly falling into a black hole.
Why? Enter the ATS (applicant tracking system).
The majority of recruiters use an ATS that they feed resumes into to then have the system spit back an analysis based on the resume keywords used in your job application. The more ATS- friendly resume template you have, the higher chance you have of snagging that interview.
Find the right resume keywords to use by using the job ad as a cheat sheet. You can find resume keywords by simply Googling keywords for the industry you're applying to. Add those keywords to your resume and watch it start bringing in call backs.
Read more: What is a Targeted Resume?
Make Your Resume Header Stand Out
You can think of your resume header like a business card—if it's unclear and not up to date then it's not of much use. An outstanding resume header can really enhance your resume.
Make sure your resume contact information is clearly labelled and current. Your first and last name, phone number, and professional email address are a must.
Add your LinkedIn profile to your resume if applicable. Do the same if you have any other social media accounts that might be relevant to the role you're applying for. Remember to check your social media footprint though. Recruiters can see anything that the rest of the public can.
Read more: Address on a Resume
Use Action Words
"I talked over the phone with 20+ clients daily about company services." So? "I consulted with over 20 customers daily over beneficial company services over the phone." Okay, now you've got my attention.
See what I did there? Action verbs are like resume boosters and change your content from something bland and boring into something much more compelling and intense. Action verbs not only convey the action, but also your willingness to take ownership, be proactive, or your ability to handle tough situations. All definite pluses.
Read more: Resume Action Verbs, Power Words and Buzzwords
Get Your Formatting Right
It doesn't matter how well you've described what kind of an industry wizard you are if your resume basically looks like a pig sty.
Improving your resume means double checking these resume format guidelines to make sure your resume is up to par:
Set your resume margins to 1" on all sides of the page.
Choose a modern and professional resume font like Arial or Georgia and set it to 12 pt.
Double check if your resume sections stand out and make it easy for employers to find relevant information about your experience or skills.
Use bullet points instead of long sentences to make your resume easier to read for employers.
Make sure your resume layout is neat and smart.
Save your resume in PDF unless the job ad specifically says otherwise.
Read more: Best Resume Layout
Start With a Strong Objective or Summary
Your resume objective or summary are one of the first things that the hiring manager is going to see so you need to make it a home run if you want to improve your resume.
If you're just starting out your career or are in the middle of switching careers, choose the resume objective. It'll focus on your knowledge and skills and show hiring managers that you're committed to succeed.
If you already have several years of work experience, a resume summary is just the thing for you. It focuses on your job skills and work experience to show recruiters that you are the perfect hire for them.
Put your summary / objective at the top of your resume. See more: Resume Profile
Use Numbers and Quantifiable Achievements
If a picture is worth a thousand words, so are numbers on your resume. Numbers and quantifiable achievements really make your resume pop and let the recruiters take notice.
For example, let's say you delivered projects ahead of schedule and below budget. Nice, but it doesn't really grab the reader's attention. But use some numbers and you get something like "delivered projects at least 8 days ahead of schedule and $15K below budgeted costs. Now that looks impressive!
Sprinkle Your Accomplishments All Over
There's no one, holy place on your resume where you should put your achievements. Of course, if you have a whole truckload of them, then by all means create an additional resume section just for them.
You can mention your accomplishments through your work experience, projects you're proud of, through your education or extracurricular activities from your school days, or your resume header.
Know When Enough is Enough
The point isn't to drown the recruiter in your life history. You need to strike the perfect balance between giving hiring managers a glimpse of your history and boring them to death.
A good, general rule of thumb is to back go back farther than 10-15 years in your experience. That ties in to the other general rule of thumb that a resume shouldn't be longer than one page.
Exceptions to that could be either candidates writing an academic CV or those applying for top level management positions that might require a lot more knowledge and know-how than usual.
Read more: How Far Back Should a Resume Go
When making a resume in our builder, drag & drop bullet points, skills, and auto-fill the boring stuff. Spell check? Check. Start building a professional resume template here for free.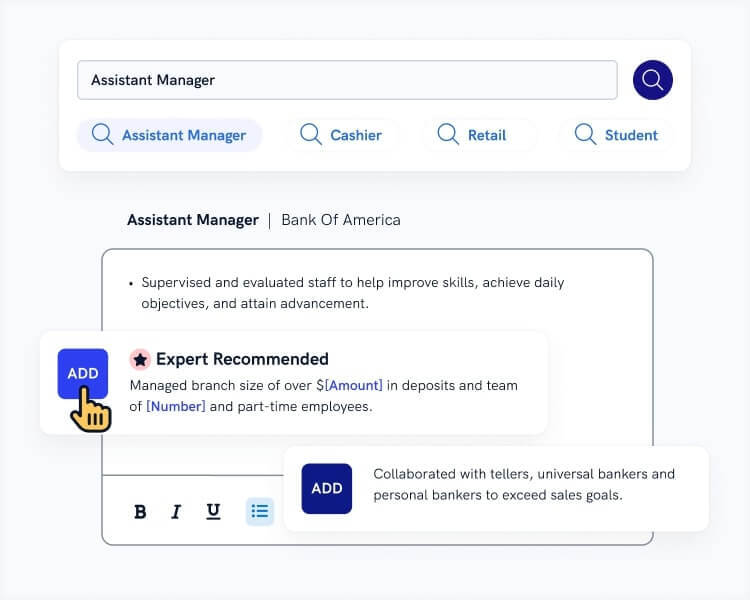 When you're done, our professional resume builder will score your resume and our resume checker will tell you exactly how to make it better.
Tailor Your Resume to the Job Offer
Applying for a job by sending a resume isn't about just filling up space. One of the worst approaches you can have is to create one resume and then send it to every company for every job offer you want to apply for. Hiring managers can tell that you've sent them a generic resume and they'll treat it accordingly.
Instead, tailor your resume to the job description to automatically beef up your resume.
First, use the job ad as a cheat sheet to help you pinpoint what the hiring manager is going to be looking for.
Second, go full Marie Kondo on your resume—does this bring value to my resume? Will this bring joy to the recruiter? If either one gets a "no", toss it out.
Read more: How to Tailor Your Resume
Add Additional Sections to Your Resume
Your stamp collection might be the most impressive in the world, but that doesn't really make much of a difference when you're applying, let's say, for a sales rep position. That doesn't mean you need to completely throw out any additional sections of your resume.
There are a number of things that can help give your resume a major boost and cool points from employers. Here are a few winners:
Remember, no matter how proud you might be of any of these, they only make sense on your resume if they're relevant to the job offer.
Read more: Perfect Resume in 8 Simple Steps
Proofread!
I don't know how many times this is mentioned everywhere and people still ignore this step and apply with resumes that mention their amazing "atention to detail."
Proofreading your resume is super simple and very important. You can use the built-in spell checker in your word processor, but don't rely just on that. You can also use programs like Grammarly to check your grammar and word choices. Reading your resume out loud can also help you catch errors you might have missed. Having a friend or family member read through your resume can also be a good idea.
Read more: Resume Dos and Don'ts
Use a Modern Template
There are few things that are worse than a well written resume dressed in a terrible resume template.
Choose a professional, modern resume template that will catch the recruiter's attention. Tailor it to the industry you're applying for. Choose toned down, black and white resume templates for conservative sectors. You can be more liberal with colors and graphic design elements on your resume for more creative sectors.
Here are some handy lists of different, helpful resume templates for all kinds of jobs:
That's it! Run your resume through our improvemnt checklist and see if your resume doesn't turn out better!
Plus, a great cover letter that matches your resume will give you an advantage over other candidates. You can write it in our cover letter builder here. Here's what it may look like: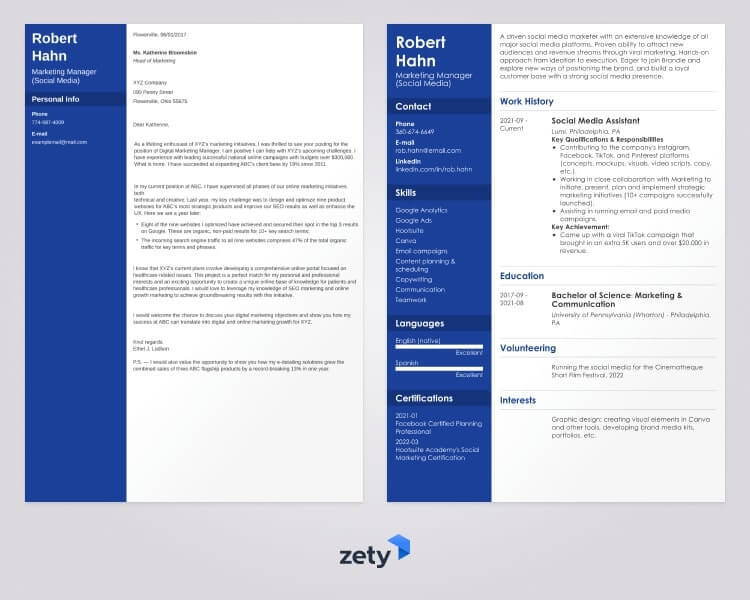 See more cover letter templates and start writing.
Thanks for reading! Need any more pointers on improving your resume? Let us know in the comments and we'll get in touch!
About Zety's Editorial Process
This article has been reviewed by our editorial team to make sure it follows Zety's editorial guidelines. We're committed to sharing our expertise and giving you trustworthy career advice tailored to your needs. High-quality content is what brings over 40 million readers to our site every year. But we don't stop there. Our team conducts original research to understand the job market better, and we pride ourselves on being quoted by top universities and prime media outlets from around the world.