Shipping and Receiving Resume: Job Description for Clerks
You're an expert in managing freight, but writing a shipping and receiving resume is causing you fright? Take our pro advice and learn how to write a job-winning resume today.
You ship out resume after resume, but receive nothing back. It must feel hopeless…
But it doesn't have to be.
We've prepared a guide that will resolve all your shipping and receiving resume woes and ensure total customer satisfaction!
This guide will show you:

A shipping and receiving resume example better than 9 out of 10 other resumes.
How to write a shipping and receiving clerk resume that will land you more interviews.
Tips and examples of how to put skills and achievements on a shipping and receiving resume.
How to describe your experience on a resume for shipping and receiving clerks to get any job you want.
Want to save time and have your resume ready in 5 minutes? Try our resume builder. It's fast and easy to use. Plus, you'll get ready-made content to add with one click. See 20+ resume templates and create your resume here.
Sample resume made with our builder—See more resume examples here.
Looking to work in a warehouse, but in another context? See these guides:
Shipping and Receiving Resume Example
Justin Melendez
Shipping and Receiving Clerk
507-831-8953
justinmelendez@zetymail.com
Summary
Reliable and professional shipping and receiving clerk with 6 years of experience in warehouse organization. Determined methods of shipment for up to 25 transports a day. Oversaw the loading and unloading of trucks while setting up appropriate conditions to avoid accidents. 99% accuracy in verifying invoices and manifestos against incoming goods.
Work Experience
Shipping and Receiving Clerk
Sterigenics, Los Angeles, CA
June 2015–August 2020
Received incoming product and verified customer count and lot numbers against manifesto with 99% accuracy.
Operated forklift with 0 accidents on record.
Maintained constant contact with trucking companies to streamline and optimize shipment schedule by 25%.
Coordinated between inventory managers of 6 different Sterigenics sites in total to ensure proper flow of shipments between the sites as necessary.
In-Store Warehouse Worker
IKEA, Burbank, CA
February 2013–May 2015
Led and coached co-workers within shipping, receiving, and inventory control.
Directed and supported teams to achieve logistics-related goals, metrics, and KPIs.
Ensured safety orientation for co-workers by managing warehouse safety and hygiene.
Education
High School Diploma
Elson Junction High School, San Diego, CA
2006–2010
Skills
Maintaining Health & Safety
Process Optimization
Loading, Shipping, Packaging, Storage
Teamwork Skills
Physical Fitness
Defining Key Metrics for Improvement
Licenses
Forklift Operation, OSHA, 2018
ASCM Certification in Supply Chain Warehousing, 2018
Qualified Warehouse Logistics Professional, IWLA, 2017
CPR Certification, American Red Cross, 2014
Languages
Activities
Active windsurfing enthusiast
This is how you write a shipping and receiving resume that gets jobs:
1. Choose the Best Format for a Shipping and Receiving Resume
Shipping and receiving experts operate in warehouses to coordinate the flow of merchandise and wares. They are responsible for handling documentation and resolving issues. Any great shipping & receiving resume has to show the above, and great organization skills to boot.
But how do you demonstrate being well-organized through a resume, you might ask.
They won't invite you to receive a test batch of shipment to organize.
Well, it all starts with knowing how to format your resume:
Read more: How Long Should a Resume Be For Different Roles?
2. Write a Shipping and Receiving Resume Objective or Summary
Writing a resume profile (or resume introduction, in other words) is an absolute must.
It's the shipping manifesto equivalent of your industry. Without it, nothing happens.
Point is, the recruiter is unlikely to read your application for more than a few seconds. So, if you can prepare your resume introduction right, everything will check out, and they're more likely to keep reading.
If you've worked in shipping and receiving before (around 2 years or more), use a resume summary to present your relevant professional achievements in a nutshell. Package them together with numbers for an even better effect.
And, with less experience, opt for a resume objective to illustrate your transferable skills and other merits to convince them you'd bring a bright future to their logistics department either way.
Pro Tip: I know it's against your nature, but this time around only, a late dispatch can be a good thing. Coming up with the perfect couple of sentences can take long, so you're free to begin by writing all the other sections first, then coming back with a fresh mind.
3. Boost Your Work Experience Section with a Tailored Shipping and Receiving Job Description
If your work experience section is full of matter-of-fact statements like "helped organize orders" or "prioritized safety in the warehouse," you might not like what I tell you.
It's time to throw it all out.
That's because, with the current projected growth for jobs in logistics, there's no room for blandness. Each year, 25,000 new candidates pop up. Comprehending that number alone is difficult in itself.
It's time we did a little inventory control. This is how to write a shipping and receiving job description for resumes:
Write down the job titles, dates worked, and employer names and locations for your past jobs. Don't list positions that are too old, though: your resume should go back around 10–15 years.
Start with the first job, then work your way back from there.
For each one, write 5 or 6 bullet points detailing your job duties.
Don't use passionless language. Instead, through action words and numbered professional achievements, make the tasks you performed seem like the only thing that kept the company above water.
Last but not least, tailor your resume to each job you apply for, and avoid pumping your resume full of irrelevant experience. All the content you add to your resume needs to actually contribute something.
Read more: How to Write the Perfect Job Description for Your Resume
4. Sort Out Your Education Section on a Resume for Shipping & Receiving
Working in shipping and receiving will not require you to present a degree, in general.
Still, though, nearly every job ad will likely say they require that high school diploma.
Not including it on your resume in the form of a dedicated education section is just asking for a return to sender. All of that because of a minor discrepancy.
Here's how to get it done right and quick:
If you've been in the industry for 5 years or more, list just your highest obtained degree, the school name and location, and graduation year.
Still completing a degree? You can list that as well—unfinished college is fine on a resume, as long as you make it clear that you haven't actually obtained that degree (yet or ever).
Those below the 5-year threshold will want to bring up extra topics, such as a high GPA (3.5+), relevant coursework, extra school achievements, or extracurricular activities.
Read more: How to List a Minor on a Resume (Major Too)
When making a resume in our builder, drag & drop bullet points, skills, and auto-fill the boring stuff. Spell check? Check. Start building a professional resume template here for free.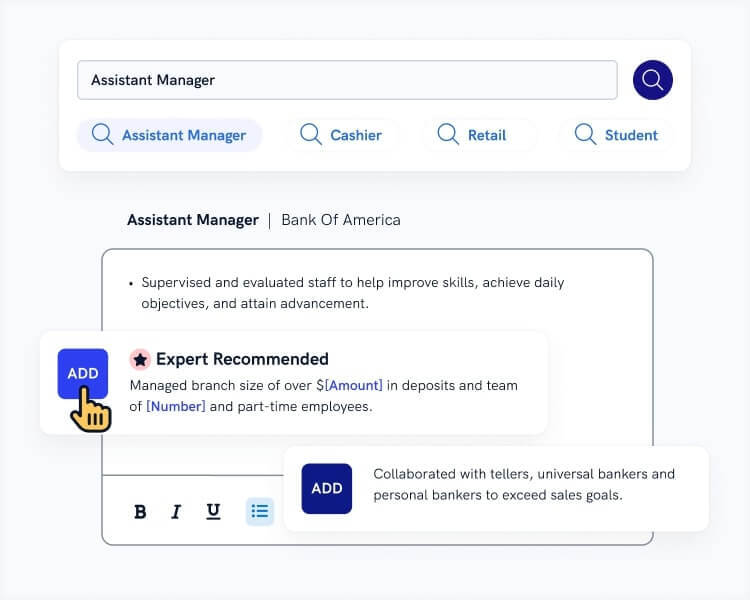 When you're done, Zety's resume builder will score your resume and tell you exactly how to make it better.
5. Demonstrate the Right Skills on a Shipping and Receiving Resume
Here is an example list of shipping and receiving skills:
Shipping & Receiving Resume Skills
Sorting Stock
Data Entry
Packing
Loading & Unloading
Tracking Inventory
Record keeping
Weighing Items
Printing Labels and Postage
Damage Inspections
Reporting Discrepancies
Processing Orders
Forklift Operation
Preparing Documents
Health and Safety Orientation
Listing all of that would set off fraudulent alarms, though. Don't even consider copy-pasting this.
Always work smarter if you can. Here's what you need to do
Brainstorm a list full of your skills. Sort them by category, like so: soft skills,hard skills, and technical skills.
Then, open the job posting and search out the resume keywords the company used to indicate what they need from the ideal employee.
Compare their list with yours, and extract the best matches. Those are the skills that will work best on your resume.
Rinse and repeat the last two points every time you send an application. Targeting your resume is the best way to secure a job in shipping and receiving. Plus, recruiters can easily tell if and when you've put in the effort.
Read more: Real Differences Between Soft Skills and Hard Skills
6. Spice up Your Shipping & Receiving Resume with Extra Sections
I promise this shipment of resume spice won't be a waste of your thyme.
The problem with not adding extra resume sections is that every applicant's sheet will look just like yours. Following standard operating procedures to the tee.
In that case, even as little as one month of extra work experience can beat you out. Ouch.
And companies don't want to hire robots—literally and figuratively.
Thus, including anything that makes you stand out can help your chances tremendously.
Try out some of these ideas:
Read more: Best Strategies to Make Your Resume Stand Out
7. Seal the Deal with a Professional Shipping and Receiving Cover Letter
We've already established that there are so many jobs in this field, you could fill several warehouses full of applicants themselves.
But…
A lot of them won't send a cover letter for this job.
That's your opportunity to strike.
For some recruiters, a cover letter is unskippable.
Use that to your advantage, and write yourself a professional cover letter:
Read more: What Should a Cover Letter Say?
Plus, a great cover letter that matches your resume will give you an advantage over other candidates. You can write it in our cover letter builder here. Here's what it may look like: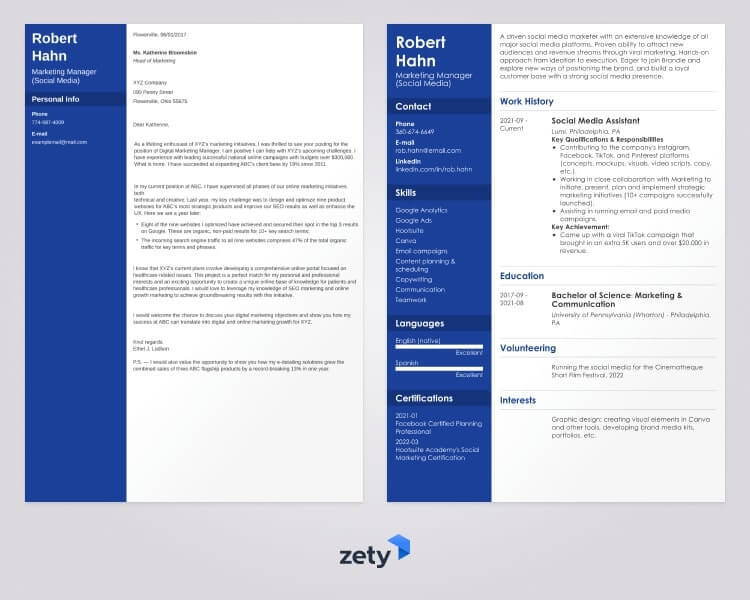 See more cover letter templates and start writing.
Thanks for reading. If you have any questions or feedback for this shipping and receiving resume guide, comment in the section below!
About Zety's Editorial Process
This article has been reviewed by our editorial team to make sure it follows Zety's editorial guidelines. We're committed to sharing our expertise and giving you trustworthy career advice tailored to your needs. High-quality content is what brings over 40 million readers to our site every year. But we don't stop there. Our team conducts original research to understand the job market better, and we pride ourselves on being quoted by top universities and prime media outlets from around the world.