Skill Levels on a Resume: How to Showcase Proficiency
Your resume shows you're good, but does it show how good? Don't be shy—let your skill levels speak volumes about your accomplishments.
You're writing your perfect, competitive, job-winning resume. You got as far as the Skills section. Is there anything you could do to add more edge? Could it better reflect the hard work you put into cultivating those skills?
It sure can! You have to add skill levels for each—and you're about to learn how.
This guide will show you:
How to approach reflecting skill levels in a professional situation.
How to list skill levels on your resume and make it stand out.
Examples of how to use graphics to show skill levels (e.g., language skill levels).
Ways to describe levels of skills' proficiency for soft and hard skills to get any job you want.
Want to save time and have your resume ready in 5 minutes? Try our resume builder. It's fast and easy to use. Plus, you'll get ready-made content to add with one click. See 20+ resume templates and create your resume here.
Sample resume made with our builder—See more resume examples here.
What Are Skill Levels and Why They Matter
Skill levels, such as novice or expert, reflect the proficiency of your personal and professional attributes. They show the hiring manager that you're not just capable of certain things but also to what extent you're great at them.
On a resume, this adds extra weight to your top professional skills without adding too much weight to the document (where each line counts). If you had a chance to reinforce your strengths on a resume without losing precious space, would you take it?
So, once you decide which skills should go on your resume, amp up their value by showing skill levels for each entry.
Pro Tip: Not sure which exact skills the employer is looking for? Scan the job ad and find the most important bits (those will also become your resume keywords). This should nudge you in the right direction.
How to List Skill Levels on a Resume
As a basic guideline, follow these steps:
1. Make a List of Your Most Prominent Skills
Begin with a brainstorming session. Think about the qualifications that make you a great specialist. Write them down.
2. Pick Out the Skills Most Relevant for The Position
Reiterating the Pro Tip from above: study the job description carefully and jot down the skills expected from a candidate. Compare the two lists. Place the matching skills in order of competence (this will give you an idea of skill levels).
3. Decide on the Order of Skills
List hard and soft skills in the same section—starting with hard skills, followed by soft skills.
Alternatively, you might want to split skills into separate categories—if it makes sense and if space allows you to do so ("hard skills," "soft skills," "computer skills," etc.).
While it's usual to list hard skills first, the skills required for some jobs are quite blended and intertwined. For example, for a position in advertising, you might require a variety of marketing skills like market research, data analysis, writing skills, communication, creative thinking, etc. The same applies to administrative skills, project management skills, customer service skills, and such.
In this case, let relevance drive the order in which you list levels of skills proficiency, like here: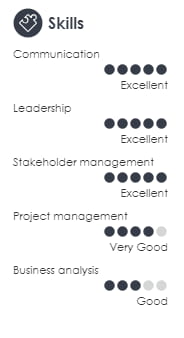 This exemplifies how skill levels can look on a resume created with Zety's online builder (specifically the Concept resume template). You can easily add skills and assign scores to them, while the templates will adjust the resume icons based on your choice: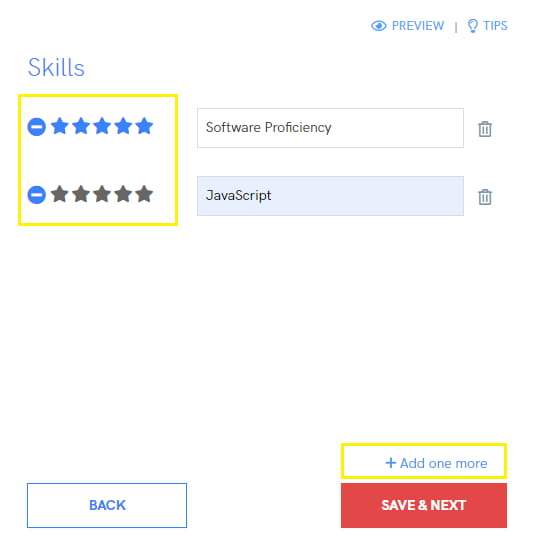 4. Use a Separate Section for Language Skill Levels
More on this is in the dedicated chapter below.
Pro Tip: If you're an entry-level candidate, it's essential to list transferable skills on your resume, the ones you've acquired during your studies, internships, etc.
Skill Levels for Your Resume: Hard Skills
According to studies, no measure or instrument can provide an objective, all-encompassing coverage of skill levels.
While there are often no universally accepted scores, listing levels of hard skills on your resume is still quite straightforward—unlike soft skills that are more difficult to quantify.
You can place skill levels on your resume under categories such as:
Expert
Proficient
Advanced
Competent
Beginner
or simply
Advanced
Intermediate
Basic
For your convenience, some of our resume templates have great dedicated visual skill ratings for skills by default. Here, tech skills are shown with the help of a diamond-shaped skill bar: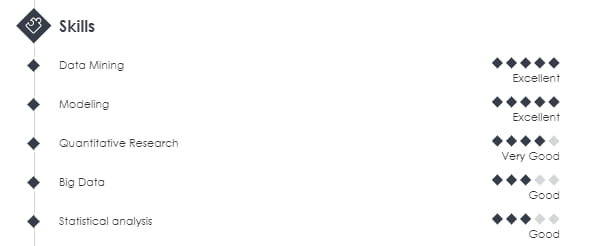 (This is Zety's Diamond resume template.)
A bar graph system works great for showing levels of IT skills: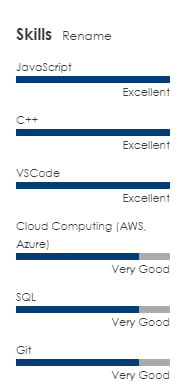 (Made with Influx by Zety.)
Levels of Microsoft Office skills could be listed this way (using Zety's Iconic template):

Just make sure you follow the same levels of skill proficiency across the whole document.
Resume Skill Levels: Soft Skills
Soft skills are quite challenging to assess. It's next to impossible to objectively measure if one actually has great people skills, or just good, or average.
Studies prove that good communication is among the top employee skills that recruiters want to see, along with responsibility and a strong work ethic. Consider mentioning levels of these skills on your resume.
However, there might be some tangible indicators of the skill levels—say, if you've attended some training for emotional intelligence or interpersonal competencies (and then it reflected in great management and increased team performance). In that case, besides indicating the levels of those skills, you can also mention additional training or certifications on a resume in a separate section.
If you need more ideas for specific skills, we have dedicated guides on the following:
This is a general rule of thumb, but things will definitely depend on the resume format you choose. You might want to step away from the traditional reverse-chronological resume that just contains a brief Skills section in favor of one that allows you to feature skill levels in greater detail.
To do that, consider creating a resume based on your skills instead of focusing on your past jobs. This would work great if you are switching careers or have little work experience—and might be an asset for jobs that traditionally rely heavily on soft skills (like customer service).
Language Skill Levels on a Resume
With levels of language skills, it's pretty straightforward. While you can use the same graphic representation as we've shown above, it's preferable to use internationally accepted frameworks (for example, A1–C2).
If you haven't passed any exams to prove your level of skill, you can rely on the proficiency scale from LinkedIn:
5—Native or bilingual proficiency
4—Native or bilingual proficiency
3—Professional working proficiency
2—Limited working proficiency
1—Elementary proficiency
Just use your best judgment, and remember that verifying your claims is very easy.
Start with the language you're most proficient in.
Follow the same framework for all the languages you list.
Mention certifications, if relevant.
Like so:
Languages
English—Advanced (C1 Certified)
German—Minimum working proficiency
Need more tips and framework examples? Here's a guide that will help: How to List Language Skills on Your Resume
Key Takeaways
To list skill levels on your resume:
Decide on the most essential skills that are relevant to the position.
Consider starting with hard skills, followed by soft skills.
Don't forget transferable skills.
Make the best use of resume templates for a graphic representation of the levels of each skill.
Done? You're ready to go!
Did you find the article helpful? Any questions on listing skill levels on your resume? Let's start the conversation in the comments section below.
About Zety's Editorial Process
This article has been reviewed by our editorial team to make sure it follows Zety's editorial guidelines. We're committed to sharing our expertise and giving you trustworthy career advice tailored to your needs. High-quality content is what brings over 40 million readers to our site every year. But we don't stop there. Our team conducts original research to understand the job market better, and we pride ourselves on being quoted by top universities and prime media outlets from around the world.
Sources