Skills-Based Resume Template, Examples & Format for 2023
Going through a career change or having employment gaps can make writing a resume tough. But not necessarily. See if the skills-based resume format could be your golden ticket.
Picture your resume as a gourmet meal – it's got to be perfectly seasoned to impress even the pickiest of hiring managers. But if traditional formats leave your skills tasting bland, it's time to spice things up.
Enter our skills-based resume guide. It turns your resume into a five-star dining experience. Learn how to showcase your talents like a master chef, and leave hiring managers craving more. Cook up a resume that satisfies even the toughest critics. Let's get started!
This guide will show you:
What is a skills-based resume?
Who the skills-based resume format is best for.
A skills-based resume template.
Expert tips on writing an effective skills-based resume.
Want to save time and have your resume ready in 5 minutes? Try our resume builder. It's fast and easy to use. Plus, you'll get ready-made content to add with one click. See 20+ resume templates and create your resume here.
Sample resume made with our builder—See more resume examples here.
Skills-Based Resume Example
Troy Flores
Marketing Coordinator
1266 Arlington Avenue
Maryville, TN 37801
865-983-7928
troy.louis.flores@gmail.com
linkedin.com/in/troylouis89
Resume Objective
Goal-oriented UC Davis graduate in Marketing Communication seeking to leverage two years of internship and entrepreneurial experience on the team at PwC as a Marketing Coordinator. Experience in working on marketing campaigns with 2M+ impressions to exceed client's sales goals. Portfolio of campaigns can be found at www.FloresDigitalMarketing.com. Thrilled to implement new content marketing approaches at PwC to increase user retention and ensure press materials accurately achieve business goals.
Skills Summary
COMMUNICATIONS
Crafted creative content pieces longer than 4,000 words on a weekly basis.
Spearheaded rebranding efforts to better target customers in a given niche.
Excelled at understanding the brand voice to speak to customers with emotional language.
DIGITAL MARKETING
Developed email marketing campaigns with >7% conversion rates through rigorous A/B testing.
Implemented new SEO tools that increased product impressions by 25%.
Identified areas for improvements of content, lead generation, and communication methods.
SOCIAL MEDIA
Published blog posts which had over 10,000 shares across social media websites.
Managed social media communications across Facebook, Twitter, LinkedIn, Instagram, and YouTube.
Drove brand awareness on marketing campaigns with the latest social media marketing techniques.
CREATIVITY
Innovated a marketing strategy to target a niche market that has previously eluded a customer.
Brainstormed new, organic campaigns to help clients become industry leaders.
Forecast consumer trends for 2021 by studying industry trends and influencers.
Work Experience
Marketing Intern
May 2019–August 2019
Nike, Beaverton, OR
Entrepreneur
March 2017–Present
Flores Digital Marketing, Los Angeles, CA
Education
BA in Marketing Communications
UC Davis, 2016-2020
Additional Skills
Software: Screaming Frog, SEMrush, MailChimp, AdWords, Facebook Paid Ads
Languages
French: Full Working Proficiency
Want to skip ahead in this article? Use the table of contents:
1. What is a Skills-Based Resume?
A skills-based resume, also known as a functional resume, is a resume that focuses more on your most relevant job skills than on your professional experience. Skills-based resumes are recommended for unique career situations, such as changing careers, having significant gaps in employment, and targeting jobs unrelated to your work experience.
They're a simple way to gloss over the fact you don't have much experience in the field you're applying in. Sounds bulletproof, right?
Well—not quite. The catch is that you're hiding exactly what the hiring manager is most interested in. According to hiring statistics, recruiters spend an average of 7 seconds scanning resumes. In those few seconds, they're mainly looking for your relevant job experience and job titles—not a list of your skills.
And let's be realistic—the HR manager isn't going to be so distracted by your skills summary that they forget to check your experience.
But that doesn't make skills-based resumes pointless. If you don't have relevant job experience, using the standard resume format (the reverse-chronological resume) only emphasizes your lack of experience.
Skills-based resumes aren't about hiding your experience, they're about highlighting your skills. And research shows that employment gaps aren't a big deal to recruiters if your skills match the job's requirements.
Here's what distinguishes a skills-based resume template from your traditional resume:
A compelling resume introduction.
A lengthier, more well-rounded skills section.
And if your resume skill set is in high demand, the skills-based resume can be just what you need to land that interview.
But how do you know if a skills-based resume is the resume format for you?
2. Who Should Use the Skills-Based Resume?
This resume format isn't a one-size-fits-all. The chronological resume is better for the average worker. But that doesn't mean a skills-based resume can't be perfect for your circumstances.
The skills-based resume is best if you're in one of the following situations:
You're changing careers and your experience isn't relevant to your target position.
You're trying to emphasize a skill set needed for a skills-based job.
You're lacking relevant experience for the positions you're targeting.
You have significant gaps in your work history, including recent gaps.
Let's provide some examples in which a skills-based resume comes in very handy.
A skills-based resume the best resume type for:
Creatives—your skills are most important and you have a portfolio to back them up. Where and how you developed your skills is of lesser importance.
Overqualified applicants—obscure lengthy experience and job titles that might otherwise disqualify you.
Military or veteran resumes—army and military experience can be difficult to cover on a resume since many recruiters won't be able to make heads or tails of it.
Important caveat: A skills-based resume shouldn't be used if you don't have any professional work experience. If that sounds like you, check out our guide here: How to Write a Resume to Get Your First Job
The benefit of a skills-based resume is that it emphasizes your skills—and skills matter to employers. But that's not to say it's the type of resume for every job seeker.
Here are the other two resume types when you're trying to figure out the best resume style for you:
The chronological resume format is ideal for candidates that have extensive employment history that is relevant to the jobs they're applying for.
The combination resume format is suited for candidates that have great work experience with highly relevant skills they want to show off.
Here's a handy table with the pros and cons of each resume format to help you decide:
Chronological Resume

Skills-Based Resume

Combination/Hybrid Resume

Advantages

Emphasizes professional experience
Easy for recruiters to scan
Easily scannable by ATS

Emphasizes key job skills
Ideal for creatives with a portfolio to show proof of skills

Emphasizes both skills and work experience
Covers up big gaps in employment
Scannable by ATS

Disadvantages

Strict formatting guidelines
Even small gaps in employment are noticeable

Obscures what recruiters are looking for (experience)
Hard for recruiters and ATS to scan

Limited to career profiles with highly specialized skills
Difficult to format a good balance between skills and experience.
Still can't decide which resume format is best for you? Find out in our complete guide: How to Choose the Best Resume Format.
3. The Best Skills-Based Resume Template
So you know when to use a skill-based resume format, but—what does a good skill-based resume look like? Let's take at a look at another skills-based resume example suited for a creative professional.
Skills-Based Resume Example—Graphic Designer
Tai Kato
Graphic Designer
847 Ocala Street
Providence, RI, 32801
407-423-2482
tai.z.kaito@gmail.com
www.taikaito.com
linkedin.com/in/taikaito423
Resume Objective
Imaginative graphic designer with a BA in Graphic Design from RISD seeking to leverage my experience with NED Design Studio. Experienced in creating data-driven infographics (link to my portfolio) and designing novel typography to suit a client's needs. Interested in developing and creating new conceptual art forms for both digital and print designs to increase brand awareness for large companies and organizations in the tech and robotics industry.
Skills Summary
WEB DESIGN
Designed the layout and user interface for The Healthy Kitchen website (see portfolio).
Worked on 15+ website redesigns to improve user experience and increase traffic.
TYPOGRAPHY
Developed the Eventus typeface for a client, including the layout, grid, and color scheme.
Collaborated with the in-house design team of Seamless to develop new brochure materials.
GRAPHIC DESIGN
Designed and developed marketing materials (brochures, logos, presentations) for 60+ clients.
Collaborated with sales, marketing, and creative teams to create trailblazing designs.
Prepared on-the-spot illustrations during brainstorming sessions to document design directions.
Work Experience
Freelance Graphic Designer
October 2015—Present
The Studio of Tai Kaito, Brooklyn, NY
Graphic Designer
May 2012—September 2015
Time Magazine, New York, NY
Education
BA in Graphic Design
Rhode Island School of Design (RISD), 2012
Additional Skills
Software: Adobe Creative Suite (Illustrator, Photoshop, InDesign), Maya, CorelDRAW, PowerPoint, Blender
Achievements and Awards
Graphic designs published in The New York Times and Jacobin
Recipient of the Rome Prize in Design
Recognized as a Rising Star in Communication Arts magazine
Holy cow—is there anything related to graphic design Tai can't do? Her skills became examples of her experience when combined with her portfolio.
The skills-based resume lets recruiters know where her competencies lie and what she can bring to the table. And the bullet points in the skills section make sure it gets to the HR manager can quickly scan her resume.
Ready to get started on your own? Use the following skills resume template as a starting point for your own skill-based resume:
Skills-Based Resume Template
[Your Name]
[Position]
[Address]
[Phone Number]
[Email Address]
[Website]
[LinkedIn]
[Social Media]
[Resume Objective]
Skills Summary
[Skill]
Experience
[Dates]
[Job Title]
[Company Name]
[City]
[Dates]
[Job Title]
[Company Name]
[City]
Education
[Graduation Date]
[School Name]
[Degree]
Additional Skills
Additional Sections (Languages, Awards, etc.)
[Language/Award/Etc]
[Language/Award/Etc]
See more professional resume examples: Job Resume Samples for Every Profession
When making a resume in our builder, drag & drop bullet points, skills, and auto-fill the boring stuff. Spell check? Check. Start building a professional resume template here for free.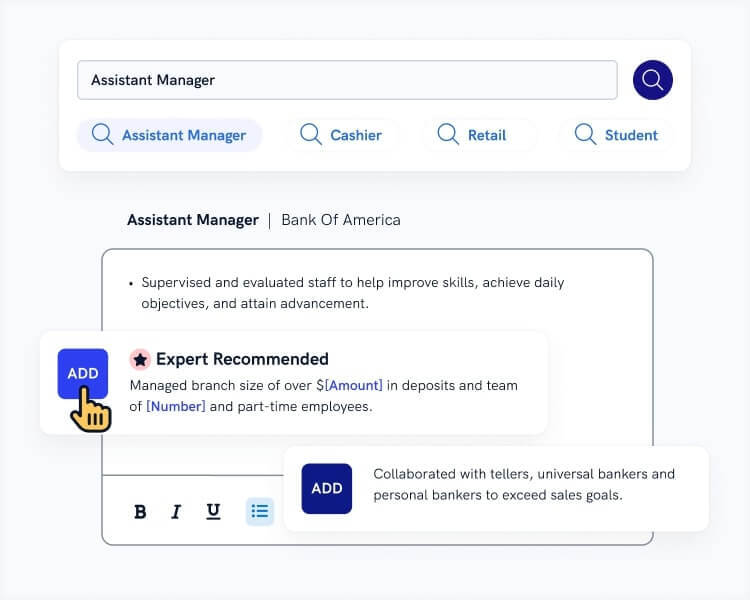 When you're done, our easy resume builder will score your resume and our resume checker will tell you exactly how to make it better.
4. How to Write a Skills-Based Resume
Now you know what the layout of a skills-based resume looks like—it's time to put some meat on those bones. Let's break down each section in a skills-based resume and give you expert tips to follow when you're writing your own.
Here are the main sections to put on a skills-based resume:
Name and Job Title
Contact Information—address, phone number, email, website (if you have one) and social media accounts(if applicable)
Resume Objective—highlight skills and achievements
Skills Summary—emphasize your core competencies (especially those applicable for the position you're applying for)
Work Experience—a brief history of employment (not necessary if you don't have any)
Education—highest degree received and any relevant certificates
Additional Skills—skills specifically tailored to the position
Let's go into more detail on how to write each section of skills-based resume:
Put Your Name and Job Title at the Top
Sounds like something you can do in two seconds, right? Not always. What if you're in a creative field and you've been working freelance for some time.
Should you list your last professional job title? Or should you put down the job title of the position you're gunning for? If your duties and responsibilities match the role you're applying for, go with that job title.
But if you're switching careers, don't add a job title as you're more likely to make the recruiter scratch their head in confusion.
Looking for some additional help with figuring out your job title? Check out our guide: Job Titles on a Resume [Job Title Meaning for Different Job Positions]
Include Your Contact Information
Contact information also seems simple—and it is—but you don't want to make any mistakes. The last thing you need is the recruiter's email asking for an interview to bounce because of a typo or old email address.
List your phone number, email and an optimized LinkedIn profile on your resume.
Note: Avoid using unprofessional email. HR managers will think twice about emailing Number1KanyeFan@gmail.com.
Read more: Contact Information: How to List a Phone Number and Address on a Resume
Write a Resume Objective
Put our best foot forward and use a resume objective to gloss over gaps in your work history or a lack of relevant experience. Instead, you can use your professional profile to show off your skills and talents to impress the hiring manager.
To write a compelling resume introduction, include 2-3 examples of your biggest work-related achievements that have been tailored to the job you're applying for.
This short blurb will be the elevator speech you use to win over the hiring manager.
Need help writing your resume profile? Check out our in-depth guides: 20 Resume Objective Examples: Career Objectives for Any Jobs
Craft an Impressive Skills Summary Section
Now here comes the main course of your skills-based resume. It's time to knock the HR manager's socks off with impressive skills perfect to get the job done.
The best way to do that? By tailoring your resume to the job.
Use these tips to craft the perfect skills summary section:
Create a master list of all the most important job skills you have. Don't forget to include soft skills, hard skills, and technical skills.
Comb through the job description and write down all the skills required or preferred for the position.
Cross-reference your skills to the skills you pulled from the job posting. Highlight the ones that overlap.
Pick 3 or 4 of the most important skills that overlap and create subsections around them.
Write 3-4 bullet points for each subsection, providing evidence and more detail for each.
Could you use some more advice on which skills look best on a resume? Check out:Wondering Which Skills to Put on a Resume? Here's 99 Key Skills for Any Skill Set
Add Your Work Experience
It's now time for the session that might be the most stressful if you have gaps in employment. But don't worry, the skill-based resume has your back. Using this format, you can put years of employment rather than months to cover up gaps.
And even if you have long gaps in employment, you can create a job on your resume as a freelancer or consultant with a bullet point along the lines of "Personal matters arose that required the flexibility of consulting/part-time work".
As big of a deal as hiring managers make of employment gaps, they'll understand life happens and generally won't press you on explaining personal matters.
When you do add work experience on a resume, remember to include the time of employment, job title, and the name and location of the company for each job.
Show Off Your Education
Your education section can either be a check mark on the recruiters list of requirements, or it can truly impress them and set you apart from the other applicants. Let's aim for the latter.
If you've been out of school for some time, add your degree, graduation date, and school name.
If you're fresh out of college or lacking professional experience, you can beef it up with the following:
Got any additional questions related to putting a high school or college degree on a skills-based resume? Read up here: How to Write a Resume Education Section [With Examples]
Highlight Any Relevant Additional Skills
Depending on the job, many job descriptions will include special software skills or other skills that will be required. Use this section to show the hiring manager you will need minimal on-the-job training.
Just add skills that could be relevant to the position you're applying for, such as:
Plus, a great cover letter that matches your resume will give you an advantage over other candidates. You can write it in our cover letter builder here. Here's what it may look like: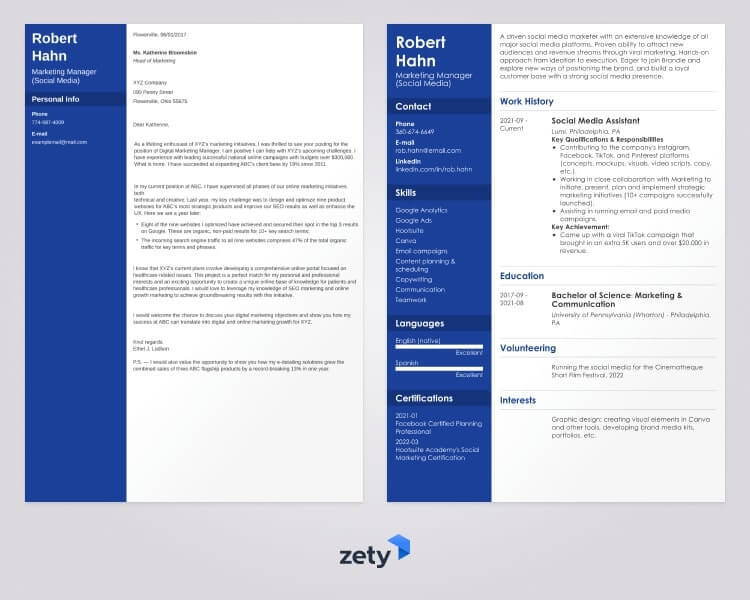 See more cover letter templates and start writing.
Key Takeaway
Good work! You're ready to write your own skills-based resume. Having employment gaps can be tough when it seems like a big red flag for recruiters. Now you know how to use a skills-based resume to flip the table by presenting your skills in the best light possible.
Here's a recap of things to keep in mind for skills-based resumes:
A skills-based resume is centered around your skills, and is especially suitable for skills-based jobs, like those for creative types.
Skills-based resume templates are also suited for overqualified job seekers who want to minimize their experience and military-to-civilian applicants who have experience that is difficult to explain.
Skills-based resumes need to be tailored to the position you're applying for.
Do you have any questions about writing a skills-based resume? Have you had any luck with one already? Comment below! We'd be happy to help with any questions!
About Zety's Editorial Process
This article has been reviewed by our editorial team to make sure it follows Zety's editorial guidelines. We're committed to sharing our expertise and giving you trustworthy career advice tailored to your needs. High-quality content is what brings over 40 million readers to our site every year. But we don't stop there. Our team conducts original research to understand the job market better, and we pride ourselves on being quoted by top universities and prime media outlets from around the world.