Journeyman Electrician Resume: Sample & Job Description
Are you positive your skills mean you deserve a well-paid journeyman electrician job? Back it up with a perfect journeyman electrician resume and their minds will short circuit!
You've been grounded in the industry for a good few years, and scored some positive reviews. As a journeyman, you're no rookie. And with more experience, you should be getting more pay, right?
Right.
But—
It hasn't been quite up to scratch.
With our guide, your journeyman electrician's resume will electrify all recruiters so hard, they'll have to hit the breakers!
This guide will show you:
A journeyman electrician resume example better than 9 out of 10 other resumes.
How to write a journeyman electrician resume that will land you more interviews.
Tips and examples of how to put skills and achievements on a journeyman electrician resume.
How to describe your experience on a resume for a journeyman electrician to get any job you want.
Want to save time and have your resume ready in 5 minutes? Try our resume builder. It's fast and easy to use. Plus, you'll get ready-made content to add with one click. See 20+ resume templates and create your resume here.
Sample resume made with our builder—See more resume examples here.
Considering other jobs in maintenance and repair? See one of our guides:
Journeyman Electrician Resume Sample
John Riebe
Journeyman Electrician
631-769-4558
JohnMRiebe@zetymail.com
Linkedin.com/in/12John.M.Riebe
Summary
Versatile, licensed journeyman electrician with 6+ years of experience both in solo work and in interfacing with construction departments of up to 45 team members. At Northridge Electrics, served as secondary liaison/consultant for industrial blueprints and complex electrical schematics discussions. Emphasized priority of safety measures, slashing number of workplace incidents by 92%.
Work Experience
Journeyman Electrician
Northridge Electrics, Houston, TX
January 2019–present
Ensured all work met industry standards and exhibited the highest-quality craftsmanship.
Assembled and installed electrical equipment between 480 and 4160 VAC.
Performed on-call contracted electrical work inspections done by external companies, generating 50+ individual business leads through thorough inspection that impressed customers.
Revised methods of documentation for maintenance purposes through organized record keeping, including photo and video footage on top of written forms.
Key Achievement: Interfaced with construction departments of up to 45 members, emphasizing safety in the workplace to reduce workplace accidents by 92%.
Electrician's Apprentice
MDAnderson, Aurora, CO
May 2015–December 2018
Performed 3000+ work orders, home visits, and safety inspections.
Addressed customers with professionalism and politeness, scoring 9/10 or higher in satisfaction on majority of visits.
Maintained accurate records of all inspection and maintenance activities.
Education
High School Diploma
Worley General High School, Worley, CO
2008–2012
Key Skills
Low-to-High Voltage Electrical Installations
Team Member Supervision & Coordination
Safety Measures
NEC
Friendly Attitude
Detail-Oriented
Preventative Maintenance & Troubleshooting
Blueprint Interpretation & Consulting
Certifications & Licenses
Journeyman Electrician License, Colorado Department of Regulatory Agencies, 2018
Certified Professional, Electrical Safety Authority, 2018
Certified Electrical Safety Compliance Professional, NEC, 2017
This is how to write an amazing journeyman electrician resume:
1. Use the Best Format for a Journeyman Electrician Resume
The duties of a journeyman electrician include installing electrical systems, performing maintenance, responding to calls, and complying with safety regulations. Great journeyman electrician resumes show all of the above, plus attention to detail and knowledge of the National Electric Code.
But first—
What is the National Resume Code?
Well, there isn't one, at least not a physical, formal one.
Still, any good resume needs to start with a thought-out structure and proper resume formatting:
When you're done editing your document, save your resume as a PDF file. The only exception to this rule is when the employer specifically asks for a Word document or another format.
Read more: Modern Resume Templates to Download and Use
2. Prepare a Journeyman Electrician Resume Profile
Picture yourself as the recruiter, searching through a tall stack of resumes. The goal? Finding a new journeyman electrician by EOD.
You pick up a sheet and… it's like trying to navigate your way through a bazillion tangled wires!
That's some really low voltagestuff.
That kind of resume—one with no resume profile at the top—is every recruiter's nightmare.
So, wake the recruiter up with a shockingly good resume intro statement!
For journeyman electricians who finished their apprenticeships some years ago, you'd definitely want to write a resume summary.
Basically, it's a no-nonsense paragraph compiling your best of the best into a few sentences neatly packaged at the top of your resume. Think numbers, impressive achievements, and positive, self-empowering language.
To give an example, if they read "Professional and friendly journeyman electrician with 6+ years of experience and a spotless record of 100% customer satisfaction" as the first sentence of your resume opening, you can be sure that'd zap their socks off!
Pro Tip: The start of your resume needs careful attention. If you're stuck on this as if it were a pre-war installation, delay it until after you've written all the other sections.
3. Write an Electrifying Journeyman Electrician Work Experience Section
It's not just about having plenty of experience—you also need to present it the right way. Here's how to write an electrifying journeyman electrician job description for resumes:
Make sure to tailor your resume every time you apply to work for a different employer. This will keep your resume relevant and help you keep it all on one page.
Read more: How to Zero-In on a Perfectly Targeted Resume
4. Make the Most out of Your Education Section
A high school or general education diploma is enough to jumpstart your electrician career.
Does that make you think, then, that actually listing education isn't that important?
Well, think again, because it's a total must-have.
Even if the majority of your strength lies in your experience and your apprenticeship(s), not mentioning education on your resume could have dire consequences.
Here are the basics:
Finished school 5+ years ago? Write about your highest completed degree, the name and location of the school, and what year you finished. Done!
Less than 5 years since tossing your graduation cap? Add relevant coursework or workshops you liked, definitely mention any diploma honors, school achievements, et cetera. However, don't overcharge this section, there's still plenty left to impress with.
Pro Tip: For some journeymen electricians (those with less experience), seeking online courses can be a good way to get your career going and fill out the education section with some more good stuff.
When making a resume in our builder, drag & drop bullet points, skills, and auto-fill the boring stuff. Spell check? Check. Start building a professional resume template here for free.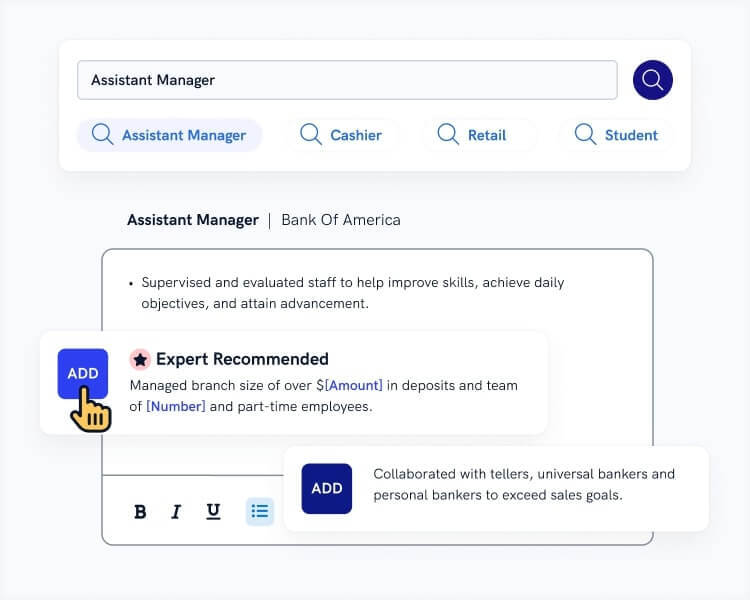 When you're done, our professional resume builder will score your resume and our resume checker will tell you exactly how to make it better.
5. Chisel the Perfect Journeyman Electrician Skills Section
First, look at this list of skills that would light up the recruiter's smile brighter than an 800-lumen LED:
Journeyman Electrician Resume Skills
Electrical Systems
Troubleshooting
Repairing
Maintenance
Installation
Monitoring
PLCs
Precision
Control Systems
National Electrical Code
Coordinating/Mentoring
Testing Retrofit Systems
Complex Problem-Solving
Equipment Selection
Performing Inspections
Adhering to Safety Standards
Blueprint Analysis
Tracking Supplies & Inventory
Customer Relations
Driver's License
Friendliness
Can-Do Attitude
That's a great toolbox of skills to have.
Only problem is: it's ever so slightly overbearing. Both you and the recruiter know they're not hiring MacGyver, and lying on your resume is certainly not a good idea.
You simply can't fit all of that on a resume, there's no power supply in the world that could handle that.
Instead, write down all the hard skills,technical skills, and soft skills they want (check the job posting for helpful resume keywords), then compare them with your own.
Found any matches? Great, put those on the resume, around 8–10, and toss the rest for scrap metal.
Read more: 99+ Key Skills That Look Good on Any Resume
6. Add Extra Sections to Your Journeyman Electrician Resume
Every resume can benefit from adding some extra content.
It's simply not enough to prove your prowess in navigating electrical wiring, control systems, and safety regulations. That's why you should list your certifications and licenses on your resume, showing you're certified and able to work legally in your chosen state(s). No one worth a dime will hire you otherwise!
Next up, showing some heart can go a long way.
Check these ideas below for sections that could bump your resume up to 11:
Read more: How to Put Internships on a Resume
7. Attach a Journeyman Electrician Cover Letter
Cover letters—yes or no?
A definite yes, every time. They increase your chances, show you put in the work, and let you add more details that didn't fit on your resume.
Check out these cover letter tips for your reading pleasure:
Format your cover letter the right way, with readability in mind.
Start the cover letter with a hook: an impressive achievement or two to gain the reader's interest.
In the middle, shower them with the passion you have for the job, their company, or (ideally) both.
Then, finish the cover letter with an offer to achieve a specific goal for the company.
Also, important: how many pages should a cover letter be? Surprise, surprise—the answer is one, tops. 3–4 paragraphs will definitely suffice.
Read more: How to Write an Electrician Cover Letter: Guide with Examples
Plus, a great cover letter that matches your resume will give you an advantage over other candidates. You can write it in our cover letter builder here. Here's what it may look like: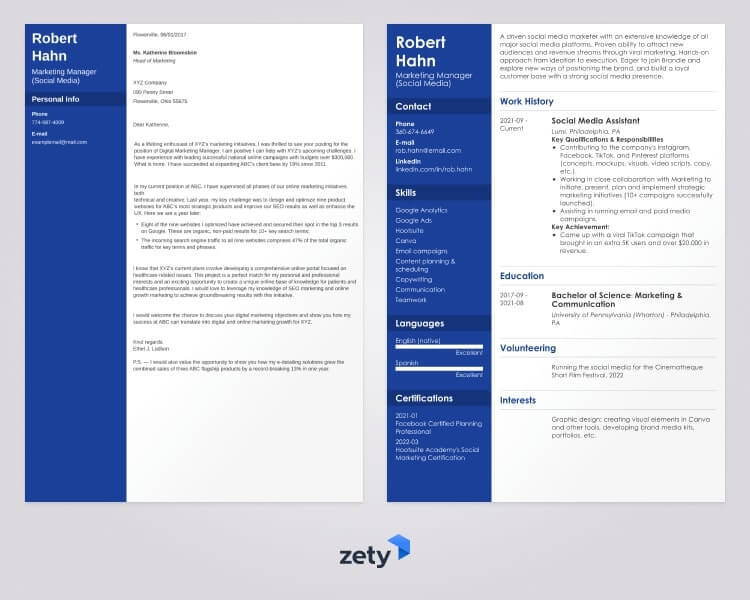 See more cover letter templates and start writing.
There it is.
A powerful journeyman electrician resume.
Got questions or feedback for us? Be sure to leave us a comment, we'd love to talk to you!
About Zety's Editorial Process
This article has been reviewed by our editorial team to make sure it follows Zety's editorial guidelines. We're committed to sharing our expertise and giving you trustworthy career advice tailored to your needs. High-quality content is what brings over 40 million readers to our site every year. But we don't stop there. Our team conducts original research to understand the job market better, and we pride ourselves on being quoted by top universities and prime media outlets from around the world.
Sources