Engineering Manager Resume Examples & Guide for 2023
Leading a team of nerds can certainly be challenging, but you make it look like a cakewalk. See our tips to efficiently transfer your skills onto your engineering manager resume!
How many engineers does it take to change a lightbulb? All jokes aside, all they need is for you to point them toward the appropriate technical solution. You're just that good. Time to prove it on your engineering manager resume.
Because even if your projects are on time and under budget, you still need to impress your recruiters. Can it be done with an efficient resume? Engineering managers, such as you, will soon find out how doable and easy that is!
This guide will show you:
An engineering manager resume example better than 9 out of 10 other resumes.
How to write an engineering manager resume that will land you more interviews.
Tips and examples of how to put skills and achievements on an engineering manager resume.
How to describe your experience on a resume for an engineering manager to get any job you want.
Want to save time and have your resume ready in 5 minutes? Try our resume builder. It's fast and easy to use. Plus, you'll get ready-made content to add with one click. See 20+ resume templates and create your resume here.
Sample resume made with our builder—See more resume examples here.
Looking to manage your way around a different position? Why not have a look at these?
Engineering Manager Resume Sample
Cecil Austin
Engineering Manager
cecilaustin@gmail.com
Linkedin.com/in/Cecilaustin
307-718-8803
Summary
Passionate engineering manager with 7 years of experience leading a team of 12 technical engineers at Nordstrom. Optimized implementation of omni-channel and reverse logistics strategy, exceeding profit margins by $1.2 million. Met 98% of deadlines for product launch and deliverables dates.
Work Experience
Engineering Manager
Nordstrom Inc., Atlanta, GA
July 2016–Sept 2022
Represented engineering team and assumed full leadership responsibility, serving as sole point of contact for upper management and directors. Decreased distractions and increased team efficiency by 28%.
Created and owned new supportive systems & solutions to facilitate digital transformation of internal and external databases, web applications, and platforms.
Utilized $400K training budget to select and develop 3 elite engineers, yielding an estimated training ROI of $1.5M.
Performed process improvements and collaborated with other departments to cut unnecessary spending, reducing yearly costs by up to 10%.
Software Engineer
DataDog, Boulder City, CO
Sept 2005–June 2016
Designed and deployed at-scale solutions to track and report on network vulnerabilities.
Partnered with other teams and engineers to increase functionality of web apps, providing improved customer experience.
Utilized strong SQL and Relational Database experience to facilitate data migration operations.
Education
Bachelor of Science in Computer Science
University of Colorado Boulder
2001–2005
Key Skills
Coding
Defining Team Vision & Strategy
Leadership Skills
Project Management
Accountability & Reporting
Improvisation
Openness to New Technology
Great Communicator & Team Player
Programming Skills
C/C++, C#, PHP, Java
Ruby, Python
SQL/NoSQL
Certifications
Certified Professional in Engineering Management (CPEM), American Society for Engineering Management, 2019
Project Management Professional Certification (PMP), Project Management Institute (PMI), 2017
Certified Six Sigma Black Belt (CSSBB), Six Sigma Institute, 2015
Time to write your own excellent engineering manager resume:
1. Begin by Choosing the Right Engineering Manager Resume Format
Engineering managers supervise the work of a team of engineers to direct and plan their efforts in solving problems or creating solutions. The job involves delegating duties, training engineers, and approving projects. A good engineering manager resume needs to show you're capable of all of that.
Now, regardless of your industry and specialization, whether you manage software engineers, mechanical engineers, or electrical engineers, your resume needs to come in a presentable format, first and foremost.
Let's go over the most important resume tips:
Pro Tip: And how about resume length? Engineering managers should typically stick with one page unless you're uber-experienced. In that case, a two-page resume may be acceptable.
2. Write an Engineering Manager Resume Profile
The recruiter has a choice to make.
Read your resume, or toss it.
Can you guess which one he's more inclined to make?
Yup—the second one.
Don't blame them, though. With 300+ more applications stacked high on the desk, you, too, would be looking for shortcuts—err, optimization methods.
Especially when you consider the projected slower-than-average job growth. That implies that only elite-level candidates ever succeed, and scarcely leave their occupation.
In light of this, your task here is to convince the recruiter to read your resume.
You do that with a catchy resume profile to sell yourself on your resume in about 7 seconds. Like in an elevator pitch.
Write a resume summary if you've headed an engineering squad for over 2 years. Mention what the team was able to achieve with your leadership and don't be shy about boasting about dollars saved and costs cut. If it looks impressive, you should say it.
If you're not an experienced engineering manager, a resume objective will benefit you far more. To write one effectively, focus on the skills and knowledge you have from other positions and why you have what it takes to transition to a more responsible position and run things like a well-oiled machine.
Pro Tip: Some people encounter some real cost uncertainty when writing their resume introduction. If it happens to you, feel free to come back to this part when you're done with the rest of the crucial sections.
3. Prepare a Tailored Job Description for an Engineering Manager Resume
It's a simple matter, really.
Employers will look to your work experience section to see if you fit their idea of the perfect candidate.
Focus on the word perfect—you need to hit the right notes so that they know nobody is better than you.
Follow this advice to make that idea into reality:
Then, rinse and repeat for older jobs, in reverse-chronological order. Only thing to change is the number of bullet points—the further back you go, the fewer you need.
And remember: action words on a resume, like achieved or spearheaded, are a game-changer. Withhold them, and the recruiter falls asleep. Use them wisely, and they'll be wowed in an instant.
Read more: How to Write a Targeted Resume
4. Mention Your Education on the Engineering Manager Resume
What should a resume education section for an engineering manager look like?
First of all, it should actually be there, though there are those who would tell you otherwise.
Seeing as almost 96% of jobs require their engineering managers to boast a BSc, or even a Master's, not including it on your resume would probably suffocate your chances.
Second, it needs to show the right stuff:
Read more: How to List Your Degree on a Resume
When making a resume in our builder, drag & drop bullet points, skills, and auto-fill the boring stuff. Spell check? Check. Start building a professional resume template here for free.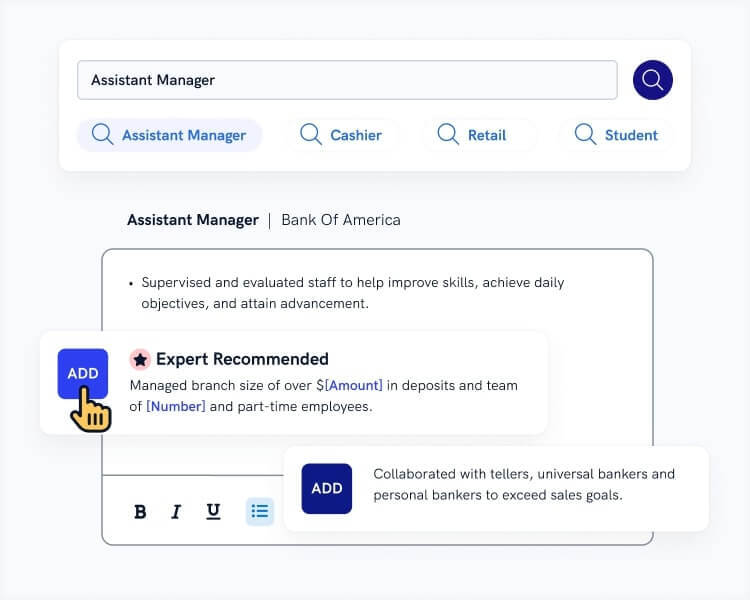 When you're done, our online resume builder will score your resume and our resume checker will tell you exactly how to make it better.
5. Present a Proper Engineering Manager Skills Section
Peep this list of exemplary engineering manager skills:
Executing Projects
Cross-Functional Team Building
Constructive Criticism
Strategic Thinking
Relationship Building
Emotional Intelligence
Task Delegation
Technical Knowledge
Responsibility
Decision-Making
Reporting to Higher-Level Employees
Math Skills
Hiring Contractors
Instructing Engineering Team
Verifying Efficiency & Accuracy
Reducing Downtime
Researching Designs & Products
You can use it to inform yourself. Don't, however, give in to the temptation to just copy-paste it, though. That list may look perfect, but in our case, perfect is very much the enemy of the good.
No recruiter worth a dime would believe you have perfected all of those skills, and lying on a resume is just a big no-no.
Here, try this instead:
Create a list of all of your professional skills. Include them all, we want a good mix of technical skills, hard skills, and soft skills.
Compare your skills portfolio to the requirements they state in the job ad. The wording there isn't random.
Once you've identified what skills the company values the most, use those on your resume. Tailoring your skills section like so will help you get past their ATS scans.
Read more: What Skills to Put on Your Resume: 99+ Key Examples
6. Add More Sections to Your Resume for Engineering Manager
Your resume so far is pretty much all business.
That's neither bad nor good.
Right now, based on your application, you look a little bit like a robot.
That's… fine, for an engineering manager, right?
Yes and no.
There are countless others who formatted their resumes just the same. And if you are even 1% less than optimal?
Game over.
To prevent that and get an upper hand over the competition, increase your value through extra resume sections. They're a simple tool to talk more about yourself and your passions without trespassing on cover letter territory.
A great sample addition is programming languages you know (if applying to manage software engineers) or some of your side projects.
Other ideas include foreign languages, management certifications, or hobbies and interests. What matters the most is that you show some passion for what you do in and out of work.
Read more: Best Tips for Writing a Resume
7. Add a Cover Letter to Your Engineering Manager Resume
Cover letters—who should write one? Do you need one as an engineering manager?
That depends. Mostly on whether you want to succeed or not.
The facts are simple: a large chunk of hiring managers want you to submit one. Not doing so is just taking unnecessary risks.
These cover letter tips will help you write an engineering manager cover letter pain-free:
Read more: How to Sell Yourself on a Cover Letter: 7+ Practical Tips
Plus, a great cover letter that matches your resume will give you an advantage over other candidates. You can write it in our cover letter builder here. Here's what it may look like: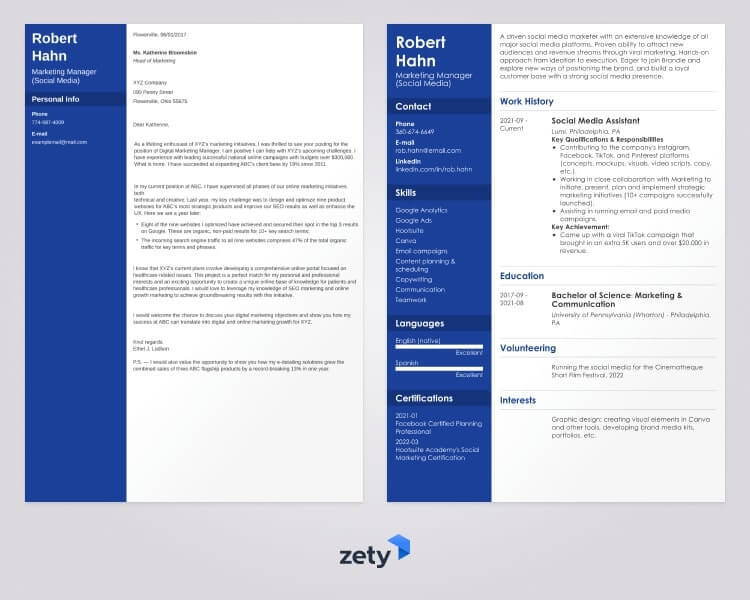 See more cover letter templates and start writing.
That's it! A shining example of an engineering manager resume.
Did we leave any lingering doubts about writing an engineering manager resume? Not sure how to reconcile the manager part and the engineering part? Leave us a comment below and we'll get back to you ASAP!
About Zety's Editorial Process
This article has been reviewed by our editorial team to make sure it follows Zety's editorial guidelines. We're committed to sharing our expertise and giving you trustworthy career advice tailored to your needs. High-quality content is what brings over 40 million readers to our site every year. But we don't stop there. Our team conducts original research to understand the job market better, and we pride ourselves on being quoted by top universities and prime media outlets from around the world.