Systems Engineer Resume Example, Job Description & Guide
Thinking about applying to NASA for a systems engineering position? It'll be a longer shot than from here to the Moon unless you write an expert systems engineering resume.
In a few moments, you will discover how you can crank your systems engineer resume to the max, here and now.
And trust me, you'll need to.
Why?
Because competition is as fierce as ever, and it doesn't matter if you're designing the systems of a spaceship or the newest coffee machine.
There are hundreds or even thousands gunning for that same job.
And you will beat all of them.
This guide will show you:

A system engineer resume sample better than 9 out of 10 other resumes.
How to write a systems engineer resume that will land you more interviews.
Tips and examples of how to put skills and achievements on a system engineer resume.
How to describe your experience on a resume for a systems engineer to get any job you want.
Want to save time and have your resume ready in 5 minutes? Try our resume builder. It's fast and easy to use. Plus, you'll get ready-made content to add with one click. See 20+ resume templates and create your resume here.
Sample resume made with our builder—See more resume examples here.
Are you flexible enough to also be looking at other engineering jobs? Check out some of these:
Systems Engineer Resume Example
Virginia F. Bailey
Systems Engineer
vgbailey@zetymail.com
Linkedin.com/in/virginia.f.bailey
Summary
Efficient and highly skilled systems engineer with a keen eye for detail and 6 years of experience. Designed 65 installation and test plans at Jetty&Co., with over $23M in equipment and services quotes overall. Seeking new challenges and ways to utilize budgeting and outside-the-box-thinking skills at MapFrap Metallurgy to streamline processes and uphold quality standards.
Professional Experience
Systems Engineer
Jetty&Co.
Sacramento, California
December 2017–present
Implemented design optimizations to existing systems to cut expenses by 25%.
Saved roughly $40K per year through extensive testing and diligent system maintenance procedures.
Was second-in-command (under SE Lead) to a team of 60 engineers, despite being among the younger hires.
Used business development strategies and SEO aptitude to coordinate the preparation of attractive marketing brochures and other materials, gaining 12 new clients between 2019 and 2021 and increasing company profits by 13%.
Junior Systems Engineer
No-BullDozers Construction
March 2015–April 2017
Communicated with Product Management and Engineers to understand product specifications and functionality.
Managed vendor selection, testing, BOM tracking and manufacturing schedules.
Organized new R&D projects regarding new functionality of construction and heavy-duty equipment.
Education
BSc in Systems Engineering
Auburn University, Auburn, AL
Graduated: 2014
Skills
Interdisciplinary engineering
Business development
CAD
System design
Lean manufacturing
Industry 4.0
Leadership
SEO
Time management skills
Certifications & Memberships
Systems Engineering Professional Certification, INCOSE, 2017
Certified IEEE Member and Certificate Holder, 2017
This is how you write a systems engineer resume:
1. Format Your Systems Engineer Resume Correctly
Systems engineers optimize systems to make both hardware and software work more efficiently and cause fewer problems. They also analyze potential problem areas and look for solutions. Put simply, a systems engineer always needs a solid and structured attack plan, as does a systems engineer resume.
Here are a few basic resume formatting rules to get you started:
And how long should a resume be for systems engineer jobs, really? Not as long as your parts order: one page should definitely do in 99% of cases.
Read more: What Does the Best Resume Look Like? Guide & Examples
2. Design a Professional Systems Engineer Resume Profile
Picture Steven.
He's the HR manager of the company you're applying to, reporting directly to the engineering department head and the CTO.
His life is already tough, the 200+ resumes on his desk certainly are of no help.
What you should do is make his (and your own) life easier by writing a professional resume profile.
It's a quick introductory statement at the top of your resume that sums up your qualifications in a nutshell—a lifesaver for Steven, who doesn't want to pore over each and every resume just to get to the good stuff.
There are two kinds of profiles: resume summaries and objectives.
If you've been engineering systems for a while, a professional resume summary statement will come in handy to squeeze your work experience into 3 or 4 concise sentences, rife with your strengths, achievements, and that one time you managed to patch up an electrical system using only duct tape and a pack of chewing gum.
However, if you're new to the profession, a resume objective statement is the pick for you. Focus instead on how you would apply your experience, knowledge, and transferable skills from other fields, but limit yourself only to the most relevant elements.
Regardless if it's a summary or objective, you definitely want to include numbers next to your accomplishments. That way, you will draw and keep the recruiter's attention, plus help them get a better idea of what your hard work meant in practice.
Read more: How to Write the Best Resume Introduction
3. Chisel Your Experience Section on a Systems Engineer Resume
The Bureau of Labor Statistics claims that every year, in the industrial engineering sector, which includes system engineers, more than 23 thousand jobs open up.
23 thousand. Take a minute to think about that number.
While it does mean a lot of potential opportunities, it also spells out plenty of competition.
To get ahead of them, a magnum opus of a work experience resume section is your key. After all, this is what most recruiters will look to when making a choice.
Here's how to get it done right:
The previously mentioned reverse-chronological order dictates you put your most recent job first and your first job last, so do that.
For each entry, include the job title, company name, years worked, and up to 6 effective bullet points to describe your professional accomplishments and tasks. Older jobs need fewer bullet points to prevent bloating.
Just as it was the case with the resume profile, numbers are once again your friends here. Use them to your advantage alongside action words to create a powerful effect.
Try to tailor your application to the job as much as possible. Copy-pasted and generic resumes are what really grinds the recruiter's gears.
Pro Tip: We just reverse-engineered the experience section of someone who's already done systems engineering, but what if you're new? In that case, switch the position of your experience and education sections.
4. Describe Your Education on a Resume for Systems Engineers
We finally get a breather here, as this section is a bit easier to compose.
Note that's not code for "skip".
Here's what you do:
Start off by listing your school name, degree, your majors and minors, and (expected) graduation date.
Finished school a long time ago? Great: then that's all you need to do where it comes to listing your education on your resume.
Still relatively new in the field? Include additional elements such as academic achievements, earned scholarships, honors on your diploma, or relevant coursework to bump up those efficiency statistics.
Read more: How to Put Your Degree on a Resume
When making a resume in our builder, drag & drop bullet points, skills, and auto-fill the boring stuff. Spell check? Check. Start building a professional resume template here for free.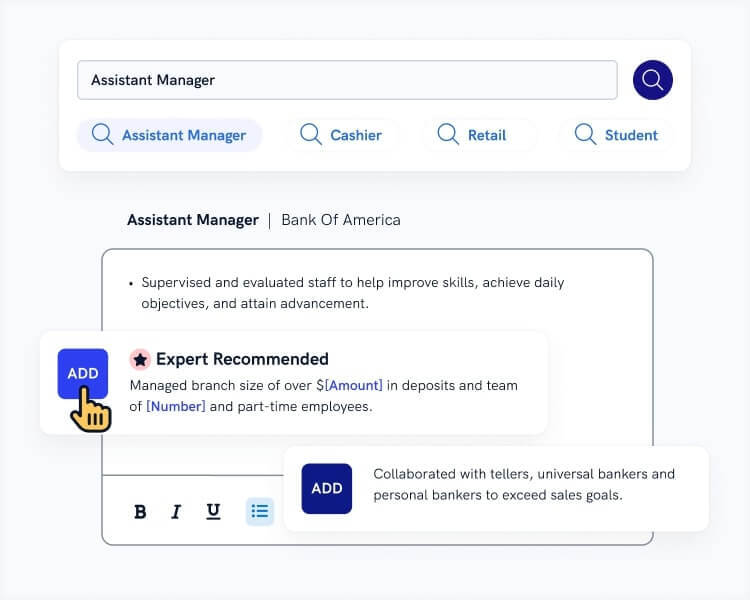 When you're done, our easy resume builder will score your resume and our resume checker will tell you exactly how to make it better.
5. Prove Your Relevant Systems Engineering Skills
Studies show that the funds and effort put into systems engineering advancement during a project's lifecycle greatly matters when it comes to the success of its outcome.
The skills you bring to the table are what the employer wants to see. You need to demonstrably show that hiring you won't mean pouring millions of dollars down the drain.
But you can't simply flood them with an unfettered list of 20-odd skills. That just won't fit with the schematics.
Try this approach instead:
Write down all of your skills in one spreadsheet. Be sure to include both soft skills and hard skills.
Take a good, hard look at the job posting. It should be relatively easy to find specific resume keywords that will lead you to what the company is primarily after.
Cross-reference them with the spreadsheet you just made. Got a match? Bingo! Put that on your resume.
Repeat about 6 to 8 times, and you will end up with a perfectly tailored list of NASA-level skills.
And if you're not feeling particularly inspired today, we've compiled a reliable master list of system engineering skills below:
Systems Engineer Resume Skills
Troubleshooting
System Design & Development
Analysis
Customer Service
Technical Documentation
Assessing Company Needs
Feasibility Tests
Project Management
Business Development
Math
ISO/IEC Standard Knowledge & Adherence
6. Add Extra Sections to Your Systems Engineer Resume
At this stage, you've proven your experience, and you've shown you have exactly the right skills to boot. What else could you do?
Recruiters love people who show passion. Even if you feel like you analyzed the whole system and nothing else remains on the professional side, don't worry. Adding an extra section or two could help you make a good impression and show you love what you do.
That's why it's critical to include things like your professional certificates, training, engineering conferences attended, special projects, foreign languages, or your hobbies and interests. Bonus points if they're engineering-related, but again—they don't have to be!
Read more: What to Put on a Resume: Full Guide
7. Send a Cover Letter with Your Systems Engineer Resume
Thinking about just sending the resume and seeing what will happen?
Don't.
You're actually more likely to fail that way. As our HR statistics show, 45% of recruiters won't look at a resume without a cover letter attached. That's not a risk worth taking: which means a cover letter is very much necessary.
If you're clueless about where to start and want a quick breakdown, here are some cover letter tips:
Before you start writing, make sure to format your cover letter properly.
Start the cover letter with a few words on what drove you to apply, and listing a few system engineering career wins.
Highlight why this company is special to you and how you could make them even better.
End the cover letter with a compelling call to action and suggest meeting in person for an interview.
Add a post-script and in it, write one more juicy accomplishment to squeeze out everything from the attention you've been given. Maximum efficiency!
Just like with your resume, the length of your cover letter should definitely not exceed one page. Ideally, keep it at about 3 or 4 paragraphs total.
Plus, a great cover letter that matches your resume will give you an advantage over other candidates. You can write it in our cover letter builder here. Here's what it may look like: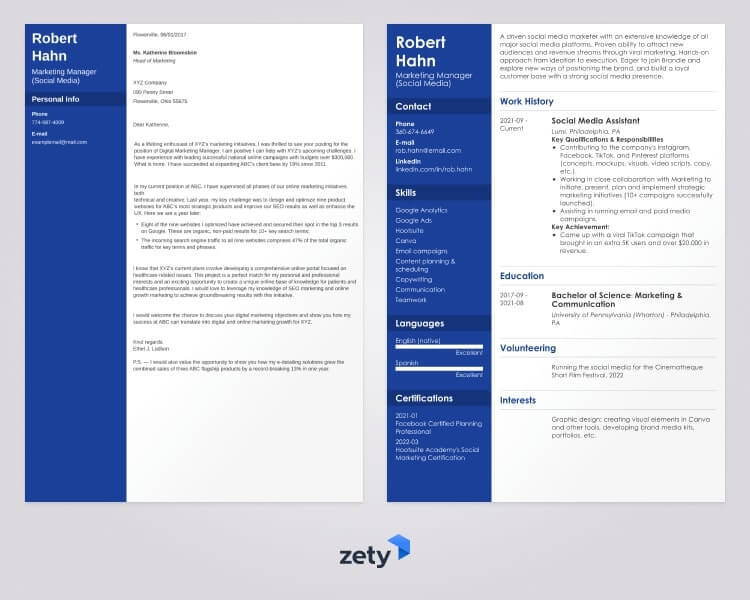 See more cover letter templates and start writing.
And with that, you're done.
A systems engineer resume that turns heads and sends sparks a-flying.
Do you still have any burning questions related to systems engineering skills? Is the work experience section giving you trouble? Or maybe we missed something critical—whatever it is, we'd love to hear your feedback in the comments down below!
About Zety's Editorial Process
This article has been reviewed by our editorial team to make sure it follows Zety's editorial guidelines. We're committed to sharing our expertise and giving you trustworthy career advice tailored to your needs. High-quality content is what brings over 40 million readers to our site every year. But we don't stop there. Our team conducts original research to understand the job market better, and we pride ourselves on being quoted by top universities and prime media outlets from around the world.