Automation Engineer Resume: Guide With Sample & Key Skills
Writing a resume for an automation engineer and unsure which skills to list? Read our guide and find automation engineer resume tips to impress employers.
Making complex things easy? You excel at that. After all, you're the one breaking down existing processes, no matter how convoluted, and finding ways to make them work better.
The secret is finding the right framework to make things go smoothly—and writing a good automation engineer resume is no different. This guide will help you establish the best process, list the right skills, and wow the recruiters.
Want to save time and have your resume ready in 5 minutes? Try our resume builder. It's fast and easy to use. Plus, you'll get ready-made content to add with one click. See 20+ resume templates and create your resume here.
Sample resume made with our builder—See more resume examples here.
Automation Engineer Resume Sample
Ronald Burdick
Automation Engineer
801-480-4945
ron.burdick@email.com
linkedin.com/in/ron.burdick
Summary
An automation engineer with over 6 years of experience and a proven track record of systems and processes optimization. Found unconventional ways to improve the customer experience at Weet, resulting in unprecedented product sales. Created solutions at Toutas that brought over $20K extra monthly revenue. Willing to join the team of Cascalls to apply my expertise and improve the current approach to automation.
Work Experience
Automation Engineer
Toutas, Newark, NJ
August 2019–Present
Key Responsibilities:
Enhancing existing automation systems by identifying improvement areas (over $80K in total savings through optimizations.)
Introducing new cutting-edge automation frameworks (resulting in 10–55% increases in resource utilization efficiency.)
Transforming customer expectations into viable technical solutions in close cooperation with the BA team.
Training and onboarding new team members (currently 12 people.)
Key Achievement:
Developed 20+ new automation tools and scripts that reduced bug count by over 50% and eliminated unnecessary steps, saving over 20% of the time per manual test.
Test Automation Engineer
Weet, Newark, NJ
September 2016–June 2019
Key Responsibilities:
Designed test automation scripts according to guidelines.
Investigated and fixed software issues.
Collaborated with QA and software developers to introduce changes to the company's flagship products, bringing over $150K in additional revenue.
Key Achievement:
Increased customer engagement by 73% by resolving bottlenecks.
Education
Bachelor of Computer Science
Cornell Ann S. Bowers College of Computing and Information, Ithaca, NY
September 2012–July 2016
Skills
UiPath Robotic Process Automation
Cypress
Rainforest
Data management
Python
Java
Leadership
Communication
Certifications
ISA Certified Automation Professional (CAP), 2021
IIST Certified Software Test Automation Specialist (CSTAS), 2018
Languages
How to Write a Resume for an Automation Engineer
Follow these steps to construct your automation engineer resume:
Start with the format.
Resume formats vary according to their main area of focus. A reverse-chronological resume is the traditional one that lists jobs in chronological order, a functional resume format emphasizes the skills, and a combination resume is a hybrid of the two.
Choose a template.
Picking out a ready-made resume template is a more time-efficient option than manually constructing the resume structure. If you start from scratch, remember to pick a professional resume font that reads well (10–12 pts), leave enough white space (1-inch margins, 1–1.5 line spacing), and separate different resume parts using headings, italics, and bold type.
Include the right sections.
While the format will dictate the order of your resume, some resume sections are obligatory. They include a resume header, summary/objective, work history description, education, and skills.
Build a header.
A resume header should feature your name, job title, and contact details. Be careful not to add too much information and clutter the page—only share your phone, email, and social media links if relevant (e.g., LinkedIn).
Take your time with the summary.
A resume summary is a brief paragraph describing your career highlights: top achievements, qualifications examples and relevant skills, years of experience, and potential value for the employer. A resume for new grads usually has a resume objective instead and focuses on transferable skills and career goals.
Describe your experience.
The professional history section of your resume should include 3–6 bullet points per position, plus a key achievement. Make sure to talk about measurable results, successfully completed projects, and relevant work experience that corresponds to the job ad.
Display your education.
Your resume education section should only include the final stage of your education (i.e., university). If you have postgraduate degrees, place all entries in chronological order. For entry-level resumes, it's acceptable to add bullet points talking about scholarships, academic achievements or awards, publications, and other relevant successes.
List your skills.
Professional skills should be chosen based on the field/position requirements. The chapter below breaks down how to tackle this section.
Get added value from extra sections.
Think about additional resume information once you're done with the mandatory sections—it's a great way to emphasize your accolades like licenses or certifications, ongoing education statements, memberships, publications, and such.
Give it a final quality assessment.
Done? See if there's anything to optimize. Proofread, see if you can replace weak phrases with action verbs, check if you've added resume keywords, and save your resume in PDF.
If you'd like to go into further detail about the best practices for each particular section, this is the article to go through: How to Write a Resume (Any Job)
Add a cover letter to your automation engineer resume when you're applying. This guide will provide you with the necessary insights: How to Write a Cover Letter: General Tips
Key Skills to Add to Your Automation Engineer Resume
Even though a career in automation engineering relies heavily on technical skills and IT knowledge, it doesn't mean soft skills have to be excluded whatsoever. Because you have to work with various teams to help streamline their processes, efficient communication and feedback collection are just as important—so a good mix of hard and soft skills will be ideal.
For a strong automation engineer resume, include some of these top 10 skills:
AI/Machine learning
Data management
Programming/Coding/Scripting (include applicable languages/software)
Configuration management software
Troubleshooting/Testing
Pro Tip: Always add position-specific computer skills to your resume. Go through the job ad, carefully study the requirements, and tailor your resume accordingly.
Looking for a Similar Guide? Here's What We've Got:
When making a resume in our builder, drag & drop bullet points, skills, and auto-fill the boring stuff. Spell check? Check. Start building a professional resume template here for free.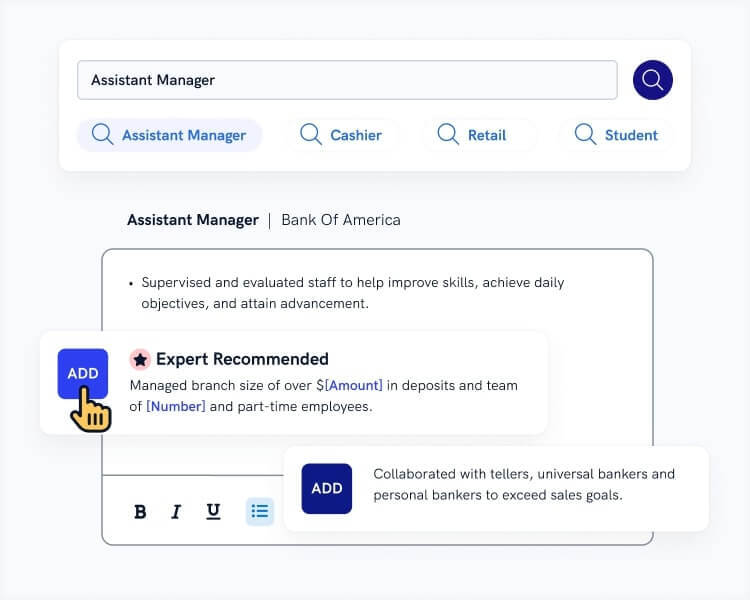 When you're done, Zety's resume builder will score your resume and our resume checker will tell you exactly how to make it better.
Appreciate you reading our automation engineer resume guide! Do you have any ideas that are worth adding? Please, share them in the comments section below.
About Zety's Editorial Process
This article has been reviewed by our editorial team to make sure it follows Zety's editorial guidelines. We're committed to sharing our expertise and giving you trustworthy career advice tailored to your needs. High-quality content is what brings over 40 million readers to our site every year. But we don't stop there. Our team conducts original research to understand the job market better, and we pride ourselves on being quoted by top universities and prime media outlets from around the world.