Recruiters spend an average of 7.4 seconds on a single CV. That's barely enough time to read two sentences. But you can encourage recruiters to read your application in full. How? Start with a CV personal profile.
A personal profile, also called a CV summary, is a short paragraph at the top of your application. It's like an elevator pitch: a catchy summary of your expertise, skills, and achievements.
Think of it as an introduction to your CV. Write it well, and you'll make your whole application memorable as well as buy yourself much more of the recruiter's time!
This guide will show you:
Why you need a CV personal statement on every CV you send.
How to write a CV profile to land more job interviews.
20+ right vs wrong examples of what to include in a CV personal statement to grab attention.
First, have a look at a sample CV with a personal statement at the top. We made it with our builder. (Notice how the paragraph at the top stands out!)
Want to save time and have your CV ready in 5 minutes? Try our CV builder. It's fast and easy to use. Plus, you'll get ready-made content to add with one click. See 20+ CV templates and create your CV here.
Sample CV made with our builder—See more CV examples here.
Are you looking for resume examples? See:
A personal statement isn't the only way to start a CV. See:
1
Here's Why You Need a Personal Statement/Profile for a CV
Some career experts claim that a CV personal statement is a relict of the past. In short—these experts are wrong.
Why?
Let's confront popular belief with science.
Recent research has proven that all top-performing CVs have several common traits. One of them is a CV profile or statement located at the top of the first page of the CV.
To understand why it's so powerful, have a look below at the results of an eye-tracking study by the Ladders. You'll see two sample CVs juxtaposed. Only the one to the right has a CV personal statement.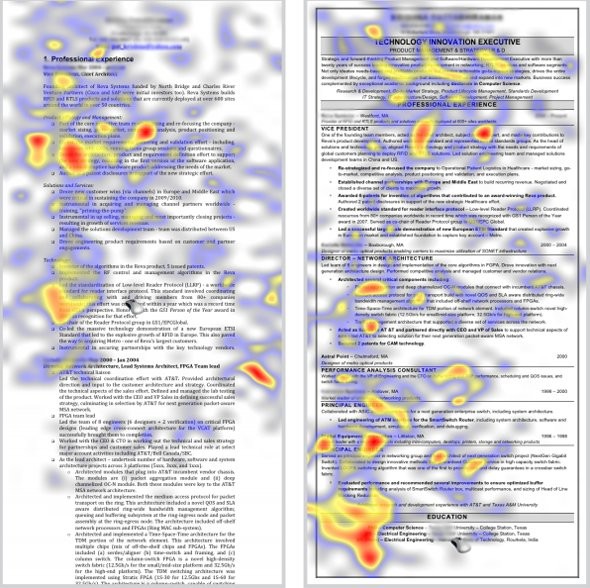 Notice two things:
The heatmap shows visible eye activity on the personal statement area—that means it's an effective attention-grabber.
More importantly, the CV with a personal statement got much more eyetime for all its contents. A CV personal profile worked as a "trailer," encouraging the recruiter to find out more about the candidate.
Long story short: a CV personal profile will drastically boost your chances of getting invited for an interview. Time to learn how to write one.
If you're curious what the difference between a CV and a resume is, check out our guide: CV vs. Resume: Definitions, Difference & When to Use Which (Samples)
2
How to Write a Personal Statement for a CV?
A good CV personal statement or a personal profile has 5 ridiculously simple ingredients:
Who you are
2–3 skills
2–3 achievements
The name of your target company
What you hope to do for your new employer
See this CV profile example for reference:
Personal Profile for a CV—Example
Passionate healthcare Project Manager and PMP (who you are) with 9+ years of experience leading projects in a competitive hospital. Seeking to use solid organizational and lean management skills (your skills) to raise profitability for Richmond Royal Hospital (the name of the target company and what you hope to do). At St Thomas', trained 125 employees in lean principles. Cut stockroom waste by 52%. Saved £32,000 annually (achievements) through better use of tax deductions.
At first, it might seem difficult to come up with an equally good CV personal profile. Luckily, there's an easy step-by-step strategy you can follow.
How to Write a CV Profile?
Read the job description carefully and identify the most important requirements and responsibilities.
Write your CV, focusing on your skills and achievements most relevant to the job ad.
Skim the cream: find the best, proudest wins on your CV and include them all in your personal statement.
Depending on your level of experience, your personal profile will work as a CV summary or a CV career objective.
Write a CV summary if you have a lot of relevant experience. Provide a snapshot of your career: list your measurable achievements and showcase your skill set.
Go for a CV objective if you're writing an entry-level CV or a career change CV. Describe what you've learned so far and how well you'll fit in.
Whichever one is right for you—I can't stress that enough—don't just write about what you want out of the job. Focus on the offer you bring to the table. Make the employer realize you'll be there to solve their problems.
Before we move on to CV profile and CV personal statement examples for different industries and positions, remember about these universal tips for a good CV personal profile:
1. Keep your personal statement short
How long should a personal statement for a CV be?
A single paragraph of 30–80 words is about the sweet spot. That usually means 3 to 6 sentences. Try to include all of your most relevant achievements, but don't repeat yourself. Make every word earn its place on your CV profile. End game: it's supposed to be your elevator pitch.
2. Add measurements to your achievements
Employers love to see quantified proof of your performance. Here are some questions to help you come up with metrics for your personal statement:
Did you save your company money? How much?
Have you boosted sales or revenue?
How large were the budgets you've handled?
How many colleagues were there on your team? How many have you trained or supervised?
How much work were you able to complete within a day or a week?
How often did you perform certain tasks?
3. Avoid jargon and CV buzzwords
Using CV keywords from the job description is a must. But don't confuse them with industry jargon or generic buzzwords. Avoid phrases such as:
Go-getter
Hard working team player
Synergy
Go-to person
Thinking outside the box
4. Don't mix the grammatical person
In a UK CV, it's fine to write in either the first or the third person. But not both at the same time!
All that information above seem like too much to process at once? Don't worry.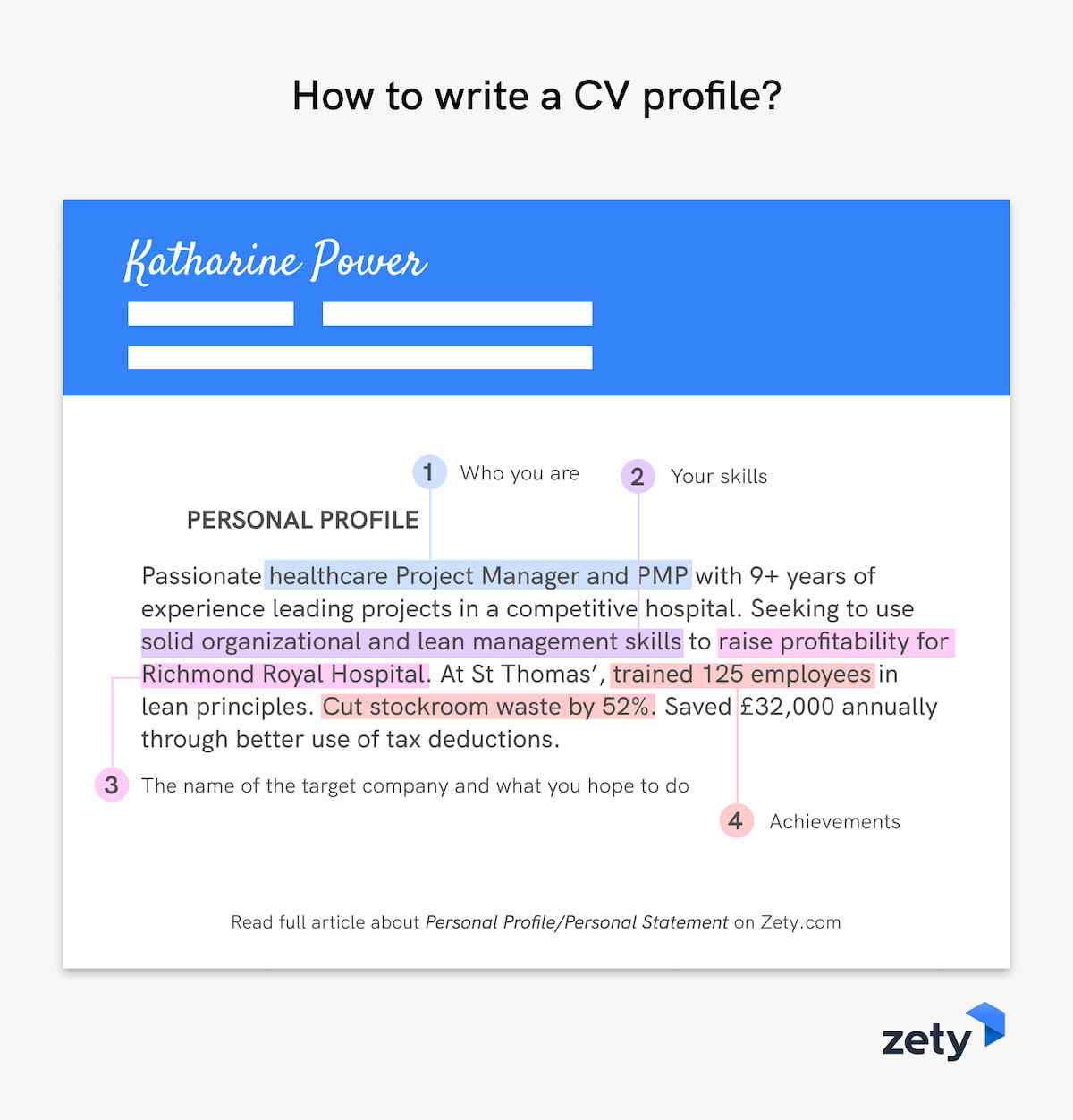 When making a CV in our builder, drag & drop bullet points, skills, and auto-fill the boring stuff. Spell check? Check. Start building a professional CV template here for free.
When you're done, Zety's CV builder will score your resume and tell you exactly how to make it better.
If you think writing a non-traditional skills-based CV might be a good idea for you, apart from the CV profile, you'll need to write a CV skills summary. Find out how: Skills Based CV Examples and Writing Guide
3
CV Personal Statement/Personal Profile Examples for Different Professions
Below you'll see right vs wrong CV personal profile examples for XYZ professions. We've divided them into two categories: CV personal statements for experienced candidates and CV profiles for entry-level job seekers and recent school leavers.
CV Personal Statements for Experienced Candidates
Marketing Specialist CV Personal Statement Examples
right
Manchester-based growth marketer with a background in sales and 5+ years of experience growing conversion rates for an international mobile carrier. Increased sales by 44% in 6 months. Seeking to leverage leadership excellence to raise ROI and lead-generation efficiency for Symantec.
wrong
Experienced marketer (5+ years) with a good working knowledge of inbound marketing, SEO, ATL, and BTL. Worked for 3 major ad agencies and freelanced as a marketing consultant. Looking for a new challenging role.
The difference is clear—the right example lists skills and achievements, and proves them with metrics. On top of that, it makes a clear offer. The wrong example, in turn, is far too unspecific and impersonal.
Teaching Assistant CV Personal Statement Examples
right
Enthusiastic teaching assistant with 8 years of experience. Seeking to maintain graduate teacher assistant position at St Andrews University. Mentored 50+ students for 2 years. Delivered lectures, supervised 2 practical labs, edited 2 books. Commended by 3 professors for research quality. Graded 800+ student papers. Skilled in research and materials development.
wrong
Experienced teacher assistant with 6+ years of experience. Highly skilled in mentoring, delivering lectures, supervising practical labs, and doing research. Can edit academic books and grade papers.
Computer Science CV Profile Examples
right
Inquisitive computer science specialist with 8+ years of experience. Looking to leverage strong programming skills as a developer for Acme. Led a team of 11 coders at Halcyon-Berth Systems. Delivered projects an average of 10% before deadline, with 15% less errors than other teams. Trained 25 programmers in cloud computing skills.
wrong
Computer Science specialist with a solid background in Python, R, C++, Java, C# and Objective-C. Experienced in running a wide variety of software development projects. Looking for a new role in a fast-paced tech company.
Remember: a CV personal statement is not a place to randomly list all your professional skills. Write only about what's important. Always provide examples that validate your expertise.
See some more samples:
Food Service CV Personal Profile
Three-plates-on-one-arm fine dining server with 6 years experience on some of the most renowned restaurant floors. Looking to work with other team-oriented servers to maximize the restaurant experience.
IT Consultant CV Personal Statement
Personable IT consultant with 4+ years expertise in a fast-paced global tech firm. Achieved company-best quality satisfaction rating according to internal review (99.76%). Seeking to advance my career by growing with the Lansing team.
Graphic Designer CV Personal Statement
Creative graphic designer with 5+ years of experience. Seeks to use exemplary time management skills to lower project time at Yahoo!. At Pasalacqua Designs, developed over 300 graphic projects and and increased client transactions by 30%.
Marketing Executive CV Profile
Highly capable marketing manager with 6+ years of experience, seeking to leverage proven leadership and strategy skills to grow revenue at Eskelund Global. Met 150% of revenue goal in a fast-paced tech firm. Led 7 cross-functional product teams to 25% efficiency improvement and £1.2M cost savings.
Not too keen on the plain paragraph style? In your CV personal statement, you can experiment with bullet points, too!
Office Manager CV Profile
I am a professional, efficient office manager with 6+ years of experience working for a large corporate organization.
Promoted to executive secretary in 2017.
Introduced a time management system and increased the efficiency of the office by 15%.
Looking to leverage excellent project management and organization skills to help Hogan & Partners' team reduce office administration costs.
If the CV personal statement samples above seemed too intimidating, don't worry. Even without a wealth of job experience, you can successfully sell yourself in a CV profile. Have a look:
CV Personal Statements for Recent Graduates and Entry-Level Candidates
Graduate CV Personal Statement
right
Highly-motivated LSE Business Administration graduate looking to fill a position as a Management Assistant at ABC Corp. Wishing to use strong data-analysis and management skills to help ABC Corp optimize the workflow and cut production costs.
See that? The bottom line is "I've learned a lot already and I have what it takes to help you."
wrong
Recent graduate in Business Administration looking for a first full-time job. Not much work experience yet, but I'm a quick learner with a go-for attitude. Skilled in project management, data analysis, economics, and budgeting.
That one is actually not awful. But there's no real value for the hiring manager. Most candidates have similar skill sets. Not to mention, a majority has more experience.
School Leaver CV Personal Statement
right
Senior year biology student at Anytown University, looking to join XYZ University Department of Marine Biology Research Team. Seeking to leverage strong data entry and lab maintenance skills gained through volunteer lab experience at the campus to ensure all research databases and libraries are easily accessible to XYZ State's students.
wrong
Medicine student with strong academic record looking to join a research team to gain new skills in gathering, processing, and analyzing clinical data.
The wrong example doesn't mention any specific position. That's an instant red flag for recruiters. It suggest the candidate is probably spamming identical CVs to all employers within a 30-mile radius.
Entry-Level Business Analyst CV Personal Profile
Enthusiastic Business Analyst, skilled in leadership and communication. Seeking to enhance understanding of key metrics for IPSoft. As business report writer for Valens Securities, helped grow employee grasp of key concepts by 37%. My PowerPoint presentation of GBMP's Policy Deployment plan was turned into a webinar that got 1,400 views.
Even if you were just a part of a team that achieved impressive metrics, it's perfectly fine to refer to that on a junior CV personal statement.
Medical Assistant CV Personal Statement
Efficient medical assistant with volunteer experience in a fast-paced private practice. Seeking to leverage proven skills in patient care, EHR, and inventory management to help MedFast maintain industry-highest level of patient satisfaction.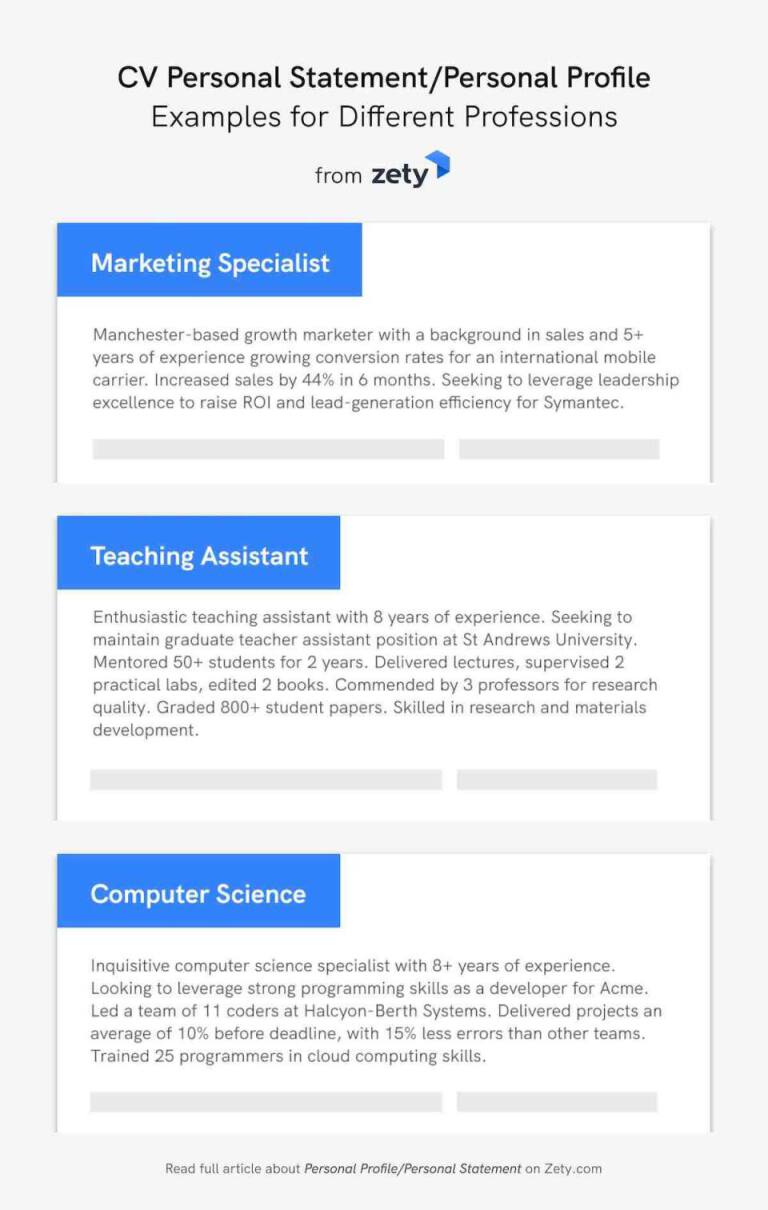 If you can't find a personal statement for your position or industry, see our list of full CV examples for most professions. We break down how to write each section: 100+ CV Examples for All Jobs: Samples and Writing Guides
Plus, a great cover letter that matches your CV will give you an advantage over other candidates. You can write it in our cover letter builder here. Here's what it may look like: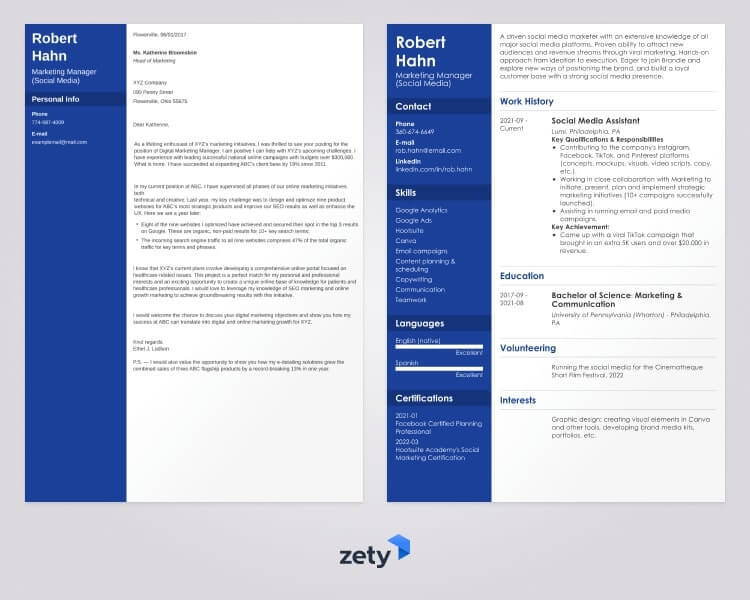 See more cover letter templates and start writing.
Key Takeaway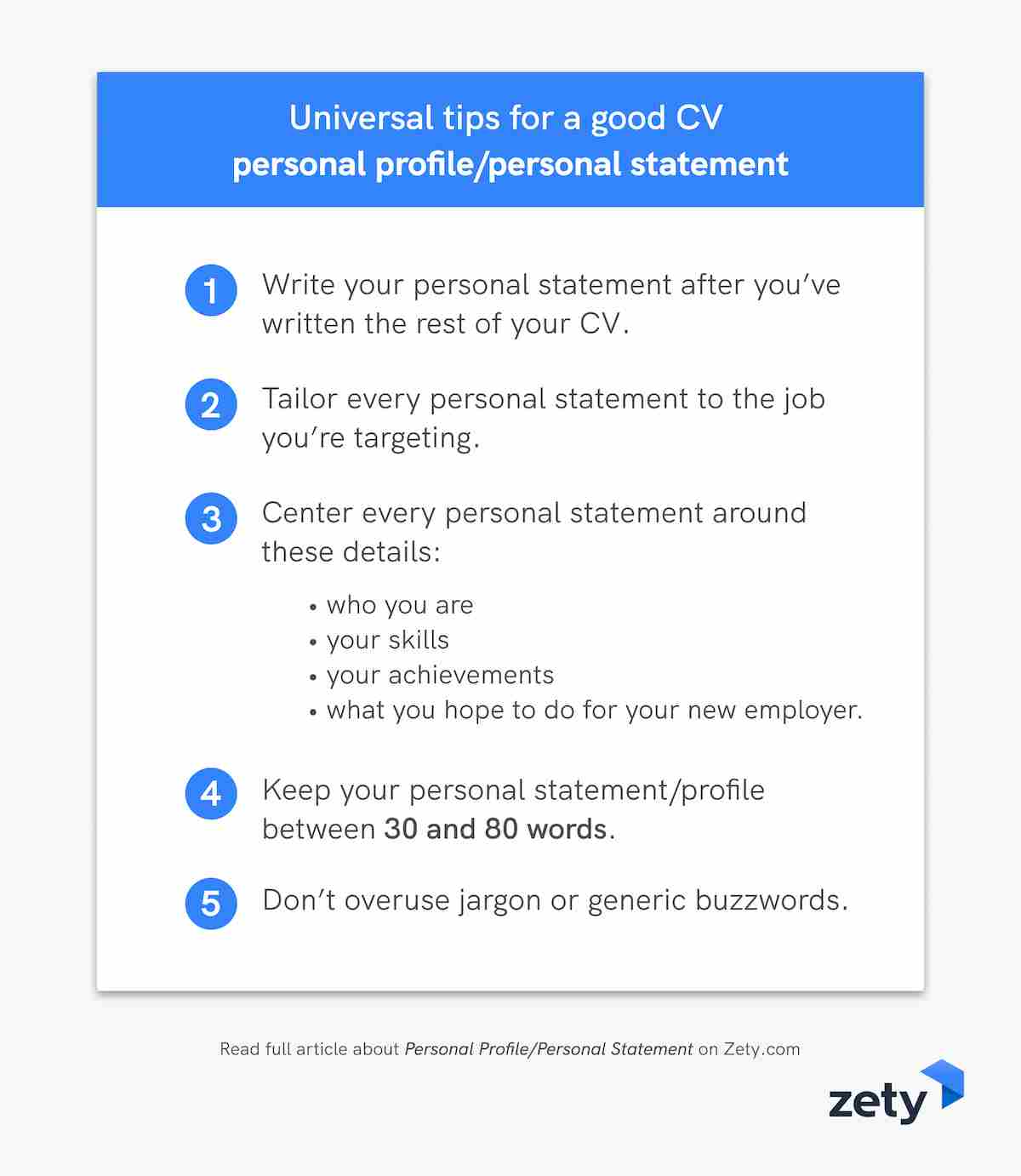 To write a perfect CV personal statement or a CV personal profile, follow these key tips:
Write your personal statement after you've written the rest of your CV. Pick the best bits that highlight your skills and achievements.
Tailor every personal statement to the job you're targeting: use the name of the company and the name of your prospective role.
Center every personal statement around these details: who you are, your skills, your achievements, and what you hope to do for your new employer.
Keep your personal statement/profile between 30 and 80 words.
Don't overuse jargon or generic buzzwords.
If you have any questions on how to write a job-winning personal statement or need help crafting yours, drop me a line in the comments. I'll get back to you right off!