You know you can beat the competition with your qualifications. But if you fail to catch the hiring manager's attention, they won't even know you're worth a call. That's why you need a surefire method to show your value straight away. And an impressive personal CV statement can do that very thing.
This guide will show you:
20+ personal statement examples to inspire you.
What is a CV statement and why your job application needs it.
How to write a personal profile step-by-step.
Want to save time and have your resume ready in 5 minutes? Try our resume builder. It's fast and easy to use. Plus, you'll get ready-made content to add with one click. See 20+ resume templates and create your resume here.
Sample resume made with our builder—See more resume examples here.
Are you writing a resume? We've got articles dedicated to resume profiles:
Need to write a CV? Check these guides:
Keep reading to learn what's a CV profile and how to make a strong personal profile for your job application:
What Is a Personal Statement for a CV or Resume?
A personal statement, also called a CV profile, is a short paragraph at the top of your application. It's like an elevator pitch: a catchy summary of your expertise, skills, and achievements. Think of it as an introduction to your CV.
Why do you need a CV profile? Well, an eye-tracking study shows that well-performing CVs include a personal statement at the top of the document. An average recruiter takes around 6–8 seconds to look at a job application, so it's very important to grab their attention straight away.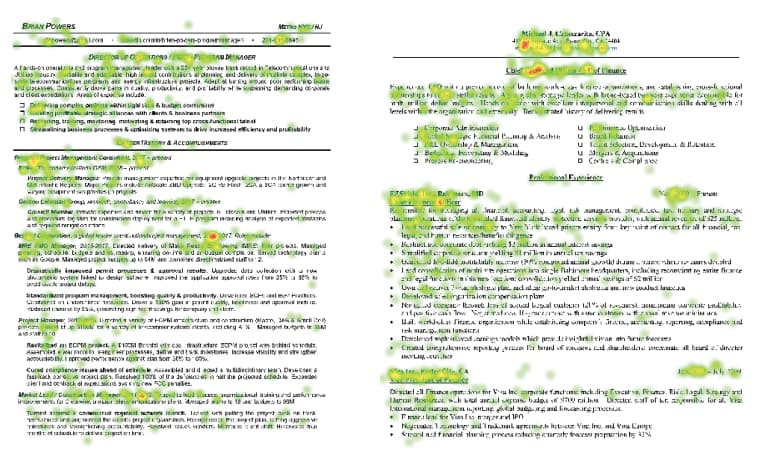 This image shows a heatmap of eye activity. And as you can see, readers usually read the whole personal profile and skimmed through the rest of the CV. That's why it's important to put extra effort into your CV profile—your success may depend on it!
If you don't feel comfortable showing off your strengths, you should practice more. Check here: How to Talk About Your Greatest Strengths
How to Write a Personal Statement in 6 Steps
Writing about yourself is not easy, even for natural storytellers. Yes, you're supposed to show how great you are, but you also can't appear arrogant. Striking the right balance can be difficult.
So, what's the best approach to crafting a CV profile? Leave it till you fill in all the other sections of your CV. Then, you can simply combine the most impressive parts to make a nice personal statement that sounds like an elevator pitch.
Here's how to write a personal statement step-by-step:
1. Say Who You Are in the First Sentence
The first sentence of your personal profile must show that you're a serious candidate for the job. So, skip your zodiac sign or your favorite football team, even if they're a big part of who you are. Focus on your job title or degree, add a good word to describe yourself, and mention your professional experience. Plus, skip personal pronouns.
Here's an example: Motivated project manager with 5+ years of experience in creative agencies.
2. Show Skills Tailored to the Job Posting
Next, highlight 2–3 skills for the job. How will you know which skills to mention on your CV? Easily—just take a look at the job advertisement and see which abilities are required. Your personal profile must be tailored to the job offer, so add only the skills that match it closely.
For example: the job ad says "Looking for someone with good an eye for details and strong communication skills." Then, your CV profile can state: Detail-oriented and communicative.
3. State a Specific Goal That Aligns with the Company
The next part of your personal statement for a resume or CV should focus on what you want to achieve. But not just for yourself—for the company you're applying to. Showing a concrete goal that will be beneficial to the company will get them thinking about your value straight away.
For example: Eager to use the Agile approach to coordinate advertising projects within established deadlines and improve the efficiency of creative teams at Flowerpot Visuals Inc.
4. Mention Relevant Experience or Background
Having relevant experience is like owning a ticket that admits you to the job you want. So, your personal profile must say a word or two about your professional background. Read the job advertisement again, and focus on what responsibilities await you in this role. Then, try to recall similar experiences from your previous jobs or other activities (yes, the academic experience can count, too).
For example: At Sunlight Video Prod, led 4 advertising campaigns involving cooperation between cross-functional teams through all development stages.
5. Provide Facts & Figures to Back Up Achievements
While having experience is valuable, owning relevant achievements is pretty much priceless. To make your accomplishments stand out, use numbers. How? Mention budgets, savings, value increases, and even groups of people you worked with. Saying "trained people during onboarding" sounds fine, but stating "trained 100+ people during onboarding" is much more impressive.
For example: In 2022, saved $23,000 by outsourcing technical maintenance teams.
6. Keep It Short and on Point
Your personal statement is not your biography. It should be around 2–5 sentences long. Remember, you want to convince the hiring manager to read the rest of your CV, so there's no need to provide a lot of detail in your personal profile.
Want to make the writing process even faster? Try this CV profile template:
Personal Profile Template
[Personality trait] + [job title] + [years of experience]. Keen/Eager to use [two skills] to [specific goal] at [company name]. At [previous company], helped/managed to [past achievement].
Let's see a comparison of a good personal profile and a badly-written CV profile:
CV Personal Profile Example
Right
Dedicated PMP with 6+ years of experience leading projects in a hospital environment. Eager to use organizational and lean management skills to increase profits at St. Cross Hospital. At Saint Helen Clinic, reduced stockroom waste by 28% which led to $42,000 in annual savings.
Wrong
Passionate project manager hoping to gain footing in the software development sector. I worked on multiple graphic design projects at my previous workplace. I'm a quick learner, and I'm currently enrolled in an online course on Agile project management.
The first CV profile features all the good elements mentioned above:
a brief introduction of the candidate
a career goal
and relevant achievements
Plus, the tone is professional and perfect for a job application.
The second personal profile example is different—while it expresses the candidate's enthusiasm, it doesn't mention relevant experience, uses weak language instead of achievement statements, and focuses too much on what the applicant wants to gain.
Now, head on to the next chapter to see more personal profile examples for various job types.
When making a resume in our builder, drag & drop bullet points, skills, and auto-fill the boring stuff. Spell check? Check. Start building a professional resume template here for free.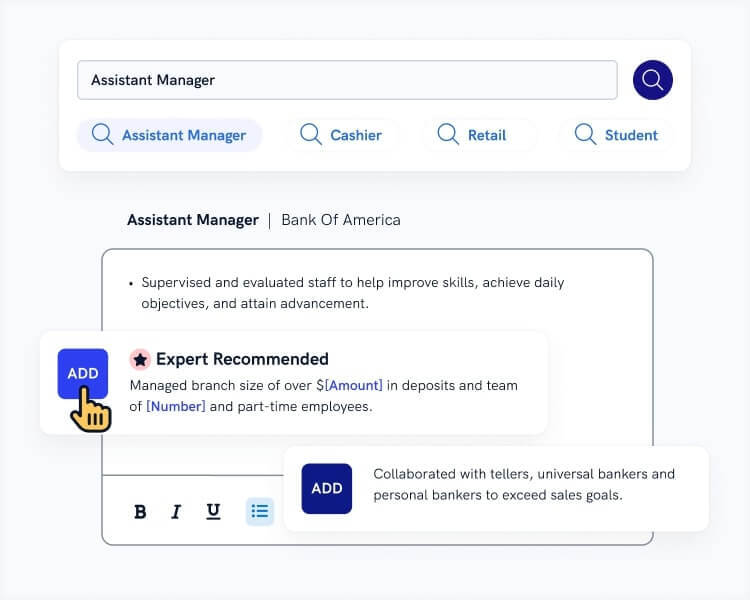 When you're done, Zety's resume builder will score your resume and our resume checker will tell you exactly how to make it better.
20+ Personal Statement Examples
These CV profile examples can help you grasp what a great personal profile looks like even easier. I've included samples for different types of candidates, including experienced and student applicants, as well as examples for different job types. Enjoy!
Personal Statement Examples for Experienced Candidates
As an experienced candidate, you should highlight your expertise in the CV profile. Show off achievements, certifications, and valuable knowledge to impress employers.
CV Profile Example: Marketing Jobs
Motivated growth marketer with a background in sales and 5+ years of experience in an international corporation. Eager to provide leadership excellence to expand the customer base and increase revenue at SeaBluSea Trading. Developed a new sales strategy and workforce training program to boost sales by 32% within a year.
See more: Sample CV for Marketing Jobs
Personal Profile for CV Example: Teaching Assistant Jobs
Empathetic teaching assistant with 2+ years of tutoring experience. Eager to support learners at Stars Learning Academy by providing personalized assistance to students with learning difficulties. Helped improve the academic performance of 11 students using 1:1 tutoring and task-based learning methodology.
See more: Teaching Assistant CV Sample (+ Instructions)
Profile Summary for CV—Sample for IT Support Jobs
Energetic IT consultant with 2+ years of experience in a call center environment. Enthusiastic about assisting StarCloud customers and solving their problems using a combination of technical knowledge and interpersonal skills. Achieved 100% customer satisfaction rate for six consecutive months at White Page Solutions.
See more: IT Support CV Example + How to Write
Personal Career Profile Sample for a Graphic Designer
Creative graphic designer specializing in 3D modeling and printing. Proficient in Blender, Autodesk Inventor, and Adobe software. Eager to create 3D models for new merchandise based on technical specifications and draft illustrations at PromoHouse. In 2022, designed a series of 10+ high-quality 3D medical models for Atlanta Medical School.
See more: Sample Graphic Designer Resume & Tips
CV Profile Sample for Software Engineers
Goal-oriented software engineer with 8+ years of experience. Certified Java SE 8 Programmer. Can't wait to join Fay Ro House and create bug-free code for new applications at all stages of software development. At Greynox, mentored 20+ interns and junior developers during onboarding.
See more: Software Engineer CV: How to Write & Examples
Personal Statement for Nurse CV
Registered Nurse with 3 years of experience in a clinical setting. Current BCLS certification holder. Keen to provide high-quality patient care through all nursing activities using professional knowledge and interpersonal skills at Augusta Health. Improved nursing team efficiency by 18% using new assessment sheets in 2020.
See more: Registered Nurse CV Example & Writing Tips
Personal Profile for Project Manager CV
Data-driven project manager with strong leadership and a goal-oriented attitude. Eager to optimize processes and increase KPIs at BaSee Ltd. In 2022, implemented new reporting patterns and project trackers to exceed targets by 22%.
See more: Sample Project Manager CV & Writing Guide
Personal Statement Example for Teaching Jobs
Passionate history teacher with 6+ years of experience in public high schools. Keen to motivate learners and help them reach their academic aspirations using new technologies and meaningful classroom activities at St. Valley High. In 2022, coached four students for the National History Bowl competition.
See more: Teacher CV Example & Tips
CV Profile for HR Jobs
Motivated HR professional with 4 years of experience in a corporate environment. Eager to support employees at Orb Inc. by leading new hire orientation and implementing recognition programs. At RectAngle, increased employee retention by 28% through team building and recognition efforts.
See more: How to Write a CV for HR Jobs
Personal Statement Examples for Students
Not all employers want to work with students. You need to convince them that you've got the skills and will to perform well at your desired job. In a personal profile, highlight relevant abilities, knowledge, and experience from academic activities, volunteer work, or part-time jobs.
Personal Profile for College Student CV
Third-year Literature student with strong interpersonal and customer service skills. Eager to advise customers of Firefly Stationery Shop to inform them about available products and help them make satisfactory purchases. Worked part-time in the college bookstore in 2021–2023.
Learn more: How to Write a CV for a College Student
CV Profile Sample for Business Administration Graduates
Goal-oriented Business Administration graduate seeking an Administration Assistant position at Petal Designs. Keen to use data-analysis skills and best management principles to find opportunities for process improvements. Initiated the use of project trackers to reduce unnecessary email communication by 29% during a six-month internship at Orb Technologies.
Learn more: CV for Graduates: Examples & Writing Tips
Personal Statement for a High-School Student CV
Motivated high-school student seeking a part-time cashier position. Eager to assist customers and keep the shop inventory in order at A&D Thrift Store. Excellent math and communication skills. Gained customer service skills while volunteering at a school bake sale in December 2022.
Learn more: High-School Student CV Example & Instructions
CV Profile for Internships
Driven Communications student seeking an internship with Moon Fly International. Fluent in Spanish and German. Enthusiastic about providing high-quality translations for newsletters and internal communications while putting newly acquired knowledge to good use. Completed courses in Communication Policy, Media and Mass Communication, and Interpersonal Relations with a current GPA of 3.91.
Learn more: How to Write a CV for Internships
Personal Statement Examples for Entry-Level Applicants
If you're an entry-level candidate, your CV profile must show professionalism. Mention transferable skills and any relevant experience you have, even from volunteer activities or school projects.
Personal Profile for Entry-Level Customer Service CV
Motivated Music Theory student seeking an entry-level customer service job. Eager to provide advice and resolve customer queries at TicketFly using interpersonal skills and a problem-solving attitude. Developed time-management skills, patience, and empathy while working part-time as a babysitter in 2020–2022.
Check here for more information: Customer Service CV Example
CV Profile Sample for Entry-Level Sales Jobs
Personable high-school graduate with strong communication and math skills. Enthusiastic about joining the Red Dot Accessories sales team to inform customers about available products and promotions. Gained cash handling and sales experience while volunteering at Doggos Support Doggos' charity events in 2022.
Check here for more information: How to Write a Sales Associate CV
Entry-Level Personal Statement Example for Personal Assistant CV
Goal-driven senior BBA student seeking an entry-level PA position. Great communication, organizational, and interpersonal skills. Eager to optimize meeting schedules, organize work duties, and plan travel itineraries for the CFO of B&G Inc. Organized 3 fundraising events while serving as Phi Kappa Phi sorority president in 2022–2023. Excelled in administrative duties while volunteering with Ribbon Rainbows Charity in 2021–2023.
Check here for more information: Personal Assistant CV Sample (Entry-Level & Experienced)
CV Profile Sample for Entry-Level Cashier Jobs
Energetic high-school graduate with a people-oriented and positive attitude. Reliable and trustworthy. Applying for the entry-level cashier position at WalCo Markets to provide high-quality and efficient service for customers.
Check here for more information: Cashier CV Example
Entry-Level Personal Statement Example for Waitress Jobs
Freshman Fine Art student seeking a part-time waitress position at Healthy You. Keen to provide great service by helping patrons choose the best menu choices that match their preferences. Demonstrated great customer service skills while hosting school events at Sunny View High School.
Check here for more information: How to Write a CV for Waitress Jobs
Plus, a great cover letter that matches your resume will give you an advantage over other candidates. You can write it in our cover letter builder here. Here's what it may look like: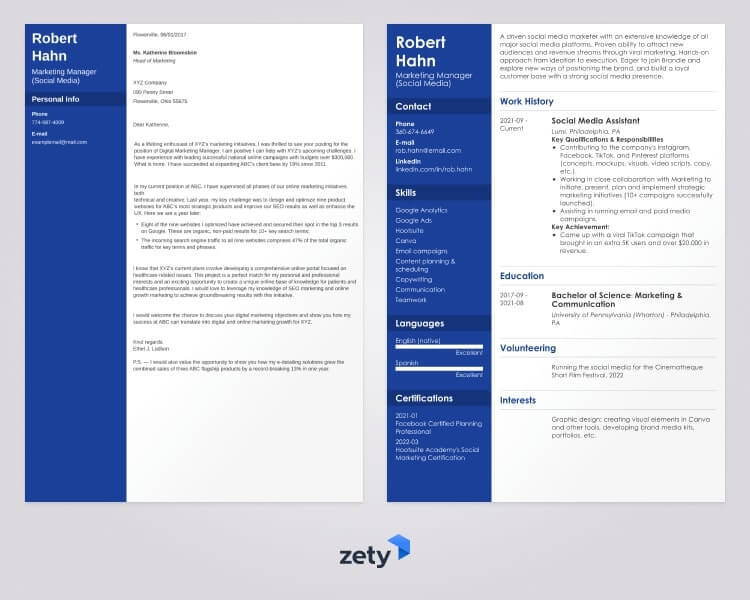 See more cover letter templates and start writing.
Key Takeaway
Here's a quick reminder of the formula for a great CV profile.
How to write a strong personal statement for a CV:
Introduce yourself in the first sentence.
Mention skills that match the job requirements.
Name a goal you want to achieve for the company.
Show your relevant experience.
Demonstrate accomplishment with numbers.
Limit your personal profile to 2–5 sentences max.
And that's all!
Do you struggle with writing a personal profile from scratch? What's the hardest part for you? Have you got any tips for other readers? Let us know in the comments below!
About Zety's Editorial Process
This article has been reviewed by our editorial team to make sure it follows Zety's editorial guidelines. We're committed to sharing our expertise and giving you trustworthy career advice tailored to your needs. High-quality content is what brings over 40 million readers to our site every year. But we don't stop there. Our team conducts original research to understand the job market better, and we pride ourselves on being quoted by top universities and prime media outlets from around the world.