Using a CV template in Word has come a long way. You don't have to put up with that annoying Clippy thing anymore for a start.
But trying to sift through all the low-quality Word CV Templates to find a good one? Like the lady says, ain't nobody got time for that.
But now you can rest easy. I've done all the hard work for you and carefully curated a collection of CV templates for Word that have all the necessary ingredients to land you a job.
So make a coffee, sit back and enjoy. You're going to love them, you have my word—template that is!
Pay special attention to the Zety templates, they're fully optimized to appeal to recruiters and be easy to use. Read on to find out more.
Want to save time and have your resume ready in 5 minutes? Try our resume builder. It's fast and easy to use. Plus, you'll get ready-made content to add with one click. See 20+ resume templates and create your resume here.
Sample resume made with our builder—See more resume examples here.
Before you choose the perfect template, find out how to make the perfect CV. See how:
1
Valera
We begin with one of our own templates. It's a personal favorite of mine. Deceptively simple, but with a real touch of flair in the way it makes use of fonts for a CV. The pairing of cursive headings with simple body text looks stylish and youthful, but remains readable and professional. It has a matching cover letter template too, like all of our CVs.
All of our templates are downloadable in Word format, but the best format to save your final CV copy is PDF. With our builder it's easy, you get three download options PDF, MS Word document and plain text.
2
Cascade
Another Zety CV template for Word. With our builder, you just enter all your details then save the final result as a DOC file. No messing around in Word while you're writing.
(You know what it's like, move an image a fraction of an inch and suddenly everything shifts, four new pages appear, smoke comes out of your keyboard and you hear police sirens in the distance.)
All the layout pain is on us with Cascade. The two-column CV format is visually appealing and gives lots of room to max out your credentials as the perfect candidate. Nice use of color, too.
The blue column to the left uses two different shades and the right side nicely picks out the blue in the titles. The health bars for software and language skills are the cherry on top. A great choice of Word CV template.
Blue looks great but as with all of our templates, you can effortlessly choose from a rainbow of colors.
3
Blue Grey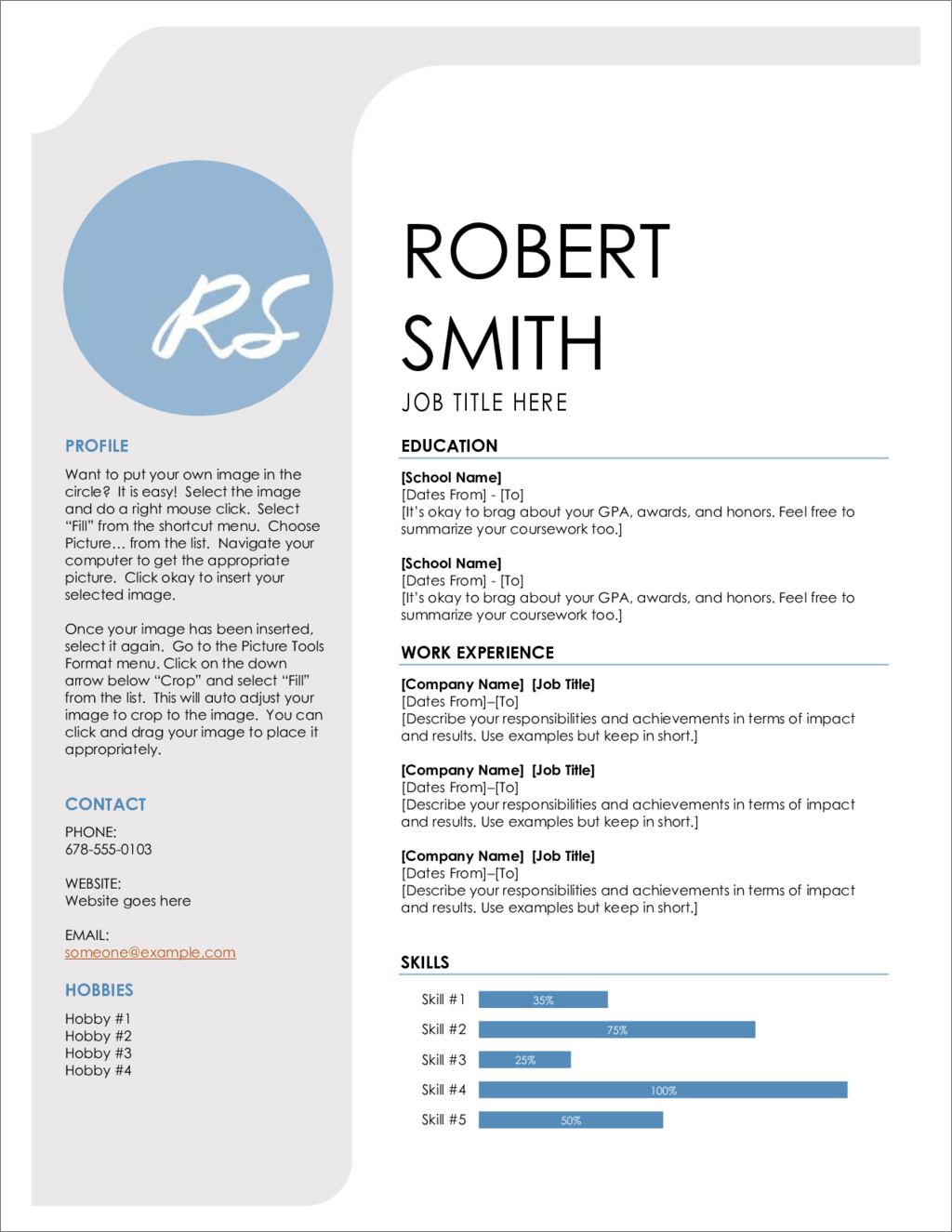 This modern CV template is a Word free download. Just click on File, then New and search for "blue grey", if you don't see it right away. I love the color scheme of this one, very calm and professional. The gently rounded curves of the grey column are also a very nice touch. Nice looking health bars for the CV skills section ,too.
The original version of this template did have a problem. It had a photo of the candidate. I replaced it with a set of initials and you should do the same. If you've ever wondered "should I put a picture on my CV," the answer is a definite no.
4
Columns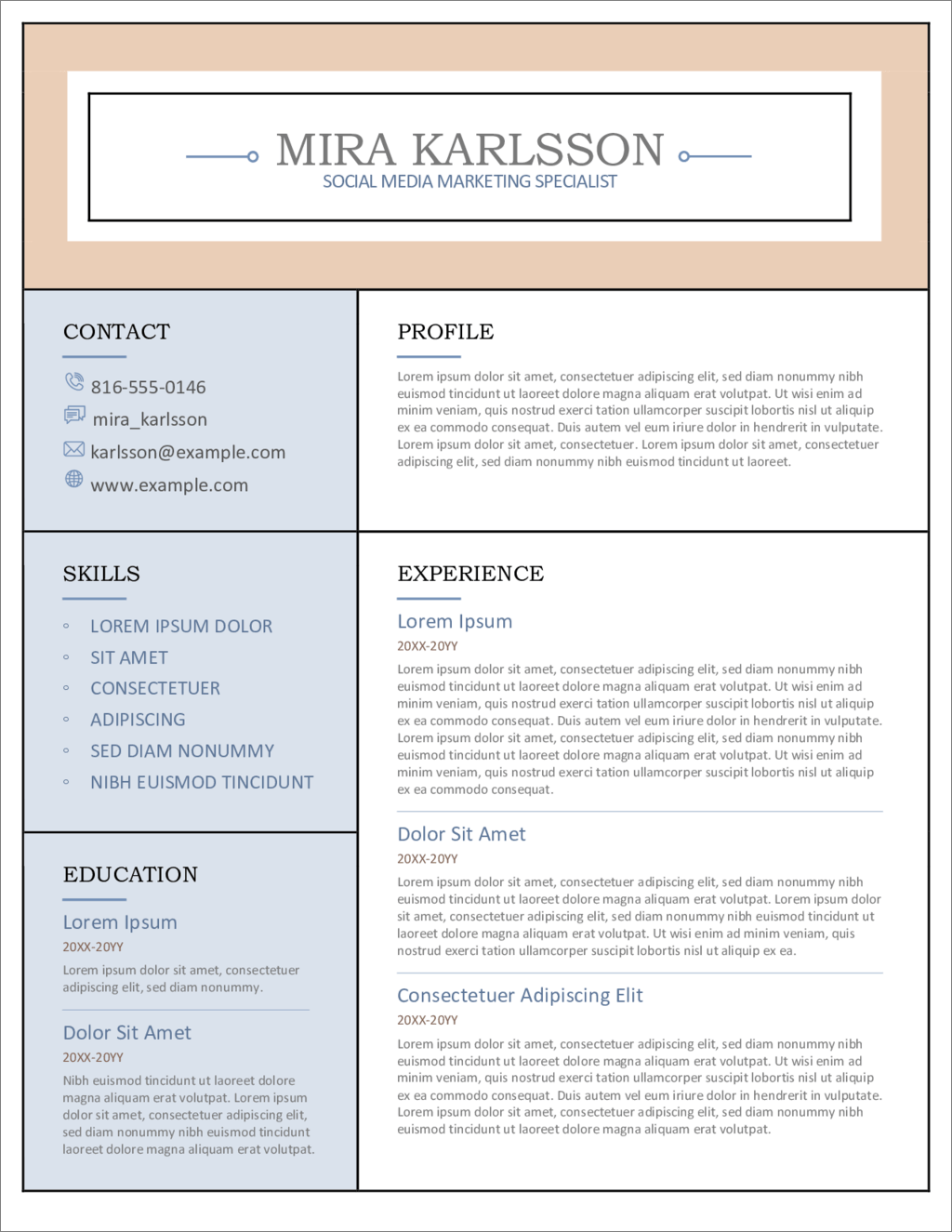 Columns is a free CV template in Word. Just search for it when you create a new document. It has all the neat rectangular arrangement of a Mondrian painting. Your CV summary, work experience section, everything is neatly boxed off so it can be read in turn.
Thankfully it doesn't go with Mondrian's bold primary colors, opting for smooth blue and taupe instead. A great choice to show you can leverage the best layout for a CV.
5
Contemporary Purple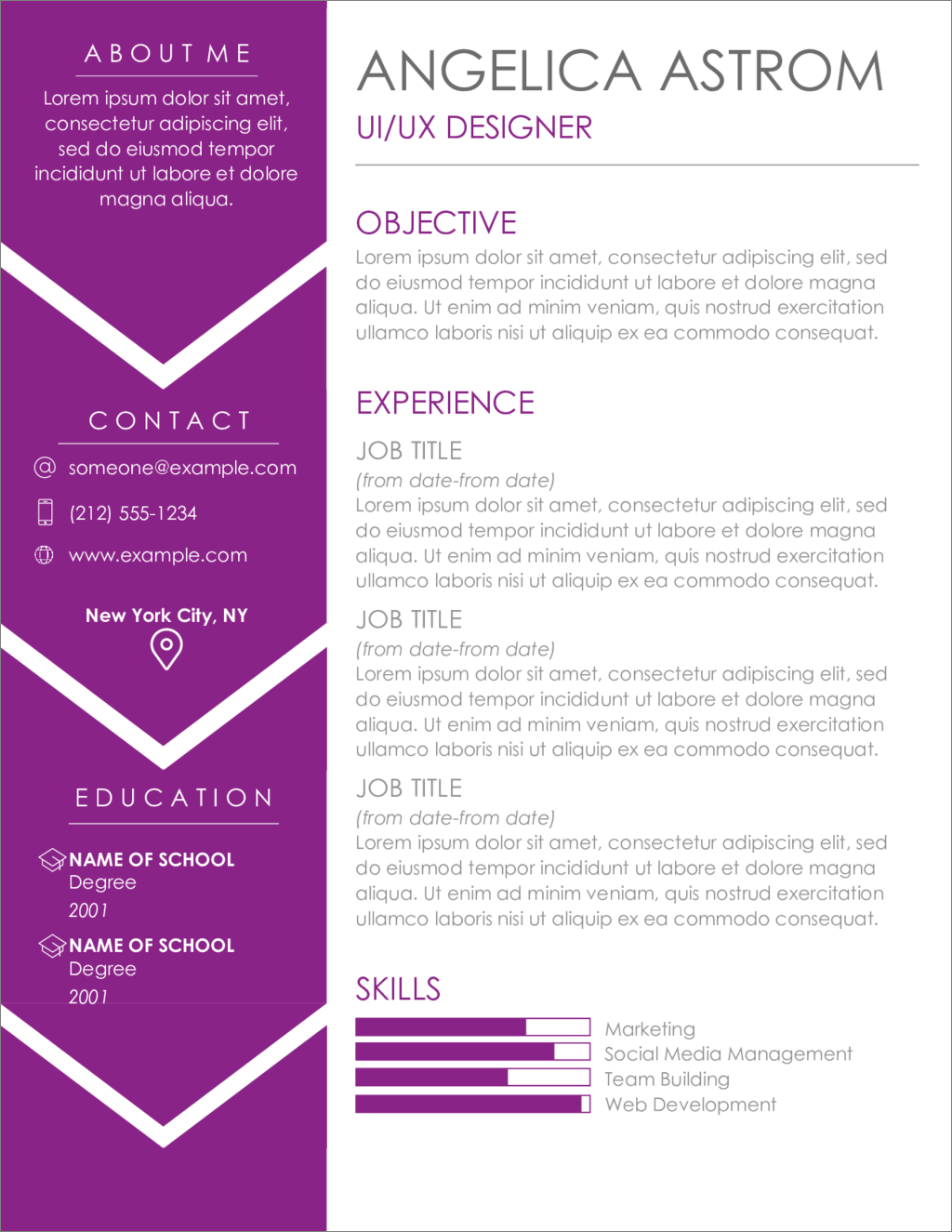 I know, it sounds like one of those weird names for interior paint colors. It sure is eye-catching though. Sometimes small changes make all the difference and this one adds white chevrons to the purple left-hand column. It's a clever visual trick to draw the eye down and make sure everything gets read.
Even better, it's another free CV template in Word. As with any native Word template, click on File, then New, and search for "Contemporary."
6
Modern
This Zety CV template for Word keeps the promise of its name. It really is a modern CV Word template. The way the bars on each column balance each other is very pleasing on the eye.
This also helps draw the reader's gaze across all the content. That's a good thing because the average recruiter takes just 7 seconds to scan a CV and you want them to see as much as possible.
Like many of our Microsoft Word CV templates, it features a health bar for software and language skills. Health bars originate in the world of gaming and they're an effective way to power up your CV.
Like all of our templates, you can change font types, sizes and spacing. Plus you will also get a matching cover letter template.
7
Iconic
Another aptly named Zety CV template for Word. We've made good use of icons throughout. Each one functions as a little infographic explaining the information it accompanies. Infographics are another powerful upgrade to your CV as they make the content more persuasive.
That said, the best CV templates for Word always keep any graphic touches subtle. If you have a heavily infographic CV you risk it not being ATS compliant and that means it'll never get read.
As with all of our templates, our builder makes writing your CV quick and easy. No need to mess around with formatting and layout. Just type in your text and we do the rest.
8
Blue Suede Template
If in doubt, the best approach in choosing a free CV template for Word is to KISS. That's the classic design principle of keep it simple stupid.
This template follows a basic single-column format, lots of room to fill in your details. It still manages to look sophisticated though, simply through the sky blue accents to the top and bottom of the page. The look is like a slick corporate letterhead. Classy indeed. This one comes from Cool Free CV.
Here's the link to this CV template for Word.
9
Manon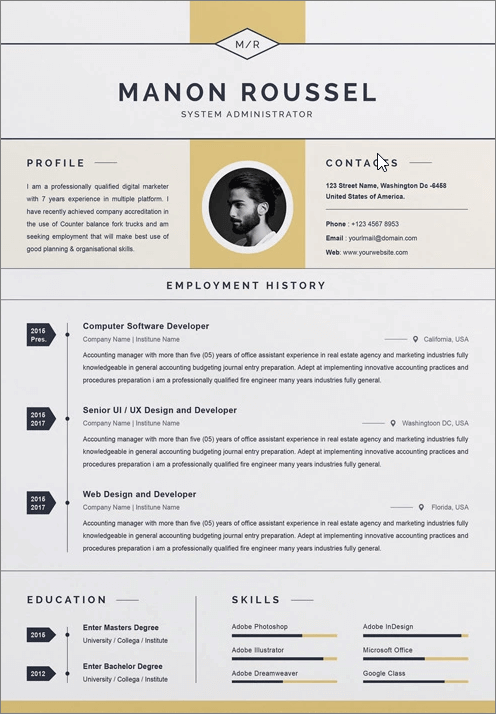 A very modern looking CV template that you can download from Template Monster. The golden color highlights hint that you're as high value as the precious metal. Then the layout takes a different approach from most others, using a combination one and two-column style.
Make sure you remove the photo though, replace it with a solid fill in the same color as the background or your initials.
Here's the link to this CV template for Word.
10
Daniela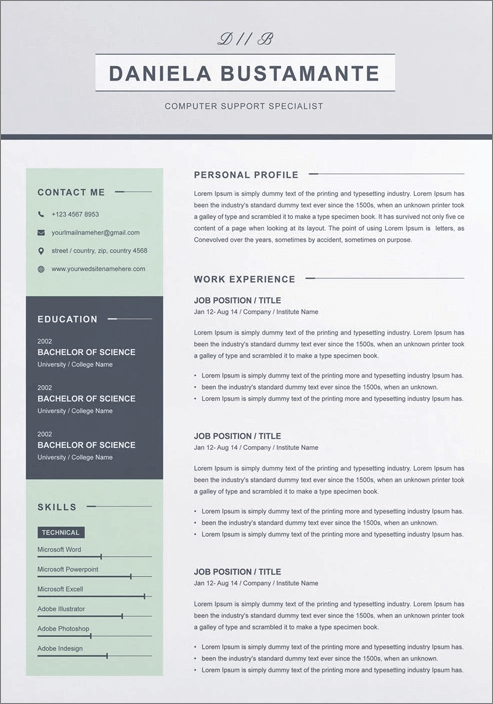 We're now half-way through our list. See any you like yet? If not, don't worry, there's 10 more to come.
This is another Word CV Template from Template Monster. Its unique selling point isn't the layout, that's pretty standard. It's the colors! So tastefully chosen. This is the sort of color scheme you'd expect to see in a five-star hotel room. A template to show you're a candidate of distinction.
Here's the link to this CV template for Word.
11
Diamond
Diamonds are forever, but your current job doesn't have to be. Get a new one with this Zety Word CV template. The diamonds are the icons, the bullet points, and the health bars.
Look to the left and you'll see there's even a "diamond necklace" to help pull the recruiter's eye all the way down to CV certifications. The sharp angles and monochrome color scheme also look great on CV paper. Great for if you need to print out your CV.
Like all of our CV templates this one is guaranteed ATS scannable. If you choose a free CV template download you risk using one that'll be rejected before it gets read.
12
Initials
A distinguished-looking CV Word template from Zety. Two columns with plenty of white space and that's a good thing. What you leave out can be as important as what you put in and white space gives a big boost to readability.
Check out how your initials feature in a circular stamp to the right of the CV header. It looks just like a seal of quality, confirming you as a top-grade candidate for the job. Great for more experienced candidates as there is so much room for job-winning content.
If you're less experienced don't worry, as with our other templates you can add, remove and rearrange sections to suit your needs. Then the builder ensures the formatting stays intact.
13
Black Tie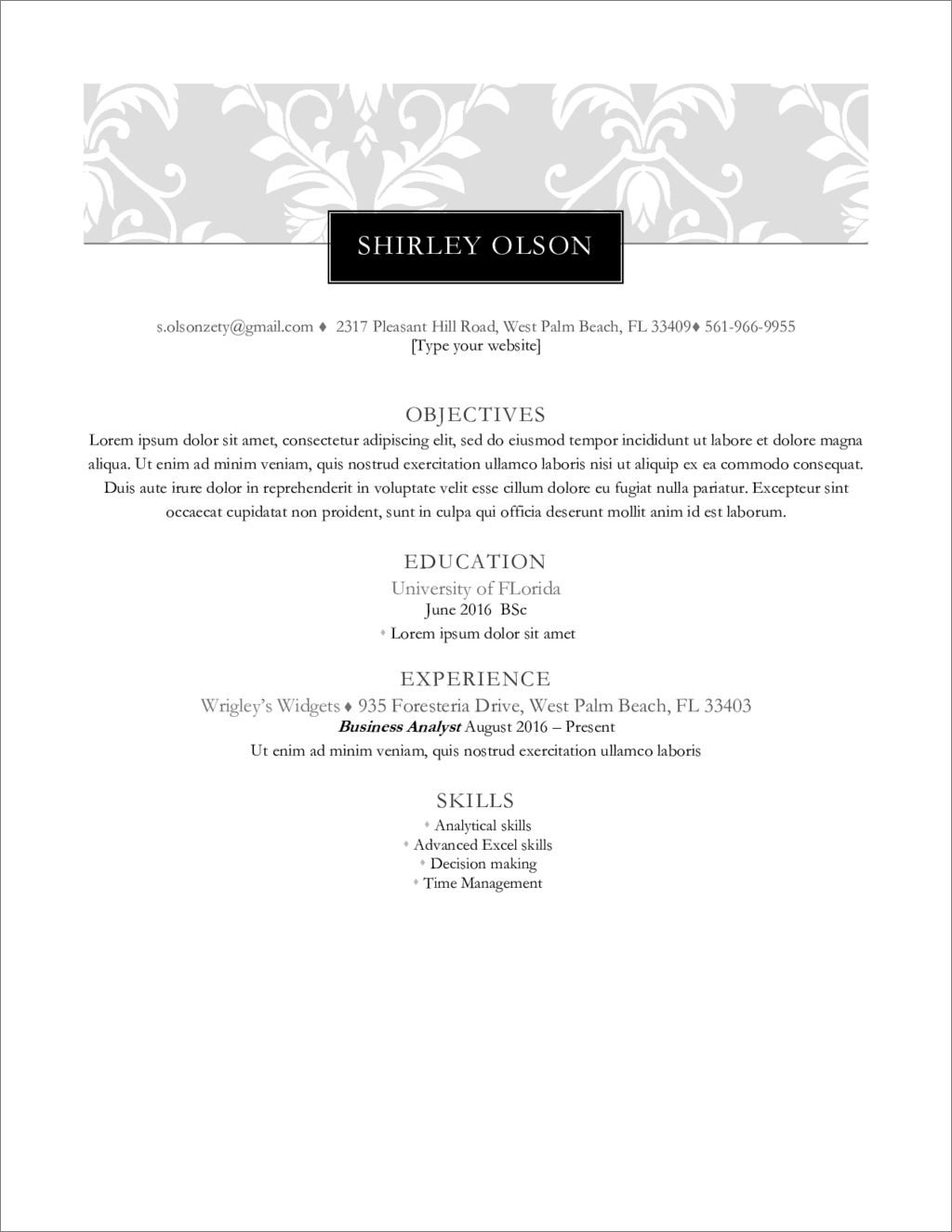 This template looks just like an invite for a fancy social event or even a menu for an expensive restaurant. Classic elegance, just like its name. In this format, it's a good choice for a new graduate as it puts the CV education section above experience.
Here's the link to this CV template for Word.
When making a CVin our builder, drag & drop bullet points, skills, and auto-fill the boring stuff. Spell check? Check. Start building your CV here.
When you're done, Zety's CV builder will score your CV and tell you exactly how to make it better.
14
Flower Power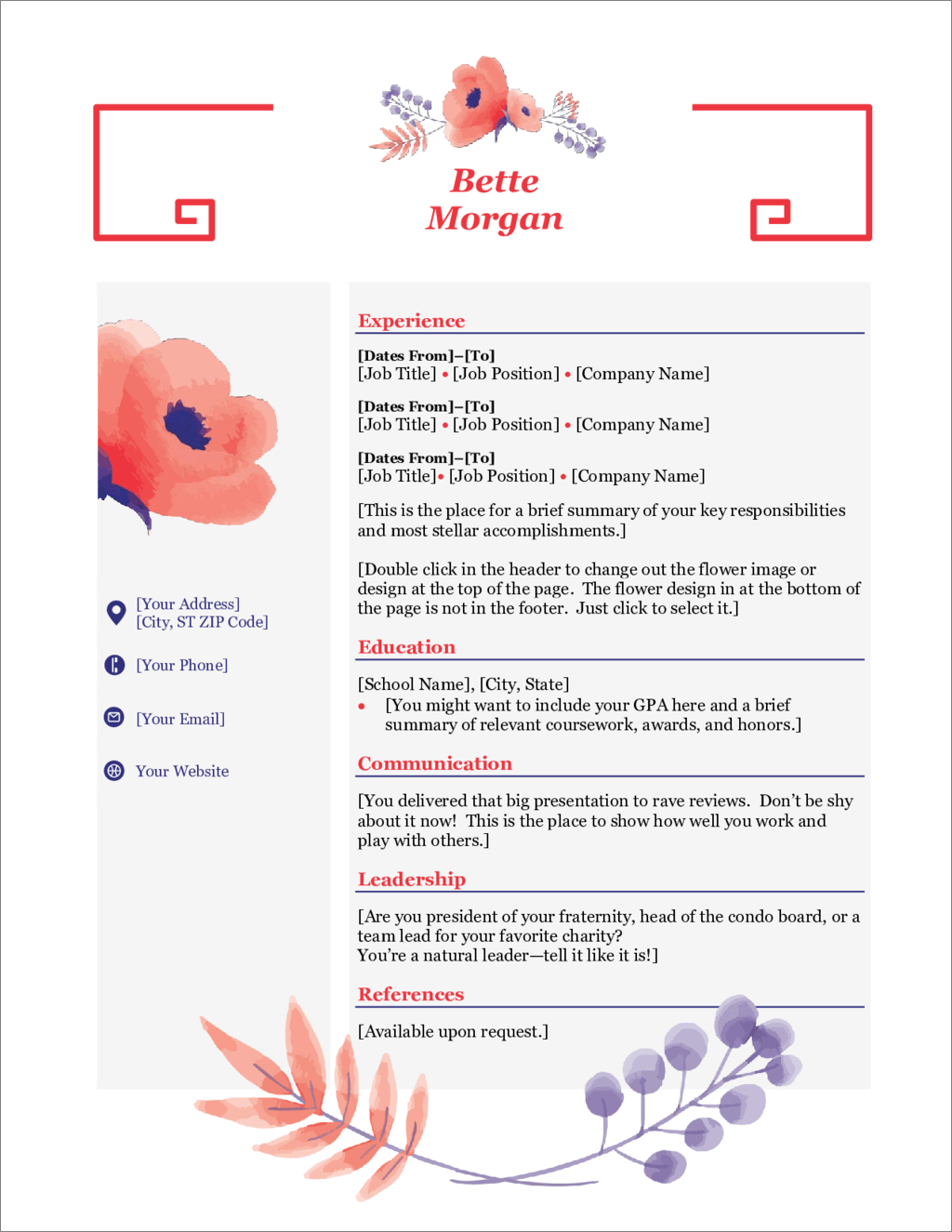 Another free CV template from Word's own repository. A floral theme this time for a fresh, youthful and feminine feel. It's probably not the best choice if you're applying to a more conservative organization, but would be perfect for more creative CVs.
With a motif like that, you can almost feel a spring breeze when you read it. Though whoever wrote this obviously hasn't read our guide on what to include in a CV. Take a look and get the section titles right. To access this CV template, search for "pink floral" when creating a new document.
15
Dark Elegance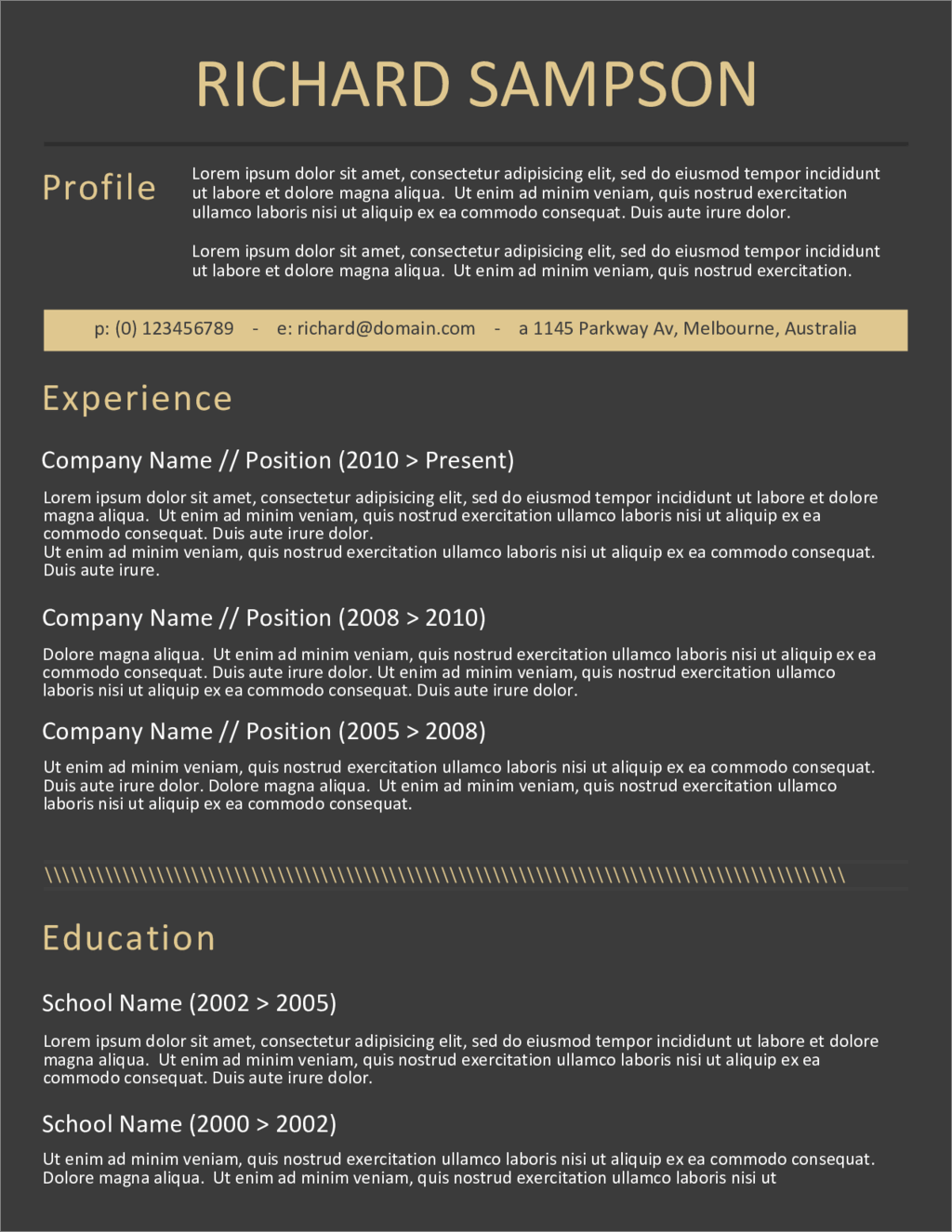 If you want a unique CV template this is the one for you. A word of warning though, this won't look great on paper unless done with a high-resolution printer. Best to test it out if you ever plan to print it. Still, if dark and brooding is your thing, this is your go-to template.
Here's the link to this CV template for Word.
16
Ray of Sunshine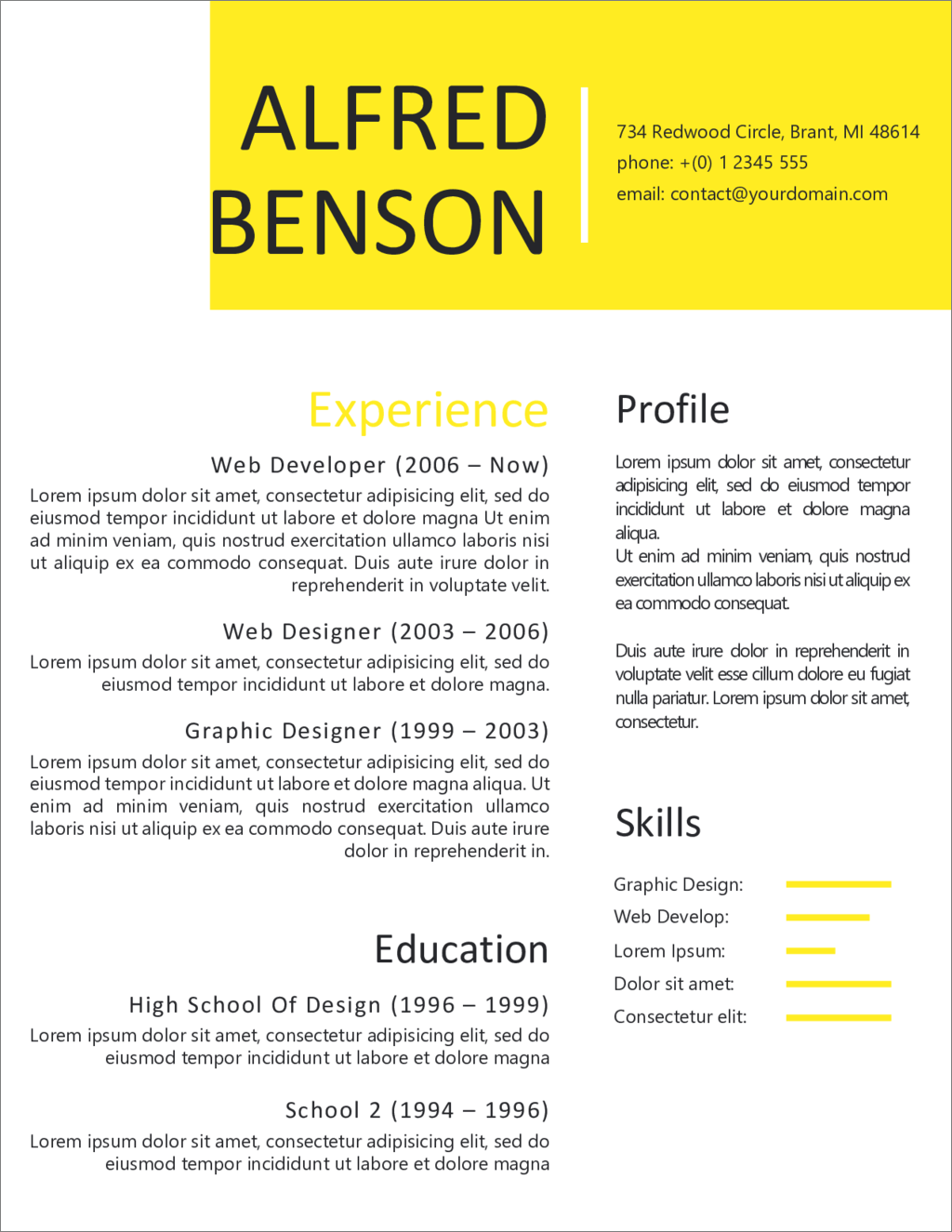 A very cheery template from Freesume. Simplicity itself, but a great example of what fashionistas call a color pop. That yellow is so bright and eye-catching. It's a joyful color too, and certain to bring a ray of sunshine to anyone reviewing a stack of dull, predictable CVs. They'll be happy to give you a call after seeing this mood-lifting layout.
Here's the link to this CV template for Word.
17
Bubble Gum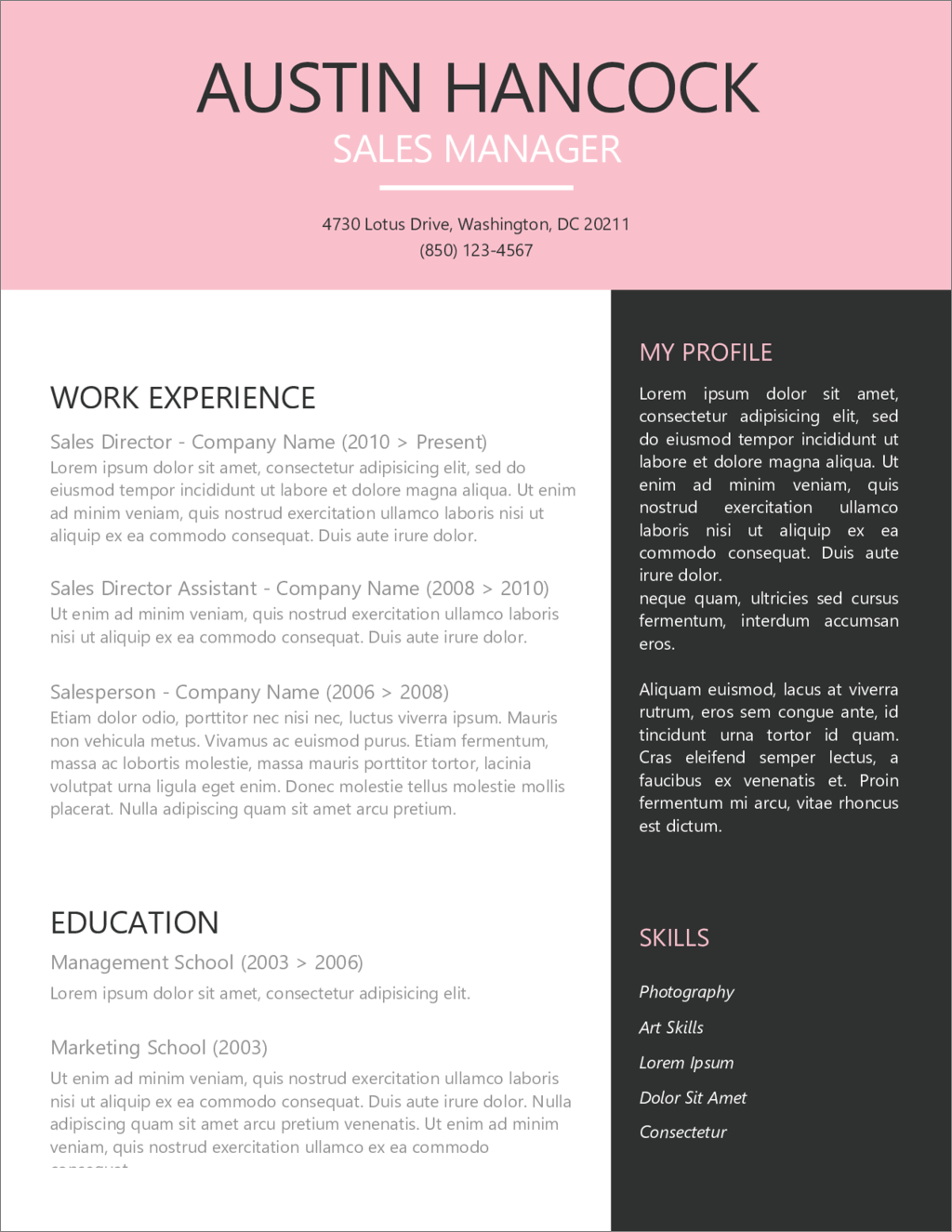 This is also a free CV template for Word created by Freesume. In color theory, pink is seen as feminine, nurturing and caring, but don't be limited by that. It's a great choice for men too, if you want to stand out, but still stay tasteful.
There's another nice color trick here, too. If this template featured bright pink on black, it'd be over the top. Dusty pink on dark grey ensures it stays soft and tasteful.
Here's the link to this CV template for Word.
Plus, a great cover letter that matches your CV will give you an advantage over other candidates. You can write it in our cover letter builder here. Here's what it may look like: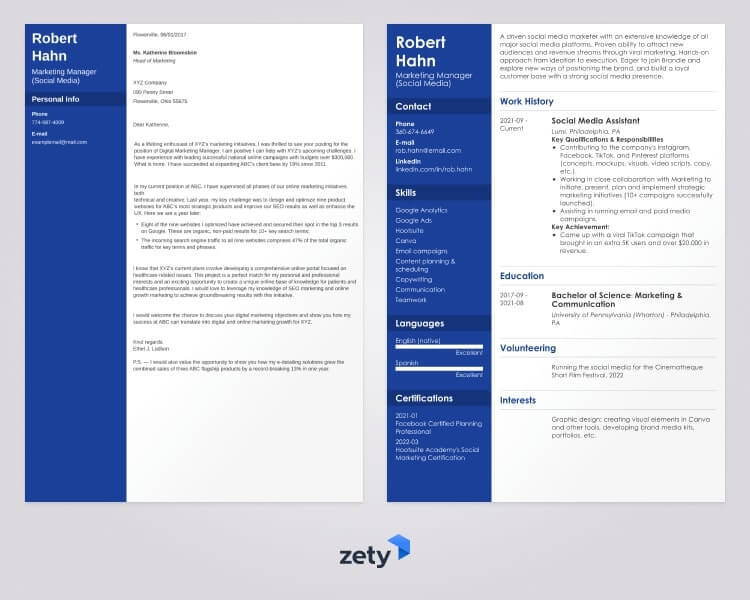 See more cover letter templates and start writing.
18
Concept
We finish with a trio of Zety Word CV Templates. First up is Concept. The dark sidebar is in the form of a timeline. It adds visual interest while staying simple and uncluttered.
Then to the right is a spacious single-column layout with discreet CV icons. You can see that the icon for each section joins with the bullet points to form a string of beads.
Another template that cleverly keeps the eye going down the page.
19
Cubic
Cubic is a great name for a CV template for Word. Huey Lewis was right, it's hip to be square. This template starts off strong, your name's in lights in white text on a dark header. Moving down it goes for the familiar two-column format, but look closer.
The left side is a two-column within a two-column. The timeline to the left emphasizes the classic chronological CV format. Then the right-side column is a calming pale blue. Perfect to soothe an overworked hiring manager.
Planning to use another CV format like functional or combination? Our builder lets you adapt the layout to any format you choose.
20
Nanica
Let's finish with a Zety CV template for Word. A CV doesn't always need colors and icons to look good. Nanica is an exercise in Marie Kondo minimalism. There's just a tasteful use of health bars to stop it being too plain.
This one is a reassuringly traditional CV template and a great choice for when you're targeting something more conservative.
That's it! Have you got an incredible CV template for Word you want to share? Need any help with creating a Word CV template yourself? We've got a comments section just for you so please ask.