Using a CV template in Word has come a long way. Clippy is no longer there, that's for starters. But also, the collection has only grown, so how do you find the best one for your curriculum vitae among them?
You can rest easy. Here's a carefully curated collection of CV templates for Word that have all the necessary ingredients to land you a job.
In this article, you'll see:
Where exactly you can find a CV template in Microsoft Word, both online and offline.
Templates available to download in DOCX format and straight from Word.
And a short but sweet series of tips on navigating Word CV templates.
Want to save time and have your CV ready in 5 minutes? Try our CV builder. It's fast and easy to use. Plus, you'll get ready-made content to add with one click. See 20+ CV templates and create your CV here.
Sample resume made with our builder—See more CV examples here.
Before you dive deep into your search, let's make sure you know the difference between a CV and a resume.
A resume is a summary of your accomplishments and skill set, and most of the time, resumes are one-page long. Its primary sections are experience and skills. You use a resume to send applications for regular jobs, for example, in accounting, business, or human resources.
A CV, on the other hand, is a complete list of professional and academic qualifications you've acquired. There's no page limit, and there are plenty of prominent sections ranging from professional appointments to publications to education, just to name a few. You can use your CV to apply for jobs in academia and sciences. And this article will provide templates for exactly that kind of job application.
So, now that you know, do you think you're in the right place?
If you aren't, here's another resource for you: Resume Templates for Microsoft Word (With Free Download)
If you are, let's move on to finding your CV template in Word!
How to Find CV Templates in Microsoft Word
You have two options:
Open the Resume & Cover Letter Templates category and browse by style or color. (It includes CV templates, too.) You can download the template or edit it in Word online.
Or you can open Word on your desktop and go to File > New. There, type "CV" in the search box and pick one.
Collection of CV Templates for Word to Download
This is where you get 11 CV templates available for Microsoft Word formatting. The criteria were, among others, enough white space, clear sectioning, and certain hiring rules, for instance, no picture on your job application.
Don't get confused by the names of the CV templates coming from Word directly. They're simply just as good for a CV as for a resume.
1. Valera
Let's begin with one of our own templates. Deceptively simple but with a real touch of flair. The pairing of cursive headings with simple body text looks stylish and youthful but remains readable and professional.
2. Paralegal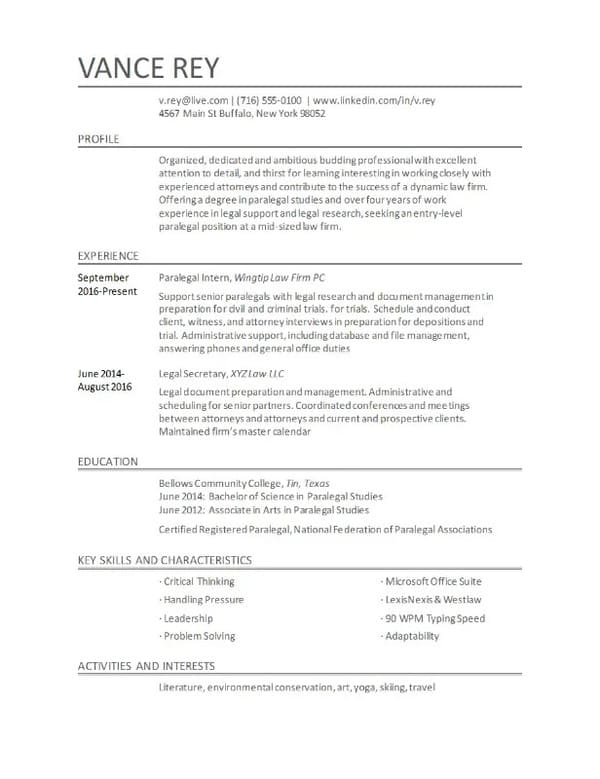 Sometimes, you don't need much to convey much more. And this Paralegal CV template from Word is an embodiment of that. Very minimalistic and easy to scan. The template is "optimized for use by people with visual disabilities," Microsoft states.
Get the template here.
3. Iconic
Another aptly named Zety template with good use of icons throughout. Each one functions as a little infographic explaining the information it accompanies. Infographics are another powerful upgrade to your CV, as they make the content more persuasive.
That said, the best CV templates for Word always keep any graphic touches subtle. If you have a heavy infographic CV, you risk it not being ATS compliant, which means it'll never get read.
4. Restaurant Manager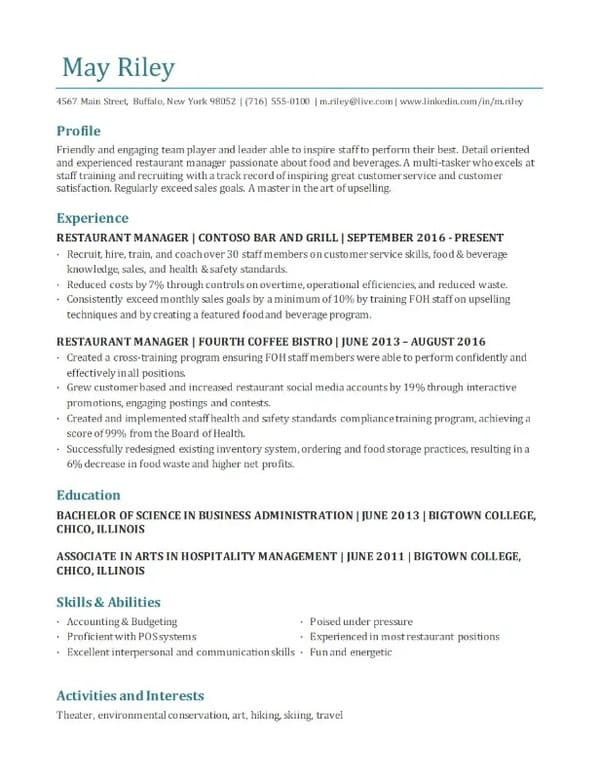 Do you want to go a little further but don't know how? Get inspiration from this Word CV template. Its subtle yet bold choice of color does the job brilliantly—it draws the attention where it's supposed to be but doesn't affect the easy-to-read layout.
Get the template here.
5. Manager in Regulatory Affairs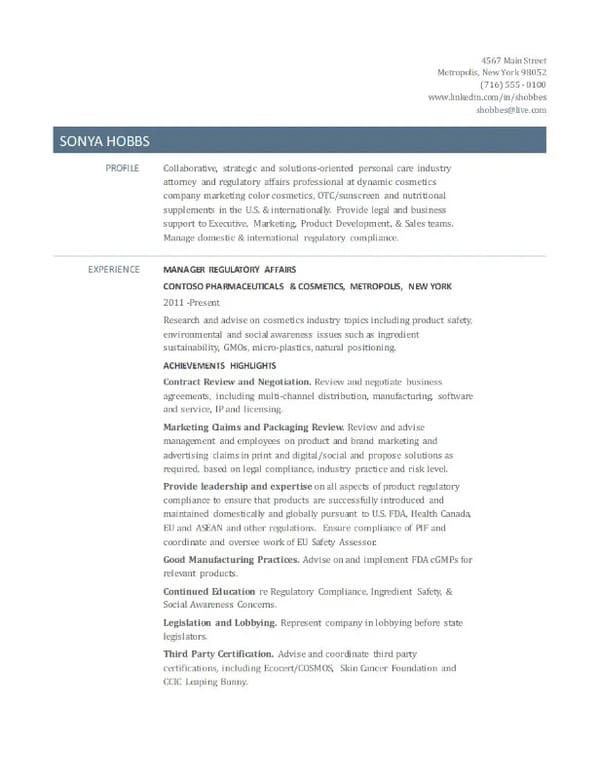 With this CV template from Word, you're safe to land the interview. The contact information stays in the header, while your academic and professional history follows your name. Plus, a horizontal line clearly marks each section—you can't get lost there.
Get the template here.
6. Diamond
Diamonds are forever, but your current job doesn't have to be. Get a new one with this Word CV template from Zety. The diamonds are the icons, the bullet points, and the health bars.
Look to the left, and you'll see there's even a "diamond necklace" to help pull the recruiter's eye all the way down to CV publications. The sharp angles and monochrome color scheme also look great on CV paper. Great if you need to print your CV out.
7. Concept
The dark sidebar is in the form of a timeline that adds visual interest while staying simple and uncluttered. Then to the right is a spacious single-column layout with discreet CV icons. You can see that the icon for each section joins with the bullet points to form a string of beads.
When making a CV in our builder, drag & drop bullet points, skills, and auto-fill the boring stuff. Spell check? Check. Start building a professional CV template here for free.
When you're done, Zety's CV maker will score your CV and tell you exactly how to make it better.
8. Human Resources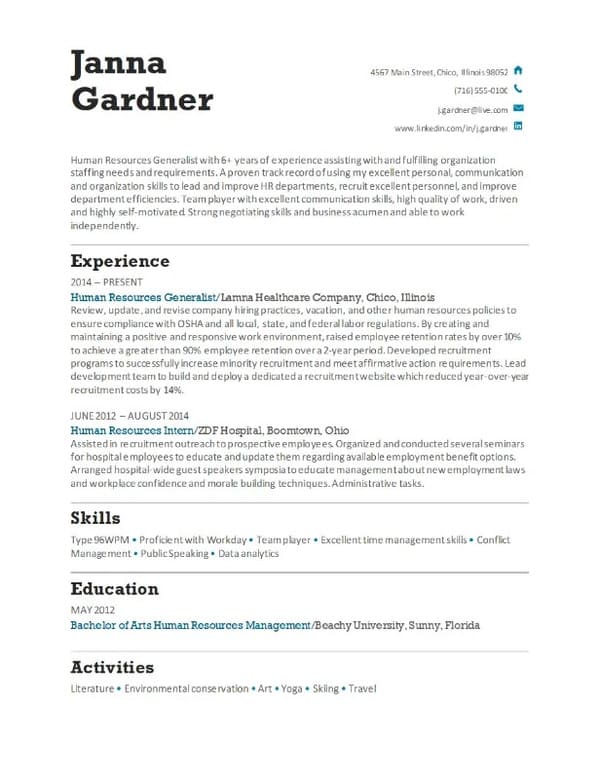 Download this CV template from Word and enjoy the limitless CV designs. It's a great starting point for not letting your curriculum vitae go unnoticed. Also, see the subtle icons in the upper right corner. That's space efficiency, which you very much need for your CV.
Get the template here.
9. Nanica
A CV doesn't always need colors and icons to look good. Nanica is an exercise in Marie Kondo's minimalism. There's just a tasteful use of health bars to stop it from being too plain. This one is a reassuringly traditional CV template and a great choice for when you're targeting something more conservative.
10. Newcast
The Newcast template will help you represent yourself in the best way possible. Take notice of the professional summary that can help you strengthen your position in the fierce competition. You'll also be able to communicate your strengths better with the health bars.
11. Influx
And the last template on this list. Influx is an elegant CV template suitable for formatting in Word that ensures your achievements and awards are taken seriously. Using bold highlights in the CV header won't let recruiters forget you.
Tips for How to Format CV Templates in Microsoft Word
Okay, so now that you've found a CV template, it's time to flesh it out. Here are some tips:
Follow the academic CV format that you picked. You can, though, rename the CV sections based on what the recruiter requires you to present, but make sure they still fall into the ATS-friendly category.
Remember that you need to tailor your CV to the job description. Basically, everything that you put in your application must be relevant to the position you're after. Achieve that by using CV keywords and showing your relevant experience instead of listing everything you can think of. (Go and see some CV examples that will give you more ideas on the contents of your template.)
Use only those CV fonts that are easy to read and won't jeopardize your job hunt by being illegible to the ATS scanners. Word has plenty of choices, but the recommended fonts are Arial, Calibri, Garamond, or Verdana.
And proofread! Share your document with a friend or a family member to have another pair of eyes look through your application, looking for typos and grammar errors.
If you want to delve deeper into CV formatting, see this guide: How to Format a CV That Lands Jobs.
And this is it on CV templates in Microsoft Word! If you want more examples of CV templates, check this one out: Curriculum Vitae Templates for Everyone.
Plus, a great cover letter that matches your CV will give you an advantage over other candidates. You can write it in our cover letter builder here. Here's what it may look like:
See more cover letter templates and start writing.
Thank you for reading this article!
Do you have an incredible CV template for Word you want to share? Need any help with creating a Word CV template yourself? We've got a comments section just for you, so please ask.
About Zety's Editorial Process
This article has been reviewed by our editorial team to make sure it follows Zety's editorial guidelines. We're committed to sharing our expertise and giving you trustworthy career advice tailored to your needs. High-quality content is what brings over 40 million readers to our site every year. But we don't stop there. Our team conducts original research to understand the job market better, and we pride ourselves on being quoted by top universities and prime media outlets from around the world.