Our customers have been hired by:
We're about to tell you our take on the best resume paper. But first—
More often than not, all it takes to apply for a job is send a digital resume and cover letter. Do you ever need a print version?
Yes.
There are two situations when you need to have a paper resume at hand: career fairs and job interviews. Both can be quite critical for your job search.
So, just click print, and you're good to go, right?
Anything but. You need special resume paper.
Want to save time and have your resume ready in 5 minutes? Try our resume builder. It's fast and easy to use. Plus, you'll get ready-made content to add with one click. See 20+ resume templates and create your resume here.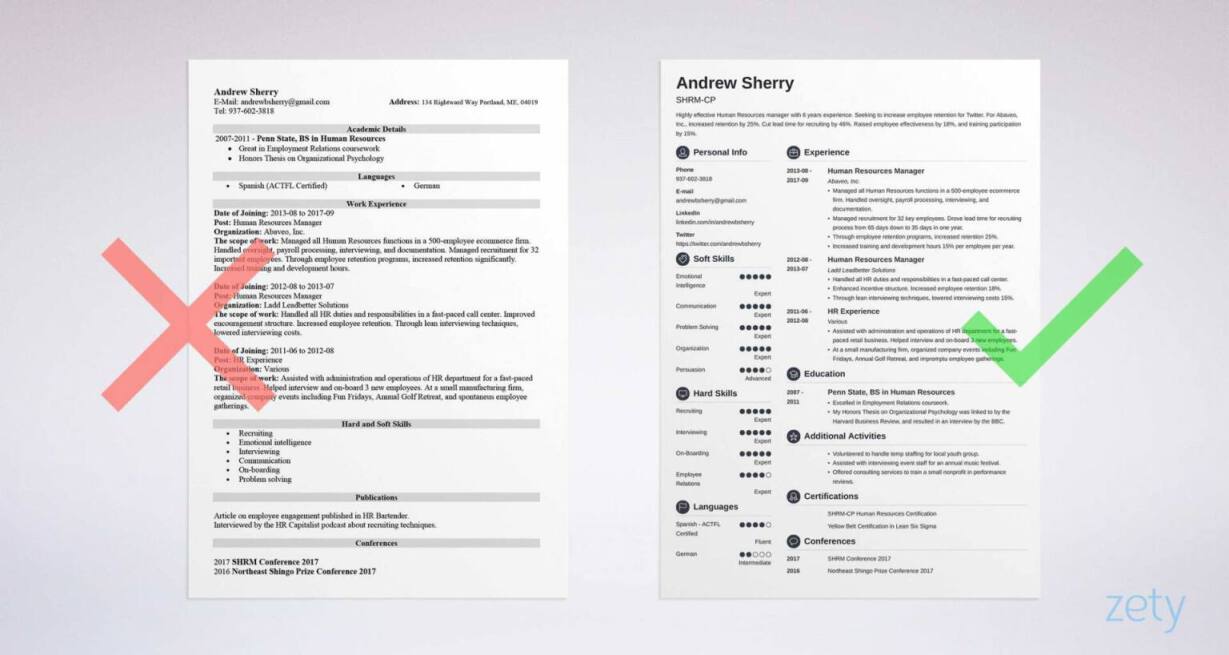 Sample resume made with our builder—See more resume samples here.
Looking for some resume examples? Check:
Want to learn all the ins and outs of proper resume formatting? See:
Now__
1
What is resume paper?
Resume paper is a type of paper designed specifically for printing resumes and cover letters. For ideal quality, you should pick a paper with weight around 32 lb. and 75–100% cotton content. You should have a physical copy of a resume printed out on good-quality paper during career fairs and job interviews.
And why is it so important?
Because the type of paper you use for your resume is going to make the very first impression on a recruiter or potential employer. Poor quality resume paper will make you come across schlumpy and slouchy. Who'd like to hire somebody like that?
Good resume paper, in turn, will show your professionalism and attention to detail.
So—
What's the best resume paper?
If you're simply looking for a bottom line:
32 lbs, 75-100% cotton is the best resume paper.
And we're feeling absolutely positive about this choice.
Plus, here's our take on the details as to what makes the best resume paper:
Ivory, granite resume paper is prettiest and most sophisticated.
White, plain resume paper is the safest and the most standard pick.
But why would you choose to believe us?
Scroll on and see for yourself!
We've printed out sample resumes on over ten types of resume stationery to help you choose the type of paper for your resume that fits your tastes and needs!
Now, let's see how different resume paper types will impact the way our resumes look when printed out.
2
Resume Paper Color: White vs. Ivory Resume Paper
Most likely the first dilemma you'll be facing—white or ivory resume paper?
Let's see how paper color influences the looks of our three templates:
"Crisp" Resume Template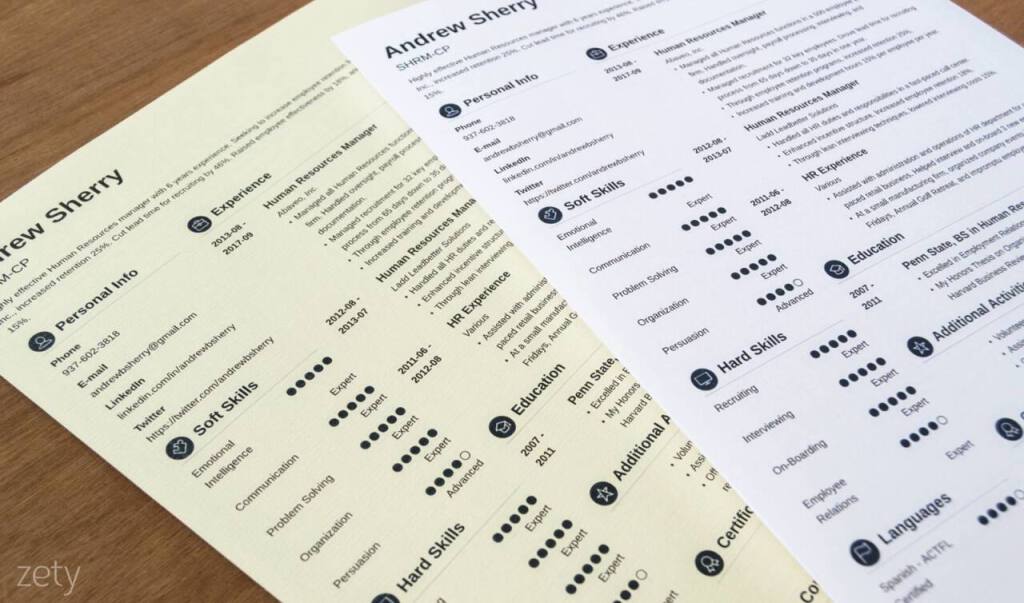 "Crisp" is one of our fairly basic resume templates. Not too many graphics, not much color. Printing a simple resume like this one on ivory paper will add a nice, classy touch without risking illegibility.
The verdict: it's a closely fought contest, but we'll have to give the edge to ivory paper.
"Cascade" Resume Template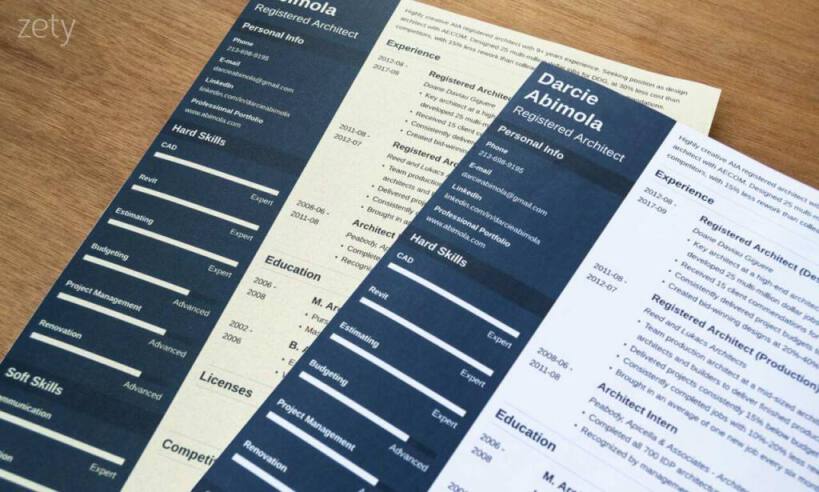 "Cascade" consists of two contrasting columns. It's got more color than the previous template, but not much shading. Again, ivory paper looks very professional and can reflect your individuality. If you've got a high-quality printer, the dark column will look good on whichever paper color you go for.
The verdict: 2:0 for ivory paper.
"Cubic" Resume Template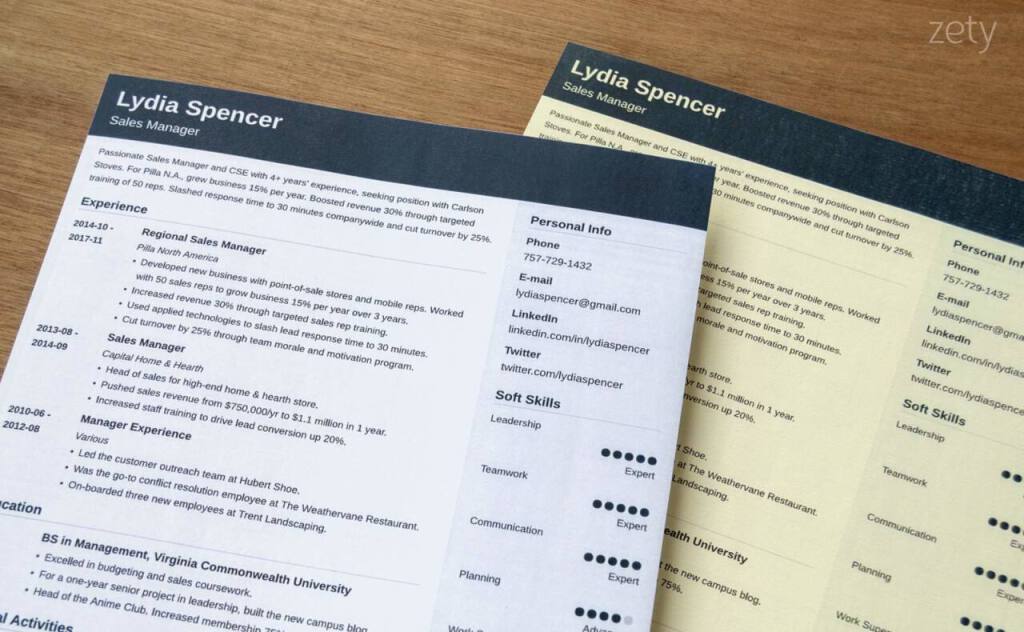 "Cubic," like "Cascade" uses a side column for showing some information. The difference? The column is light-colored. This subtle grey shading looks better on white resume paper.
The verdict: white paper wins in this comparison.
The Best Resume Paper Color—Conclusion
If your resume consists of dark, uniform colors and white space only, it will look elegant and classy when printed out on ivory paper.
For resumes that use light shades, white paper is the best option.
3
Resume Paper Weight: 20 lbs vs. 24 lbs vs. 32 lbs Resume Paper
You've picked a resume paper color that works best for you.
So—
Now you just have to print your resume out on a random sheet of paper in line with your color preferences, right?
Not so fast.
Another factor that influences the way your printed resume looks is resume paper weight:
Usually, you'll have three options: 20, 24 or 32 lb resume paper.
The best resume paper weight choice? 32 lbs.
It has the least show-through. It's also whitest and brightest. Plus, it's the firmest of the three, thus least likely to crumple.
Finally, 32 lbs resume paper has got a really nice feel. There's simply something special about it.
The Best Resume Paper Weight—Conclusion
32 lbs resume paper wins this contest, hands down. Highly recommended for every resume.
4
Resume Paper by Texture
The next resume paper spec we investigate is texture.
Think it's irrelevant?
Have a look. You'll be surprised by just how much resume paper texture can vary!
To best show how texture influences the appearance of a resume, we've picked two templates—"Crisp" and "Cascade"—for this comparison.
Plain Resume Paper

Plain paper is always a safe choice. It's the most common paper texture, used in every office.
In the picture above, you can see plain resume paper made of 100% cotton—high cotton content adds some texture and extra softness to otherwise unexciting plain resume paper. (We'll get to how important cotton content is for resume paper, read on to learn more about it!)
See what different resume templates look like on this type of resume paper texture:
And here's a handy table listing the most important pros and cons for using plain resume paper:
Plain Resume Paper Pros and Cons

| | |
| --- | --- |
| PROS | CONS |
| Will work with every kind of resume design | Unoriginal—won't be memorable |
| Very little chance of ink spills | No "premium" quality |
| Standard and conventional | |
Parchment Resume Paper

Parchment paper is all about that Old World elegance.
Historically, all crucial documents—certificates, awards, government announcements, or official invitations—have always been written or printed on parchment paper.
It's beautiful. But also somewhat pretentious.
While a parchment paper resume might impress some employers, for others it will be a potential turn-off "Hey, Stephanie, was this delivered by carrier pigeon or a guy on a high-wheeler?"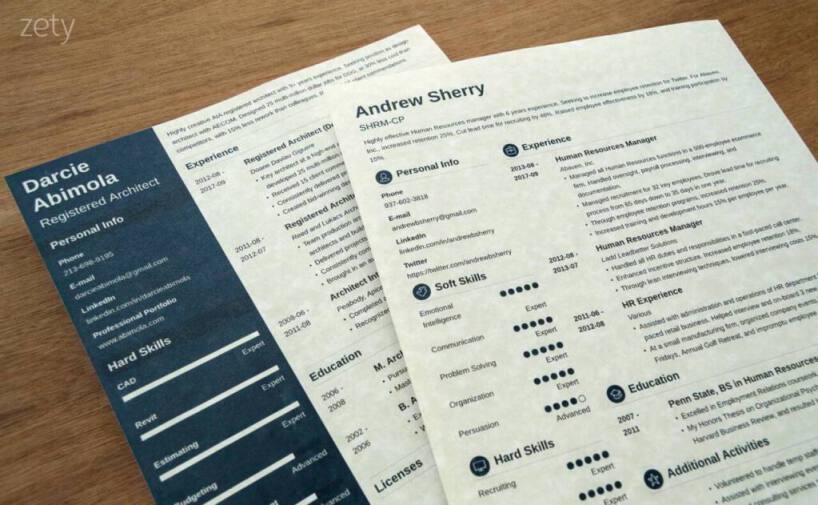 Note: the parchment paper we used for this comparison is ivory. Ivory parchment paper might appear greyish, with a green finish at times.
Again, long story short:
Parchment Resume Paper Pros and Cons

| | |
| --- | --- |
| PROS | CONS |
| Very elegant and classy to some | Pretentious to others |
| Untypical, might help your resume stand out | Requires a very good printer and ink |
Granite Resume Paper

Granite resume paper is perfectly balanced between traditional elegance and originality.
This resume paper texture will show all graphic elements and text clearly, plus it's very nice to the touch.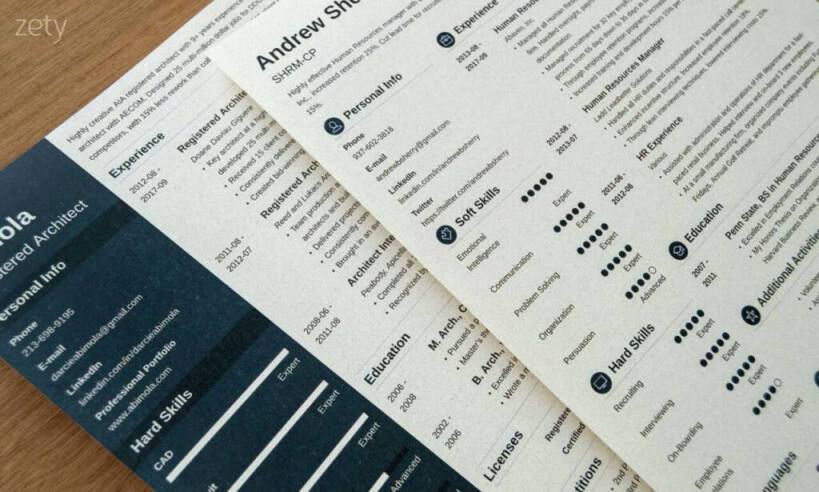 Granite Resume Paper Pros and Cons

| | |
| --- | --- |
| PROS | CONS |
| Nicely balanced—simple, yet original | Slightly darker than other paper texture types—light-colored elements or shades might be barely visible |
| Environmentally sustainable—granite paper is usually made from recycled content | |
| Suitable for all types of printers | |
Laid Resume Paper

Paper with a laid finish is made to emulate the way paper looked when it was first invented. The manufacturing process uses a dandy roll to impress the chain lines pattern into the paper. It's very sophisticated and unique, but—
Avoid it if your resume has got many dark-colored elements that require a lot of ink or if you don't have a top-notch printer at hand.
Laid paper, amongst all types of resume paper textures, is most likely to bring about printing errors.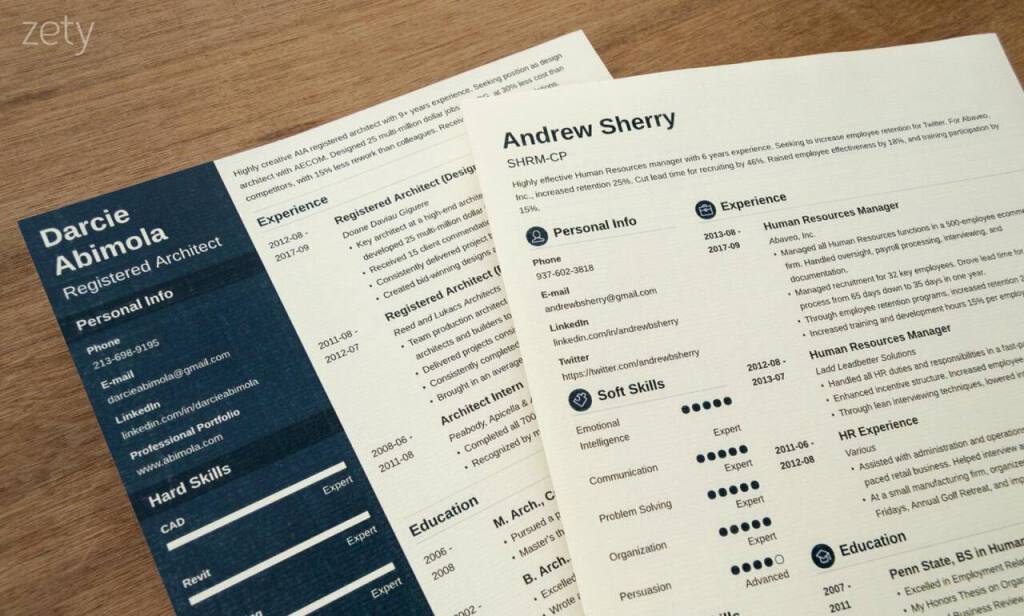 Laid Resume Paper Pros and Cons

| | |
| --- | --- |
| PROS | CONS |
| Sophisticated and unique | Prone to printing errors |
| Very pleasant to the touch | One of the most expensive paper texture types |
When making a resume in our builder, drag & drop bullet points, skills, and auto-fill the boring stuff. Spell check? Check. Start building a professional resume template here for free.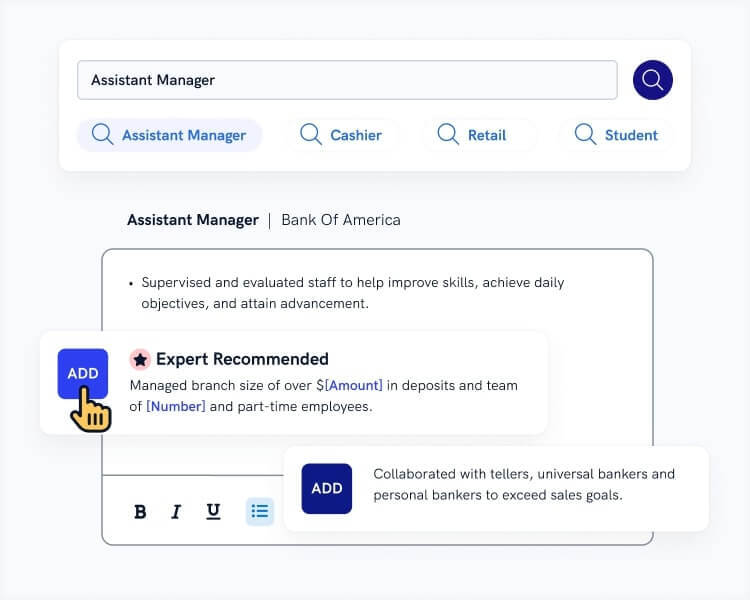 When you're done, our easy resume builder will score your resume and our resume checker will tell you exactly how to make it better.
5
Resume Paper by Cotton Content—Comparison
Here's the twist—
All of the above comparisons could well be meaningless. Time to learn the real game-changer:
Cotton content.
Possibly the single most important feature of fine paper. Cotton content influences:
Paper durability
Color richness and depth
Paper quality—cotton paper, as opposed to standard wood pulp paper—is soft yet crisp.
And, if you need more arguments in favor of cotton resume paper—it's extremely sustainable environmentally.
Have a look at the below comparison of 100% vs. 0% cotton resume paper: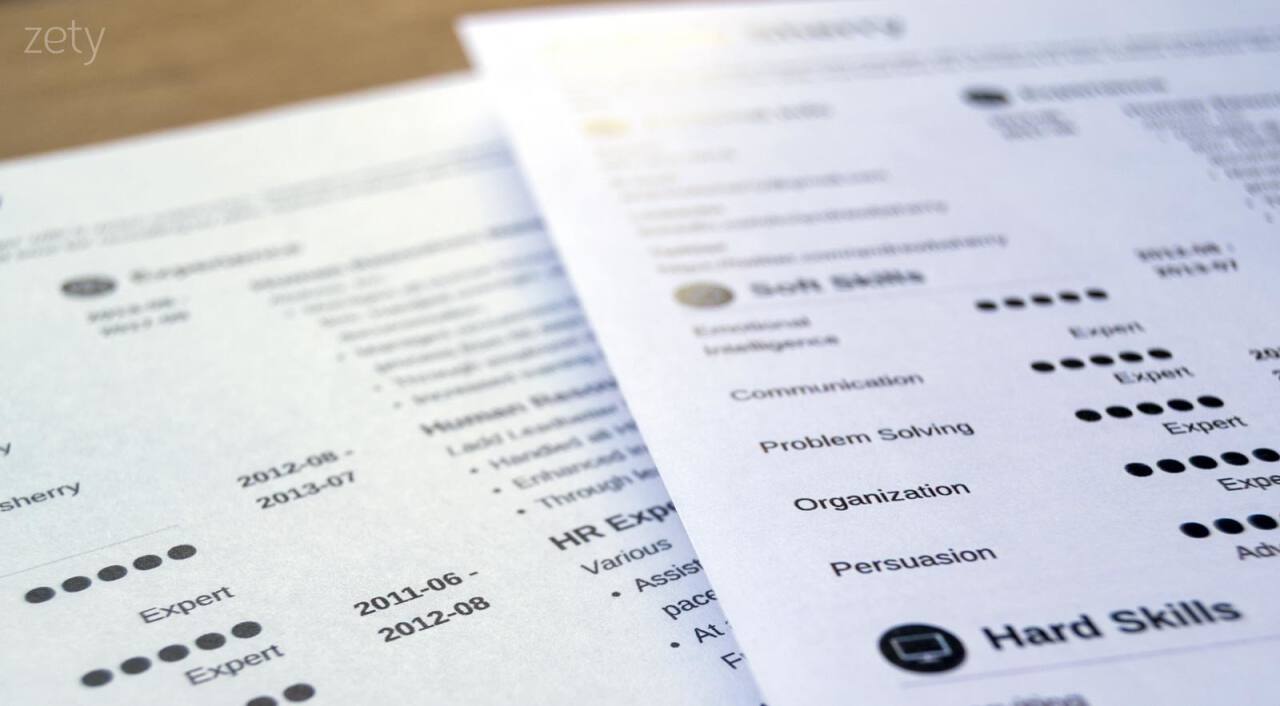 Image: (Left) 100% vs. (Right) 0% cotton resume paper
As I mentioned earlier on, cotton content gives paper a little bit of texture. In result, as you can see in the picture, cotton paper (on the left) doesn't reflect light.
High cotton content helps enhance the fonts and makes sure colors on the printed resume better reflect original colors of your digital copy.
But there's one more difference you cannot see—once you get to touch cotton paper, you'll be stunned at how pleasantly soft it is.
So—
With all these samples and information, it's high time we announced our final verdict for the best resume paper, right?
Not quite.
There's personal preferences, and then there's science and factual data—
6
What Type of Resume Paper is Best According to Recruiters?
This study compared how otherwise identical resumes performed based on what type of layout (formal vs. creative) a given resume had and what paper (white vs. colored) it was printed on.
The formal, MS Word resume layout printed out on white paper performed best: 41% of the evaluation group members would accept candidates with this resume appearance.
Formal resume printed out on light yellow, light green, or pink paper? Only 32% respondents would accept these candidates, with another 32% automatically rejecting them.
Creative resume on white paper was the worst of the three: 42% instant rejections.
While ivory paper was not included in the study, the message is clear: white paper is the safest choice, unconventional resume paper color will harm your chances of landing a job.
Another interesting study has shown that more than 1 in 5 recruiters would reject a candidate whose resume was printed on decorative paper without batting an eyelash.
In other words—
Textured, business paper is fine for a resume. Artistic decorative paper will sabotage your job-seeking efforts.
Oh, and just in case you were wondering...
7
What's the Best Resume Paper Size?


The standard 8.5 x 11in. End of story.
If you think that a non-standard resume paper size could make your resume stand out from the pile, you're half-right.
But "stand out," in this case, would mean "not fit." And when it doesn't fit, it gets thrown away.
Right—
So you've learned a lot about the best paper to print a resume on. You've got your top pick.
Time to go shopping!
8
Where to Buy Resume Paper?
You've got a couple of options:
For basic, white resume paper, you can visit your local discount stores like Walmart or Target.
If you want fancier resume paper, try professional office supply stores such as Staples or Xero copy stores, for instance, FedEx Office.
If you've already decided what paper you're going to use for your resume, you can buy it online. Below you'll find a list of handy links to the best resume paper online stores.
Resume Printing Paper to Buy Online
(Note that most resume paper types will come with a watermark that shows when looking at the resume against the light. If you don't want a watermark on your resume, prepare to pay a bit more.)
As you can see—you're spoilt for choice.
But keep one thing in mind—
If you don't know how to properly design a resume, it'll look bad no matter how fancy a resume paper type you pick. Don't worry. We've got you covered. Have a look at our handy guide: The Best Resume Layout (with Examples and Templates)
Enjoy, and have fun writing your resume!
Plus, a great cover letter that matches your resume will give you an advantage over other candidates. You can write it in our cover letter builder here. Here's what it may look like: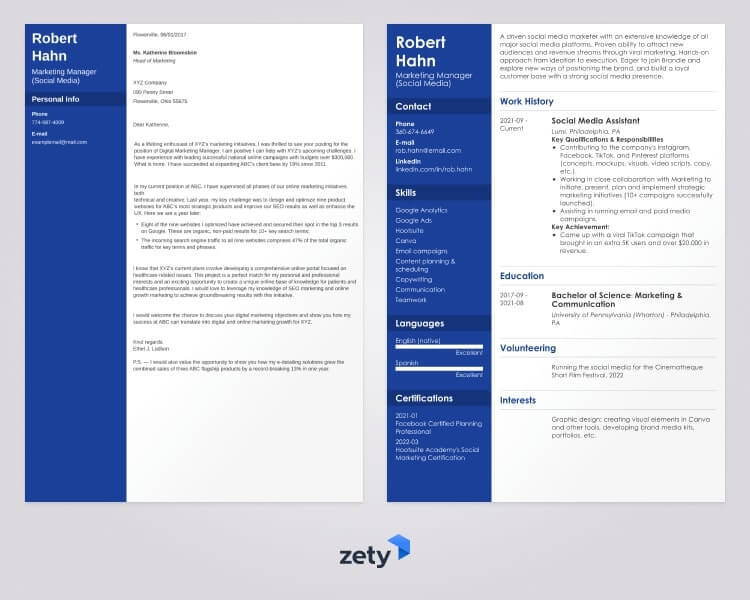 See more cover letter templates and start writing.
Key Takeaway
Does your choice of resume paper make a difference? It sure does. You've seen for yourself just how much of a difference.
Always remember to have a physical copy of your resume during career fairs and job interviews.
Use nice resume paper to print your resume on, and you'll make a great first impression on prospective employers.
Our suggestion is to use ivory, 32 lbs, granite, 75-100% cotton resume paper or white, 32 lbs, plain, 75-100% cotton resume paper.
But—
Feel free to pick a paper type that you like best!
Last but not least, remember that while your choice of resume paper matters a lot, it's the content of your job application that's most important.
Want to make sure you'll write a perfect resume? You know, a resume that lands you the interview almost every time you send it? Betcha! So read our guide and learn how to make one: How to Make a Resume for Any Job (How-To Guide)
About Zety's Editorial Process
This article has been reviewed by our editorial team to make sure it follows Zety's editorial guidelines. We're committed to sharing our expertise and giving you trustworthy career advice tailored to your needs. High-quality content is what brings over 40 million readers to our site every year. But we don't stop there. Our team conducts original research to understand the job market better, and we pride ourselves on being quoted by top universities and prime media outlets from around the world.