Our customers have been hired by:
Need good ideas to make your resume stand out from the crowd? You came to the right place.
We both know it's not only about how your resume looks by itself.
It's about how it looks in comparison to 300+ other ones in the pile.
This guide will give you the best resume ideas you can apply in minutes and make all other resumes look lifeless and dull.
We'll cover both the resume design and writing. But first—
The one resume idea I'd love you to entertain is using our resume builder.
I can guarantee it's the quickest and easiest way to turn a run-of-the-mill resume into an awesome one.
Want to save time and have your resume ready in 5 minutes? Try our resume builder. It's fast and easy to use. Plus, you'll get ready-made content to add with one click. See 20+ resume templates and create your resume here.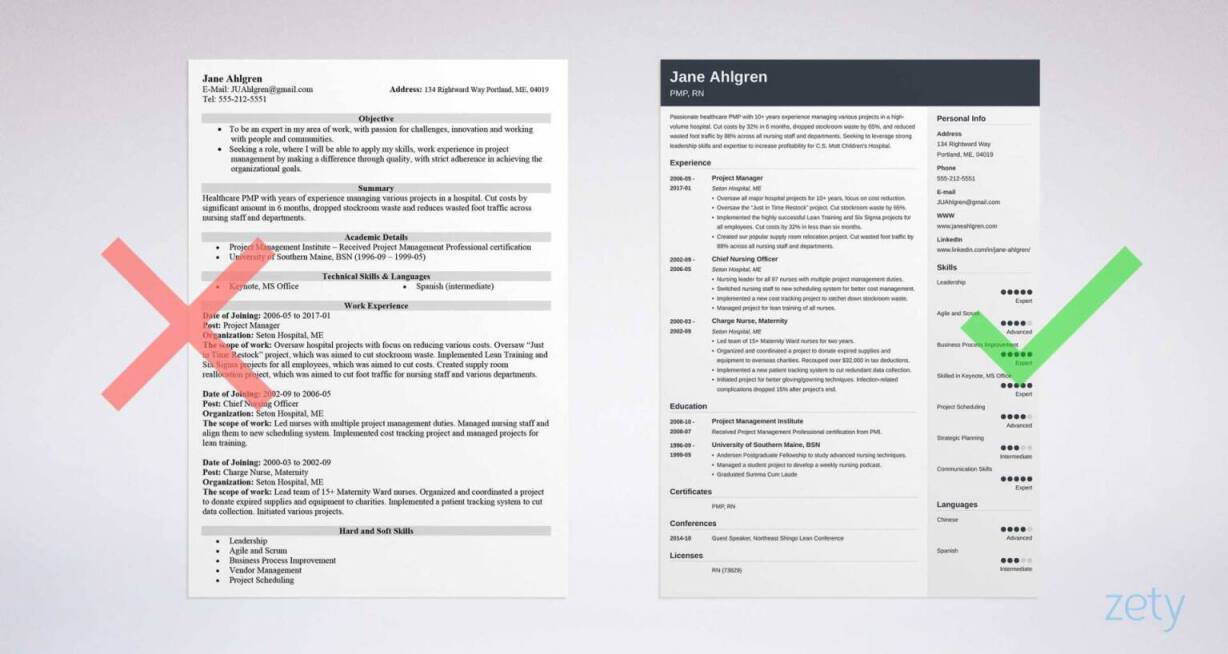 Sample resume made with our builder—See more resume examples here.
Of course, you want a unique resume. But hey—you can't go overboard.
Some resume ideas are too creative for certain industries and professions.
Below, you'll find a source of inspiration tailor-made to your situation.
Just want to browse well-designed, pretty resume templates? Check out our gallery: Resume Design Inspirations: The Best Templates Ever
1
Creative Resume Ideas for Less Formal Gigs
If you're eyeing a position in a creative job, say, graphic design, advertising, or marketing, it's a great idea to add some personality and flair to your resume.
A "creative designer with an eye for detail looking for a job at XYZ…" won't be very believable if her resume is typed with Times New Roman in a plain MS Word document.
That said—readability is key.
If you want to go for an unorthodox resume formatting idea, make sure the document is uncluttered and the relevant information can be spotted in a flash.
See some of these creative resume ideas for reference.
Creative and Minimalist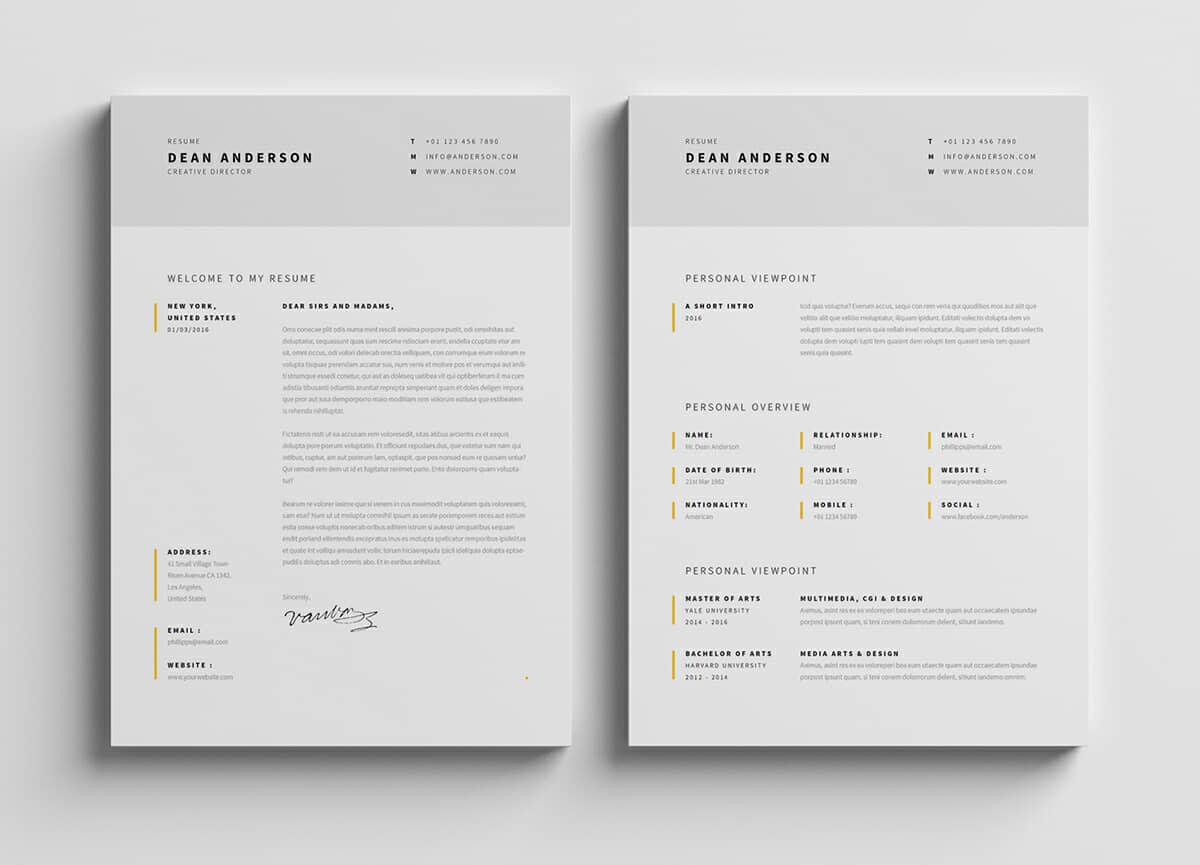 Minimalism has been a major design trend in the last decade. And it is so for a reason. Simple design makes it easier to focus on what's important. Some of the best resumes are very minimalistic—this way, the recruiter won't be distracted by countless details.
While the resume idea above might still prove too unorthodox for a typical office job, it will surely grab the attention of more relaxed employers.
Modern by Zety
"Modern" features a block rating system for languages and skills, ribbon-style arrows preceding each section title and colored elements in the header and footer to make the design more dynamic.
You can access this template, along with 17 others, when you create a resume in our builder, with one of our professional resume templates.
Bold and Beautiful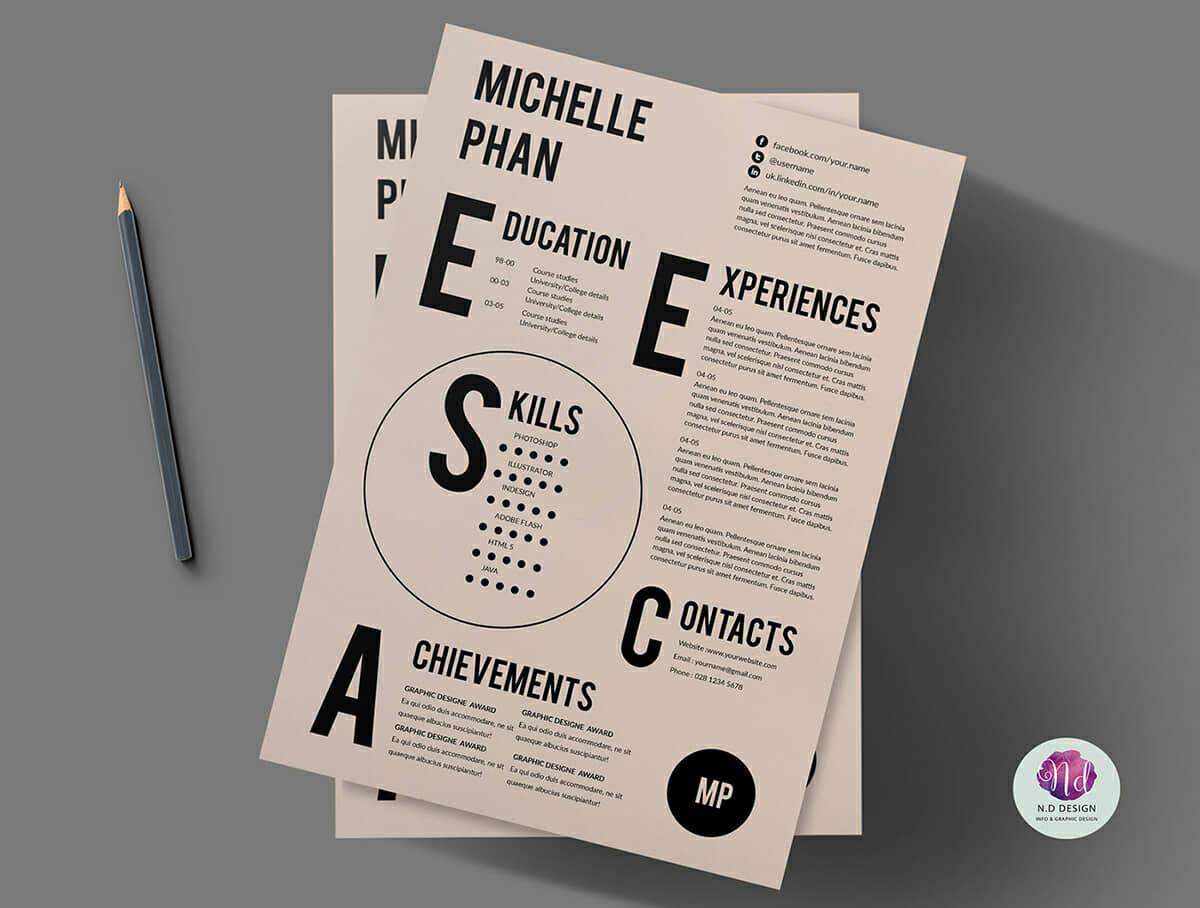 Here's' the link to download this resume.
Although it's one of the craziest resume layout ideas you'll ever come across, it's also one of my personal favorites.
True, it's suitable for very few jobs and definitely won't get you hired by a stiff corporation, but boy, it's just unforgettable.
Zety's Diamond
The theme here is, well, diamonds, but the resume is far from glittery. Modern yet elegant and simple.You can find it in our resume maker.
Need More Ideas for Unique Resumes?
Check out over 1000 resume templates available on Canva. Here's the link to the whole gallery. And here's a link to our review of Canva resume templates.
Don't want to spend the next few hours browsing resume ideas and looking for some decent ones?
See one of our compilations with only the finest resume templates from all over the internet hand-picked by hiring experts:
2
Professional Resume Design Ideas—Perfect for Corporate Jobs
If you're applying for corporate jobs, you need a resume that's a tad more conventional. Pick a format recruiters are familiar with and, most importantly, one that makes it through Applicant Tracking Software (ATS).
Here are some resume ideas and resources that will come handy:
Elegance Embodied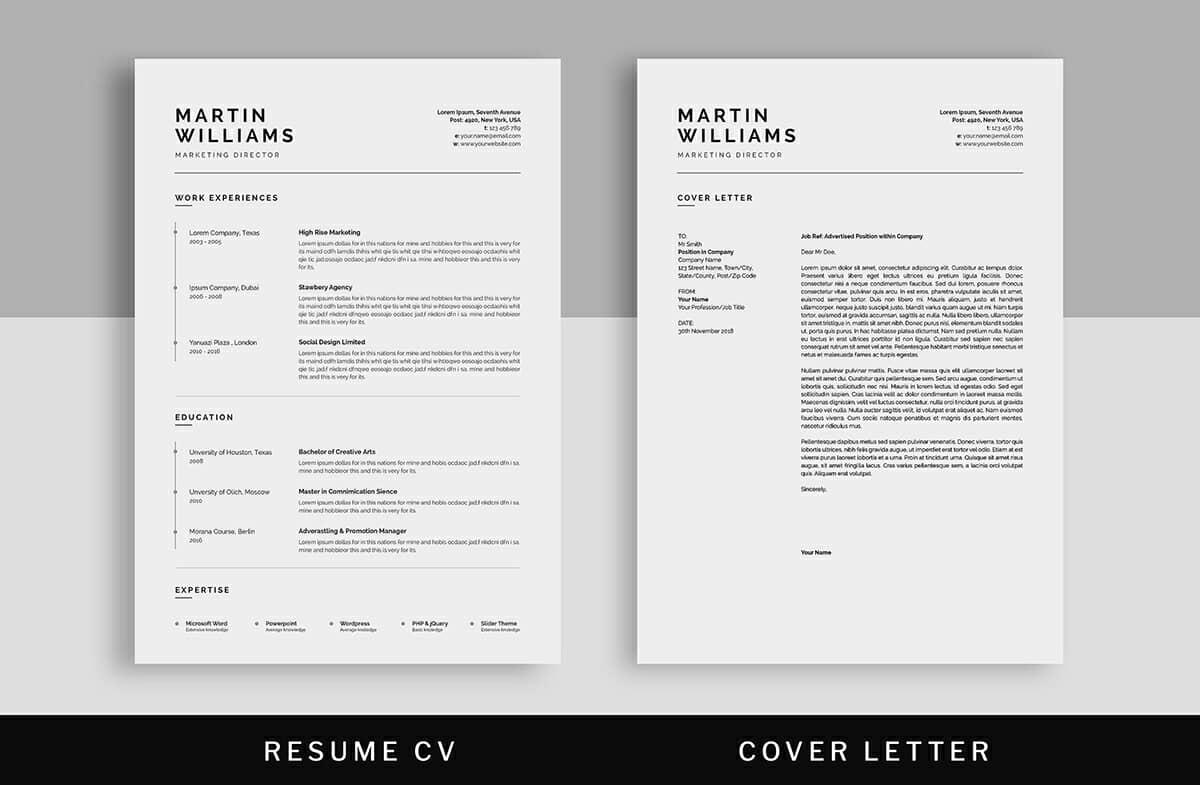 Apart from the templates we offer at Zety, this one is my all-time favorite. It's well-organized, neat, and modern at the same time. Plus, it's editable in MS Word, InDesign, and Photoshop. Once caveat: customization isn't simple if you're not software-savvy.
Vibes by Zety
What sort of vibes does this one send you, huh?
We're pretty proud of this one. I mean, just take a closer look—
Elegant icons next to section headings are eye-catching but not too invasive. Simple bar charts for your skills let you describe your proficiency level easily.
A fantastic resume layout idea for corporate positions. You can get it in our resume builder.
Nordic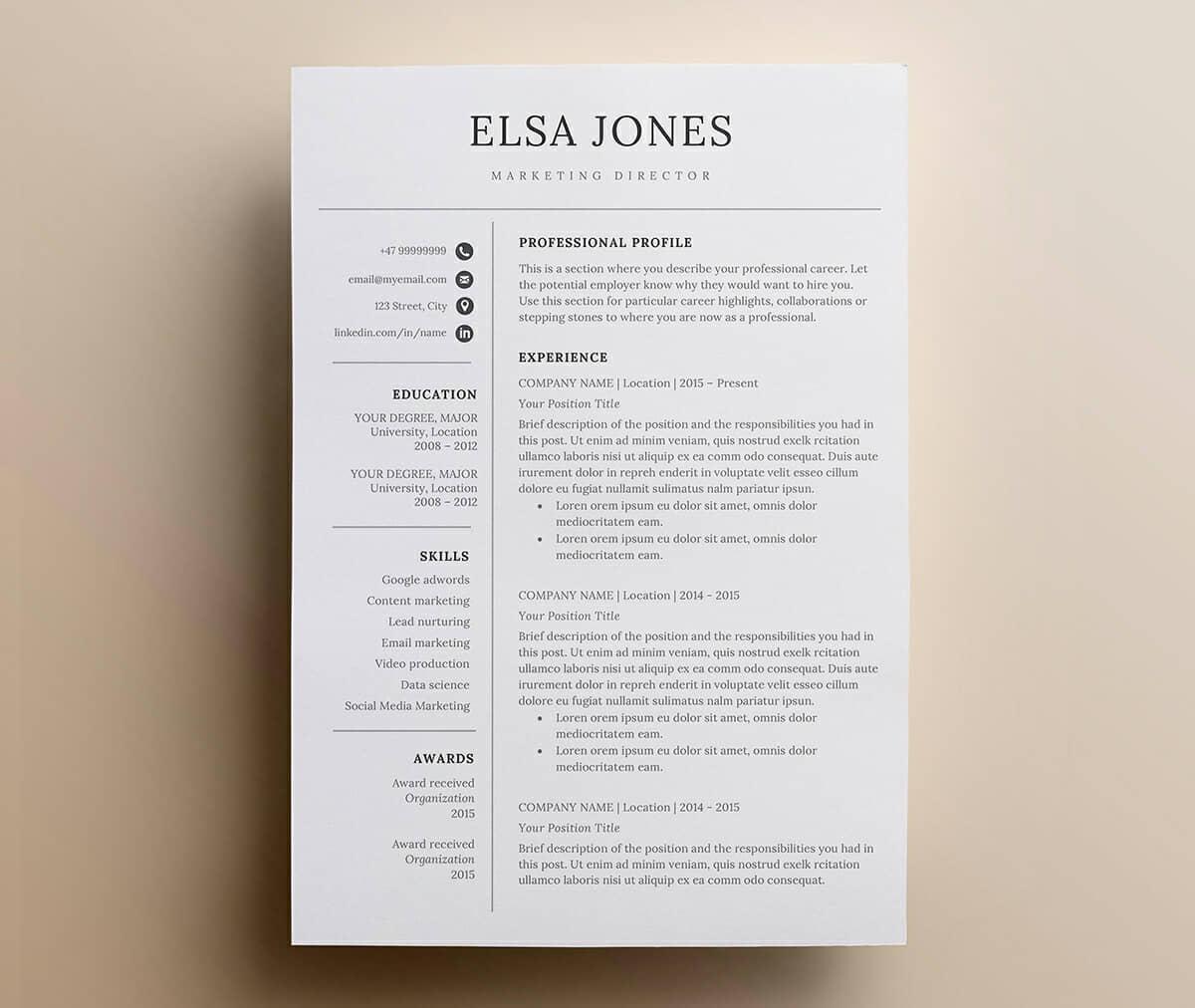 Scandinavian simplicity at its finest: nice font, clear section headings, two-column layout to save space and fit more into a single page.
Nanica by Zety
A simple idea for a resume—left-hand side serves as a timeline for the work history and education sections. A full-width area at the top helps you grab recruiters' attention with your professional summary or a job objective.
Want to see more similar ideas for a professional and simple resume? Go to our gallery: Simple Resume Template Ideas
When making a resume in our builder, drag & drop bullet points, skills, and auto-fill the boring stuff. Spell check? Check. Start building a professional resume template here for free.
When you're done, our easy resume builder will score your resume and our resume checker will tell you exactly how to make it better.
3
Not Much Experience? Resume Ideas for Students and Fresh Graduates
Writing a resume if you're a student or a recent graduate is challenging. Whatever job you've set your sights on, there's this one problem—
The competition is tough. And most of the other candidates have more professional experience than you.
To beat them, you need a resume that makes a great first impression.
Here are some ideas:
Clean Resume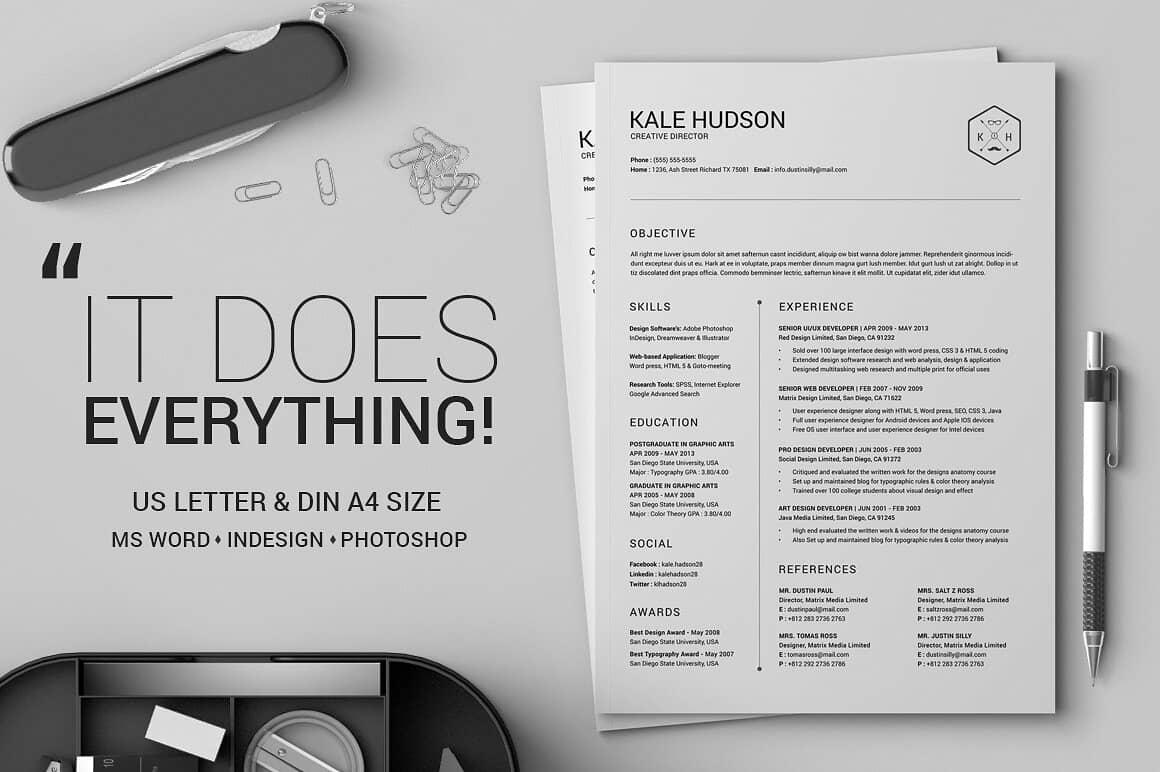 It's extremely well-organized and readable. A great idea for a resume for your first job or a CV for academic admissions.
Crisp & Clean (Designed by MOO)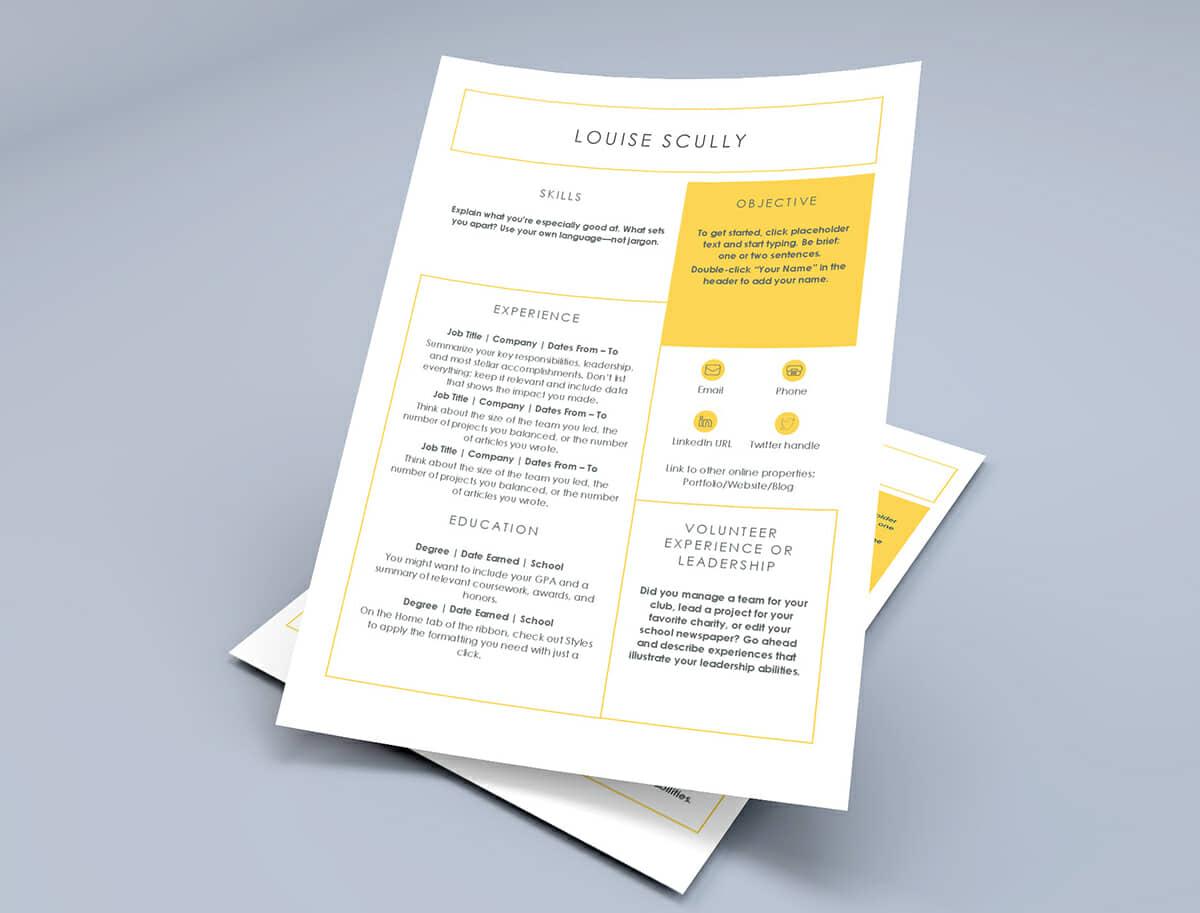 As a student, you might not want to spend money on a fancy resume template, we get it.
Luckily, there are some cool free options to consider. First of all, you can access some resume template ideas, like the one above, in your MS Word editor.
Can't seem to find it there?
Black Tie Design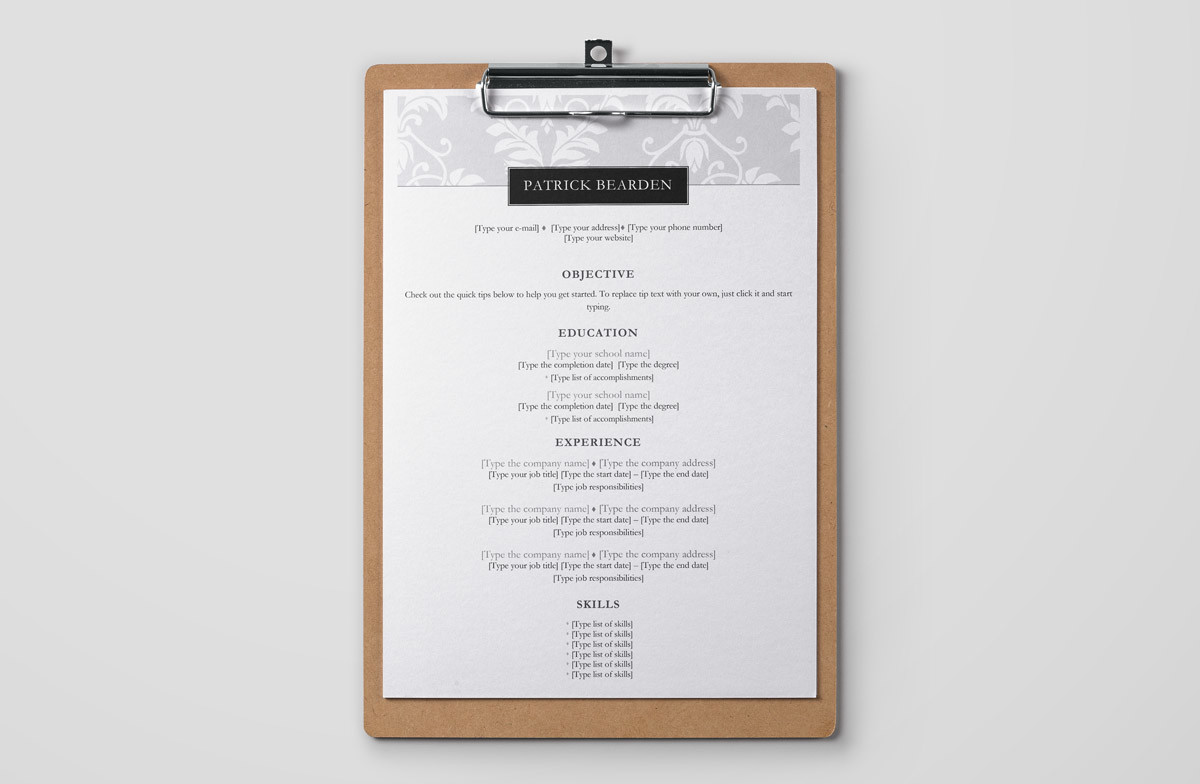 Another good idea for a free resume editable in Word. You'll find many more at Microsoft's official templates' page.
Just type in "Resume" or "CV" in the search bar.
Or, you can save time and see our selection of only the best free MS Word resume templates here: Free MS Word Resume/CV Templates
Don't have access to the MS Office Suite?
How About Browsing Google Docs?
You'll find great free resume design ideas on your Google Drive. Here's how to access them:
Click on Google Docs on Google home page. If you already have an account, sign in. Otherwise, create a new Google account.
Click on Template Gallery to open a list of templates.
Scroll down until you find a section called "Resumes" or "CVs," depending on your location.
Choose a resume or cover letter template you like the most. Click on it to open it in a new window.
Add personalized information to your template by clicking where you want to edit. Google automatically saves the applied changes into your account.
NOTE: If you cannot see Google resume templates, you need to change your Google Drive display language into English.
Go to:
My Account → Account preferences → Language & Input Tools → Choose Language → edit.
Then, just pick English from the drop-down list.
Here's an example of a free Google Docs resume template.
Modern Writer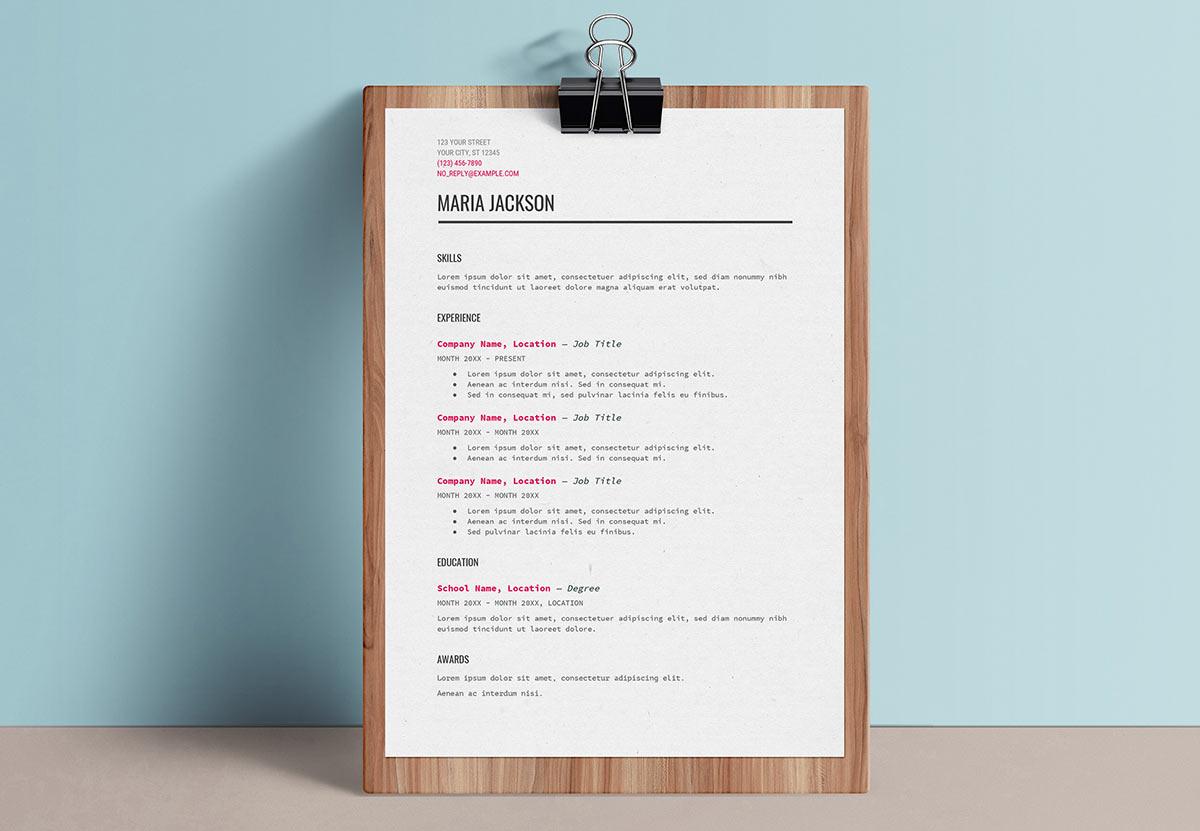 I think it's the best one out there, but feel free to check all of them out.
If you want to see some resume ideas other than those automatically available via Google Drive, see our gallery: Google Docs Resume Ideas (Free).
Once you find the perfect resume design idea for you, keep in mind one crucial thing—
4
Content Is Still King
Well… Some say actually conversation is king. So be it.
Let your resume give employers something to talk about—and I don't just mean the unique template.
Make your words matter more.
Check out some of our free resources with the best ideas for writing a job-winning resume:
Got a general idea but still feeling stuck? Here's a helping hand: How to Start a Resume if You Have Writer's Block
Finally…
Do include a cover letter in your job application. Here's a handy guide to help you write a great cover letter: How to Write a Cover Letter in Minutes
Plus, a great cover letter that matches your resume will give you an advantage over other candidates. You can write it in our cover letter builder here. Here's what it may look like: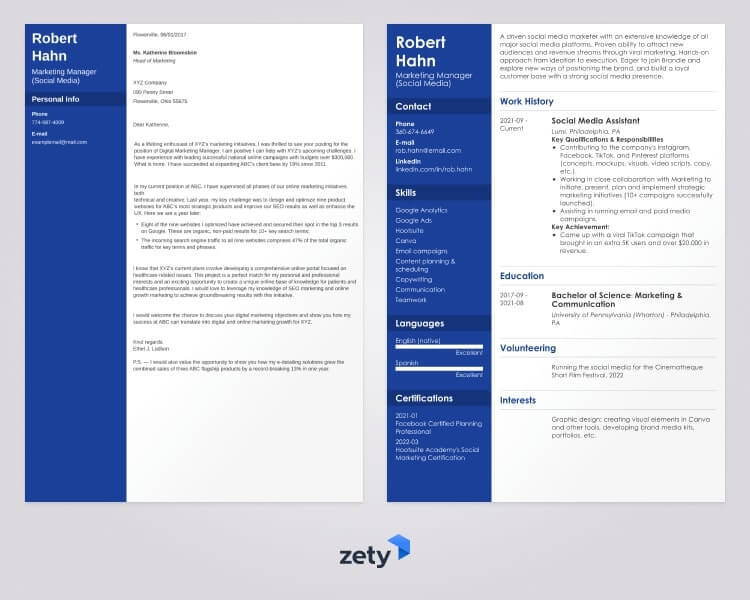 See more cover letter templates and start writing.
Key Takeaway
Here's a recap of the most inspiring ideas for resume design and layout:
Be bold and creative when applying for informal jobs.
Stay conservative and elegant if you want a corporate position.
Remember that readability is more important than a fancy design.
Use an online resume builder if you want a pretty resume without much effort.
Consider browsing free Google Docs templates.
Check out in-built resume design ideas in your MS Word editor.
For resumes created with more advanced graphic design software, visit Canva.
Willing to pay a few bucks for your resume? Check out what freelance designers have to offer on Behance or Etsy.
I hope my article inspired you to make a beautiful resume. Which idea was your favorite? Maybe you'd like to share your own resume ideas, tips, and tricks? Drop me a line in the comments, let's get the discussion started!
About Zety's Editorial Process
This article has been reviewed by our editorial team to make sure it follows Zety's editorial guidelines. We're committed to sharing our expertise and giving you trustworthy career advice tailored to your needs. High-quality content is what brings over 40 million readers to our site every year. But we don't stop there. Our team conducts original research to understand the job market better, and we pride ourselves on being quoted by top universities and prime media outlets from around the world.