The best personal assistants have superhuman powers. They're nearly clairvoyant when it comes to anticipating the needs and wants of their bosses.
Does your personal assistant resume reflect that you're one of those PA's? If it doesn't, it's about time you wrote a new one.
In this guide, you'll see:
A personal assistant resume sample better than 9 out of 10 other resumes.
How to write a professional personal assistant resume even if you have no experience.
Tips and examples of how to put skills and achievements on a PA resume.
How to describe your experience on a resume for personal assistant positions to get any job you want.
Want to save time and have your resume ready in 5 minutes? Try our resume builder. It's fast and easy to use. Plus, you'll get ready-made content to add with one click. See 20+ resume templates and create your resume here.
Sample Personal Assistant Resume—See more resume samples here.
Targeting other assistant positions as well? See one of our dedicated guides:
Looking for general tips and examples for writing resume for office jobs? Read:
Personal Assistant Resume Example
Caroline Johnson
Personal Assistant
(123) 456-7890
carolinejohnson@email.com
linkedin.com/in/johnqpublic
Summary
Dedicated and detail-oriented Personal Assistant with over 5 years of experience. Eager to support NexusByte Systems in streamlining processes and improving overall productivity. Cut scheduling errors by 25% at Innovista Labs by implementing a new cloud-based scheduling system. Keen to implement similar solutions NexusByte Systems to boost its productivity.
Experience
Personal Assistant
Innovista Labs, Milwaukee, WI
July 2016–Present
Key Qualifications & Responsibilities
Managed complex and frequently changing schedules for executive staff.
Handled internal and external communication, including correspondence with clients and vendors.
Assisted in planning and executing corporate events, meetings, and employee team-building activities.
Helped organize the schedule of executive business trips.
Key Achievement:
Implemented a new cloud-based scheduling system, reducing scheduling errors by 25%.
Personal Assistant
AlphaMatrix Technologies, Milwaukee, WI
May 2014 2014–June 2016
Key Qualifications & Responsibilities:
Managed and optimized travel arrangements for staff, saving an average of $1000 per trip.
Assisted in the preparation of reports and presentations.
Coordinated and facilitated communication between various department heads.
Key Achievement:
Streamlined process management, improving productivity by 15%.
Education
Bachelor of Science in Business Administration
University of Wisconsin, Milwaukee, WI
August 2010–May 2014
Relevant extracurricular activities
Club Secretary, Business Student Association
Volunteer, Local Food Bank
Academic achievements:
Graduated Cum Laude.
Dean's List 2012-2014.
Skills
Time Management
Communication
Initiative
Problem-Solving
Scheduling
MS Office Suite
Client Relations
Expense Reports
Certifications
Certified Administrative Professional, International Association of Administrative Professionals, 2020
Awards
2017, Employee of the Year, Innovista Labs
Memberships
Member of the International Association of Administrative Professionals since 2014
Participated in annual conference panel discussions.
Contributed to newsletter content planning.
Languages
English—Native
Spanish—Intermediate
Interests
Podcasting: Run a popular podcast (3k subscribers) about productivity hacks.
Reading: Enjoy reading non-fiction books, particularly related to business and management.
1
What's the Best Format for a Personal Assistant Resume?
300+ resumes.
That's what stands between you and your dream job.
Your personal assistant resume is somewhere in the middle of this pile.
Or at the bottom.
Statistically speaking, it will get no more than 6 seconds of the recruiter's attention.
Yes, you read that right—no one will read your whole resume.
Recruiters and hiring managers will just skim through it looking for the most important info about your career.
Serve them what they seek on a silver platter. Pick the trusted reverse-chronological resume format. It highlights the peak of your career. Plus, recruiters are familiar with it and they'll know where to find what they need to know.
Here's what to include in a reverse-chronological personal assistant resume, from top to bottom.
Personal Assistant Resume Template
Contact information
Resume objective or summary
Work experience in reverse-chronological order
Education
Skills
Additional Sections (Certifications, Awards, Volunteer Experience, or Hobbies and Interests)
Use clear, legible fonts. (Arial, Tahoma, Calibri, or Open Sans, for instance.) Add white space and big headings to break up the page.

Finally, save your professional personal assistant resume in PDF so it won't scramble from one computer to the next.
Pro Tip: Double check with the job ad if it's okay to submit PDF files. Some employers use old-school software to scan resumes—it might choke on PDFs. If such is the case, submit your personal assistant resume in Word.
Want more tips on the best personal assistant resume format for you? Here's a must-read for you: Resume Format: Use the Right One to Get Jobs
2
Personal Assistant Resume Objective or Summary?
Research has shown that recruiters mostly focus on the top third of your resume.
So—
Make the most of this part.
Right under your contact information, put a resume objective or a resume summary—a short and sweet paragraph that explains why you're the perfect candidate.

Resume summary gives an outline of your career and highlights your best achievements. It reads like a short version of your personal assistant bio. Use it if you've got relevant personal assistant job experience.

Resume objective, in turns, discusses what you've learned so far and shows how you'd fit in. If you're writing an entry-level personal assistant resume with little experience, choose the resume objective.

The key thing? In your resume objective or summary don't write about what you want out of the job. Focus on what you have to offer.


Let's see some examples. We'll start with objectives.
Sample Personal Assistant Resume Objective
right
English graduate with proven communication, travel planning, and email management skills developed while volunteering at UPenn International Student Exchange Center. Seeking a position as a Personal Assistant to CEO of Acme Inc., to leverage organizational and research skills improving logistics efficiency.
wrong
Recent graduate seeking a personal assistant role. Do not have much professional experience but I am willing to learn new things to excel at my new job.
See the difference, right?
The right example makes a solid offer: "I've already learned a lot and I want to help your business."
The wrong one basically reads "I don't have experience, but I want to learn new stuff."
No one needs that kind of PA.
Time to see two very different personal assistant resume summary examples.
Personal Assistant Resume Summary Samples
RIGHT
Professional, efficient personal assistant with 6+ years experience working for three executives at a large corporate organization. Excellent project management, organization and communication skills. Introduced a time management system and increased the efficiency of the office by 15%. Seeking to use my expertise to help XYZ's CEO improve communications and efficiency, while cutting costs.
Wow, right?
"I feel like even reading other resumes would mean cheating on this candidate!"
That's the response this kind of summary will bring.
WRONG
Experienced PA skilled in drafting contracts, managing meetings and emails. Wide range of soft and hard office skills. Organized and dependable.
"Right… everyone's got their niche, hers is making coffee. At best."
Writing the perfect personal assistant resume objective or summary can be tricky, we know. So here's some good news—
When making a resume in our builder, drag & drop bullet points, skills, and auto-fill the boring stuff. Spell check? Check. Start building a professional resume template here for free.
When you're done, our free resume builder will score your resume and our resume checker will tell you exactly how to make it better.
Pro Tip: In every professional summary for personal assistant jobs, as well as a PA resume objective, address the company or an individual by name and indicate the exact position you're targeting. Yes—that means you cannot send one general resume for every application. And that's the point. You're a personal assistant. Personalize every resume you send.
For more expert tips and real-life examples, check out our handy guides: How to Write a Professional Summary for a Resume and How to Write a Resume Career Objective Statement
3
How to Write Job Descriptions on a Personal Assistant Resume
Most personal assistant job descriptions on a resume read pretty much the same.
"Maintaining the calendar," "managing expenses," "travel planning."
While it might sound underwhelming and mundane, in fact it's complex work that requires excellent organization and multitasking skills.
Luckily, there's a way to describe your work history so that it makes your resume stand out from the crowd like Ariana Grande in a Dunkin' Donuts.
How?
In the work experience section of your personal assistant resume, don't just talk about your past duties. Focus on your achievements.
How to Describe Your Personal Assistant Work History on a Resume
Start with your current or most recent job.
Follow it with your previous position and the one before that, and so on.
Under each job, add up to 5 bullet points describing your duties and, more importantly, your achievements.
Quantify whenever possible. Don't say you "helped significantly reduce expenses." Say how much exactly. Numbers pop!
At the bottom, add a "Key achievement" subsection where you show off your best win.
Last but not least—pick phrases from the job ad, and refer to them in your work experience section. List relevant responsibilities, not every single task you've performed. In other words: target your resume.
Enough theory. See these examples:
Executive Personal Assistant Resume Example—Job Description
RIGHT
Executive Personal Assistant
Kallas, Inc., New York City, NY
2012–2018
Fulfilled all executive assistant duties for four top executives in an international firm. Managed complex calendars, facilitated communication and logistics.
Improved communication between executives/customers. Set up a call recording system that saved $2 million a year from misunderstandings.
Supported executives with project support, data tracking, and administrative tasks. Frequently commended for quick-thinking and resourcefulness.
Key achievement: Tasked with saving time for all top-level executives. Saved each an average of 15 hours per week, which translates to $30,000 a week at current salaries.
Pro Tip: Pack your work experience section full of action verbs. "Supported," or "managed" sound way better than "responsible for support and management."
Looking for a non-corporate personal assistant job? Here's an example from a different field.
Household Personal Assistant Resume Sample—Job Description
RIGHT
Household Personal Assistant
Private Estate, San Diego, CA
2014–present
Provide ongoing household management for a busy family with 5 children in an 18.000 sq. ft. home.
Manage all calls, collect and sort mail.
Maintain daily task list, arrange meetings, and make appointments.
Plan and supervise all personal travel arrangements.
Key achievement: Identified a solution to consolidate all personal loans, saving $480 monthly and reducing accounting time by ~5 hours a week.
Just perfect. Action words, numbers, achievements—all check.
The work experience section is the most important part of every personal assistant resume.
Want to make sure you'll get it right? Here's the guide to answer all your questions: Resume Job Descriptions: Make the Most Your Work Experience Bullet Points
4
Is Your Education Section Underperforming? It Might Be
More often than not, all you have to do in your resume education section is list your highest degree of education.
Include:
Your degree type
Your major (and minors, if you have them)
School name
Graduation date
Like this:
Sample Personal Assistant Resume—Education Section
BS, Psychology
Penn State, 2007–2011
These are the basics. But—
If you've got no relevant experience in your field, you can make up for it in your education section
Add details such as:
Relevant coursework
Favorite fields of study
Academic achievements
Extracurricular activities
Here's an example of the best personal assistant resume education section for candidates with no experience.
Entry-Level Personal Assistant Resume Example—Education Section
RIGHT
BS, Accounting
Penn State, 2015–2018
Excelled in Applied Maths coursework.
President of the Undergraduate Student Board 2017–2018.
Editor-in-chief of the official department blog.
Nailed it.
Pro Tip: For personal assistant resumes with little work history, move your education section above your work experience.
To learn more about how to beef up your resume education section, read: Academic Details on a Resume: How to List Your Education the Right Way
5
How to List Your Professional Personal Assistant Skills
When listing your PA skills on a resume, relevance is key.
Don't include every skill you think you have in random order. Focus on the skills that will be expected of you in a particular job.
Remember when I mentioned tailoring a resume? Here it comes again.
How to Put Skills on a Personal Assistant Resume
Start with a spreadsheet that lists all your professional skills.
Read the job description carefully. Look for skills-related keywords.
Check how many of these are there in your spreadsheet. Quite a few, right? That's your skills list.
Don't just put the names of your skills. Provide evidence that shows your level of proficiency.
Here's a practical example.
Let's say there's an opening for a celebrity personal assistant that requires candidates to excel at:
Social media management
Styling
Tour Support
Here's what a tailored PA resume skills section would look like:
Sample Celebrity Personal Assistant Resume—Skills Section
Social media management: updated individual and corporate social media channels (Facebook, Twitter, Instagram) with unique content regularly; increased local model's Instagram followers base from 18.000 to 112.000 in 4 months.
Styling: oversaw styling and preparation for 10+ award shows.
Tour support: conducted in-depth research of cities and venues, cooperated with photographers in managing behind-the-scenes shoots.
Could use a hand with picking the right skills to put on your professional PA resume? Get inspired with our examples below.
Personal Assistant Resume Skills

| | |
| --- | --- |
| | |
| | Coordinating conference calls |
| EQ | File-sharing platforms |
| Logistics | Event planning |
| | Reporting |
| Dependability | Typing 100 WPM |
| | Travel arrangements |
| | |
| Compassion | Calendar management |
| | Database management |
| Independent initiative | Accounting |
Pro Tip: Don't even think of skipping your soft skills. This study shows that modern economy will increasingly reward those candidates who combine technical with soft skills—that means more job opportunities and higher pay.
For more great examples of what skills to put on your resume, see our guide: The Best Skills Sets to Put on a Resume
6
How to Put Additional Sections on Your Personal Assistant Resume
Candidates lie on their resumes and recruiters know that.
But guess what?
You can make them actually believe your resume.
How?

Add an extra section that provides proof that you're a valuable candidate. List your unquestionable professional triumphs.

Check out these ideas for an additional section on a resume for personal assistant positions.
Additional Sections for a Private Personal Assistant Resume—Examples
Awards
Certifications
Additional training
Participation in conferences
Blogging and influencing
Pro Tip: To add some glam to your PA resume, consider taking an online class or two. You can finish most in a couple of hours without leaving home and they can make a huge difference for your chances of landing that dream job.
Can't showcase any of the above yet? Don't fret. An entry-level PA resume can still benefit from an extra section.


Here are a few examples:
Extra Sections for an Entry-Level Personal Assistant—Examples
Volunteer experience
Hobbies and interests
Academic achievements
Not quite sure what to include in the extra section of a good personal assistant resume and what to leave off? Read our guide: Resume Sections You Should Include on Your Resume
7
Personal Assistant Cover Letter? You Do Need One
If you want to double your chances of getting the job—oh yes, they are.
What do I mean?
That almost half of recruiters won't even open your personal assistant resume if there's no cover letter attached.
Besides, you can use your PA cover letter to your great advantage. Cover letters can do what even the best resume can't—they tell a story. And humans love stories a lot more than raw data.
Plus, a great cover letter that matches your resume will give you an advantage over other candidates. You can write it in our cover letter builder here. Here's what it may look like: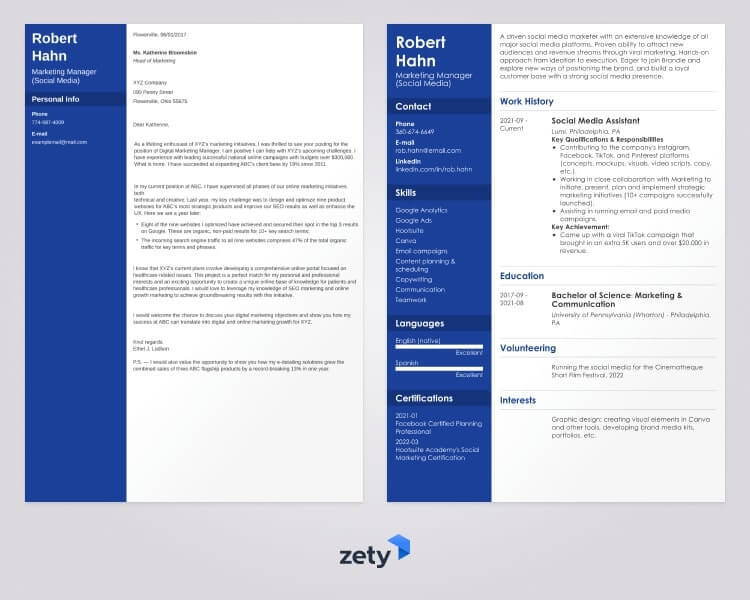 See more cover letter templates and start writing.
Pro Tip: Once you send your personal assistant resume and cover letter, don't forget to follow up on your application. A well-placed phone call or email can put you top of mind.
Want to learn the art of writing a job-winning cover letter? Read this handy guide and master cover letter writing in no time: How to Write an Application Cover Letter
Key Takeaway
To write a personal assistant resume that will get you more jobs, follow these key steps:
Personalize every resume you send to match the requirements of the job.
Put a personal assistant resume objective or summary at the top.
In your work experience section, don't just list your duties—showcase your achievements!
Back up your skills with verifiable proof.
Add an extra section for your certifications, awards, additional training, or blogging.
All check? I'm keeping my fingers crossed for your interview!
Got any more questions? Need further help? Want to chat about writing your resume? That's great cause I can't wait to hear your thoughts! Drop me a line in the comments and I'll get back to you double-quick.
About Zety's Editorial Process
This article has been reviewed by our editorial team to make sure it follows Zety's editorial guidelines. We're committed to sharing our expertise and giving you trustworthy career advice tailored to your needs. High-quality content is what brings over 40 million readers to our site every year. But we don't stop there. Our team conducts original research to understand the job market better, and we pride ourselves on being quoted by top universities and prime media outlets from around the world.
Sources