Our customers have been hired by:
You're the backbone of most businesses. The unsung hero. A lifeline to the CEO and just about anyone else in the organization. And thanks to a shift in work culture and rise in remote working, you're more in demand than ever!
But with so many hats to wear, and often dealing with tasks that aren't even in your job description, how can you get your many skills onto one virtual assistant resume without overdoing it?
This guide will show you:
A virtual assistant resume example better than 9 out of 10 other resumes.
How to write a virtual assistant resume that will land you more interviews.
Tips and examples of how to put skills and achievements on a virtual assistant resume.
How to describe your experience on a resume for a virtual assistant to get any job you want.
Want to save time and have your resume ready in 5 minutes? Try our resume builder. It's fast and easy to use. Plus, you'll get ready-made content to add with one click. See 20+ resume templates and create your resume here.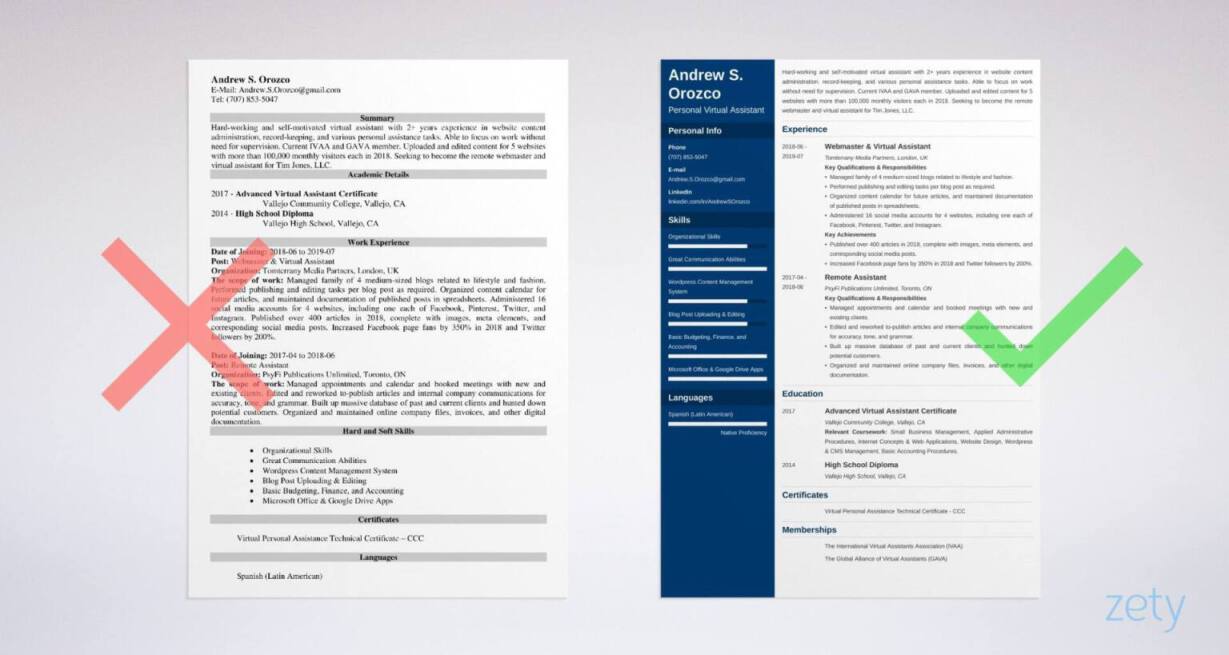 Sample resume made with our builder—See more resume samples here.
Here are some resume examples similar to virtual assistant jobs:
Also, here are some employment guides to help you find the right virtual job for you:
Virtual Assistant Resume Sample
Andrew S. Orozco
Personal Virtual Assistant
Andrew.S.Orozco@gmail.com
(707) 853-5047
linkedin.com/in/AndrewSOrozco
Summary of Qualifications
Hard-working and self-motivated virtual assistant with 2+ years experience in website content administration, record-keeping, and various personal assistance tasks. Able to focus on work without need for supervision. Current IVAA and GAVA member. Uploaded and edited content for 5 websites with more than 100,000 monthly visitors each in 2018. Seeking to become the remote webmaster and virtual assistant for Tim Jones, LLC.
Work Experience
Webmaster & Virtual Assistant
June 2018–July 2019
Tomterrany Media Partners, London, UK
Key Qualifications & Responsibilities
Managed family of 4 medium-sized blogs related to lifestyle and fashion.
Performed publishing and editing tasks per blog post as required.
Organized content calendar for future articles, and maintained documentation of published posts in spreadsheets.
Administered 16 social media accounts for 4 websites, including one each of Facebook, Pinterest, Twitter, and Instagram.
Key Achievements
Published over 400 articles in 2018, complete with images, meta elements, and corresponding social media posts.
Increased Facebook page fans by 350% in 2018 and Twitter followers by 200%.
Remote Assistant
April 2017–June 2018
PsyFi Publications Unlimited, Toronto, ON
Key Qualifications & Responsibilities
Managed appointments and calendar and booked meetings with new and existing clients.
Edited and reworked to-publish articles and internal company communications for accuracy, tone, and grammar.
Built up massive database of past and current clients and hunted down potential customers.
Organized and maintained online company files, invoices, and other digital documentation.
Education
Advanced Virtual Assistant Certificate
Vallejo Community College, Vallejo, CA
Graduation: 2017
Relevant Coursework: Small Business Management, Applied Administrative Procedures, Internet Concepts & Web Applications, Website Design, Wordpress & CMS Management, Basic Accounting Procedures.
High School Diploma
Vallejo High School, Vallejo, CA
Graduation: 2014
Key Skills
Organizational Skills
Great Communication Abilities
Wordpress Content Management System
Blog Post Uploading & Editing
Basic Budgeting, Finance, and Accounting
Microsoft Office & Google Drive Apps
Languages
Spanish (Latin American): Native Proficiency
Certifications
Virtual Personal Assistance Technical Certificate - CCC
Memberships
The International Virtual Assistants Association (IVAA)
The Global Alliance of Virtual Assistants (GAVA)
Now—
Here's how to write a resume for virtual assistant jobs:
1. Pick the Ideal Format for a Virtual Assistant Resume
A virtual assistant is someone who provides assistance to a company or individual from a remote location. A virtual assistant resume needs to show the employer that you'll be able to carry out various tasks remotely as well as if you were there in person.
Before you begin writing it, format the remote assistant resume template for digital perfection.
How?
Follow these rules when formatting a resume for remote jobs:
Pro Tip: How should you save your resume? Save your resume in PDF format unless they ask otherwise, as it ensures it can be read on any device.
2. Write a Virtual Assistant Resume Objective or Summary
A resume profile is the objective or summary statement on your virtual assistant resume, and it acts as your elevator pitch.
Which one should you use?
If you have lots of experience with freelance work and online jobs, use the resume career summary.
The summary statement highlights your most impressive skills and experience from past virtual jobs. It tops it off with a proud achievement using numbers to prove that no one else is even remotely as talented as you.
If you're new to working remotely or in a virtual assistant job, use the resume career objective.
The objective statement lists out your career goals as a virtual assistant, rather than your years of experience. However, it, too, gives a top accomplishment to verify you're the best of the best.
Pro Tip: Write your heading statement (the objective or summary) last, even though it gets read first. This way, you'll be able to come up with solid items to list in this important area up top.
3. Craft a Perfect Virtual Assistant Job Description on the Resume
The work history section on a resume for online jobs and virtual positions is the focus for many remote employers.
These potential clients of yours need to see examples and proof that you'll be able to be a self-motivated worker and competent at the tasks they ask of you.
Want to know how to write experience in a resume effectively?
Here's how:
Using reverse-chronological order, list your last work assignment first, followed by the next one, and so forth.
List professional job title, the dates of your employment, the client's name, and their location.
Below that, add the most relevant virtual assistant responsibilities you performed.
For each responsibility, use action words (e.g., orchestrated, organized) to start off each line item.
Give them accomplishments with numbers to verify your know-how and skills.
Learn how to tailor your resume to a job posting, rather than sending one generic copy of your resume to every employment offer on Upwork.
Pro Tip: Have you had many clients and are unsure how to list that mass of remote jobs on your resume? Check out our article on how to list freelance work on a resume to ensure you give them the choicest tidbits.
4. Make the Virtual Assistant Resume Education Area Shine
Think listing education on a resume for virtual assistant jobs is a waste of time?
Think again.
Just because you likely don't need any college degree for most virtual jobs doesn't mean you shouldn't add your schooling onto your resume.
So—
Here's the quick-but-effective way of listing education on your resume:
Begin here also in reverse-chronological order, with your most advanced degree or certificate first.
Include the degree or certificate, the school's name and locale, and your completion date.
If you have classes relevant to the position you're applying for, include them as an education subsection.
Pro Tip: If you have completed a degree in university, leave high school off your resume.
5. List Your Virtual Assistant Skills on a Resume
The US Bureau of Labor Statistics does not yet seem to track job stats specifically related to virtual assistants (probably as it's a recent trend).
However, its closest relative, secretaries and administrative assistants, will see a decline of 5% between 2016 and 2026.
That's a loss of over 190,000 jobs for this kind of work.
Meaning—
If you have your heart set on a work-from-home virtual assistant job, you'd better make certain your skills are up to par:
15+ Important Skills Needed to Be a Virtual Assistant
Adherence to Deadlines
Multitasking Skills
Self-Management
Editing Articles & Documents
Self-Motivation
Reliability & Resourcefulness
Office Apps (e.g., Word, Google Docs, Excel)
Initiative & Accountability
Here's how to add the right virtual assistant skills onto a resume:
Take note of the professional skills you have, including hard and soft skills, related to the particular virtual assistant job to which you're applying.
Find the best resume keywords to use by parsing the job requirements of the advertisement.
List the skills you have which they ask for in the job requirements on your virtual assistant resume.
When making a resume in our builder, drag & drop bullet points, skills, and auto-fill the boring stuff. Spell check? Check. Start building a professional resume template here for free.
When you're done, our free resume builder will score your resume and our resume checker will tell you exactly how to make it better.
6. Add Other Sections to Your Virtual Assistant Resume
Additional sections on a virtual assistant resume allow you to show more scope and professionalism in just a few extra lines.
Here are some great options:
7. Attach a Virtual Assistant Cover Letter to Your Resume

Do you need a cover letter for a resume for virtual assistant jobs?
Most definitely.
Hiring managers and clients, whether remote or in person, prefer cover letters with your job applications.
So—
Here's how to make a tip-top virtual assistant resume cover letter:
Pro Tip: Remember to follow up on the application later on.
Plus, a great cover letter that matches your resume will give you an advantage over other candidates. You can write it in our cover letter builder here. Here's what it may look like: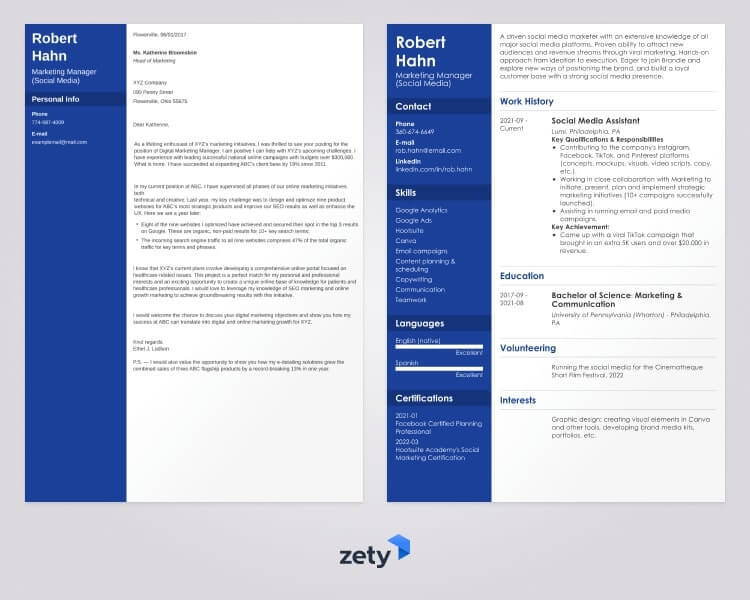 See more cover letter templates and start writing.
Need more virtual assistant resume examples for a particular section? Not sure how to talk up your virtual assistant job description resume area? Let's talk about it below in the comments, and thanks for reading!
About Zety's Editorial Process
This article has been reviewed by our editorial team to make sure it follows Zety's editorial guidelines. We're committed to sharing our expertise and giving you trustworthy career advice tailored to your needs. High-quality content is what brings over 40 million readers to our site every year. But we don't stop there. Our team conducts original research to understand the job market better, and we pride ourselves on being quoted by top universities and prime media outlets from around the world.
Sources