Our customers have been hired by:
You love your new job. It's just incredible—you have complete health and vision insurance, plus dental! And the people are so nice.
At least, that's the plan. But office assistant jobs are tight, and the good ones go to the best candidates. For those jobs, you'll need an office assistant resume like Peggy Olson's from Mad Men. And you're about to find out how to make that perfect office assistant resume a reality.
This guide will show you:
An office assistant resume example better than 9 out of 10 other resumes.
How to write a resume for office assistant jobs to land more interviews.
A list of the most popular office assistant skills for a resume.
How to write a strong office assistant job description for a resume.
Want to save time and have your resume ready in 5 minutes? Try our resume builder. It's fast and easy to use. Plus, you'll get ready-made content to add with one click. See 20+ resume templates and create your resume here.
Sample resume made with our builder—See more resume examples here.
Here are more resume samples for office and administrative support jobs:
You can also check our collection of the Best Examples of Resumes for Any Job
Office Assistant Resume Example
Carson Gragson
Office Assistant
(555) 555-5555
carson.gragson@email.com
linkedin.com/in/carson.gragson
Summary
Adaptable Office Assistant with 5 years of experience in high-volume office environments. Looking to support MetaLogic Solutions in providing top-tier administrative service. Streamlined office procedures to increase efficiency at Nexus Dynamics, resulting in a 20% time savings for other staff members. Achieved this number by researching the market and finding a new document management system.
Experience
Office Assistant
Nexus Dynamics, Newark, DE
July 2016–Present
Key Qualifications & Responsibilities
Managed office supplies, vendors, organization, and upkeep.
Directed phone calls and distributed correspondence.
Assisted in planning and arranging company events.
Supported bookkeeping and budgeting procedures.
Key Achievement:
Implemented a new document management system, increasing efficiency by 20%.
Office Assistant
OptiMax Innovations, Newark, DE
June 2014–June 2016
Key Qualifications & Responsibilities
Assisted in maintaining and updating company databases.
Maintained and ordered necessary office equipment and supplies.
Assisted with various administrative tasks as needed, including managing calendars and scheduling appointments.
Key Achievement:
Developed a new filing system, which increased office organization and productivity.
Education
Associate Degree in Office Administration
Delaware Technical Community College, Newark, DE
August 2012–May 2014
Relevant Extracurricular Activities
Member of the National Society of Leadership and Success.
Volunteered as a mentor for high school students.
Academic Achievements:
Awarded with the Dean's List for three consecutive semesters.
Graduated in the Top 10% of the class.
Skills
Computer software proficiency (MS Office, Excel, PowerPoint)
Knowledge of administrative procedures and office management
Customer service and problem-solving abilities
Excellent communication skills, both written & verbal
Advanced organizational and time management skills
Ability to multitask with utmost accuracy
Exceptional attention to detail and data accuracy
Certifications
Certified Administrative Professional (CAP), International Association of Administrative Professionals (IAAP), 2014
Languages
English—Native
Spanish—Intermediate
Interests
Volunteering at a local animal shelter.
Running and participating in local marathons.
Continue reading to learn how to write a similar office assistant resume that highlights your best qualities:
1. Use a Resume Format That Suits Your Needs
Want to show your professionalism straight away? Then ensure that your office assistant resume is properly formatted. After all, office assistants often help their colleagues prepare various documents, so your job application must prove you've mastered editing.
Start with a modern resume template featuring plenty of white space to make your application look good. If you want to make your resume layout from scratch, follow the instructions below.
Here's how to format a resume for office assistant jobs:
Make a resume outline with placeholder sections you'll complete later: header area with contact info, resume profile, work experience section, education, skills, and a few additional resume sections.
Pick a resume font that looks great on screen and in print, such as Calibri, Helvetica, or Georgia.
Put your name at the top of the document and make it distinct.
Set the font size to 10–12 for paragraphs and 13–14 for headings.
Adjust the resume margins to 1 inch on all sides and set the line spacing to 1–1.5 for lines of text and double between sections.
Aim for a one-page resume, as that's the perfect length (you can go for a two-page resume if you have 10+ years of relevant experience).
Save your office assistant resume in a DOC format while editing. Then, save the final version of your resume in a PDF format—this way, your document will always look the same on different devices.
That should make you a decent blank resume to fill out.
But let's talk about resume formats for a second because there's more than one. You can choose from the following:
Chronological resume format shows your work experience starting from the most recent job and focuses on professional achievements.
Skill-based resume format starts with an overview of your key skills and qualifications and minimizes work history.
Combination resume format merges the two mentioned formats to highlight both skills and work experience.
There's a big chance that the chronological resume is best for you. The two other formats are better suited for creatives, career changers, or C-level applicants.
You can save time by picking a pre-formatted resume template. See here: Best Resume Templates for All Job Types
2. Tailor the Work Experience Section to the Job
You've found a promising job offer, and your experience fits the requirements perfectly. It seems that you can simply fill out your office assistant resume with all the details about your job duties, and you'll be fine.
But you know what? That's not really what the hiring manager wants to read—they know what office assistant duties are. They'd rather know how well you perform in your role. And concrete evidence is what they're looking for. So, rather than listing out every single thing you did at your previous job, include only the most relevant experience, and remember to give proof.
Here's how to fill the work experience section in a resume for an office assistant:
Arrange your previous jobs in a reverse-chronological order to make your most recent work stand out.
List your job title, company name, location, and work period for each position.
For each job you're mentioning, add a description of 3–6 office assistant duties and one key achievement.
Use achievement statements with factual information (numbers, percentages, $ value) to impress recruiters.
Start each statement with an action word for a bigger impact.
Add industry keywords to an office assistant job description for your resume.
It'll be easier to understand these points when you see examples:
Office Assistant Resume Example: Work Experience
RIGHT
Office Assistant
Oceanic Flow Cosmetics, Fort Lauderdale, FL
June 2021–present
Key responsibilities:
Used MS Office and G-Suite applications to process documents, update spreadsheets, and prepare presentations.
Collaborated with company staff to assist with routine office requests such as printing, scanning, copying, handling mail, and setting up office equipment.
Maintained paper invoices, order confirmations, and payment orders as well as all electronic files up to date and in order.
Kept the office space organized and well-stocked.
Key achievement:
Improved office efficiency by 14% by introducing online calendars, correspondence trackers, and document templates.
WRONG
Office Assistant, Beautiful Gowns Ltd., Chicago, IL
May 2022—present
Helped to carry out office duties on an everyday basis
Assisted the company board whenever necessary
Showed a positive attitude and resourcefulness
Can you spot the difference between these two examples? The good one includes all the mentioned elements: specific duties, action verbs, accomplishment statements, and resume keywords. The bad one, on the other hand, is really bland and vague.
OK, but what if you're writing an entry-level resume? Should you leave the work experience section empty? Definitely not. What you can do instead is: show how your freelance or part-time jobs, as well as internships prepared you for the job you're applying for. See what this candidate has done:
Entry-Level Office Assistant Resume Sample: Work Experience
RIGHT
Receptionist
Stripes Ltd., Fort Lauderdale, FL
August 2020–May 2021
Key responsibilities:
Represented the company at the front desk to welcome visitors, manage incoming calls, and answer general inquiries.
Ensured the meeting rooms were clean, organized, and ready for conferencing.
Placed orders for office supplies and equipment whenever necessary.
Key achievement:
Received praise for making travel arrangements for the executive board on short notice.
WRONG
Receptionist
Baby Box, Tallahassee, FL
June—September 2022
Worked 8-hour shifts four times a week
Helped company visitors find the right office
Assisted with phone calls and emails
Even if you had only a part-time job before, you can still demonstrate your relevant experience. Learning how to sell your assets is a big step to succeed in business.
Pro Tip: You can skip the work experience section only if you've truly never had a job before. In a resume with no experience, extend other sections, such as education or volunteer work, to prove your worth.
3. List Education on Your Office Assistant Resume
You might be aware that most office assistant jobs don't require a degree. But that doesn't mean that education is irrelevant to employers. Don't skip the education section of a resume, no matter what background you have. It can work for your benefit.
Here's how to describe your education on a resume for office assistant jobs:
Start from the highest level of education you've completed.
Add the name of a qualification, such as a bachelor's or associate's degree.
Mention the university, college, or high school name.
List the years of study or the expected graduation date.
Put additional information such as your GPA, relevant coursework, academic achievements, or extracurricular activities.
The general rule of thumb is: the more work experience you have, the less you talk about your education. So, if you're an office assistant who worked full-time for 2+ years, you can skip extra info about relevant coursework, et al. But if you're an entry-level applicant, show as much relevant information as you can. Even putting unfinished college on a resume can be a boost.
Check this example for an experienced job candidate:
Office Assistant Resume Example: Education Section
RIGHT
Education:
Vista Park High School
September 2016–June 2020
GPA: 3.68
WRONG
Education:
High School in NYC
Graduated in 2020
I participated in track & field competitions and loved Economics classes.
An experienced office assistant can stick to basic information about their education. Mentioning irrelevant information, such as school competitions and favorite subjects, is unnecessary and might make the applicant seem unprofessional.
Entry-Level Office Assistant Resume Sample: Education
RIGHT
Bachelor of Business Administration
Fort Lauderdale University
Expected graduation in May 2026
GPA: 3.82
Relevant coursework: Organizational Communication, Professionalism in the Workplace
Vista Park High School
September 2016–June 2020
GPA: 3.68
Organized a school bake sale that helped raise $3,500 for the local pet shelter.
Now, this example comes from an entry-level resume for office assistant jobs. But still, the candidate used the education section to highlight their organizational skills and relevant knowledge from university courses.
Got a degree? Learn to use it for your benefit. See more: The Best Way to List a Degree on a Resume
4. Highlight the Right Office Assistant Skills on a Resume
Some people might think that office assistants' skills include only making coffee and laughing at terrible jokes told by bosses. But you know the truth. It's time to show it to the world by listing your most valuable office assistant skills on a resume.
10+ Best Office Assistant Skills for a Resume
Hmm, yes. But which are the most valuable ones? Predictions show that 21st-century skills, including communication and collaboration abilities, will remain in high demand through 2030. So, that's a pretty good starting point, as most jobs need these qualities. But don't try to guess the rest. You should carefully pick the skills to put on a resume for office assistant jobs based on the requirements in the position description.
How to make an office assistant resume skills section:
Make a long list of all the hard skills and soft skills combined.
Read the job advertisement carefully to see which skills are expected from applicants.
Compare the job requirements with your professional skills and personal skills.
Select 6–10 most relevant skills and add them to your resume in a separate section.
Take a look at the example below:
Sample Office Assistant Resume: Skills Section
RIGHT
Skills
Writing documents
Preparing presentations
Handling emails and phone calls
Effective communication
Interpersonal skills
Organization skills
Time management
MS Office, G-Suite applications
Short and on point.
Just remember that the skill section of your resume for office assistants isn't the only spot for skills. You can mention them in the other sections, too. And your experience should demonstrate how you used those skills in the past.
Being good at Microsoft Excel can be an asset not only for office assistants. Learn more: Describing Excel Skills on a Resume
5. Fill Your Resume for Office Assistant Jobs With Extra Sections
The essential parts of your office assistant resume are ready. But so far, your resume is like an office without a break room: it works, but it's kinda boring. It's time to spice it up; additional information will do it finely.
Pick a few categories from the following:
Remember—those sections weren't created just to fill the empty space on paper. Use them to present relevant information about your qualifications, experience, and skills.
See what this candidate has done:
Office Assistant Resume Sample: Additional Sections
RIGHT
Languages
Certification
Administrative Assistant Fundamentals, Ft. Lauderdale Community College, December 2020
Volunteer Work
Minty Pups Shelter
Fort Lauderdale, FL
March 2022–present
Assisted with administrative operations and welcomed visitors at the front desk at weekends.
Helped to organize a holiday fundraiser that raised over $7,500 in donations.
WRONG
Memberships
Kentucky Fishing Association member since 2018
Interests
The first example shows information that's useful for a potential employer. There's a good chance they might use the candidate's French language skills and the certification, plus volunteer experience shows this person is professional and well-organized. The second example shows information that's not useful for recruitment purposes for that particular job.
Want to learn a few tricks to make your office assistant resume even better? Check here: 10+ Ideas to Improve Your Resume
6. Combine Office Assistant Resume Descriptions Into a Resume Profile
The last section of your resume does not belong at the bottom of the document. The opposite—it will appear at the top, right after the resume header. It's your resume profile, a short paragraph that introduces your qualifications for the job.
Why should you write your office assistant resume profile last? Because you can combine the best bits and pieces of your resume to create it. And that's much easier than writing it before the other sections are complete.
Office assistants can go for two different profile types:
Resume summary: best for experienced candidates, as it highlights achievements and professional experience.
Resume objective: best for entry-level applicants, it presents skills and states the candidate's goal.
No matter which profile you decide to write, remember one thing: it needs to show your future employer how they will benefit from hiring you. So, focus on things you will bring to the table and what the company will gain this way.
And here's how to write an office assistant resume profile step-by-step:
Go through your office assistant resume descriptions and pick the most impressive information.
Select 2–3 key achievements and skills that translate well to the job you want.
Use the following formula: Personality Adjective + Job Title + Experience + What You Can Do for the Employer + What Skills Will You Use + Major Achievements
Give it a few tries before deciding on the final version. You can see examples below for inspiration:
Sample Resume for Office Assistant Jobs: Summary
RIGHT
Motivated office assistant with 2+ years of experience working in corporate environments. Eager to provide exceptional administrative support using computer and organizational skills at Above Line Inc. Increased office efficiency by 14% within 3 months at current workplace.
WRONG
I'm an enthusiastic office assistant with 3 years of professional experience. I enjoy helping others and I'm a reliable employee. In 2022, I was promoted from entry-level to the current position.
Both examples come from experienced candidates. But only the first one knows how to put their experience into words. The second example uses first-person statements, which you should forget about.
Sample Office Assistant Resume Objective
RIGHT
Detail-oriented BBA student seeking a part-time office assistant position. Proficient in MS Excel, Word, and PowerPoint. Keen to support office operations at Heart Lion Inc. using organizational skills and knowledge of Microsoft Office applications. Gained back office experience while volunteering at 4Paws Shelter in 2022–2023.
WRONG
Personable high-school graduate applying for an entry-level office assistant position. Hoping to gain experience in the corporate environment with GreyScale Co. Reliable and professional.
Can you see why the first candidate might get the job and the second might not? The first example specifies what this person can do for the employer and mentions valuable, relevant skills. The second one is focused on what the applicant wants.
A checklist can help you see if your resume is as good as it gets. See here: How to Use a Resume Critique Checklist
7. Write a Strong Office Assistant Cover Letter
Your resume for office assistant jobs is alive and kicking. But before sending it to an employer, consider one more step: writing an office assistant cover letter.
Hey, I saw that eye-roll, and I know what you're thinking: but cover letters are a thing of the past! Well, they're not. They're very much alive, just like the office plant that everyone's watering with leftover coffee. Not all hiring managers indeed expect a cover letter. But some do, and you never know who will receive your application. So, do you really want to risk it?
Here's how to write a cover letter for office assistant jobs:
Write a catchy opening paragraph expressing your enthusiasm for the position.
Present your key qualifications for the job.
Describe previous achievements that prove you're a great fit for the position.
Make a tempting promise to leave the reader wanting more.
Suggest a meeting and close the letter.
If you want more clarification on each step, head here: How to Write a Cover Letter from Start to Finish
Plus, a great cover letter that matches your resume will give you an advantage over other candidates. You can write it in our cover letter builder here. Here's what it may look like: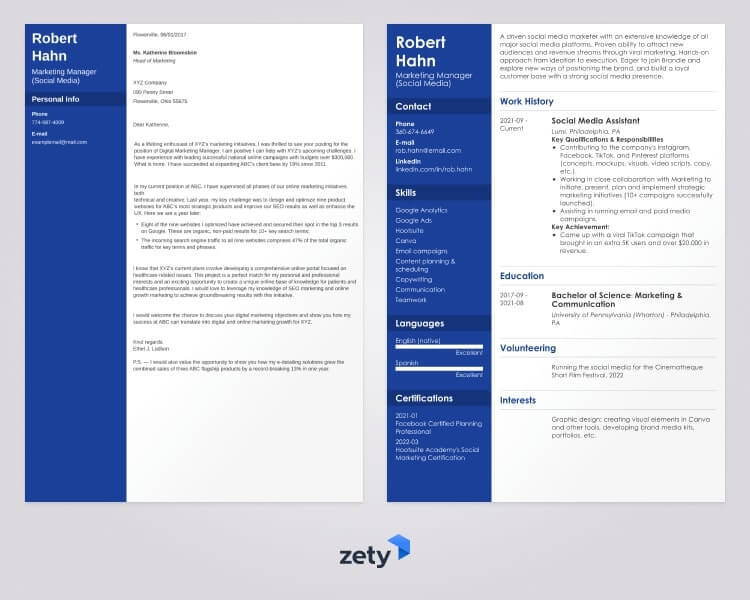 See more cover letter templates and start writing.
Key Takeaway
Here's how to write an office assistant resume step by step:
Pick the right resume format and a professional template.
Describe relevant experience using action verbs, resume keywords, and achievement statements.
Mention education on a resume for office assistant jobs.
Add 6–10 office assistant skills to your resume.
Select a few extra sections to provide additional information.
Write an office assistant resume objective or summary.
Create a matching cover letter.
Thank you for reading this guide! Now, let's hear from you:
What's the most difficult part of writing an office assistant resume?
Which office assistant skills do you always add to a resume?
Got any tips to share with other readers?
Let me know in the comments below.
About Zety's Editorial Process
This article has been reviewed by our editorial team to make sure it follows Zety's editorial guidelines. We're committed to sharing our expertise and giving you trustworthy career advice tailored to your needs. High-quality content is what brings over 40 million readers to our site every year. But we don't stop there. Our team conducts original research to understand the job market better, and we pride ourselves on being quoted by top universities and prime media outlets from around the world.
Sources