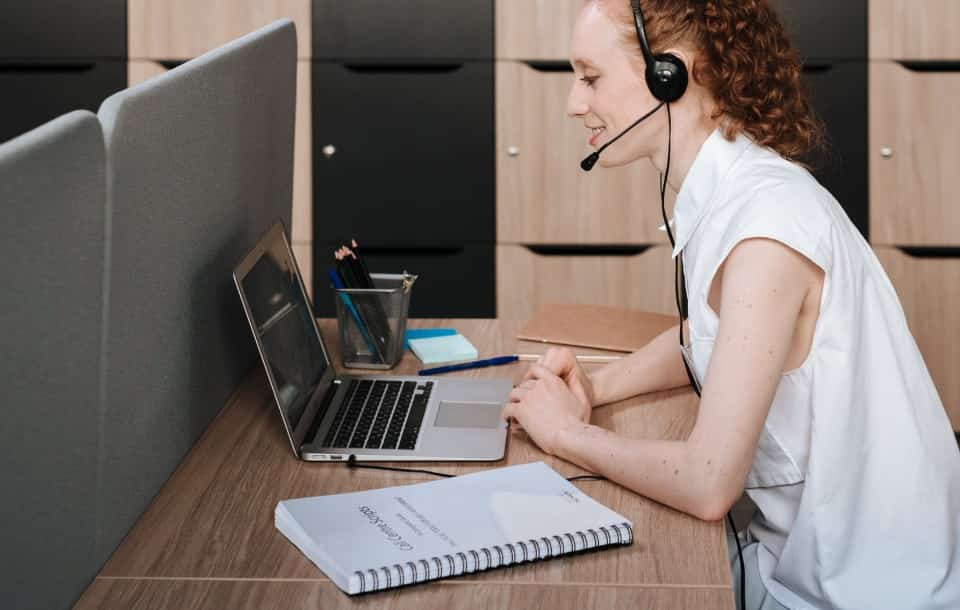 Front Desk Receptionist Resume Sample [+ Job Description]
You have the patience of a saint and the multitasking and computer skills of an office superhero. Show it on your front desk receptionist resume and book your perfect job!
As a front desk receptionist, you're the face of the company, greeting guests with a warm smile. But is your resume as welcoming as your demeanor? Let's spruce it up!
In just a couple of minutes, we'll make your front desk receptionist resume sparkle and shine more than your freshly-cleaned desk will.
This guide will show you:
A front desk receptionist resume example better than 9 out of 10 other resumes.
How to write a front desk receptionist resume that will land you more interviews.
Tips and examples of how to put skills and achievements on a front desk receptionist resume.
How to describe your experience on a resume for a front desk receptionist to get any job you want.
Want to save time and have your resume ready in 5 minutes? Try our resume builder. It's fast and easy to use. Plus, you'll get ready-made content to add with one click. See 20+ resume templates and create your resume here.
Sample resume made with our builder—See more resume examples here.
See our other admin job guides below if this one isn't quite the right match:
Front Desk Receptionist Resume Sample
Christen Wolf
Front Desk Receptionist
918-426-8215
Christenwolf@ymail.com
Linkedin.com/in/Christenwolf
Professional Summary
Outgoing and highly personable sociology student with almost 3 years of front desk experience. Driven to always be prepared to provide help to customers and co-workers alike. Seeking to broaden my skillset and leverage my business aptitude and strong people skills to bring more customers and an organized atmosphere to PayPers Ltd.
Work Experience
Front Desk Receptionist
Hello Dance School, Oklahoma City, OK
March 2016–April 2018
Offered guidance to in- and out-bound customers and class-goers on a daily basis, servicing up to 300 people daily.
Managed communications through four different social media profiles to ensure patrons always received up-to-date organizational information.
Supervised data entry of class registrations for 25+ weekly dance courses.
Helped with scheduling, received payments, and prepared end-of-day reports.
Volunteer Receptionist
HappyPuppy Pet Store, Aydelotte, OK
Summer of 2014 & 2015
Assisted family-run pet store in managing operations by greeting customers, filing, invoicing, and maintaining appointments.
Ran daily reports of visits for a robust client base (up to 50 clients per day).
Implemented a new phone system, cutting down on hold time by 10%.
Education
Bachelor's Degree in Sociology
Langston University, Oklahoma City, OK
Expected graduation: 2021
Memberships: Fine Arts Club, Business Sharks Association
School Achievements: Ran Langston's promotional stand at the OKC Education Fair in 2019
Dale High School, Dale, OK
Graduated 2018
Professional Skills
Hard skills: MS Office, filing, scheduling, data entry, typing 105 WPM
Soft skills: Excellent at multitasking, strong interpersonal and time management skills, customer service
Language skills
English: native proficiency
Spanish: fluent
French: upper intermediate
Let's get to the good stuff. This is how to write a front desk receptionist resume:
1. Get Your Front Desk Receptionist Resume Formatting Up To Scratch
Front desk receptionists welcome guests and customers to the offices, while also being responsible for general administrative tasks such as passing on messages or correspondence, operating the phone, and assisting execs. So, your front desk receptionist resume should show your extensive organizational and administrative skills.
But first—
Several studies suggest that a positive first impression matters a lot for a company's success. You, too, need to make a great first impression on the recruiter with a well-organized, tidy resume.
The resume formatting guidelines below will definitely be helpful to sweep the recruiter off their feet, while also introducing some much-needed structure:
Ideally, the length of your resume should not exceed one page. More often than not, long resumes end up doing more harm than good.
Read more: The Full Guide to Professional Resume Structure
2. Pick a Front Desk Receptionist Resume Objective or Resume Summary
Oftentimes, working as a front desk receptionist means knowing what your superiors want from you before they actually come out and say it.
In resume terms, what they want is a clear presentation of your skills and strong suits.
The best way to do just that is by writing a resume profile. It's a quick, 3 or 4 sentence-long paragraph at the top of your resume. Depending on your front desk experience, you'll either be writing a resume objective or a resume summary.
If you've got front desk receptionist experience, write a resume summary. It's your career's highlight reel, filled with your skills and achievements. It serves to whet the appetite of the manager and make them believe you're the perfect candidate.
Resume objectives work best for candidates with no front desk receptionist experience. They focus on outlining what you learned so far in school and/or in other positions, and how you would adapt that knowledge to the front desk.
This part is often reported as most likely to create writer's blocks. If this is you, you can skip ahead and come back to it later.
Read more: How to Write the Perfect Resume Introduction: Examples and Guide
3. Write about Your Experience Like a Pro
It's incredibly easy to write your resume's work experience section. But if you don't put in the work, it'll come out looking ultra-generic, and that's not going to do you any favors.
If you make an effort, though, the boss over at that cushy job you've been eyeing up will want to pluck you from among the crowd of bland resumes at the snap of a finger.
Here's how:
Remember the reverse chronological format and include your most recent position first, and then subsequent ones.
State your job title, company name, dates worked, and up to 5 or 6 bullet points (fewer for older positions) describing your career achievements.
Each bullet point should start with an action verb. It's a great and proven tactic to make the recruiter want to keep reading.
Now for the secret weapon: when you describe your job responsibilities, don't just give bland statements like "Answered phones". Instead, add numbers to the tasks you performed to give context and meaning.
Every resume you write should be uniquely tailored to the company, never copy-paste and mass send!
Read more: How to Choose Relevant Experience to Describe on Your Resume
4. Sort Out Your Education Section on a Resume for Front Desk Receptionists
Do you think your education section matters so little you could just put it through the shredder?
Think again.
It's as important an addition as any, especially if you're writing a resume with no work experience.
Here's how to make a great resume education section:
With over 5 years at front desk reception, list just your school name and location, graduation year, plus major and minors.
If you're lacking in experience, move the education section to be above the work experience. Then, talk about additional topics such as your GPA, relevant coursework, additional college/university achievements, or extracurriculars worth putting on your resume.
Putting GPA on your resume will only give you an advantage if it was relatively high, though. Mention it only if you achieved 3.5 or above.
Last but not least, if you're still in college, list the details of your high school (name, location, graduation year) below your degree.
Read more: How to List Unfinished Education on Your Resume
5. Display Your Front Desk Receptionist Skills
Let's face it—you're a superstar. That's basically what it takes to run the front desk efficiently and responsibly. Multitasking, organizing, managing appointments, phone calls, incoming messages, you name it.
But how do you transfer that onto paper to get hired? More importantly, how do you outshine the other 39,500 candidates the BLS estimates to join the workforce to hunt for a position similar to yours?
Simple: by including a list of skills on your resume to show you understand the role and have what it takes to succeed.
Here is an example list of skills for a front desk receptionist resume:
Front Desk Receptionist Resume Skills
Clerical Skills
Data Entry
Conflict Resolution
Fast Typing Speed
VOIP systems
Scheduling
However, don't even think about just copy-pasting that onto your resume. Do this instead:
Create a master list of all of your job skills.
Analyze the job ad for the most relevant resume keywords.
What are they after? What do they seek in an ideal employee? Are there any skills they refer to that you also added to your master list?
Once you've found a match, put it on your resume, and create a skills section that will get past even the smartest ATS (Applicant Tracking System)!
When making a resume in our builder, drag & drop bullet points, skills, and auto-fill the boring stuff. Spell check? Check. Start building a professional resume template here for free.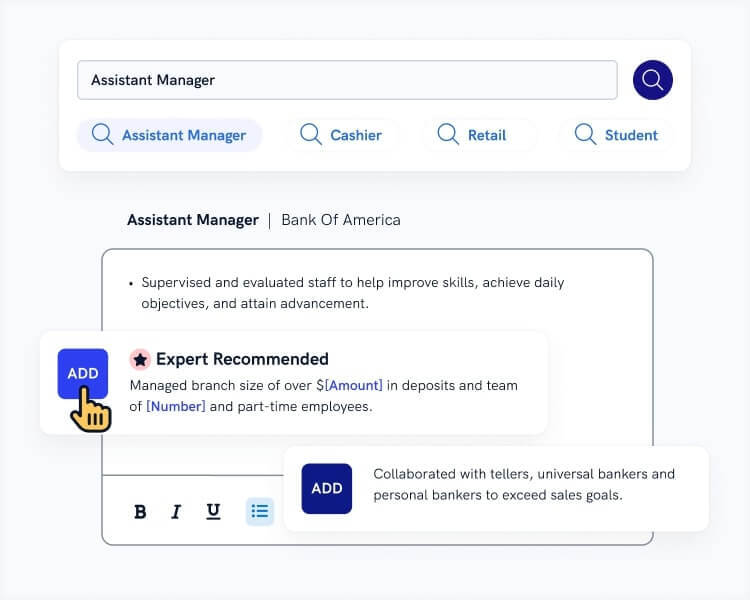 When you're done, our online resume builder will score your resume and our resume checker will tell you exactly how to make it better.
6. Include Additional Sections on Your Front Desk Receptionist Resume
If you've been following this guide to the T, you've got a decent resume by now.
That's great, but it's time to take it to the next level.
See, nobody wants to see an anonymous shade manning the front desk—they'd just forget your name after the first day!
That's why, to get hired, you need to show some pizazz.
Here are some great ideas for additional resume sections:
Awards and professional recognition
None of these are strictly necessary, but including at least a couple will inject personality into your resume.
7. Attach a Cover Letter With Your Front Desk Receptionist Resume
A cover letter? What is this, 1983?
Far from it. To this day, cover letters significantly improve your chances, mostly because lots of recruiters won't consider you if you don't send them one.
Follow these tips and you'll be the talk of the office:
Before starting, make sure you use the right cover letter format.
Hook your readers in your cover letter opening.
Boast about the experience and skills you have. It's your time to shine!
Adding numbers, once again, is a sure-fire way to proving your worth.
Finish the cover letter confidently by making a call to action.
For the perfect cover letter length, stick to 3 or 4 paragraphs, no more than one page.
Read more: 35+ Tips for Writing the Perfect Cover Letter
Plus, a great cover letter that matches your resume will give you an advantage over other candidates. You can write it in our cover letter builder here. Here's what it may look like: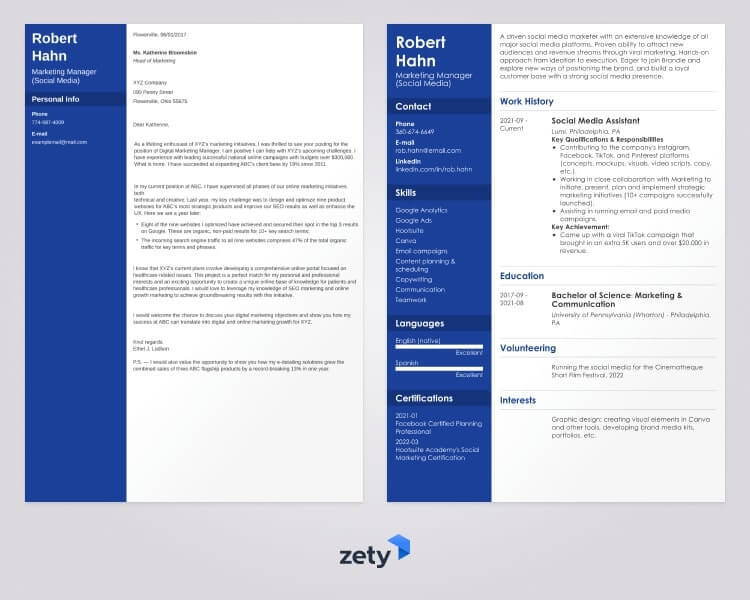 See more cover letter templates and start writing.
Are there any doubts you still have about writing a front desk receptionist resume? Not sure how to go about putting your office skills on display? Is it difficult to turn front desk receptionist duties into resume achievements? Feel free to pick our brains in the comments, and thanks for stopping by!
About Zety's Editorial Process
This article has been reviewed by our editorial team to make sure it follows Zety's editorial guidelines. We're committed to sharing our expertise and giving you trustworthy career advice tailored to your needs. High-quality content is what brings over 40 million readers to our site every year. But we don't stop there. Our team conducts original research to understand the job market better, and we pride ourselves on being quoted by top universities and prime media outlets from around the world.