Receptionists are the unsung heroes of the office world, juggling phones, emails, and walk-ins like an octopus playing the drums. But if your resume isn't up to snuff, you'll be left watching from the sidelines.
Don't fret! Our guide is here to help you craft a resume that's as polished as your people skills. Soon, hiring managers will be singing your praises and fighting to make you the face of their company. Turn your resume into a front-desk masterpiece.
This guide will show you:
A receptionist resume example better than 9 out of 10 other resumes.
How to write a receptionist resume in our builder and land more interviews.
Tips and examples of how to put skills and achievements on a receptionist resume.
How to describe your experience on a resume for receptionist positions to get any job you want.
Here's a sample resume for a receptionist made using our resume builder.
Want to save time and have your resume ready in 5 minutes? Try our resume builder. It's fast and easy to use. Plus, you'll get ready-made content to add with one click. See 20+ resume templates and create your resume here.
Sample resume made with our builder—See more resume samples here.
Looking for a more specific receptionist resume example, or other jobs in administration? Check the guides below:
Remember writing a professional Cover Letter for Receptionist position, boosts your chance to get the job!
Receptionist Resume Example
Gabriela Taylor
Receptionist
123-456-7890
gabrielataylor@email.com
linkedin.com/in/gabriela.taylor
Summary
Dedicated receptionist with over 5 years of experience providing efficient office support in busy work environments. Looking to help boost the sales of Innovista Labs by offering exceptional customer service skills and meticulous attention to detail. Reduced processing time for customer inquiries at Zenith Solutions by 20%.
Experience
Receptionist
Zenith Solutions, Waterbury, CT
June 2016–Present
Key Qualifications & Responsibilities
Answering and directing phone calls to staff; taking messages.
Managing and organizing personal and confidential employee information.
Assisting with the organization and scheduling of appointments.
Managing incoming and outgoing mail.
Key Achievement:
Reduced processing time for customer inquiries by 20%.
Receptionist
Luminary Industries, Waterbury, CT
April 2014–May 2016
Key Qualifications & Responsibilities
Provided excellent customer service in a high-volume environment.
Managed front-desk duties, including answering phones and checking visitors in and out.
Scheduled appointments and meetings for executives and sales staff.
Key Achievement:
Implemented a new CRM system to manage customer inquiries, which increased productivity by 15%.
Education
AA, Office Management
Waterbury Community College, Waterbury, CT
August 2012–May 2014
Relevant extracurricular activities
Member of the Student Council, 2013–2014
Treasurer of Toastmasters International Club, 2012–2013
Academic achievements:
Received a 4.0 GPA for both semesters in 2014.
Graduated with honors from Waterbury Community College in 2014.
Skills
Customer service
Phone etiquette
Appointment scheduling
Detail oriented
Conflict resolution
Proficient in MS Office Suite
Basic knowledge of CRM systems
Comfortable with multitasking
Languages
English—Native
Spanish—Intermediate
Interests
Volunteer at a local animal shelter.
Member of a book club focusing on literature related to personal development and business strategies.
1
Use the Right Receptionist Resume Template
The hiring manager, we'll call him James, has a pile of 500 receptionist resumes on his desk staring him in the face.
He won't read them. He'll merely skim them for important details. If he doesn't like what he sees at a first glance—the resume goes to the bin.
Make James grasp the value proposition in your receptionist resume fast. Go for a chronological resume format. It puts your recent jobs first. That saves James' time.
Use big section headings, go heavy on white space, and pick presentable resume fonts.
Divide your receptionist resume into the following sections, in this very order:
Receptionist Resume Template
Contact information
Resume objective or summary
Work experience in reverse-chronological order
Education
Skills
Additional Sections (Certifications, Awards, Volunteer Experience, or Hobbies and Interests)
Pro Tip: Once done, save your receptionist resume in PDF. Word resumes can go south in transit.
Feel like you could use another string to your bow when designing your resume? We've got you covered!
In our resume builder, you can change the template of your receptionist resume with a single click. Even after you've written all the contents.
And you can choose from more than 20 different styles and 400 color combinations approved by recruiters to boost your chances of landing a job interview!
See these two front desk receptionist resume examples:
Sample of Receptionist Resume Templates
Pro Tip: It's best to make a resume the style of which matches the culture of the company you're applying to. Eying a corporate receptionist position in a conservative organization? Go for an elegant, formal resume style. For jobs with relaxed companies, make a modern, creative resume.
We know there's no one-size-fits-all resume template for front desk jobs. That's why in resume our builder you can create and customize a resume tailor-made to fit the employer's expectations with your minimum effort.
Read more about formatting a resume here: Resume Format: Examples and Templates for All Types of Jobs
2
Write a Good Receptionist Resume Objective or Summary
Congratulations!
Your resume landed you a job as a receptionist at a Fortune 500 company!
The hiring manager knew he wanted to hire you right after starting to read your resume.
A dream scenario, right? Here's the first step to make that dream come true:
A the top of your receptionist resume, put a carefully-curated resume objective or a summary—a short and sweet paragraph that explains why you're the perfect candidate.
Which one to use on your resume?

Receptionist resume summary gives an outline of your career and highlights your best achievements. It works like a trailer for the rest of your resume. Use it if you've got relevant receptionist job experience.

Resume objective for receptionist jobs, in turn, discusses what you've learned so far and shows how you'd fit in. If you're writing an entry-level receptionist resume with little experience, choose the resume objective.

See how that works in this example of a receptionist resume summary.
Example of Receptionist Resume Summary Statement
right
Receptionist with over 5 years' experience working in both the public and private sectors. Diplomatic, personable, and adept at managing sensitive situations. Highly organized, self-motivated, and proficient with computers. Looking to boost students' satisfactions scores for ABC University. Bachelor's degree in communications.
wrong
Former Penn State alum with a bachelor's degree in communications. I'm looking to work as a receptionist.
See the difference, right? The right example is specific and makes an offer. The wrong one? It reads along the lines of "I want a job because I studied for a job."
When making a resume in our builder, drag & drop bullet points, skills, and auto-fill the boring stuff. Spell check? Check. Start building a professional resume template here for free.
When you're done, our easy resume builder will score your resume and our resume checker will tell you exactly how to make it better.
Now, see these two very different examples of entry-level resume objective statements for a receptionist position.
Sample of Receptionist Resume Objectives
right
Outgoing college grad hoping to work in the private sector. Looking to apply proven organizational and technical skills in a receptionist role. Eager to expand my skill set in an organization that will help me grow.
wrong
Looking to work for a job at a university because I need job security and better benefits.
For more examples of receptionist resume objectives and resume summaries, read our guides: How to Write a Professional Resume Summary and Resume Objectives Examples for All Jobs
3
Make the Most of Your Receptionist Job Descriptions
Most receptionists' job descriptions read pretty much the same.
"Answering phones," "organizing mail," "assisting administrative staff."
In a word—
Underwhelming.
But it's such a hard job! One that requires master-level multitasking and time management skills. Can you convey that on a resume?
Yes. There's a special way to describe your work history to make your receptionist resume stand out from the crowd like Ariana Grande in a Dunkin' Donuts.
How to Describe Receptionist Duties on a Receptionist Resume
Start with your current or most recent position. Follow it with the one before it, and so on.
List: your job title, the company name, and the dates worked.
Under each position, add up to 5 bullet points.
In the receptionist job description for a resume, don't just enter your duties. Focus on achievements.
Quantify whenever possible. Numbers add meaning to the work you've done.
Tailor every resume you send to the specific position you're targeting. Focus on what you've done that's relevant to this job.
A lot of information to process?
Don't worry.
Our resume builder will walk you step by step through every section of your receptionist resume. You'll get insider tips from career experts and examples you can copy, tweak, and use on your receptionist resume. Here's how it works in practice: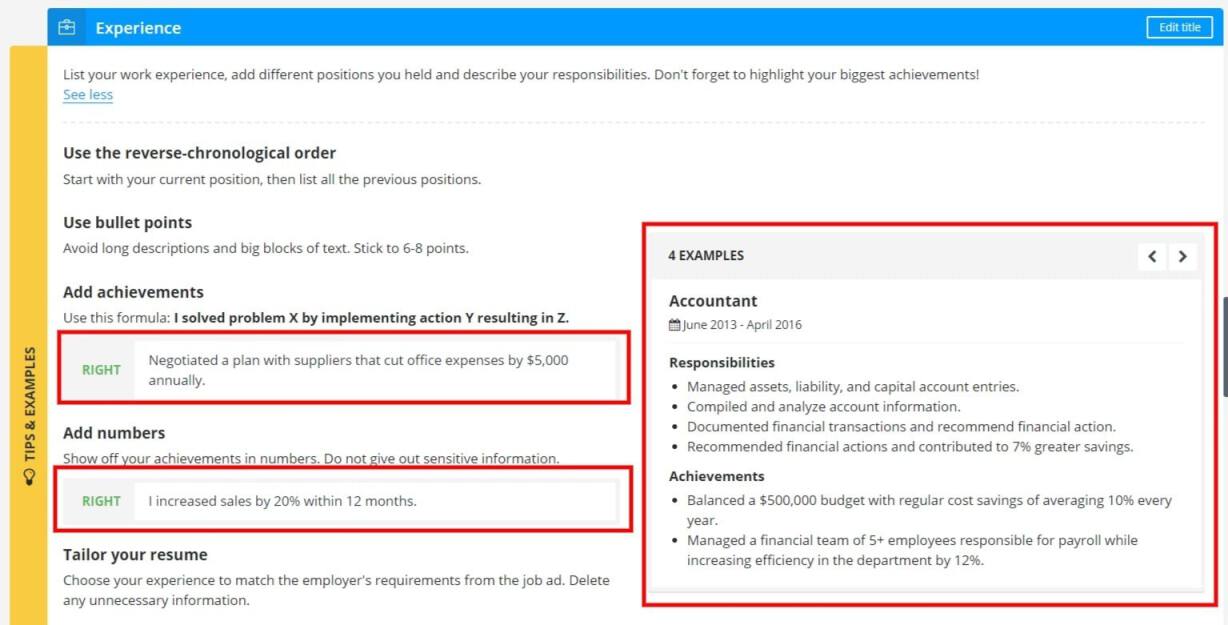 Ready-to-use examples written by HR pros to help you land that job interview. Try our resume builder now.
If you just want to see sample descriptions of receptionist duties, look no further.
Receptionist Job Descriptions for a Resume: Examples
right
RECEPTIONIST / 2015 - Present
The Weston Center / Boston, MA
Fielded communications from clients and colleagues, triaging requests.
Acted as liaison between the company and priority clients.
Managed training and travel schedules for employees.
Implemented a new CRM with reporting capabilities. Cut costs by 30% and improved efficiency.
Achievements backed up by metrics—that will make every hiring manager want to call in this candidate for an interview!
wrong
The Weston Center / 2015-Present
I answered phones, organized mail, and scheduled training for the company.
I was polite with customers in the waiting area.
I took a lot of initiative.
Could you be any more generic?
If you want to highlight some parts of your resume, you can use bold for the bits you're most proud of.
And if you choose to make a resume with our builder—
You can format the text however you please: bold, italics, underlines, links to proofs of your proudest professional wins—with our easy-to-use text editor, sky's the limit!
You can be sure the recruiter will notice your resume straight away.
Receptionist Resume Sample

Edit the text to draw the recruiter's attention. Try our resume builder now.
For more information on how to describe your past receptionist jobs, see: Work Experience on a Resume: Job Description Samples and Tips
4
Create a List of Your Receptionist Skills for Your Receptionist Resume
What makes you so great at your job?
Come on, don't be so modest. It's your stellar skills set!
Employers know that too. That's what they're looking for—your receptionist skills. Here's how to present them:
How to Put Skills on a Receptionist Resume
Start with a spreadsheet that lists all your professional skills.
Read the job description carefully. Look for skills-related keywords.
Check how many of these are there in your spreadsheet. Quite a few, right? That's your skills list.
Don't just put the names of your skills. Provide evidence that shows your level of proficiency.
Need a list of receptionist skills to get you inspired? Have a look:
Receptionist Resume Skills
Soft Skills for a Receptionist Resume
Prioritizing
Conflict resolution
Adaptability
Hard Skills for a Receptionist Resume
Typing 90 WPM
VOIP phone systems
Data entry
Scheduling
Planning
Filing
To save space and impress recruiters with your key skills right away, move the skills sections to the sidebar on your resume. Use descriptions and bar charts to indicate your proficiency level—this way, you boost your chances of passing the ATS resume scan!
The good news? Our builder will help you do both. Have a look: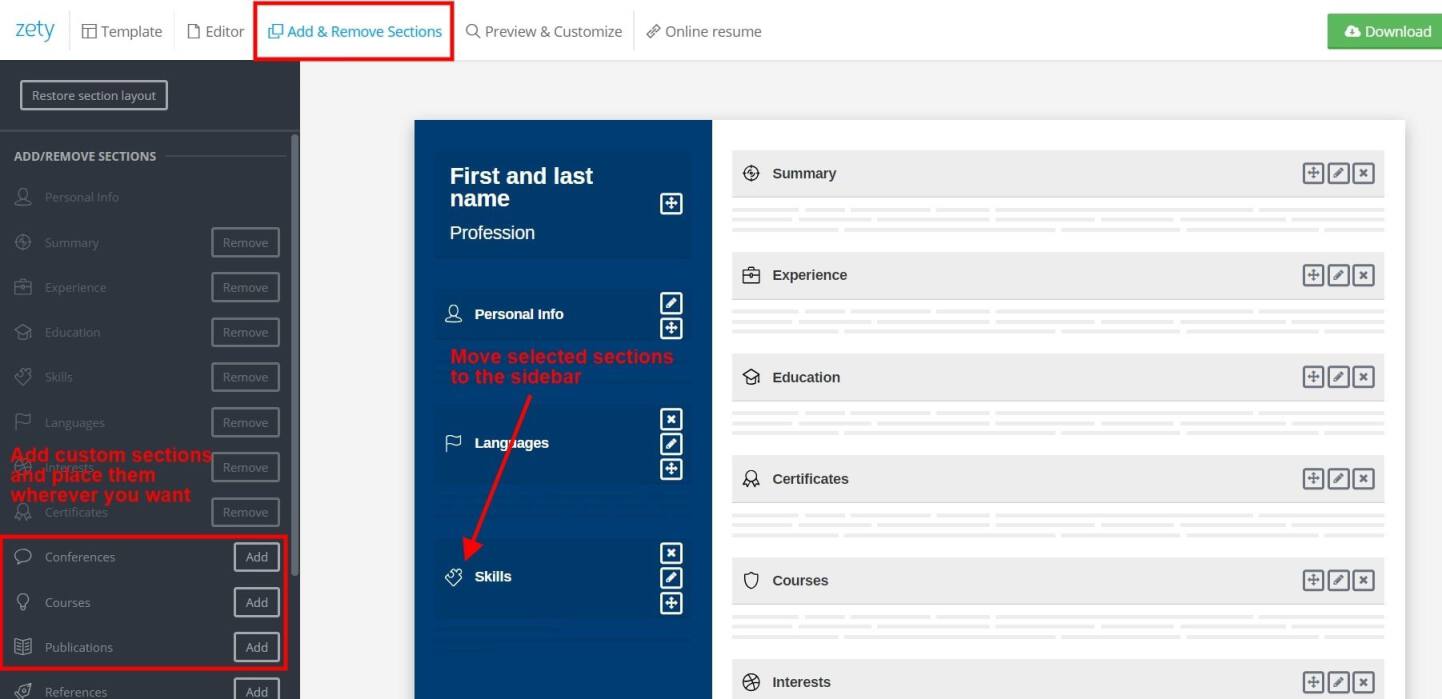 Add, remove, and move around your receptionist resume sections using our software. Create your resume now.
Use the "Add & Remove Sections Tool" to move all sections around your resume. You can choose what goes where so that recruiters notice your best achievements at first glance.
To see in-depth instructions on how to list specific skills on a resume, make sure to read one of our guides:
If you want to read an overview of the most sought-after skills in the hiring industry, go here: Crucial Job Skills Employers Want
5
Highlight Your Education on a Receptionist Resume
Is listing your education on a receptionist resume the easiest part? Perhaps.
Does it mean it's least important? Hell no!

You still need to include your education and describe it right. Employers might not care about your academic details, but they will want to know you have a degree.
In the education section of your resume, list:
Your degree type
Your major (and minors, if you have them)
School name
Graduation date
Like this:
Medical Receptionist Resume Example: Education
Harvard University, Cambridge, MA
B.A. in Communications, summa cum laude
2010
No professional experience at all? In such case, do two things:
Move your education section above your work experience.
Elaborate on what you've learned and achieved at school a bit more.
Consider adding information about:
Relevant coursework
Favorite fields of study
Academic achievements
Extracurricular activities
Have a look:
Sample Receptionist Resume: Education

For more information, see: How to Put Education on a Resume: Examples for Different Candidates



6
Add Extra Sections to Your Receptionist Resume
Best receptionist resumes don't just show your skills and experience. They prove them.
How?
By using additional resume sections. They showcase your verifiable achievements.
Have a look at some ideas of what to include in that extra section of your receptionist resume:
Examples of Receptionist Resume Extra Sections
Awards
Certifications
Additional training
Participation in conferences
Blogging and influencing
Can't boast any of the above yet? Don't worry. A receptionist resume with no experience can still benefit from an additional section. Check out these ideas:
Entry-Level Receptionist Resume Extra Sections
Volunteer experience
Hobbies and interests
Academic achievements
Yes, if you have little experience, it's a great idea to include a list of hobbies and interests in your office receptionist resume.
After all, as a receptionist, you're the face of a company. You need to be friendly and personable. You also need to match the company culture.
Showing that you're a fun and interesting person will not only make your resume more memorable. It'll also tell the recruiter you're a good fit for the company.
Not sure what to include in that extra section of your front desk receptionist resume? See this handy guide: What to Include on a Job-Winning Resume
7
How About a Receptionist Cover Letter?
Contrary to what you might have heard, cover letters are still a thing.
Why?
In short—
Half of recruiters won't even bother to open your resume if there's no cover letter attached.
Plus, you can use a well-written receptionist cover letter to your tremendous advantage.
Think about looking for a job with no experience? Daunting, isn't it?
Unlike a resume, a cover letter can explain your passion for the industry. A sense of purpose in pursuing your career.
Finally, it can tell a story. And humans love stories much more than data sheets.
But not only entry-level candidates should write cover letters.
It doesn't matter if you're writing a spa receptionist resume, a medical office receptionist resume, a dental receptionist resume, or any other kind of a resume.
Attaching a cover letter doubles your chances of getting hired.
Plus, a great cover letter that matches your resume will give you an advantage over other candidates. You can write it in our cover letter builder here. Here's what it may look like: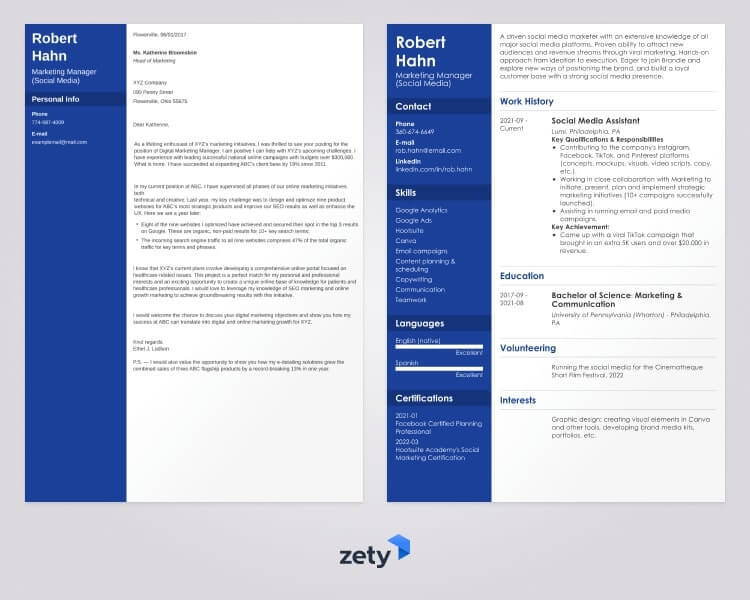 See more cover letter templates and start writing.
Hate writing? Can't be bothered to create a good cover letter? This guide will make the process smooth and fun: Cover Letter Writing in 8 Simple Steps [Proven Template]
Key Takeaway
Here's how to write a receptionist resume step by step:
Open your receptionist resume with a resume objective or a resume summary. Highlight your proudest wins and make an offer.
In the job descriptions, focus on your achievements, not just clerical duties. Add numbers to validate your results.
Match your office skills list with the skills required by the employer.
Add extra sections that prove your value.
Personalize every resume you send. Use the name of the company you're applying to and tailor the contents of your resume to the requirements in the job description.
Got more questions? Need further assistance? Drop me a line in the comments, I'll get back to you straight away!
About Zety's Editorial Process
This article has been reviewed by our editorial team to make sure it follows Zety's editorial guidelines. We're committed to sharing our expertise and giving you trustworthy career advice tailored to your needs. High-quality content is what brings over 40 million readers to our site every year. But we don't stop there. Our team conducts original research to understand the job market better, and we pride ourselves on being quoted by top universities and prime media outlets from around the world.