You deserve that job-winning receptionist resume—
We know you'd make a great receptionist. You're personable, organized, and you've got a warm smile.
But does your receptionist resume reflect that?
Not at all.
To the company you applied to, you're just one of the crowd.
Picture this.
You need to show that you can become the face of the company. That you're not one of 600. You're one in 600.
To be THE ONE to get that interview, you need to write the best receptionist resume.
This guide will show you:
A receptionist resume example better than 9 out of 10 other resumes.
How to write a receptionist resume that will land you more interviews.
Tips and examples of how to put skills and achievements on a receptionist resume.
How to describe your experience on a resume for a receptionist to get any job you want.
Here's a sample resume for a receptionist made using our resume builder.
Want to save time and have your resume ready in 5 minutes? Try our resume builder. It's fast and easy to use. Plus, you'll get tips and right vs. wrong examples while writing your resume. See +20 resume templates and create your resume here.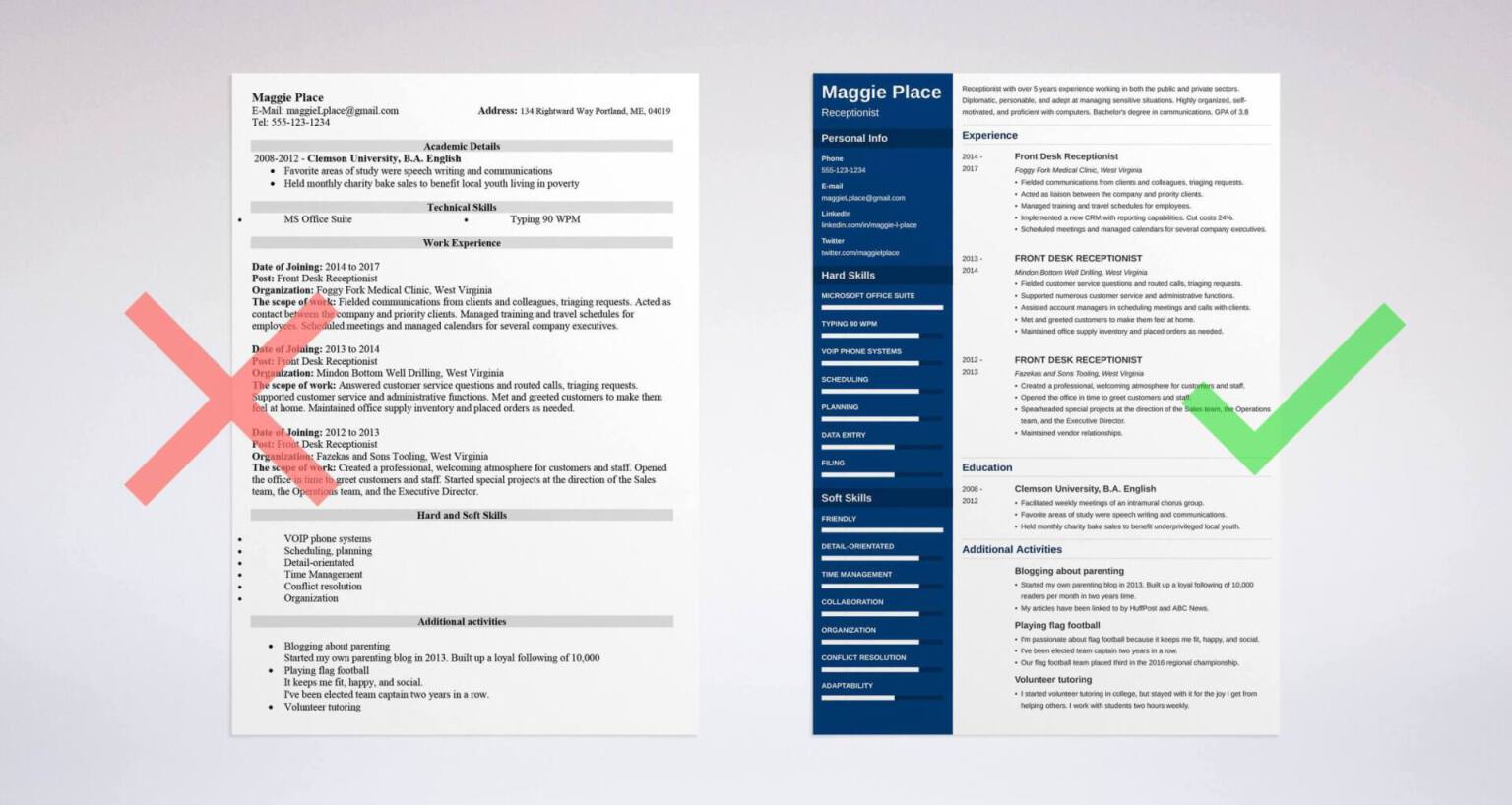 Receptionist Resume Example - See 20+ resume templates and create your resume here.
Here are more resume samples for office and administrative support occupations:
1
What's the Best Format for a Receptionist Resume?
Recruiters look at resumes for an average of six seconds each. That's six seconds to learn your name, skills, education, and work experience.
Doesn't seem like enough time, does it?
But it's just enough time to grab their attention.
To do that, make your resume stand out like a Taylor Swift tweet.
Choose the reverse-chronological format. It's the go-to receptionist resume template — It's easy to understand and highlights your experience and education in your resume.
Remember those six seconds? You can bet that most of that will be spent going over the experience section.
What if you have little or no experience?
Use your education and any non-traditional work, such as internships and student organizations, to emphasize your professional skills and abilities on your receptionist resume.
Your resume should be easy to read. Make effective use of white space, headings, and fonts.
Want to make sure your resume will hook every recruiter and get you that interview? Get our free checklist and learn what makes a job-winning resume: 46 Things You Need To Do Before You Send Your Resume.
Pro Tip: Think of your resume as a movie trailer. Dazzle recruiters with your proudest moments. This is true whether you're writing a veterinary receptionist resume or a resume for a receptionist position at a Fortune 500 company.
Want to learn more about how to create a reverse-chronological resume? See examples in our guide: "3 Resume Formats: How to Choose the Best One [Examples]."
2
Contact Information is Not as Basic as it Seems
Whether you're writing a medical office receptionist resume or a salon receptionist resume, one fact holds true.
You want the recruiter to get in touch. But a cluttered resume will only confuse her.
How do you know what's essential and what's extra?
Include the following:
Full legal name
Phone number
Email address
This makes it quick and easy to find you.
Here's an example from a medical receptionist resume:
right
Maggie L. Place
Boston, MA – 555-123-1234 – maggie.place@gmail.com
wrong
Maggie L. Place
Phone: 555-123-1234
Email: maggie.place@gmail.com
Twitter: @jdoe1234
Avoid providing too much irrelevant information like the following:
Social media accounts
Personal blogs or websites
Full address (a city and state will do)
Where Should You Put Contact Info?
For both experienced and entry level receptionist resumes, make contact info easy to see. Put it under your name at the top of the resume. Keep it small and horizontal.
Remember: receptionists are all about professionalism.
Pro Tip: Since you've provided your phone number, create a professional outgoing voicemail message. Use it to display the poise you'll bring to the firm.
Want to see how others format contact information? See some sample resumes at How to Make a Resume: A Step-by-Step Guide (+30 Examples). Also, check out the professional receptionist resume sample in this article.
3
Receptionist Resume Summary or Resume Objective?
Who has time to read a whole resume?
Answer: Not the recruiter with 250 of them on her desk.
Include a summary or objective to draw recruiters in.
How do you know which one is the right choice?
Resume summaries are for candidates who:
have a lot of work experience
are professionals in their field
Experienced receptionists benefit most from a resume summary. The summary should clearly sum up their education and experience.
Tailor your receptionist resume summary or resume objective to the job description.
Here The following summary examples are for a university front desk receptionist resume.
right
Receptionist with over 5 years' experience working in both the public and private sectors. Diplomatic, personable, and adept at managing sensitive situations. Highly organized, self-motivated, and proficient with computers. Bachelor's degree in communications.
wrong
Former Penn State alum with a bachelor's degree in communications. I'm looking to work as a receptionist.
Our resume builder (you can create your resume here) will give you tips and examples on how to write your resume professional summary section. Or any section for that matter. You can copy the examples to your resume, customize, and save a lot of time.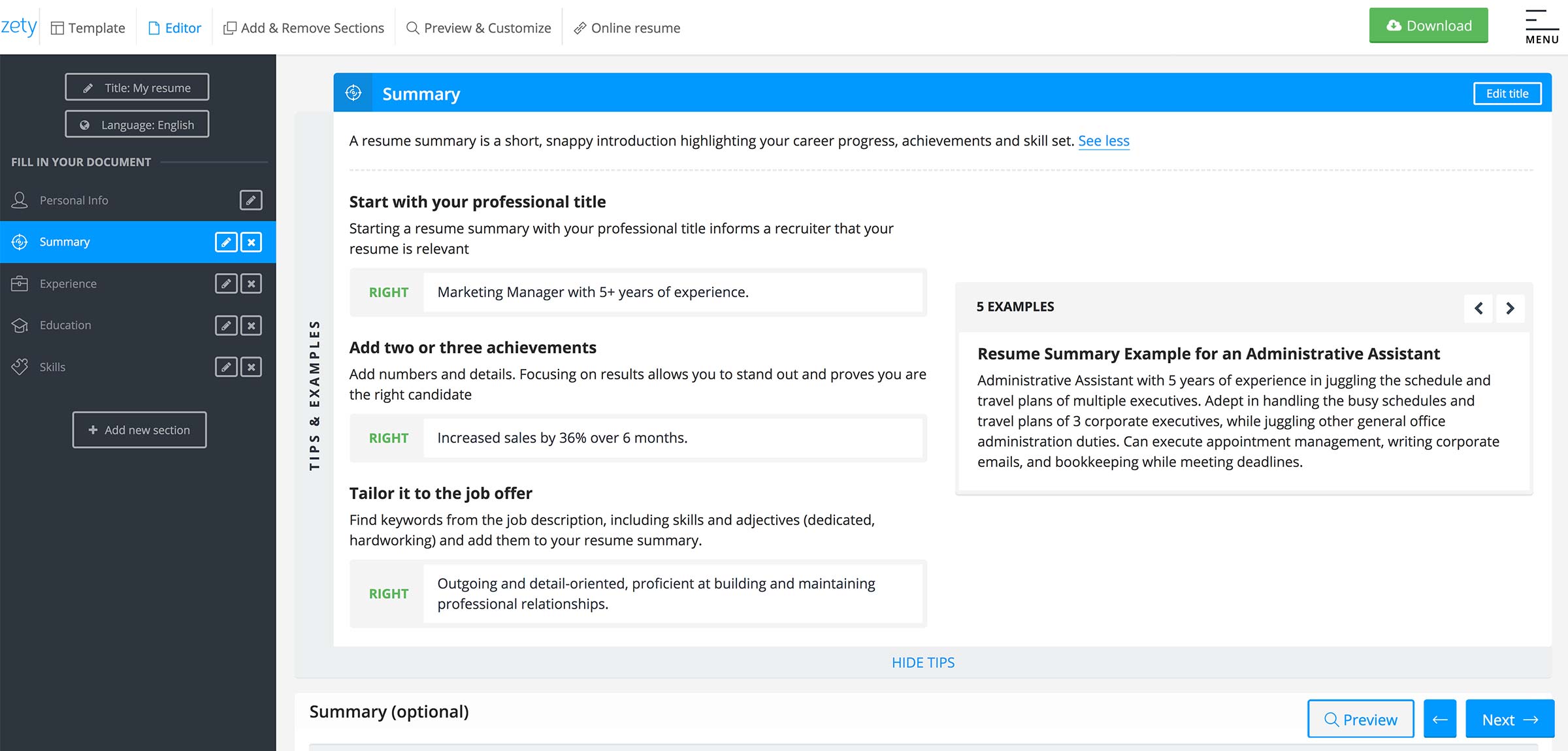 Inside our resume builder, you'll find expert tips and examples for your resume summary.
Resume objectives work for candidates who:
have little to no work experience
aren't considered "professional" job-seekers
are submitting resumes to companies without open positions
The less experienced should try a receptionist resume objective. It focuses less on where they've been and more on where they want to go.
Here's an example from a front desk receptionist resume:
right
Outgoing college grad hoping to work in the private sector. Looking to apply proven organizational and technical skills in a receptionist role. Eager to expand my skill set in an organization that will help me grow.
wrong
Looking to work for a job at a university because I need job security and better benefits.
Pro Tip: Put your summary or objective at the top of your receptionist resume. It should be the first thing the recruiter sees after your name and contact info.
For more examples of summaries and objectives for your resume for a receptionist position, check out How To Write A Resume Summary: 21 Best Examples You Will See AND +20 Resume Objective Examples - Use Them on Your Resume (Tips).
4
How to Describe Your Receptionist Experience
Always list your experience in reverse-chronological order.
Each job listing should include the following:
Job title
Dates worked
Company name
Location (city and state only)
Bullets detailing specific experience
Each job listing should have between 4 and 6 bullets.
This part of your receptionist resume should include duties, responsibilities, and achievements.
Here are some examples:
right
RECEPTIONIST / 2015 - Present
The Weston Center / Boston, MA
Fielded communications from clients and colleagues, triaging requests. Acted as liaison between the company and priority clients.
Managed training and travel schedules for employees.
Implemented a new CRM with reporting capabilities. Cut costs and improved efficiency.
wrong
The Weston Center / 2015-Present
I answered phones, organized mail, and scheduled training for the company.
I was polite with customers in the waiting area.
I took a lot of initiative.
Let's say you're writing a dental receptionist resume.
In your last job, you negotiated a new contract with your biggest vendor. That's an achievement.
You also answered all incoming calls to the company's main line. That's a responsibility.
Use some of each.
Describe them with action words to catch the recruiter's eye. Never start a bullet point with "I." Also, don't rehash the same action words.
Some action words for receptionists:
delegated
facilitated
orchestrated
conveyed
fielded
moderated
maintained
Pro Tip: Nearly every receptionist answers phones. Don't point out the obvious. Highlight what sets you apart.
Looking for more action words for your resume for a receptionist? Check these out - +80 Examples of Resume Action Words for Every Profession
5
Is Your Education Section Underperforming? It Might Be
Recruiters don't care about education for receptionists, do they?
Actually, yes.
Most receptionist positions require a high school diploma. Some need an associate's or bachelor's degree. The level of education often depends on the industry.
In either case, showcase your education. Make your qualifications clear.
Your education section should include:
Degree or diploma received
School name
School location
Dates attended or date degree was received
Academic honors
Awards and accomplishes when relevant (don't make it too cluttered)
If you list multiple degrees, always start with the highest one first.
If you've finished college, don't include high school info. However, add all higher education degrees no matter where they land on the hierarchy.
How should you format your education section?
There's no one way to format the education section on a receptionist resume. Just make sure the degree information is clear and uncluttered.
Highlight your strengths. If your degree is impressive, put it first. If your school outshines it, start with that.
right
Harvard University, Cambridge, MA
B.A. in Communications, summa cum laude May 2010
wrong
B.A. in Theatre and Psychology, 2.8 GPA.
Graduated in May 2010 from Harvard.
Where Should You Put the Education Section?
Receptionists tend to rely more on skills and experience than education. Unless the posting calls for a certain degree level, put it after your experience.
Pro Tip: Include GPA, but only if it is at least 3.0.
Still not sure how to best showcase your education on your resume for receptionist? See our guide: How to Put Your Education on a Resume [Tips & Examples]
6
How to Put Receptionist Skills on a Resume
In your last receptionist role, you were a superstar.
You answered phones, worked with vendors, updated the customer database, and more.
Now you're crafting a top-notch medical receptionist resume, and you want it to reflect your varied office skills.
How to List Skills on a Resume
List 6-10 skills in the left-hand column of your resume.
Tailor them to the receptionist job description. To do that, look at the job responsibilities listed in the description. How can you turn them into special skills for your receptionist resume?
For example, if the company's looking for someone who can "manage travel and training schedules," include "scheduling" as part of your skills list.
Don't overwhelm the skills section with words. Your experience section handles the details. The skills section should provide an overview.
right
Multitasking
Telecommunication systems
Data entry
wrong
Capable of handling calls, updating CRMs, and reading emails at the same time.
Can manage many different communication systems, including multi-line phone systems and Skype.
Extremely detailed oriented data entry in a wide variety of CRMs and support systems.
What Skills Do You Need to Work as a Receptionist?
If you can't think of technical or administrative skills based on the receptionist job description, consider some of these common receptionist skills. They make nice receptionist resume keywords that'll make Applicant Tracking Systems stop what they're doing:
Receptionist Resume Skills

| | |
| --- | --- |
| Soft Skills | Hard Skills |
| Multi-tasking | Microsoft Office Suite |
| Organization | Typing 90 WPM |
| Time management | VOIP phone systems |
| Detail-oriented | Data entry |
| Collaboration | Scheduling |
| Conflict resolution | Planning |
| Adaptability | Filling |
If you don't have the necessary qualifications, you will need to make sure your best skills are reflected in your resume.
Pro Tip: Don't be obvious when matching the skills in the job posting. If you just list the skills in the job posting, it'll seem like you're pandering.
What are some good skills to put on a resume for a receptionist? Read our guide for additional skills: +30 Best Examples of What Skills to Put on a Resume (Proven Tips)
7
No One Adds a Hobbies Section, But It Works So Well.
You are an interesting person.
You write novels in your free time and volunteer at a soup kitchen on weekends.
Believe it or not, the recruiter wants to know this about you.
Include hobbies and interests in your resume.
As a receptionist, you're the face of a company. You need to be friendly and personable. You also need to match the company culture.
Showing that you're a fun and interesting person will not only make your resume more memorable. It'll also tell the recruiter you're a good fit for the company.
Don't include just any old hobbies.
List hobbies that reflect the company's culture. Do a little investigating on their website first, but don't lie. It won't do to say you love paintball, then chicken out when you're handed a gun at the company picnic.
If in doubt, include hobbies that make you seem motivated, friendly, and well-rounded. Avoid hobbies that make you seem otherwise.
The following are examples of valid hobbies. Some are more effective for a resume. They're targeted for a spa receptionist resume.
right
Blogging about parenting
Playing flag football
Volunteer tutoring
wrong
Blogging about partying
Jigsaw puzzles
Playing video games
Pro Tip: Think about what your hobbies say about you. Volunteering shows initiative. Sports show teamwork.
To learn more about what your hobbies say to recruiters, see our guide: +20 Best Examples of Hobbies & Interests To Put on a Resume (5 Tips)
8
Here's the Most Common Myth About Cover Letters
You've found the perfect job and want to apply. But you've already applied to a dozen jobs today.
Do you really need to write another cover letter?
You may be tempted to skip the cover letter this time. But 45% of recruiters will throw out resumes that lack cover letters.
What goes into a cover letter?
Your cover letter should include:
Your contact information
A professional salutation
An acknowledgment of where you found the job posting
An explanation of why you chose to apply
An explanation of why you're right for the job (this may include a summary of skills)
A polite closing
Keep your resume cover letter example for a receptionist short and skills-focused. Receptionist cover letters should also be highly polished.
Recruiters expect applicants to have the same professional friendliness in their cover letter that they'll have in the role.
| right | wrong |
| --- | --- |
| Dear Mr. Broderick, | Hi Mr. Broderick |
Pro Tip: Don't just repeat what's on the resume. Intrigue the recruiter so he or she will look at your resume.
Plus, a great cover letter that match your resume will give you an advantage over other candidates. You can write your cover letter in our resume builder here. Here's what it may look like: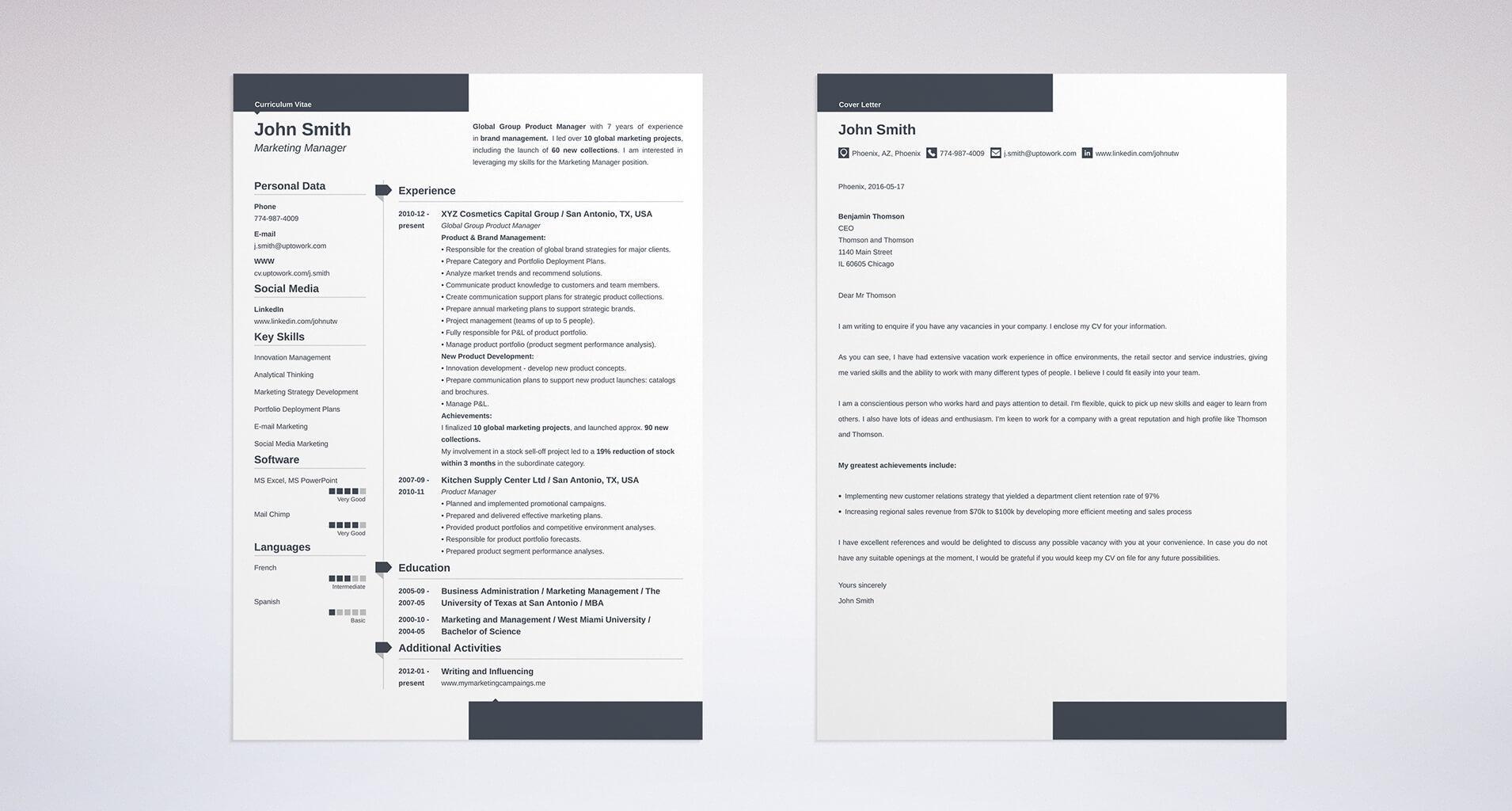 See more templates and create your resume and cover letter here.
Need some help getting started? See our guide: How To Write A Cover Letter [Complete Guide With Examples]
Key Takeaway
It's not easy to set yourself apart in a receptionist resume. The following key points will help your application shine.
Do your research. Read the job posting carefully. Research the company. Incorporate a list of good receptionist skills to put in your resume.
Highlight your strengths

. Organize each section of your receptionist resume template to emphasize your strengths. Choose experience details that show your accomplishments and duties.

Let your personality sparkle.

Don't be afraid to add hobbies and interests. Focus on being unique while also fitting well with company culture.

Do write a receptionist cover letter. Hiring managers still expect cover letters in 2018!
Have some great receptionist resume examples? Got a few fun and interesting hobbies that could make a resume pop?
Can you think of any key receptionist skills we may have missed?
How about advice for prospective receptionist applicants?
Let us know in the comments!