Medical Receptionist Resume Example + Duties & Skills
This guide will show you everything you need to know about writing a resume for medical assistant positions. (Plus, a pitch-perfect template you can use.)
You can manipulate the very fabric of space and time to squeeze in an appointment for every patient in need.
You never lose your patience, even when dealing with the most complicated people out there.
So make sure your medical receptionist resume really lets these—and other—superpowers shine!
This guide will show you:
A medical receptionist resume example better than 9 out of 10 other resumes.
How to write a medical receptionist resume that will land you more interviews.
Tips and examples of how to put skills and achievements on a medical receptionist resume.
How to describe your experience on a resume for a medical receptionist to get any job you want.
Want to save time and have your resume ready in 5 minutes? Try our resume builder. It's fast and easy to use. Plus, you'll get ready-made content to add with one click. See 20+ resume templates and create your resume here.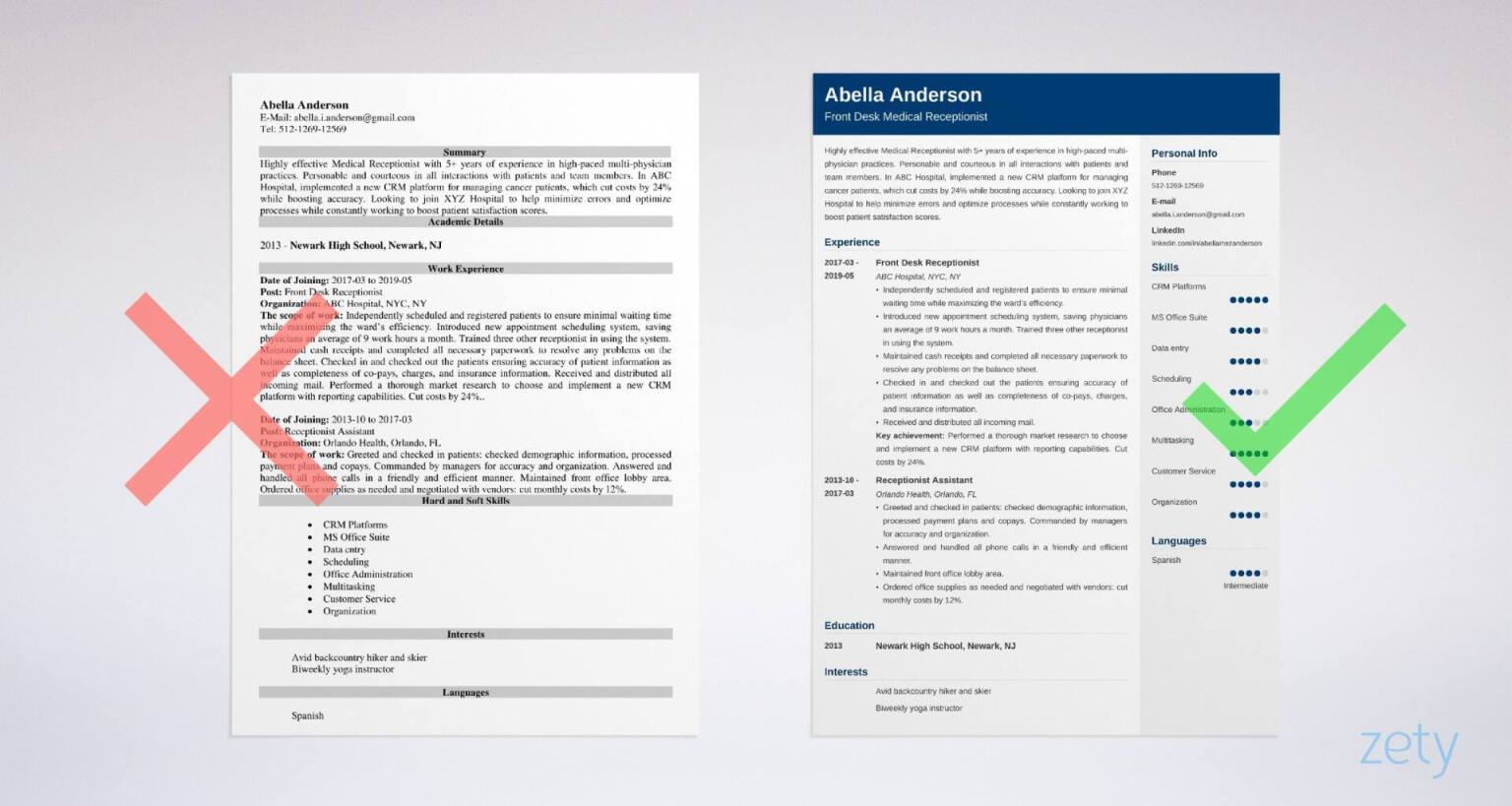 Sample resume made with our builder—See more resume examples here.
Eyeing other positions in healthcare, too? Switch over to one of our dedicated guides:
Sample Medical Receptionist Resume
Abella Anderson
Front Desk Medical Receptionist
512-1269-12569
abella.i.anderson@gmail.com
linkedin.com/in/abellainezanderson
Summary of Qualifications
Highly effective Medical Receptionist with 5+ years of experience in high-paced multi-physician practices. Personable and courteous in all interactions with patients and team members. In ABC Hospital, implemented a new CRM platform for managing cancer patients, which cut costs by 24% while boosting accuracy. Looking to join XYZ Hospital to help minimize errors and optimize processes while constantly working to boost patient satisfaction scores.
Work Experience
Front Desk Receptionist
ABC Hospital, NYC, NY
03.2017–05.2019
Independently scheduled and registered patients to ensure minimal waiting time while maximizing the ward's efficiency.
Introduced new appointment scheduling system, saving physicians an average of 9 work hours a month. Trained three other receptionist in using the system.
Maintained cash receipts and completed all necessary paperwork to resolve any problems on the balance sheet.
Checked in and checked out the patients ensuring accuracy of patient information as well as completeness of co-pays, charges, and insurance information.
Received and distributed all incoming mail.
Key achievement: Performed a thorough market research to choose and implement a new CRM platform with reporting capabilities. Cut costs by 24%.
Receptionist Assistant
Orlando Health, Orlando, FL
10.2013–03.2017
Greeted and checked in patients: checked demographic information, processed payment plans and copays. Commanded by managers for accuracy and organization.
Answered and handled all phone calls in a friendly and efficient manner.
Maintained front office lobby area.
Ordered office supplies as needed and negotiated with vendors: cut monthly costs by 12%.
Key Skills
Hard Skills
CRM Platforms
MS Office Suite
Data entry
Scheduling
Office Administration
Soft Skills
Multitasking
Customer Service
Organization
Foreign Languages
Education
Newark High School
Newark, NJ
2013
Hobbies and Interests
Avid backcountry hiker and skier
Biweekly yoga instructor
Here's how to write a medical receptionist resume step by step:
1. Choose the Best Format for Your Medical Receptionist Resume
Registering patients, scheduling appointments, managing calendars. Medical front desk jobs require a lot of attention to detail!

Make your medical receptionist resume reflect just how well organized you are. The first step to make that happen is proper formatting:
Create a proper resume header format with your phone number and contact info listed in a legible way.
Remember to make all the sections on a resume easy to spot for recruiters. Use big sections headings, add a space before and after each section title.
Pick one of the well-established best resume formats. Usually, a chronological resume will be your best bet: is showcases the top highlights of your career.
Choose elegant, good resume fonts. No custom-made typefaces, NO Comic Sans.
White space is your friend. Recruiters need some breathing room.
It's best to save a resume in PDF. But double-check with the medical receptionist job ad. Some employers will only accept DOC files.
Pro Tip: Resume—one or more pages? The rule of thumb is: for an entry-level medical secretary resume with less than 5 years of professional experience, stick to a single-page resume. If you're more experienced, a two-page medical front desk resume is fine.
2. Write a Medical Assistant Resume Objective or Summary
Also called a resume profile: a short paragraph at the top of your medical front desk resume. Its purpose is to explain why you're the exact candidate the hiring manager's been waiting for.
Think of your objective or summary as an elevator speech for your job application.
But which one to pick?
Experienced medical assistants should go for a summary of qualifications.
How to write a professional summary? Give a brief synopsis of your career: outline your most relevant achievements.

Resumes for medical receptionists with little or no experience will benefit from a resume objective.
In a career objective for a resume, describe the skills you've learned so far and show how well you'll fit in.
Pro Tip: Whichever type of resume intro is right for you, make an offer to help and drop the name of the medical institution you're applying to. Something along the lines of "... looking to boost patient happiness scores for St James' Hospital" will work wonders!
3. Create the Perfect Medical Receptionist Job Description for a Resume

Get this—
Describing your experience on a resume is as critical as the first few hours of an emergency ward patient.

The description of your medical receptionist duties is what makes or breaks your chances.
This section of a front desk medical receptionist resume in what employers care about most.
For greatest impact, you need to target your resume to match the job offer.
Here's how:
Put your current or most recent job first, then follow it with the previous one, the one before, and so on.
In each entry include: job title, the name of the organization, location, dates worked.
Below each position add up to 6 bullet points detailing your medical receptionist duties and, more importantly, achievements.
Pack your front desk medical receptionist job descriptions full of resume power words: "managed," "scheduled," "maintained," instead of "responsible for the management, scheduling, and maintenance."
Quantify whenever possible. Did you save your hospital money? Say how much. Trained other members of staff? Give the exact number. How many calls you handled in one hour? This also goes on your resume.
Pro Tip: Writing a resume with no relevant experience to list? Even if you've never held a medical receptionist job before, do include a work history section. List other jobs and make sure your job descriptions reflect universal, transferable skills you can apply in every industry.
4. Make Your Medical Receptionist Resume Education Section Great
Many candidates don't know what to put under education on a resume.
The good news?

It's pretty straightforward.
If you have relevant job experience, list only your highest degree of education.
Got a Bachelor's? Then don't include the High School Diploma.
Enter: your degree, major, graduation date.
Less experienced candidates might want to add: extracurricular activities, academic achievements, favorite coursework.
And what to do with a certification in a resume? It's best to list it in a separate section. This way, it will immediately grab recruiters' attention.
5. Highlight Your Medical Receptionist Skills
What makes you so great at your job?

At the end of the day, it's your skills, right?

And that's what medical employers want to hire you for: your qualifications that will help in their business.

Here's a list of top medical receptionist skills:
Medical Receptionist Resume Skills Examples
Data entry
Scheduling
Handling calls
MS Office Suite
Office Administration
Electronic Medical Records
Budgeting
Customer Service
Empathy
Friendliness
But here's the twist—
Raw lists of skills are pretty useless. The above one should only work as an inspiration.
In your medical assistant resume skills list, you need to give employers exactly what they seek.

Here's how to put your medical clerical skills on a resume:
Start with a comprehensive job skills list: soft and hard skills, as well as resume technical skills are all equally important.
Reread the job ad. Look for keywords related to medical skills.
Now, go back to your list and see how many of your skills match those listed in the offer. Quite a few, right? That's your skills list.
Don't only list your key skills in the skills section. Mention some in your resume summary or objective and sprinkle a few in your work history section.
Pro Tip: Looking to boost your hireability? Consider taking a medical receptionist online course. It will take a mere few weeks to complete and help you become a better candidate for most jobs.
When making a resume in our builder, drag & drop bullet points, skills, and auto-fill the boring stuff. Spell check? Check. Start building a professional resume template here for free.
When you're done, our professional resume builder will score your resume and our resume checker will tell you exactly how to make it better.
6. Add Other Sections to Your Medical Receptionist Resume
All the above sections? These are must-haves for any decent medical receptionist front desk resume.

But tell me one thing—

How much do you want that job? This much? Good.
So punch up your resume a notch. Add extra sections that prove and validate your worth. Consider:
7. Attach a Medical Receptionist Cover Letter for a Resume

Are cover letters still a thing?

They are.

Actually, one in two recruiters won't open your medical receptionist resume if there's no cover letter attached.


(Shockingly, only half of the candidates write cover letters still!)

Easy math, right? Writing an application letter doubles your chances of getting hired.

Here's what to keep in mind to boost your chances of landing the interview:
As you can see, writing cover letters doesn't have to be hard!
Plus, a great cover letter that matches your resume will give you an advantage over other candidates. You can write it in our cover letter builder here. Here's what it may look like: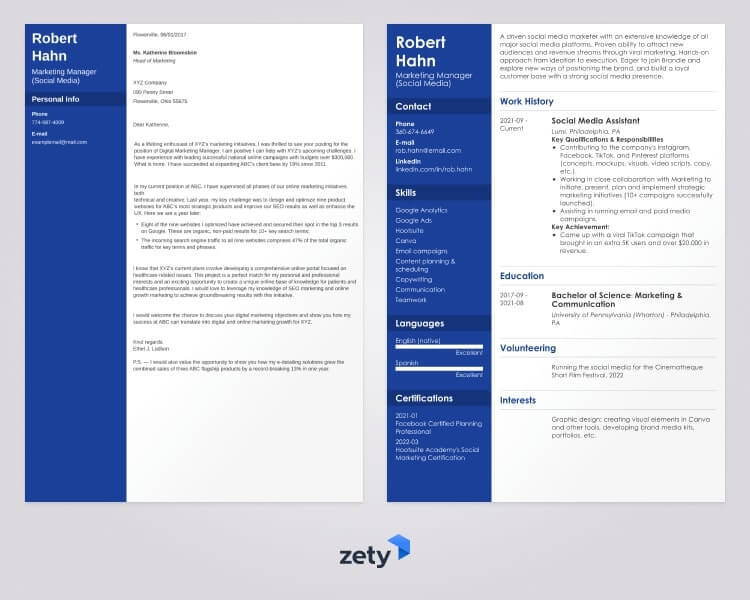 See more cover letter templates and start writing.
Pro Tip: Once you submit your medical administrative assistant resume and cover letter, remember to follow up on your job application. Show employers you mean business and really care for this position.
And, there you have it.

This is how to create a stunning medical receptionist resume.

Got questions? Need further help? Or, perhaps, you'd like to share some of your best tips for writing a medical receptionist resume that gets jobs? Leave us a comment. We can't wait to hear your thoughts.
About Zety's Editorial Process
This article has been reviewed by our editorial team to make sure it follows Zety's editorial guidelines. We're committed to sharing our expertise and giving you trustworthy career advice tailored to your needs. High-quality content is what brings over 40 million readers to our site every year. But we don't stop there. Our team conducts original research to understand the job market better, and we pride ourselves on being quoted by top universities and prime media outlets from around the world.
Sources