Medical Billing Resume: Sample & Writing Guide [20+ Tips]
Looking to beef up your medical billing resume? This guide teaches you how to write the best medical billing resume to land your desired job.
If there was an ICD-10 for "unable to land a good medical billing job despite having the right skills and experience", you'd add it to your own bill.
Luckily, there's a proven treatment to match your diagnosis: a medical billing resume that's a stellar Explanation of Benefits that come with hiring you.
This guide will show you:
A medical billing resume example better than 9 out of 10 other resumes.
How to write a medical billing resume that will land you more interviews.
Tips and examples of how to put skills and achievements on a medical billing resume.
How to describe your experience on a resume for a medical billing specialist to get any job you want.
Want to save time and have your resume ready in 5 minutes? Try our resume builder. It's fast and easy to use. Plus, you'll get ready-made content to add with one click. See 20+ resume templates and create your resume here.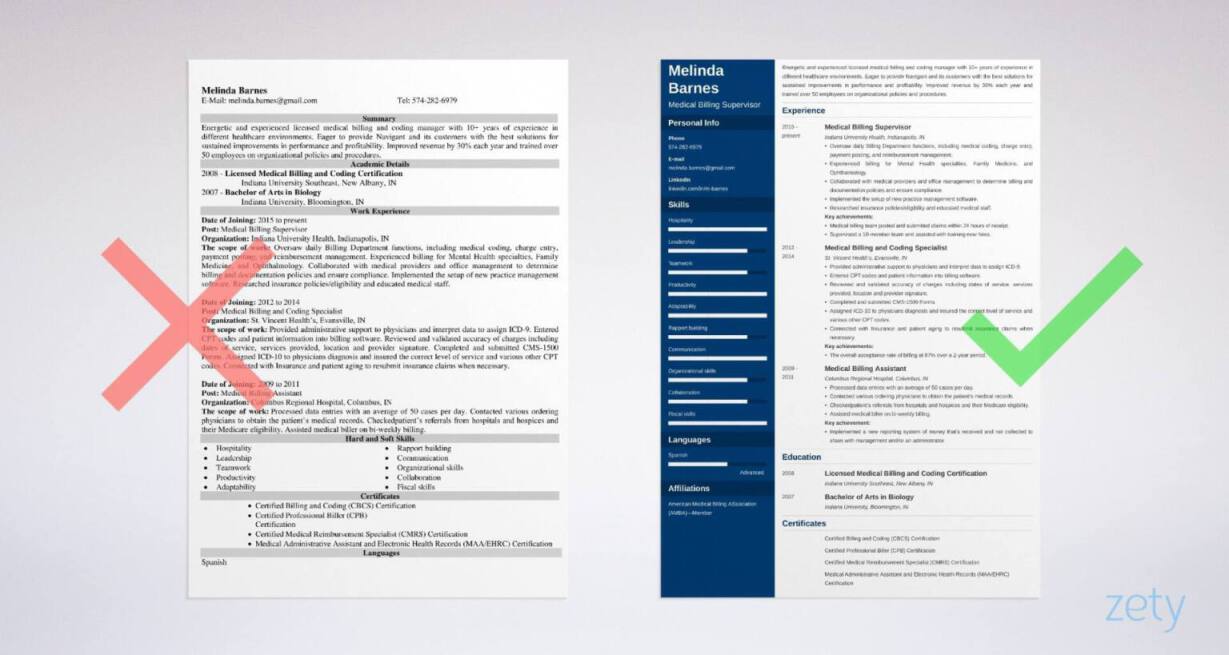 Sample resume made with our builder—See more resume examples here.
Looking to switch to another healthcare profession? Check these resume example guides:
Medical Billing Resume Sample
Melinda Barnes
Medical Billing Supervisor
melinda.barnes@gmail.com
574-282-6979
linkedin.com/in/m-barnes
Objective
Energetic and experienced licensed medical billing and coding manager with 10+ years of experience in different healthcare environments. Eager to provide Navigant and its customers with the best solutions for sustained improvements in performance and profitability. Improved revenue by 30% each year and trained over 50 employees on organizational policies and procedures.
Work Experience
Medical Billing Supervisor
Indiana University Health, Indianapolis, IN
2015–
Oversaw daily Billing Department functions, including medical coding, charge entry, payment posting, and reimbursement management.
Experienced billing for Mental Health specialties, Family Medicine, and Ophthalmology.
Collaborated with medical providers and office management to determine billing and documentation policies and ensure compliance.
Implemented the setup of new practice management software.
Researched insurance policies/eligibility and educated medical staff.
Key achievements:
Medical billing team posted and submitted claims within 24 hours of receipt.
Supervised a 10-member team and assisted with training new hires.
Medical Billing and Coding Specialist
St. Vincent Health's, Evansville, IN
2012–2014
Provided administrative support to physicians and interpret data to assign ICD-9.
Entered CPT codes and patient information into billing software.
Reviewed and validated accuracy of charges including dates of service, services provided, location and provider signature.
Completed and submitted CMS-1500 Forms.
Assigned ICD-10 to physicians diagnosis and insured the correct level of service and various other CPT codes.
Connected with Insurance and patient aging to resubmit insurance claims when necessary.
Key achievements:
The overall acceptance rate of billing at 87% over a 2-year period.
Medical Billing Assistant
Columbus Regional Hospital, Columbus, IN
2009–2011
Processed data entries with an average of 50 cases per day.
Contacted various ordering physicians to obtain the patient's medical records.
Checkedpatient's referrals from hospitals and hospices and their Medicare eligibility.
Assisted medical biller on bi-weekly billing.
Key achievement:
Implemented a new reporting system of money that's received and not collected to share with management and/or an administrator.
Education
Licensed Medical Billing and Coding Certification
Indiana University Southeast, New Albany, IN
Graduation: 2008
Bachelor of Arts in Biology
Indiana University, Bloomington, IN
Graduation: 2007
Key Skills
Hospitality
Leadership
Teamwork
Productivity
Adaptability
Rapport building
Communication
Organizational skills
Collaboration
Fiscal skills
Affiliations
American Medical Billing ASsociation (AMBA)—Member
Certifications
Certified Billing and Coding (CBCS) Certification
Certified Professional Biller (CPB) Certification
Certified Medical Reimbursement Specialist (CMRS) Certification
Medical Administrative Assistant and Electronic Health Records (MAA/EHRC) Certification
Languages
Do you think this is the best medical billing resume sample you've seen?
Great! Now it's time to write your very own.
No matter which medical billing jobs you're applying for, craft a medical billing specialist resume to prove you're a vital asset.
Here's how to write a medical billing and coding resume:
1. Choose the Best Medical Billing Resume Template
A medical biller processes claims with health insurance companies in order to receive payments for services from a healthcare provider. A medical biller should follow up on claims to ensure the company gets reimbursed for the work of their medical providers. A medical biller resume should show your ability to use medical codes to document patient diagnoses and treatments—but to put yours over the top, you should show how you're detail-oriented and very organized.
Think about the different patient charts you read on a daily basis. It's not hard to find the information you're looking for when applying medical billing codes. Why is that?
Two words: good organization.
This is what's missing from many medical billing resume samples you've scoured through.
Edge out the competition by writing your medical billing resume in an organized way.
Recruiters for medical coding and billing jobs need to find relevant information in a heartbeat. Make their job easier and let them focus on you as a candidate.
Format your resume for medical billing this way:
2. Write a Medical Billing Resume Objective or Summary
The short blurb at the top of your medical billing resume is your professional resume profile.
Think of it as your elevator pitch. Choose between a resume summary or resume objective.
If you're an experienced candidate with more than 2+ years of experience, then go with a summary of qualifications. It lets you concentrate on your professional experience and key achievements.
If you're applying to medical coding and billing jobs with no experience, go with a professional objective. It's more suitable for entry-level positions and focuses on the skills you've learned and how you are willing to help the hiring manager achieve their goals.
Show the impact you will make by adding numbers like $ or % to make your medical billing resume stand out.
Pro Tip: Write the other sections of your medical billing resume first before you do this one. It'll make it easier to draw out the most impactful accomplishment in your professional career.
3. Create the Perfect Medical Billing Job Description for a Resume

Here's the thing:
It matters how you describe your work experience on a resume.
Your description of medical billing responsibilities must prove that—
You'll get the job done.
How?
Highlighting your relevant skills and experience by tailoring your resume this way:
Start with the most recent billing specialist jobs first, and then go back in time to your entry-level medical billing and coding jobs.
Put your job titles at the top, followed by employment dates, the company or hospital name, and then around 5 or 6 bullet points with your detailed responsibilities.
Start each bullet with resume action verbs, such as managed, coordinated, facilitated, administered, etc.
Make sure to only present experience relevant to the job, and put numbers wherever you can.
Pro Tip: Highlight both your technical skills and soft skills in your experience bullets.
4. Manage Your Medical Billing Resume Education Section the Right Way
Most medical billing and coding jobs only need you to have an associate's degree. So the education section should be pretty straightforward.
But—if you do have a higher education degree relevant to the field, then you'll come off as a more well-rounded candidate.
Many of candidates are qualified and have a similar level of experience in billing and coding. So, when all things are equal, I would definitely hire the candidate who has a degree in Biology or any life-science, because the knowledge they gain studying is applicable to daily tasks.
So, here's the best way to structure your resume education section:
Experienced candidates with more than 5 years of professional experience can stick to listing their degree, school name and location, and graduation year. That's it.
Candidates with less experience may consider listing their GPA (if upwards of 3.5), extracurricular activities, academic achievements, and relevant coursework.
5. Highlight Your Medical Billing Skills
Medical billing and coding skills matter—t's what will land you the job.
Here is the best way to make the most of your medical billing skills section:
Create a master list of all your job skills (soft skills, hard skills, and technical skills).
Check the medical billing job description to see what skills are mentioned there.
Take a look at your list and match the ones mentioned in the job ad.
Highlight 3-5 skills and put them on your resume in a key skills section.
Use them throughout your medical billing resume. Pepper some in your resume profile and job description sections.
Need help on adding some skills? Check out a few of these below:
Key Skills and Core Competencies for a Medical Billing Resume
Hospitality
Productivity
Adaptability
Rapport Building
Fiscal Skills
ICD-10, CPT, and Medical Terminology
Various Practice Management Software
Claim Entry and Payment Posting
HIPAA Compliance
First Aid
Note: Keep it simple and mention only your key skills. Don't list every single skill you happen to have.
Pro Tip: Match the skills you put on the list with the type of position you're after. A medical billing specialist resume may also highlight your leadership skills.
When making a resume in our builder, drag & drop bullet points, skills, and auto-fill the boring stuff. Spell check? Check. Start building a professional resume template here for free.
When you're done, our professional resume builder will score your resume and our resume checker will tell you exactly how to make it better.
6. Add Other Sections to Your Medical Billing and Coding Resume
There's more to you than just your professional side.
Show the recruiter more about you by adding the following sections to your medical billing resume.
Healthcare association memberships
Pro Tip: Licenses and certifications are extremely important in the medical billing and coding field. It's what allows you to work in that profession in the first place. Take time to parse out your certifications in a different section.
7. Attach a Medical Billing Resume Cover Letter
Of course.
Half of the recruiters expect your application to include a cover letter. But—only half add one.
Do your due diligence and get yourself into the good half. Use the tips below to write your cover letter in no time:
Don't make your cover letter for your medical billing job too long. Keep it to a page and leave out the fluff. Find out more here: How Long Should a Cover Letter Be?
Pro Tip: Show the recruiter you're a serious candidate by sending a follow-up on your job application.
Plus, a great cover letter that matches your resume will give you an advantage over other candidates. You can write it in our cover letter builder here. Here's what it may look like: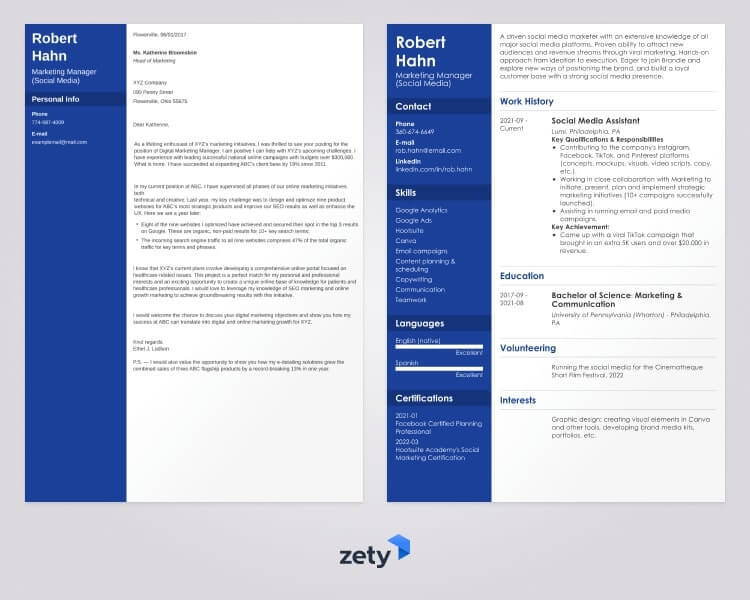 See more cover letter templates and start writing.
And now you're done!
Are you excited to apply to medical billing and coding positions with your job-winning resume?
We'd love to hear your thoughts! Are you writing a medical billing and coding resume for the first time? Maybe you're a seasoned veteran and want to help out the rookies? Leave your comment below to start a great dialogue!
About Zety's Editorial Process
This article has been reviewed by our editorial team to make sure it follows Zety's editorial guidelines. We're committed to sharing our expertise and giving you trustworthy career advice tailored to your needs. High-quality content is what brings over 40 million readers to our site every year. But we don't stop there. Our team conducts original research to understand the job market better, and we pride ourselves on being quoted by top universities and prime media outlets from around the world.