Our customers have been hired by:
You've learned all the terminology. You type as fast as a many-armed Hindu goddess. You're ready to dive straight into the life of a medical scribe.
But how do you prove that you're absolutely worth hiring?
Your first step is documenting your work experience and educational background in your medical scribe resume. This can get complicated quickly, so we've broken it down into a handy guide.
This guide will show you:
A medical scribe resume example better than 9 out of 10 other resumes.
How to write a medical scribe resume that will land you more interviews.
Tips and examples of how to put skills and achievements on a medical scribe resume.
How to describe your experience on a resume for a medical scribe to get any job you want.
Want to save time and have your resume ready in 5 minutes? Try our resume builder. It's fast and easy to use. Plus, you'll get ready-made content to add with one click. See 20+ resume templates and create your resume here.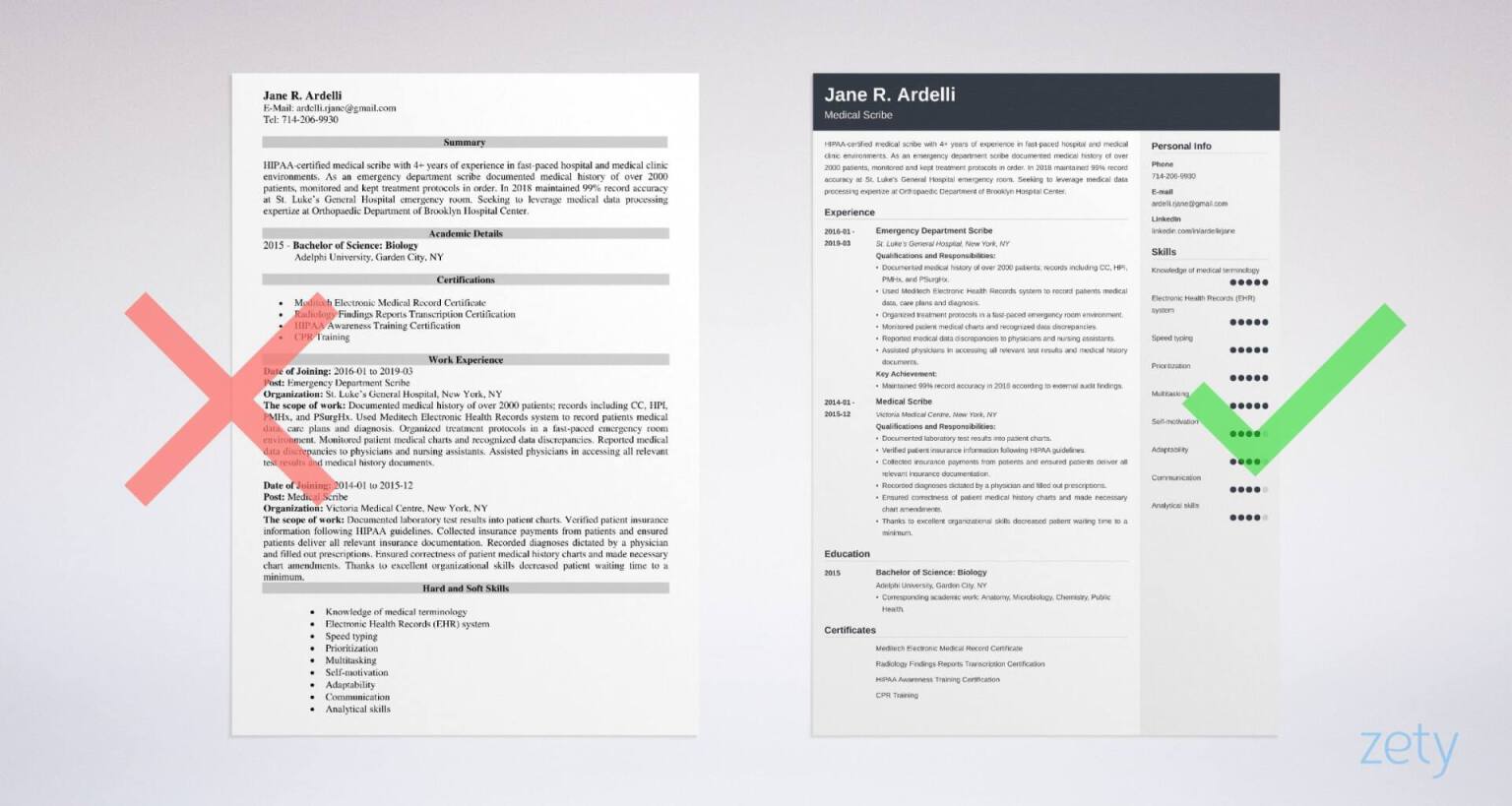 Sample resume made with our builder—See more resume examples here.
Targeting other jobs in the healthcare industry? Switch over to:
Medical Scribe Resume Sample
Jane R. Ardelli
Medical Scribe
ardelli.rjane@gmail.com
714-206-9930
linkedin.com/in/ardellirjane
Summary of Qualifications
HIPAA-certified medical scribe with 4+ years of experience in fast-paced hospital and medical clinic environments. As an emergency department scribe documented medical history of over 2000 patients, monitored and kept treatment protocols in order. In 2018 maintained 99% record accuracy at St. Luke's General Hospital emergency room. Seeking to leverage medical data processing expertize at Orthopaedic Department of Brooklyn Hospital Center.
Work Experience
Emergency Department Scribe
St. Luke's General Hospital, New York, NY
January 2016–March 2019
Qualifications and Responsibilities:
Documented medical history of over 2000 patients; records including CC, HPI, PMHx, and PSurgHx.
Used Meditech Electronic Health Records system to record patients medical data, care plans and diagnosis.
Organized treatment protocols in a fast-paced emergency room environment.
Monitored patient medical charts and recognized data discrepancies.
Reported medical data discrepancies to physicians and nursing assistants.
Assisted physicians in accessing all relevant test results and medical history documents.
Key Achievement:
Maintained 99% record accuracy in 2018 according to external audit findings.
Medical Scribe
Victoria Medical Centre, New York, NY
January 2014–December 2015
Qualifications and Responsibilities:
Documented laboratory test results into patient charts.
Verified patient insurance information following HIPAA guidelines.
Collected insurance payments from patients and ensured patients deliver all relevant insurance documentation.
Recorded diagnoses dictated by a physician and filled out prescriptions.
Ensured correctness of patient medical history charts and made necessary chart amendments.
Thanks to excellent organizational skills decreased patient waiting time to a minimum.
Education
Bachelor of Science: Biology
Adelphi University, Garden City, NY
2014
Corresponding academic work: Anatomy, Microbiology, Chemistry, Public Health.
Skills
Knowledge of medical terminology
Electronic Health Records (EHR) system
Speed typing
Prioritization
Multitasking
Self-motivation
Adaptability
Communication
Analytical skills
Certifications
Meditech Electronic Medical Record Certificate
Radiology Findings Reports Transcription Certification
HIPAA Awareness Training Certification
CPR Training
Here's how to write a medical scribe resume that proves you're the right fit for the position:
1. Choose the Best Format for Your Medical Scribe Resume
Whether you work as a medical scribe in a fast-paced emergency room or in a private healthcare clinic, there's one thing critical for everyone around you—
Keeping things in perfect order.
Same goes for your medical scribe resume.
Give its format priority and show your future employer you're organized and neat.
Follow these formatting rules:
Pro Tip: Wondering how to save your resume file? Stick to the PDF format unless the employer asks for an MS Word. PDFs are machine readable and Applicant Tracking System (ATS)-friendly.
2. Write a Neat Medical Scribe Resume Objective or Summary
A medical scribe resume objective or summary is also known as a resume profile.
Both are great ways to capture the recruiter's attention:
If you have over 2 years of experience in healthcare, use aresume summary. It recaps your career history and focuses on your key accomplishments as a medical scribe.
If you're writing an entry-level medical scribe resume,use aresume objective. It showcases the skills you've gained in previous positions and tells the recruiter what is your motivation behind the job search.
Pro Tip: Adding quantifiable achievements to the opening paragraph of your resume may double your chances of getting a job. Numbers are like adrenaline boosters. The hiring managers will want to read on for more!
3. Create a Great Medical Scribe Job Description on Your Resume
The resume experience section is where you record the vitals.
Make sure you fill this section with all things relevant to your future medical scribe position.
How to do it?
Tailor your resume to a specific job offer and follow these tips:
Begin with your latest or current job. Then list your previous jobs.
Start with your job title, and follow up with hospital or clinic name, location, and dates worked.
For each position use up to 6 bullet points describing your duties and skills.
Use action words to paint a more vivid picture of what you've done: documented, verified, gathered, recorded, cataloged, monitored, ordered always sound better than the worn-out responsible for.
Numbers speak for you. Sprinkle your medical scribe job descriptions with quantifiable achievements.
Pro Tip: If you never worked for a hospital before but you have some clerical experience, make it prominent. Any data entry job will back you up.
4. Make Your Medical Scribe Resume Education Section Great
To become a medical scribe you need to have a minimum of a high school diploma, but many hospitals and clinics ask for a college degree.
That's why your resume education section has to speak for you.
If you have years of healthcare experience,only list your degree, school name and location, and the graduation year.
If you're writing a medical scribe resume with no experience,elaborate on your education history in your resume. Listing academic achievements and relevant coursework will make you a more valuable candidate.
Pro Tip: Scribes do not perform medical treatments, however, they need to be fluent in medical terminology. Taking any post-graduate health degree program will help you with this and boost your chances of landing a job!
5. Highlight Medical Scribe Skills on Your Resume
A bitter pill to swallow:
Many recruiters use software to pre-select candidates and pick only those resumes that include the right resume keywords.
The list of medical scribe skills on your resume is a great place for using keywords the HR managers are looking for.
Look at this sample list of skills of a medical scribe:
Medical Scribe Resume Skills
Knowledge of medical terminology
Hospital setting knowledge
Electronic Health Records (EHR) system
PQRI documentation
Intelligent Medical Software
Medical transcription
Active listening
Speed typing
Prioritization
Multitasking
Self-confidence
Self-motivation
Adaptability
But remember not to overload your resume with skills. Choose only the ones relevant to the job description of the position you're applying for.
To do it:
When making a resume in our builder, drag & drop bullet points, skills, and auto-fill the boring stuff. Spell check? Check. Start building a professional resume template here for free.
When you're done, our professional resume builder will score your resume and our resume checker will tell you exactly how to make it better.
6. Add Other Sections to Your Medical Scribe Resume
Your resume for a medical scribe is almost ready.
Is there anything else you can add?
If you really want to get this job—
Add more sections to your medical scribe resume to speed up your job hunt:
Shadowing experience
Internships
Pro Tip: If you lack experience in these categories—get some. Many hospitals are looking for volunteers ready to support them on a daily basis. You can also ask for some job shadowing opportunities in the local health clinics.
7. Attach a Medical Scribe Resume Cover Letter
You got to the final point of your medical scribe application preparation—
A cover letter.

But do you need a cover letter?
Yes, you do.
About 50% of the recruiters still ask for them.
Follow the tips below and write your cover letter like a real scribe:
Pro Tip: Don't forget to follow up on your job application. Show the hiring manager that you really want to get this job.
Plus, a great cover letter that matches your resume will give you an advantage over other candidates. You can write it in our cover letter builder here. Here's what it may look like: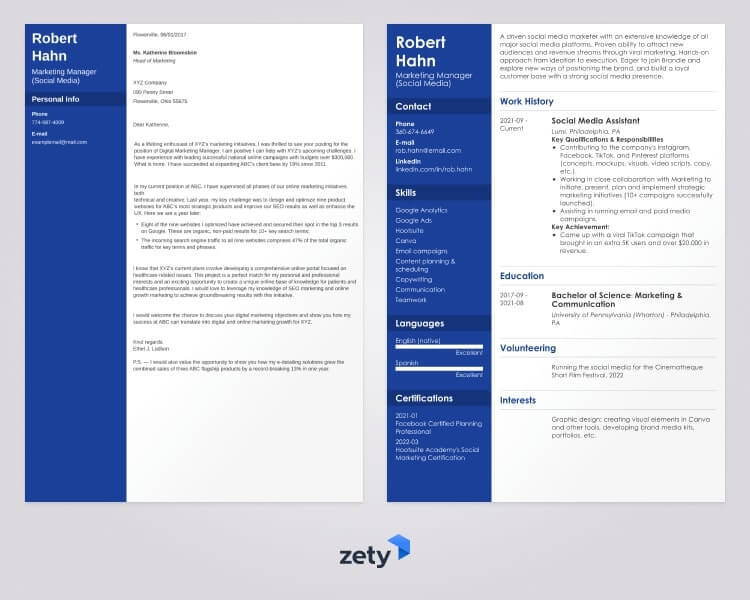 See more cover letter templates and start writing.
Do you have any questions on how to write a medical scribe resume? We'd love to hear from you, leave your comment below!
About Zety's Editorial Process
This article has been reviewed by our editorial team to make sure it follows Zety's editorial guidelines. We're committed to sharing our expertise and giving you trustworthy career advice tailored to your needs. High-quality content is what brings over 40 million readers to our site every year. But we don't stop there. Our team conducts original research to understand the job market better, and we pride ourselves on being quoted by top universities and prime media outlets from around the world.