Our customers have been hired by:
You're a phlebotomist. A good one. You draw blood better than Selene from Underworld. But that's not necessarily enough to land on top of a massive stack of phlebotomist resumes on the medical director's desk. You're in there somewhere like a rolling vein.
With a mediocre phlebotomy resume, your chances are capillary-sized. You need to show the right skills in the proper order. And you've just found your way to a phlebotomist resume that gets interviews—and gets you hired.
This guide will show you:
A phlebotomist resume example better than 9 out of 10 others.
How to write a phlebotomist resume that gets more interviews.
Tips and examples of how to put skills and achievements on a resume for phlebotomy.
How to describe your experience on a phlebotomy resume to get any job you want.
Want to save time and have your resume ready in 5 minutes? Try our resume builder. It's fast and easy to use. Plus, you'll get ready-made content to add with one click. See 20+ resume templates and create your resume here.
Sample resume made with our builder—See more resume examples here.
Not "just" a phlebotomist? Need other medical resumes?
It's hard to find straight phlebotomist jobs. Combination phlebotomist / medical assistants are in demand. See our guides:
Phlebotomist Resume Example
Peter Carmichael
Phlebotomist
(123) 456-7890
petercarmichael@email.com
linkedin.com/in/peter.carmichael
Summary
Certified Phlebotomist with over 4 years of experience. Eager to help Innovista Labs provide excellent patient service, especially in collecting blood samples from young patients who may feel distressed in a hospital setting. Successfully collected over 15,000 samples at ProCare Labs. 60% of these samples were from patients12 years old or below. Received a 100% patient satisfaction score from their parents.
Experience
Phlebotomist
ProCare Labs, Cranston, RI
January 2018–Present
Key Qualifications & Responsibilities
Collected blood samples from patients of all age groups.
Upheld strict patient confidentiality following HIPAA guidelines.
Followed universal precautions and infection control procedures.
Performed data entry tasks to catalog patient records and test results.
Key Achievement:
Successfully collected over 15,000 samples, maintaining 100% patient satisfaction.
Junior Phlebotomist
Health First Clinic, Cranston, RI
February 2016–December 2017
Key Qualifications & Responsibilities
Assisted with the collection of blood samples.
Managed patient identification, labeling, and tracking samples.
Assisted with administrative tasks such as scheduling appointments.
Key Achievement:
Improved sample collection process, resulting in a 20% efficiency increase.
Education
Phlebotomy Certificate
Community College of Rhode Island, Providence, Rhode Island
September 2014–May 2015
Relevant Extracurricular Activities
Participated in the Rhode Island Blood Bank volunteer program.
Volunteered at "Providence Cares" medical clinic for the homeless.
Academic Achievements
Awarded 'Outstanding Student' by Community College of Rhode Island.
Skills
Venipuncture
Capillary Puncture
Patient Service
HIPAA Compliance
Record Keeping
Data Entry Skills
Communication Skills
Empathy
Certifications
Certified Phlebotomy Technician (CPT), National Healthcareer Association, 2015
Awards
2015, Outstanding Student Award, Community College of Rhode Island
Memberships
Member of the National Healthcareer Association since 2015
Developed workshops for young students on the basics of phlebotomy.
Delivered lectures at a local high school about medical career opportunities.
Languages
English—Native
Spanish—Advanced
Interests
Volunteering at local blood drives.
Reading up on the latest developments in medical technology.
1
What's the Best Format for a Phlebotomy Resume?
Let's get back to our medical director, Sue.
She's sipping her latteccino and tossing 85% of her phlebotomy resumes in the recycle bin.
Why the tossing? Poor phlebotomist resume format.
If your resume is sloppy, why would she trust you with a patient's bloodstream?
So—choose the reverse-chronological resume format. It puts your most relevant experience up top.
Show the director you'll make her life flow smoothly. Use white space, the best resume typeface, and nice big headings.
Then save it as a PDF.
Today's PDFs are machine-readable. MS Word phlebotomist resumes can throw an embolism once you send them.
But—if a job ad says "no PDFs" use MS Word.
A Note About Networking
You'll find mountains of complaints online that, "you need to know someone to get phlebotomist jobs."
So—know someone!
I spoke with a medical pro who figured out how to use networking to get a $100K+ job in her mid 20s with an unfinished degree.
Pro Tip: Check your spelling! A phlebotomy resume with spelling errors looks like ten holes in a patient's forearm.
Want to branch out into other phlebotomist resume formats? See our guide: Best Resume Format: How to Choose the Right One [Examples & Templates]
2
Phlebotomist Resume Objective or Resume Summary
Pretend you've got 100 phlebotomist resumes to read.
Be honest. Would you read them all?
To stop the manager from skimming your resume, use a resume objective or a resume summary.
They're the big needle that gets you through the boredom-thelium.
A phlebotomist resume objective shows you're passionate. Write one if your experience is as empty as a sealed syringe.
Use a resume summary if you've got more experience than Nosferatu.
Cram either with enough accomplishments to fill a Red Cross truck.
These two phlebotomy resume examples show how.
Phlebotomy Resume Examples [Resume Summaries]
See if you can spot the flub in the first of our senior phlebotomist resume samples:
wrong
Hard-working phlebotomist with 3 years of experience. Responsible or all phlebotomist duties at C.M. Clinic, including venipuncture, injections, immunizations, patient intake, and maintaining inventory. Skilled in data entry and patient instruction.
That's not exactly a DVT, but it won't start an interview gusher.
Imitate our next phlebotomy resume example instead:
right
Exacting CPT with 3+ years of experience. Seeking to raise efficiency at LabCorp. At Chisholm Murrell Clinic, performed 1,000+ successful venipunctures. Saved $300/mo via new inventory pull system. At Life Peak Health, maintained 100% documentation accuracy & trained 3 phlebotomists.
Boom. You're in like a 23-gauge needle. Why? You didn't only say you did things. You said how well, with numbers.
Is your experience on the dry side? See the entry-level phlebotomist resume examples below.
Two Entry-Level Phlebotomist Resume Objectives
If your phlebotomy experience is a slow drip, try a phlebotomy resume objective.
In the days when leeches were medical equipment, that meant enthusiasm.
wrong
Energetic phlebotomist, highly skilled in venipuncture, taking vitals, data entry, and HIPAA compliance. Fluent in Spanish. No real-world experience yet but I did very well in school and I'll work extremely hard.

Wow, she really wants to work here. But so do 50 other applicants, and they have experience.
Don't palpitate.
Maybe you haven't held the title, but you've got achievements. Show them like the next of our entry-level phlebotomy resume examples:
right
Detail-oriented phlebotomist, skilled in customer service and interpersonal skills, seeking to deliver high-quality patient care for Life Peak Health. Have worked as volunteer phlebotomist at Mercy Hospital, Salvation Street Blood Bank, and fill-in at Phlebotek. Total of 200+ blood draws to date.
The medical director just dropped her copy of Pricking the Vessels.
But what if you have zip?—no experience for a phlebotomist resume?
That's next.
If you're applying as a first time phlebotomist, be sure and point out your eagerness to learn, as well as information regarding the coursework you completed for your phlebotomy training.
Maria Macdonald
Phlebotomist, ASPT
Pro Tip: Writing a phlebotomy resume objective or resume summary? That's hard, so don't do it first. Write your other sections, then select the best of them for your objective.
When making a resume in our builder, drag & drop bullet points, skills, and auto-fill the boring stuff. Spell check? Check. Start building a professional resume template here for free.
When you're done, our free resume builder will score your resume and our resume checker will tell you exactly how to make it better.
Want to dilate the interview flow? Use the sample phlebotomy resume up top. Plus, see our guides:
Resume Summary Statement: 21 Best Examples You Will See
20+ Best Career Objectives for a Resume - Use Them to Stand Out
3
Phlebotomist Job Description for a Resume that Draws Them In
What to put under objective on a resume?
Well—
Who would you hire?
Someone with buckets of experience on a phlebotomy resume? Or someone with a trickle?
Would you believe it's not how much phlebotomy experience you have?
It's how it matches the facility.
List your most recent job first, with 3-5 resume bullet points.
Do like the first of our professional phlebotomist resume examples below.
Phlebotomy Resume Examples [Experience]
Spot the major difference in these sample phlebotomist resume experience sections:
right
Chisholm Murrell Clinic
Phlebotomist
2016–2018
Collected, processed, labeled, and stored specimens from over a thousand patients.
Maintained inventory. Saved department $300/mo through implementation of new pull system to cut down on wasted supplies.
Commended 3x by management for cleanliness.
Wow. The clinic manager just put her finger on your contact info. Your professional resume for phlebotomy jobs has the right details.
But stanch those achievements, and:
wrong
Chisholm Murrell Clinic
Phlebotomist
2016–2018
Handled all phlebotomist responsibilities, including collecting, processing, labeling, and storing specimens from patients.
Responsible for maintaining inventory.
Performed venipunctures and patient preparation.
That phlebotomy resume example is clotted. No accomplishments. No numbers.
Tell the truth about your experience. You should be sure to include not only your place(s) of current/past employment but what your job duties included.
Maria Macdonald
Phlebotomist, ASPT
But what if you have no experience at phlebotomy jobs?
See these entry-level phlebotomist resume examples.
How to Write a Resume for Phlebotomy with no Experience
You're going to feel a little pressure—
It's hard to get draw blood jobs. No matter what the stats say, nobody is hiring.
Many hospitals and clinics don't want just phlebotomists. They want phlebotomist-nurses or phlebotomist-medical assistants.
Plus, it doesn't take much longer to be a nurse than a phlebotomist.
Phlebotomy Tech Salary: $24,000
Phlebotomist Salary: $31,630
Medical Assistant Salary: $30,590
Nurse Salary: $67,490
If you lack phlebotomy resume experience, get some.
Spend a couple days volunteering. Try:
Blood Banks
Hospitals
Clinics
VA Centers
The Red Cross.
In rural areas, look for "mobile phlebotomist" jobs. You may only get a couple days, but that's enough to make your phlebotomist resume stand out.
The next entry-level phlebotomist resume examples show how.
Two Entry-Level Phlebotomist Resume Samples [No Experience]
The first of these entry-level phlebotomist resume examples blows a vein.
wrong
Phlebotomy Experience: Just got my certificate and looking for my first job.
Other Experience:
That applicant pricks veins with her tongue out.
So—add achievements to get this phlebotomy resume example:
right
Phlebotomy Experience
2017–2018
Volunteer phlebotomist, Mercy Hospital.
Fill-in mobile phlebotomist, Phlebotek
Volunteer phlebotomist, Salvation Street Blood Bank.
.
Smooth. You're a proto-Ruth McCall.
Also highlight transferable experience from other medical (and non-medical) jobs.
As a new phlebotomist you may need to inform your potential employer how many sticks you've completed during your training or internship.
Maria Macdonald
Phlebotomist, ASPT
Pro Tip: Were you an EMT? Talk up your patient care skills, knowledge of anatomy, and documentation experience. All those look great on a resume for phlebotomist jobs.
Your resume for entry-level phlebotomy jobs shouldn't give the manager a syncope. Energize her instead with action words. See our guide: 240 Resume Action Words & Power Words to Make Your Resume Shine
4
Is Your Education Section Bleeding Out? It Might Be
There are two kinds of phlebotomy job candidates—
Those who get hired and those who don't.
The "hireds" are a small minority. What do they do different?
They don't just list their education on phlebotomy resumes.
Of course they show:
School Name and Location
Years in School
Degree
But they add accomplishments that fit the job like nitrile gloves.
The next phlebotomy resume examples demonstrate:
Phlebotomist Resume Examples [Education]
Both these phlebotomy resume samples are for a job that needs skills in anatomy, blood collection, and attention to detail.
right
Phlebotomy Program, Rose State College
2013–2014
Excelled in anatomy coursework.
Completed 150 successful blood collections.
Calera High School
2009–2013
Commended by 3 teachers for attention to detail.
Member, school Red Cross club.
That'll get through like an intramuscular injection.
The school achievements show you're just what the manager's been probing for.
Now try one-size-fits-all:
wrong
Phlebotomy Program, Rose State College
2013–2014
Received certificate.
2.9 GPA
Yeesh. Total thrombus.
Pro Tip: Who needs GPA in lab tech resumes? Not you, unless it's recent or impressive. Otherwise, go with the flow and list your great achievements.
Pump up your phlebotomy resume education section. See our guide: How to Put Your Education on a Resume [Tips & Examples]
5
How to Put Skills on a Resume for a Phlebotomist
Let's look in on Sue, the medical director.
She's rubbing EMLA cream into her temples. Why?
She's got a headache the size of LabCorp from reading 100 phlebotomy resume skills lists.
Here's the problem:
Anyone can copy-paste a list of phlebotomy skills for resumes. That doesn't mean they have the skills. Sue is painfully aware of that.
Also, listing all those skills impresses nobody.
You need the phlebotomy skills Sue wants. You also have to prove them in your bullets.
The professional phlebotomist resume examples below do it right.
Phlebotomy Resume Examples [Skills]
Let's say Sue's phlebotomist job description for resumes says:
Required Phlebotomy Skills: Customer Service, EMR Software, Documentation.
Put those in your skills list, plus a couple more.
Then say:
Received (1) customer service award for most positive feedback in department.
Trained 3 phlebotomists in use of Allscripts (2) EMR software.
Maintained 100% accuracy in all patient (3) documentation.
Great. You'll need 10,000 vacuum tubes to store up all your interview requests.
Need phlebotomy skills for resume use? Use these:
List of Skills to Put on a Phlebotomy Resume
This phlebotomist resume skills list is chock-full of resume keywords.
Add to it from offers in the online job sites.
Phlebotomy Skills for Resumes

| | |
| --- | --- |
| Soft Skills | Hard Skills |
| | Data Entry |
| | Instructing Patients |
| | HIPAA Compliance |
| Empathy | Inventory Management |
| Dexterity | Documentation |
| | Sterilization |
| | Taking Vitals |
| Perceptiveness | Workplace Safety |
| Persuasion | Infection Control |
| Compassion | Labeling Blood Samples |
If you're employed by a hospital, did you visit the emergency room or pediatric unit? If you travel to nursing homes be sure and emphasize your ability to not only make difficult draws but be organized and self motivated with good
time management skills
.
Maria Macdonald
Phlebotomist, ASPT
Pro Tip: Can you prove phlebotomy skills in a resume? Yes—enough to get the interview. If you're lying, the interviewer will find out when you're face-to-face.
Need the right order of draw for your phlebotomy resume skills section? See our guide: +30 Best Examples of What Skills to Put on a Resume (Proven Tips) and Key Nursing Skills for a Resume
6
How to Write Certifications on a Resume
You worked hard for that phlebotomy certificate.
Don't hide it like a tiny vein.
Show it:
At the top of your phlebotomy resume, near your name
At the beginning of your resume summary
In a special "Certification" section
Why?
Most employers skim. You need to make sure even skimmers know you're qualified.
Be sure and include your certification information. Many employers require some type of national certification to perform phlebotomy services.
Maria Macdonald
Phlebotomist, ASPT
Pro Tip: Wondering how to put CPR on a resume for phlebotomy jobs? Not all CPT programs include CPR, so add it to your certifications section. But—list it below your CPT.
Want the certifications on your phlebotomist resume to shine like a fresh needle? See our guide: How to List Certifications on a Resume: Guide
7
Add these Things and Put Your Resume
Bad news.
All phlebotomist resumes list experience and education.
To get the job, you need to stand out like Lestat at a blood drive.
Do that with "other" sections most applicants do wrong.
Our next sample phlebotomy resume sections show how.
Phlebotomy Resume Examples [Other Sections]
The first of our phlebotomist resume examples is practically edema:
wrong
Additional Activities
What do any of those have to do with drawing blood?
The extra sections on your resume for phlebotomy jobs should do this:
right
Continuing Education
Dermal Puncture and Capillary Blood Collection (LabCE).
OSHA Bloodborne Pathogens (LabCE).
Conferences
2017 National Phlebotomy Association Conference.
2016 Phlebotomy 2016 Conference.
Additional Activities
Member, National Phlebotomy Association.
Volunteer 2x per month to walk dogs at local shelter.
Daily trail running for fitness and self-care.
That's no ordinary blood sucker. That applicant lives and breathes to fill up vacuum tubes.
See how even "running" ties into phlebotomy? Adding "self-care" makes it relevant.
Pro Tip: Don't have conferences or memberships? List publications, like articles you've written or been interviewed for. You can also get continuing-ed credits in as little as an hour online. Try LabCE or NPCE.
Need extra goodies for your phlebotomy resume? See our guide: +20 Best Examples of Hobbies & Interests To Put on a Resume
8
What About a Phlebotomist Cover Letter?
Should you submit a cover letter with a phlebotomy resume?
Yes.
Some "experts" will say no-one reads them. But 40% do, and they might be hiring for your dream job.
Send a phlebotomy cover letter for those employers.
Show:
You understand their needs.
You've filled needs just like them in the past.
Do that, and they'll notice you like Hugh Jackman's arm veins.
This short example phlebotomist cover letter nails it:
I read your mission and vision on your website and found it inspirational. You put patients first, inspire hope, and treat people with compassion and respect. As a phlebotomist who received Life Peak Health's customer service award and maintained 100% accuracy across all documentation, I believe I'm a fit.
I also read online about your challenges with costs. When I cut inventory costs by 10% at...
Always end a cover letter with an offer. Try, "Can we set up a time to discuss how I trained 3 other phlebotomists on Allscripts EMR software?"
Read more: Phlebotomist Cover Letter: Example and Guide
Plus, a great cover letter that matches your resume will give you an advantage over other candidates. You can write it in our cover letter builder here. Here's what it may look like: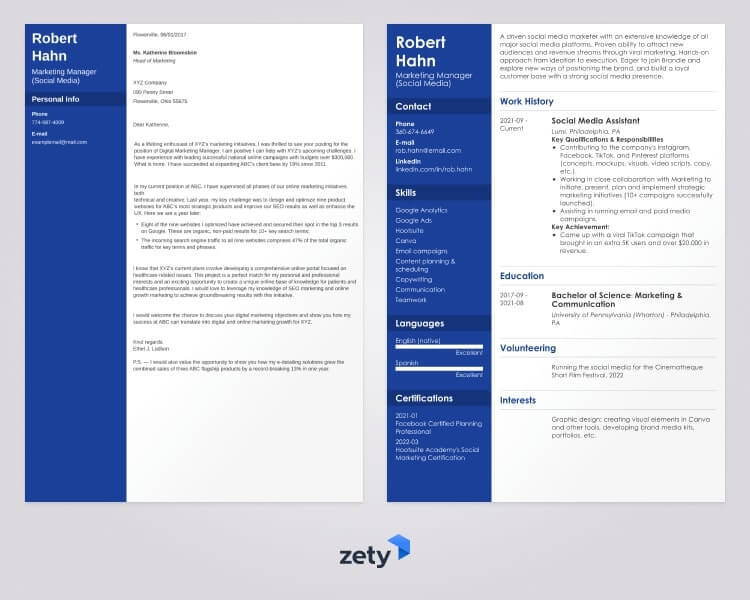 See more cover letter templates and start writing.
Your phlebotomy cover letter should make their eyes go wide. See our guide: How To Write A Cover Letter in 8 Simple Steps (+12 Examples)
9
Do This Before You Add Contact Info to a Resume
Contact info is crucial on a resume for phlebotomy jobs. Without it, the phone won't ring.
Start with:
Full Name
Updated Phone Number
Professional Email Address
Like this:
Jerry Dubois, CPT Phlebotomist, jerry.q.dubois@gmail.com, 580-239-3177
"Professional," means john.doe@gmail.com. Don't use jerrythevampirekid2349948@yahoo.com.
But check your social media accounts before sending your phlebotomy resume. Otherwise that tipsy Twitter photo from three years ago could cost you.
Pro Tip: Does a phlebotomist need a LinkedIn profile? If you want employers to see you as a person, yes. Luckily, we've got a guide to how to make a LinkedIn profile.
Give your resume for phlebotomy jobs a pulse. See our guide: How to Make a Resume: A Step-by-Step Guide (+30 Examples)
Key Takeaway
Here's a recap of how to write a phlebotomy resume:
Write a phlebotomist resume objective or resume summary. Fill each with liters of achievements to stand out like a weightlifter's basilic.
Pay attention to the job description. Match your phlebotomy resume bullets to it like an adapter to an ETS.
Add other sections that prove you suck. Add hobbies, volunteering, continuing ed, and professional associations.
Write a phlebotomy cover letter that makes your resume impossible to skim. Make it personal and passionate to win employers' hearts.
Do you have questions on how to write a great resume for a phlebotomist? Not sure how to describe your skills or achievements? Give us a shout in the comments! We'd be happy to reply.
Need a different resume-writing guide? Check these out:
About Zety's Editorial Process
This article has been reviewed by our editorial team to make sure it follows Zety's editorial guidelines. We're committed to sharing our expertise and giving you trustworthy career advice tailored to your needs. High-quality content is what brings over 40 million readers to our site every year. But we don't stop there. Our team conducts original research to understand the job market better, and we pride ourselves on being quoted by top universities and prime media outlets from around the world.
Sources