Lab Assistant Resume Sample [with Laboratory Skills]
You're a top-notch lab assistant hero in a white coat—but how can the hiring manager know? Prove your skills and talents with this pharmaceutical-grade sample lab assistant resume.
Without lab assistants like you, humanity wouldn't be able to convert lab specimens and research data into applied science that saves lives.
But getting an admirable job like yours can be surprisingly hard. Candidates swarm on well-paid jobs like bacteriophages on big, tasty bacteria. So if you want to win the job hunt, you must leave your competitors behind and make your value visible to recruiters. In other words, you need an effective lab assistant resume.
This guide will show you:
A lab assistant resume example better than 9 out of 10 other resumes.
How to write a lab assistant resume that will land you more interviews.
Tips and examples of how to put skills and achievements on a lab assistant resume.
How to describe your experience on a resume for a lab assistant to get any job you want.
Want to save time and have your resume ready in 5 minutes? Try our resume builder. It's fast and easy to use. Plus, you'll get ready-made content to add with one click. See 20+ resume templates and create your resume here.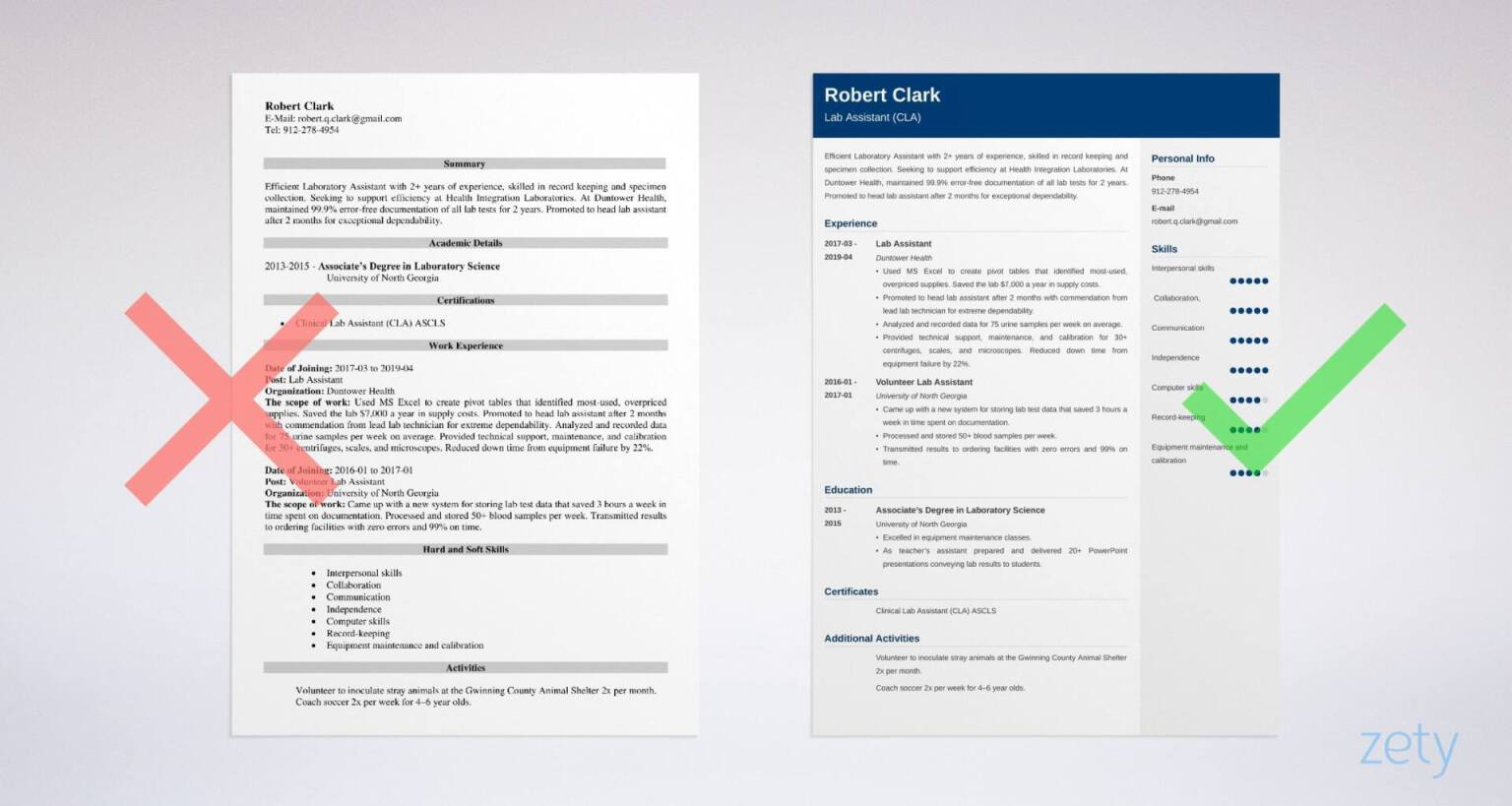 Sample resume made with our builder—See more resume examples here.
Need a more targeted resume? See other resume examples for jobs in your industry:
Lab Assistant Resume Sample
Robert Clark, Lab Assistant (CLA)
robert.q.clark@gmail.com
912-278-4954
Professional Summary
Efficient Laboratory Assistant with 2+ years of experience, skilled in record keeping and specimen collection. Seeking to support efficiency at Health Integration Laboratories. At Duntower Health, maintained 99.9% error-free documentation of all lab tests for 2 years. Promoted to head lab assistant after 2 months for exceptional dependability.
Work Experience
Lab Assistant
Duntower Health
March 2017–April 2019
Used MS Excel to create pivot tables that identified most-used, overpriced supplies. Saved the lab $7,000 a year in supply costs.
Promoted to head lab assistant after 2 months with commendation from lead lab technician for extreme dependability.
Analyzed and recorded data for 75 urine samples per week on average.
Provided technical support, maintenance, and calibration for 30+ centrifuges, scales, and microscopes. Reduced down time from equipment failure by 22%.
Volunteer Lab Assistant
University of North Georgia
Jan 2016–Jan 2017
Came up with a new system for storing lab test data that saved 3 hours a week in time spent on documentation.
Processed and stored 50+ blood samples per week.
Transmitted results to ordering facilities with zero errors and 99% on time.
Education
2013–2015 University of North Georgia
Associate's Degree in Laboratory Science
Excelled in equipment maintenance classes.
As teacher's assistant prepared and delivered 20+ PowerPoint presentations conveying lab results to students.
Certification
Clinical Lab Assistant (CLA) ASCLS
Skills
Soft skills:

Interpersonal skills, collaboration, communication, independence

Hard skills:

Computer skills, record-keeping, equipment maintenance and calibration
Activities
Volunteer to inoculate stray animals at the Gwinning County Animal Shelter 2x per month.
Coach soccer 2x per week for 4–6 year olds.
See here for our other resume guides: Resume Examples for All Careers
Here's how to write a lab assistant resume that gets jobs:
1. Use the Best Format for Your Lab Assistant Resume
The hiring manager needs to know you're not an Igor.
Prove that at a glance with a cleanly-formatted lab assistant resume.
Here's how:
Pro Tip: Does the length of a resume for lab assistant jobs matter? Yep. Put your most precious moments in your resume that fit a single page. Save the balance for the interview.
2. Write a Lab Assistant Resume Objective or Resume Summary
Some applicants get all the cookies.
That's because they catch the hiring manager's eye fast.
How can you do that?
With a profile on your resume that spins them like a stir plate.
If you've been assisting for 2 years and more, make it a resume professional summary. Add a couple skills, your job title, and the job you're vying for.
Writing a first job resume? Then you'll need a resume objective statement. That goes heavier on the skills.
But—fill either with key achievements.
Pro Tip: If you're new to the assisting world, put transferable skills in your lab assistant resume. Those are things like teamwork, a detail-oriented mindset, or communication.
3. Adjust Your Lab Assistant Job Description for Your Resume
Why should they hire you?
If you list responsibilities and nothing more, they'll pass you by.
So—
Show relevant work experience like this:
For each position, list the title, company, and dates employed.
Include a bullet list with duties, but add lab assistant accomplishments.
Need an example? "Used Excel to write a pivot table that saved $7,000" shows computer skills.
Add numbers like $7,000 or 75 or 22%. They show your achievements aren't imaginary.
Use sharp resume verbs so hiring managers don't nod off.
Pro Tip: Can't get a response on your lab assistant resume? Try a temp agency. It's not glamorous, but it gets you started. Do good work and you can transform into a full-time job.
4. Tweak Your Lab Assistant Resume Education Section
Of course your lab assistant resume will show your education.
But hold on.
Don't just list school name, degree, and years.
Everyone does that.
Educational background on a resume should prove hard and soft skills.
So—add educational achievements.
If you belonged to clubs, did projects, or excelled in classes that demonstrate your skills—
List them in your education section.
Did you come away from school with a certification like a CLA?
You can put that in your bullets. But also put it in a "Certification" section so employers can't miss it.
Pro Tip: Got a GPA so high they have to write it in scientific notation? Awesome. List it. Is the notation subscript? Leave it off and use the extra space for eye-opening accomplishments.
5.Prove Lab Assistant Skills in Your Resume
Use this lab assistant resume skills list:
Lab Assistant Resume Skills
Hard Skills:
Computer skills
Cleaning, maintaining, and calibrating equipment
Analyzing and recording data
Sample collection, prep, and analysis
Technical support
Equipment knowledge
Giving presentations to senior staff
PowerPoint
PPE use
HIPAA
Prepping for inspections
Cleaning
Experiment preparation
Soft Skills:
Independence
Attention to detail
Efficiency
Following procedures
Safety
But wait!
There's a right and wrong way to use that list.
Don't just do a laboratory assistant skills dump in your resume.
Knowing the right skills to put on a resume means picking them from the job ad.
Pro Tip: You don't need to list every skill in the world on your lab assistant resume. Stick to what you're best at and what you can prove.
When making a resume in our builder, drag & drop bullet points, skills, and auto-fill the boring stuff. Spell check? Check. Start building a professional resume template here for free.
When you're done, our professional resume builder will score your resume and our resume checker will tell you exactly how to make it better.
6. Add Other Sections to Your Lab Assistant Resume
You want the hiring manager to say, "Wow."
Do it with other laboratory assistant resume sections that prove key job skills.
Choose from:
Associations
Groups
Activities
Conventions
Freelance work
Employer commendations
Classes
Sports
Pro Tip: You don't need to add all those sections to your lab assistant resume. Just pick a few that let you prove your lab rat skills the best.
7. Send a Cover Letter With Your Lab Assistant Resume
How important is a cover letter for a lab assistant resume?
Very.
A strong lab assistant cover letter can make them call you.
But it has to be unique:
Pro Tip: Don't forget to send a follow up email on your application. It's just the thing to put your lab assistant resume top-of-mind and get you interviewed.
Plus, a great cover letter that matches your resume will give you an advantage over other candidates. You can write it in our cover letter builder here. Here's what it may look like: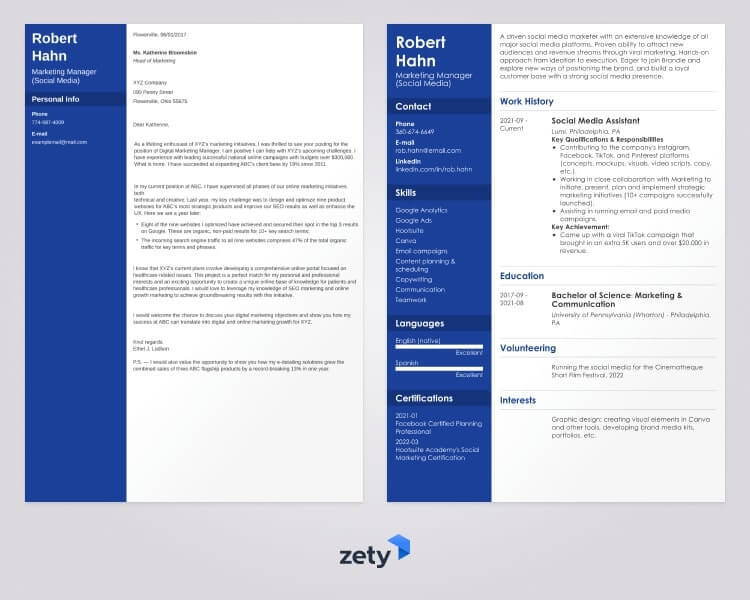 See more cover letter templates and start writing.
That's it!
That's how to write a resume for lab assistant positions.
Worried you won't get calls on your lab resume? Frustrated with the response your lab skills resume is getting? Give us a shout in the comments. We'd love to talk!
About Zety's Editorial Process
This article has been reviewed by our editorial team to make sure it follows Zety's editorial guidelines. We're committed to sharing our expertise and giving you trustworthy career advice tailored to your needs. High-quality content is what brings over 40 million readers to our site every year. But we don't stop there. Our team conducts original research to understand the job market better, and we pride ourselves on being quoted by top universities and prime media outlets from around the world.