Registered Nurse (RN) Resume Examples for 2023 [Guide]
Nursing isn't just a job, it's a calling. Answer that calling with a perfect registered nurse resume.
There is no health without care. From asking where it hurts to monitoring the ICU, you combine skill and compassion in everything you do. You could probably explain a thing or two to Dr. House! It's just that the recruiter doesn't know it yet… How do you get the point across?
Send them the best registered nurse resume that demonstrates your nursing skills and key accomplishments, in less time than it takes to set up an IV.
This guide will show you:
A professional registered nurse resume example better than 9 out of 10 other resumes.
How to write a resume for registered nursing jobs that will land you more interviews.
Tips and examples of how to put skills and achievements on an RN resume.
How to describe your experience on a resume for registered nurses to get any job you want.
Want to save time and have your resume ready in 5 minutes? Try our resume builder. It's fast and easy to use. Plus, you'll get ready-made content to add with one click. See 20+ resume templates and create your resume here.
Sample resume made with our builder—See more resume samples here.
Before we get started, here are several other nursing-related resume examples:
Registered Nurse Resume Example
Jonathan Morrow
Nurse
(555) 555-5555
jonathanmorrow@email.com
linkedin.com/in/jonathanmorrow
Summary
Compassionate Registered Nurse with 5+ years of experience providing quality healthcare in a variety of settings. Seeking to leverage clinical knowledge, patient assessment skills, and dedication to healthcare excellence to take on the role of Registered Nurse at Noble Healthcare. Improved nursing staff efficiency by 16% during tenure at Lifeline Nursing Services and Guard Medical Center.
Experience
Registered Nurse
Lifeline Nursing Services, Syracuse, NY
July 2015–March 2020
Key Qualifications & Responsibilities
Provided 1:1 and group nursing care for preterm babies in the Neonatal Intensive Care Unit (NICU).
Assessed patient status and implemented evidence-based interventions according to individualized needs and goals.
Played a crucial role in communication between physicians, nurses, families, and other medical staff members on team rounds.
Educated patients regarding their health conditions and organized health promotion activities such as vaccinations and screenings.
Key Achievement:
Provided effective patient-centered care to 80+ newborns and improved nursing staff efficiency by 16%.
Registered Nurse
Guard Medical Center, Syracuse, NY
May 2013–June 2015
Key Qualifications & Responsibilities
Performed physical evaluations consisting of a full set of vital signs, including height, weight, blood pressure readings, and others, while assessing drug interactions prior medication administration.
Assisted doctors with minor surgical procedures while overseeing a team of certified nursing assistants (CNA).
Developed education plans for patients on topics such as disease prevention or nutrition guidance while managing outpatient caseloads of up to 30 individuals per week.
Key Achievement:
Collaborated with the laboratory department to speed up test results turnaround time by 40%, enabling faster diagnoses for patients in need of drastic treatments.
Education
BSN Degree – Nursing Science
Upstate Medical University, Syracuse, NY
August 2009–May 2013
Relevant Extracurricular Activities
Volunteered as a Clinical Instructor at Crouse Hospital's Simulation Lab from 2011-2013.
Member of Sigma Theta Tau International Honor Society.
Academic Achievements
Awarded Distinguished Student Award from Upstate Medical University.
Skills
Clinical Assessment
Patient Communication
Interprofessional Collaboration
Bedside Nursing Procedures
Evidence-Based Practices
Team Leadership
Certifications
Pediatric Advanced Life Support (PALS), American Heart Association, 2019
Basic Life Support (BLS), American Red Cross 2016
Awards
Outstanding Healthcare Professional, Syracuse Medical Association, 2018
Memberships
Member of National Association of Professional Women since 2017.
Member of Sigma Theta Tau International Honor Society since 2011.
Languages
English – Native
Spanish – Fluent
Interests
Painting / Drawing / Photographing Landscapes.
Supporting local animal shelters.
Planning events for community members.
Sample Registered Nurse Resume
Jean Howard
Registered Nurse
+1-303-746-8526
jean.j.howard@gmail.com
linkedin.com/in/jean2015howard
Summary
Licensed RN with 5+ years of clinical experience, seeking to ensure high quality care at Lutheran Medical Center through proven daily care skills. Maintained 95% patient satisfaction at Centura Health. Successfully onboarded 10 new nurses.
Centura Health
Registered Nurse
2012–2018
Handled care, safety, and long term health plans for 15+ patients. Commended 10+ times for efficiency and problem-solving skills by preceptor.
Assisted patients with limited mobility in all necessary movement. Maintained 97% positive patient scores for compassion.
Created assessments, diagnoses, and plan-of-care for high-volume of patients.
Onboarded 10 new nurses and trained in quality, personalized care and compliance policies.
Key Achievement
Supervised refurbishing of meeting rooms to create a more comfortable, friendly space for difficult discussions with patients and/or their families.
Education
Bachelor of Science in Nursing
University of Colorado
Completion: 2012
Certifications and Licensure
Registered Nurse, Colorado Board of Nursing, License # 0000000
Phlebotomy Certification
Patient Care Technician Certification
Basic Life Support Certification (BLS)
Certified Registered Nurse Anesthetist (CRNA)
CPR Certification
Skills
Patient Assessment
Stress Management
Attention to Detail
Compassion
Safe Patient Transfers
Microsoft Office
Wound Care
Decision Making
Interests
Elderly patient care
New technology
Psychology
Everyday Emergency Podcast
Languages
Now let's get to writing a job-winning RN resume.
1
Structure Your Registered Nurse Resume Template Properly
What would you do if you saw a colleague administering medication before calling for appropriate tests and asking the patient how they felt?
Yeah, I can see them being flung out the doors right now.
Medical treatment is a structured process for a reason. It's the same with your nursing resume. Good formatting ensures good readability.
Here's how to format a registered nurse resume:
Format: the reverse-chronological format.
Section headings: put your name and up-to-date contact information at the top so that recruiters know how to reach you in a flash.
Fonts: use professional, easy to read resume fonts. 14-16 pt for section headers, 12 pt for the rest of the text.
Margins: keep even, 1" resume margins on all sides of the page.
Line spacing: stick with 1.15 line spacing.
Sections: use visible section headers and plenty of white space to make your nursing resume easy to read.
Filetype: always save your resume format in PDF unless the job ad says otherwise.
Now that that's out of the way, here's a short procedural how to on what you should include in your RN resume:
Header: add your current and relevant contact information.
Resume Objective/Summary: a short intro that explains why you're perfect for the position.
Work Experience: a breakdown of your professional career history and achievements.
Education: a brief description of your academic background.
Skills: a list of your most prominent and relevant nursing skills and abilities.
Extra sections: add a little sparkle to your RN resume by including relevant awards, certifications, foreign language knowledge, etc.
Read more about resume formatting: How to Choose a Professional Resume Format
You're not going to begin with a nursing resume objective/summary, though. Think of it as a diagnosis.
Start to go through each section—your job experience, education, and skills, gathering up the most notable of them along the way. When you're done, go back to the beginning of your registered nurse resume and write an intro that encompasses the whole of your application.
2
Start with a Registered Nurse Resume Work Experience Section
Employment forecasts say that there will be above average growth in nursing jobs in the coming years.
In fact, the BLS predicts that there will be more registered nurse jobs than for any other profession in the U.S. by 2022 and after.
But that doesn't make your life any easier.
Rising employment demand means a rise in the amount of people taking up nursing as a career. That means more competition for you.
Hospitals and treatment centers also aren't just going to take anyone of the street. After all, you're in the business of saving lives—you need to be the best.
So how do you convince the hiring manager that you are, indeed, the best?
Here's the best way to create a registered nurse resume description of your job experience:
Go for the reverse-chronological order on your resume. Start with your most recent positions and work your way back.
Don't go too far back on your resume. Include only what is relevant.
Include your job title, the employer's name and location, and the dates you worked there.
Add your registered nursing responsibilities in bullet points.
Use up to 6 for your current position and fewer as you go back in time.
Always tailor your resume to the requirements of the job ad.
Add quantifiable, noticeable achievements that immediately show hiring managers that you're the registered nurse that they need.
Make your RN resume more meaningful by using the PAR (Problem-Action-Result) formula in the description of your nursing and medical responsibilities.
Use resume action words at the beginning to show recruiters you are a pro in your field.
That's the theory. Let's see an example of these guidelines put into practice.
Here's a RN resume sample of the employment history section:
Registered Nurse Job Description for a Resume with Experience
Right
Registered Nurse
July 2017-June 2019
Crossover Health, Boise, ID
Key Qualifications & Responsibilities
Operated 25 bed clinic as a patient-centered medical home with a focus on personalized patient care and comfort.
Practiced evidence-based nursing care to achieve optimum health outcomes while providing service excellence.
Responsible for onboarding new nurses in Quality & Compliance policies and standards and coaching them on BDPs in patient approach.
Key Achievements
Recognized as providing both the highest quality and most state of the art patient care in Boise in 2018.
Wrong
Registered Nurse
July 2017-June 2019
Crossover Health, Boise, ID
Key Responsibilities
Cared for patients and their comfort.
Maintained high patient care standards.
Responsible for newly hired nurses.
The right example clearly demonstrates that this candidate knows patient care like the back of their hand.
The wrong example is a little like that TV doctor taking a snooze on a gurney when they should be on call.
And to think that both of these examples come from the same candidate! See what a difference specific examples make?
But what if you're just starting out as a registered nurse?
If you have an entry-level registered nurse resume, you need to show that you have the knowledge and skills to do a great job.
Take a look at these resume examples without experience (technically!):
Registered Nurse Resume Sample with No Experience
Right
Nursing Student
Dec 2018-Feb 2019
Georgia Department of Public Health, Brunswick, GA
Key Responsibilities:
Assessed patient's health care needs on the basis of initial patient screening and senior nurse's recommendations.
Consulted health care team to plan and implement patients' long term health care plan.
Monitored and recorded patient symptoms and condition and added them to detailed patient reports.
Key Achievement
Proposed new stock replenishing system to ensure each shift starts at full stock.
Wrong
Nursing Student
Dec 2018-March 2019
Georgia Department of Public Health, Brunswick, GA
Key Responsibilities:
Monitored patients' condition.
Provided health care and first aid.
Prepared rooms and equipment.
As you can see, even short, entry-level experience gained as a nursing student can speak volumes when presented correctly. Now that's what a resume should look like!
The wrong example is so vague that it could have been written on the basis of watching Grey's Anatomy.
When making a resume in our builder, drag & drop bullet points, skills, and auto-fill the boring stuff. Spell check? Check. Start building a professional resume template here for free.
When you're done, our easy resume builder will score your resume and our resume checker will tell you exactly how to make it better.
Read up further on describing work experience on a resume: Tips for Making a Stellar Work Experience Section for a Resume
3
Enter Your Education (It's Not That Straightforward!)
The right degree is absolutely essential for registered nursing. Yet you don't need to list your entire education.
List only your relevant, highest degree.
Here's what your education section should look like:
Registered Nurse Resume Education Sample
Right
Bachelors of Science in Nursing
University of Washington, Seattle, WA
Completion: 2016
Though it may be tempting, refrain from adding your GPA on a resume unless it's higher than your own blood pressure. If you're an experienced RN, leave out your GPA completely.
For inexperienced RNs who were the smartest nurse in the room, it might be a good idea to add your magna cum laude on your resume.
This is what it would look like:
Right
Bachelors of Science in Nursing, magna cum laude
University of Washington, Seattle, WA
Completion: 2016
Super simple!
You may be wondering where the rest of your credentials should go. We'll discuss them in the next section.
Educate yourself more on listing your education: How to Put Your Degree on a Resume
4
List Your Registered Nurse Credentials
The hiring manager has 99 problems, but finding your credentials shouldn't be one.
Nursing is quite unique in the fact that it's not enough to just have a higher education. There's also a number of certificates, renewable licenses, and credentials registered nurses need in order to practice nursing.
Now that may seem a little overwhelming, but thankfully the American Nursing Credentialing Center (ANCC) has come to the rescue with a universal format to list all this information cohesively.
List registered nursing education and credentials in this order:
Degree
License
State designations or requirements
National certifications
Awards and honors
Other recognitions
Let's take a look at how that should look on a registered nurse resume:
Registered Nurse Resume Licenses and Certifications Sample
Right
Registered Nurse, Oregon, license # 12345678
Board Certified Family Nurse Practitioner (FNP-BC)
Basic Life Support for Health Care Providers (BLS)
Advanced Cardiac Life Support (ACLS)
CPR Certification
See that? Easy peasy.
And here's a pro tip: add your RN credentials after your name in the resume header.
Read more: How to List Licenses and Certification on a Resume
5
List Registered Nurse Skills Relevant to Your Specialization
Although the demand for nurses is rising, the growth in specific specializations isn't uniform, with demand growing much faster in specializations such as medical-surgical, OR, ICU, or ER.
Healthcare recruiters don't need to sift through another pile of vague resumes from candidates who cared for patients. They're looking for specialized nurses and fast.
So how to pinpoint the key skills that make your registered nurse resume stand out?
Follow these tips:
Let the job ad give you useful hints as to what they're looking for through resume keywords.
Think about what relevant skills and certifications you've acquired over time. Look at your credentials and experience sections for extra inspiration.
Write down all your key strengths on a master list.
Pinpoint the skills on your master list that match those required in the job ad.
Make a list of the 5-10 most relevant professional skills in your registered nurse resume skills section.
Always remember to include both hard skills and soft skills on your nursing resume. They're equally important!
Take another look at your experience section. Does it prove the skills you just listed? Make sure these two sections compliment each other like scrubs and a lucky surgical cap.
The following registered nursing skills will help you compile your list:
20+ Most Common Registered Nurse Resume Skills
If you're looking for more skills specific to nursing, check out this great guide: Key Nursing Skills
Now that you're well stocked in nursing skills, let's look at a sample of skills that you might want to list on your resume.
Registered Nurse Skills Resume Example
Right
Stress Management
Excellent Communication Skills
Attention to Detail
Compassion
Decision Making
Patient Assessment
Technical Skills
Administering and Monitoring Medications
Safe Patient Transfers
Remember to use the job ad requirements as a guide to which key skills hiring managers are in dire need of.
Read more about adding skills to resumes: 99+ Skills to Add to a Resume and Core Competencies and Qualifications
6
Show Don't Tell: Add "Extra" Sections to Your Registered Nurse Resume
It takes months to recruit an experienced RN. Months.
Cut down that time by showing the hiring manager that not only are you skilled in saving a life, but that you have a passion for living it as well.
How?
Lots of RNs are going to have the same skills and similar experience to you. You can stand out through your interests and passions. A well-crafted additional resume section will have recruiters breathing a sigh of relief and saying "This is the one!"
Registered Nurse Resume Examples: Extra Sections
Knowledge of a foreign language can really give you a big advantage over other candidates. From gathering patient history to talking through treatment to reassuring worried family members, knowing a foreign language can be a very valuable asset.
No one cares that you love cats, right? Maybe the recruiter doesn't, but they will be interested in your curiosity about psychology, meditating, healthy eating. These hobbies not only demonstrate you have passions outside of work, but they can also be a positive influence on your work.
Memberships in Organizations
Demonstrating membership in a medical or nursing association shows the hiring manager that you take your career seriously and that nursing isn't just some job for you.
Volunteer work may not carry the same weight as your job experience, but it does demonstrate a passion to help others, one of the crucial attributes of a fantastic registered nurse. And don't forget about your experience shadowing.
For more possibilities when it comes to additional parts of a resume, see this guide: What to Include in a Resume: 20+ Top Examples
7
Compile the Best Bits Into a Registered Nurse Resume Objective or Summary
Let's go back to the beginning of your nursing resume.
There's no point in sharing treatment plan and writing out prescriptions, if there's no set diagnosis.
Your resume "about me" section is the overarching conclusion that lets the recruiter know, in a few sentences, exactly who they're dealing with.
There are two types of summaries of skills and qualifications: the objective or the summary.
Skim over your RN resume once again. Look for the skills and achievements that stand out like a Mickey Mouse band aid.
Choose 2-3 of those top achievements that will get the recruiter's heart racing and write out your heading statement based on them.
Now—
If you have years of experience and quite a list of skills, choose the professional summary.
The resume summary gives a brief, but impressive overview of your accomplishments and experience. This is the definite go to if you could teach Dr. Mike a thing or two.
Take a look at these two registered nurse resume summary examples:
Registered Nurse Resume Summary
Right
Enthusiastic and friendly registered nurse with 6+ years' experience of providing high quality care to a variety of patients. Feels comfortable working in 20+ bed units and in dynamic environments such as ER or ICU. Looking to leverage wide range of nursing skills and knowledge as a registered nurse at East Orange General Hospital.
Wrong
Experienced registered nurse committed to high quality care looking to effectively fill nursing position at EOGH.
That wrong example will make the recruiter feel like they're waiting outside the ER—they're anxious and are starved for information.
So what if you're just starting out as a registered nurse?
Use the professional objective. This is the go to when you have little experience and need to lean on your skills and knowledge to show you're a valuable hire.
Here are two registered nurse resume objective samples:
Registered Nurse Resume Objectives
Right
Friendly, compassionate, and positive new RN grad with 80 hours of clinical experience and 15 hours in critical care as a nursing student. Looking to leverage knowledge and passion for elderly patient care as a registered nurse at Roosevelt Care Center.
Wrong
I've just finished nursing school and I'd like to use my enthusiasm and hard work to care for elderly patients!
Both the summary and objective follow the same rules—tailor your objective to the needs of the employer and impress through numbers.
Looking for the full recipe on starting a resume correctly? Look no further: How to Write a Resume Profile: Tips & Examples
8
Write a Great Registered Nurse Cover Letter
You don't need to write a cover letter. Especially if the job ad doesn't ask for one. Even more so if you want your resume for RN jobs rolled straight into the morgue.
Think of it like a pair of brightly colored, clean scrubs—if the recruiter sees both a well-written resume and cover letter, they'll know that they've got a professional who knows that nursing is more than cleaning bedpans and giving shots.
This is how to write a registered nurse cover letter:
That's all!
Learn more on how to write a compelling registered nurse cover letter: Nursing Cover Letter Sample
Plus, a great cover letter that matches your resume will give you an advantage over other candidates. You can write it in our cover letter builder here. Here's what it may look like: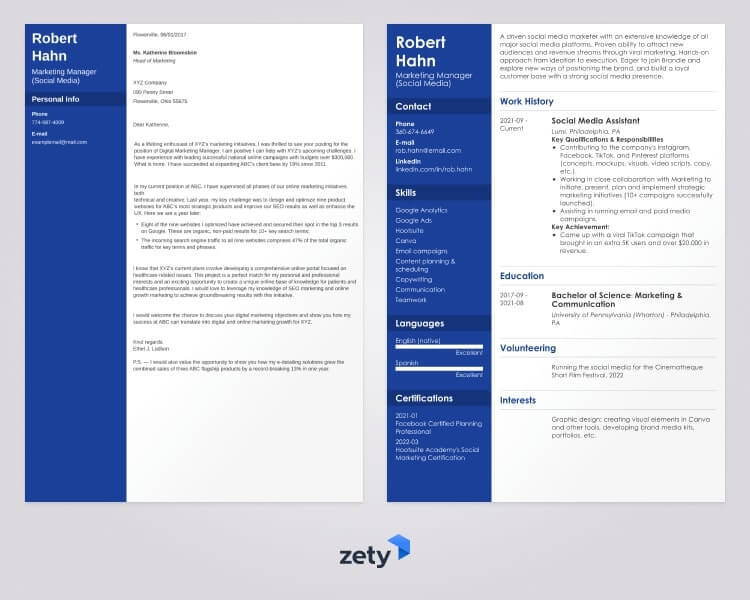 See more cover letter templates and start writing.
Recap—Registered Nurse Resume in a Nutshell
Let's strip everything down to the bare bones—
Here's how to write a registered nurse resume step by step:
Format the registered nurse resume template with a professional font, correct line spacing, proper margins, and plenty of white space.
Skip writing the registered nurse resume objective or summary until the end.
Document your previous work history using action verbs, bullet points, and a tailored approach.
List your education correctly.
Add your credentials in a clear, professional format which is universally accepted and understood.
Include your key nursing skills and make sure they're echoed in your experience section.
Don't forget to include a registered nurse cover letter if you want that nursing interview!
Okay, that's it! Now, we'd love to hear from you:
What are the biggest challenges for you when writing a registered nurse resume?
Are you having problems coming up with relevant nursing skills or achievements?
Do you need help with including your nursing specialization(s) on a resume?
Let's chat below in the comments, and thanks for reading!
About Zety's Editorial Process
This article has been reviewed by our editorial team to make sure it follows Zety's editorial guidelines. We're committed to sharing our expertise and giving you trustworthy career advice tailored to your needs. High-quality content is what brings over 40 million readers to our site every year. But we don't stop there. Our team conducts original research to understand the job market better, and we pride ourselves on being quoted by top universities and prime media outlets from around the world.
Sources