Bilingual on a Resume: How to Highlight Bilingual Skills
Having bilingual skills means you can communicate in more than just plain English. Learn to mention 'bilingual' in a resume the right way, and have recruiters at a loss for words.
You're bilingual, so that's great news for you. It's your chance to really stand out. But if you don't add your bilingual skills to your resume the right way, you'll end up standing out like a glass of water in a lake.
Don't fret. We'll show you how to put 'bilingual' in a resume the best way.
This guide will show you:
Examples of bilingual skills on a resume.
How to put 'bilingual' in a resume to stun recruiters.
When writing 'bilingual' on a resume can be beneficial for you.
Want to save time and have your resume ready in 5 minutes? Try our resume builder. It's fast and easy to use. Plus, you'll get ready-made content to add with one click. See 20+ resume templates and create your resume here.
Sample resume made with our builder—See more resume examples here.
Check what else to feature on your resume:
Is Being Bilingual a Skill?
That's a question that gets asked a lot. When you think about it, it can be confusing.
Lots of bilingual people know two languages fluently because they grew up in that kind of environment (for example, their parents spoke one language and at school a different language was spoken). In these cases, being bilingual just seems natural.
Should you mention being bilingual in a resume?
Yes, being bilingual is a skill just like any other language skill, and you can definitely add it to your resume. In fact, it can be something that makes your resume take off. So add information on your bilingual skills throughout your resume. Here's how.
Read more: How to List Languages on a Resume
How to Put Bilingual on a Resume
Writing a bilingual resume is pretty much the same as writing a resume in general. The key difference is that you don't have to limit yourself to just your resume skills section to mention your bilingual skills.
But let's get one thing out of the way first.
A bilingual resume doesn't mean that you write everything in two languages on the same resume. First of all, it'll turn out looking like a pretty big mess and will be hard to read. That doesn't make for a recruiter friendly or ATS compliant resume.
Secondly, even if the job ad is asking for bilingual candidates, the recruiter will most likely not be bilingual, so your resume should be written in English.
Remember, all these tips apply equally whether you're writing a resume for an internship, a resume with no experience, or an experienced resume.
Add Your Native Proficiency to the Skills Section
You can use the skills section to simply list the foreign languages you know along with your native proficiency. Other terms similar to "native" that can be used to describe a bilingual status of a foreign language would be "fluent" or "mother tongue".
There's no need to list English along with the other language you know. If you claim to be bilingual, it's understood by default that one of those languages is English.
Here's what bilingual skills look like in the skills section:
Showing Bilingual on a Resume
Language skills
Spanish — native
Italian — working proficiency
Pro Tip: If you're concerned about recruiters not taking your proficiency seriously, feel free to add the country next to your proficiency level to show that, for example, you know the language from living in a given country and not just through language classes. In this case, the above example could be Spanish — native (Columbia).
But your skills section is just one place you can mention your bilingual skills.
Think about this—if at any time in your professional experience your job responsibilities required bilingual skills from you, then you've got the perfect ticket to sprinkle that all around your resume.
Read more: Good Skills to List on a Resume
Mention You're Bilingual in the Resume Profile
The resume profile, so your resume objective or resume summary, is at the very top of your bilingual resume. In other words, it's your resume introduction. It's the perfect place to drop your first mention of being bilingual.
Here's what the resume summary of a bilingual teacher resume would look like:
Sample Resume: Bilingual in the Resume Profile
Experienced, fluent English- and Spanish-speaking history teacher with excellent communication skills and a true passion for teaching at an elementary level. Was voted "Teacher of the Year" three consecutive years in a row at Palo Verde Elementary School. Looking to leverage experience and bilingual skills as the next history teacher at Cactus Elementary School.
This resume profile tells the recruiter right away that this teacher can handle working in two languages if need be. That gets an A+!
Read more: Professional Resume Profile Examples
Improve Your Resume with Bilingual School Experience
For some people, the education section of their resume might not offer any chances to flaunt their language proficiency. That's OK, just skip to the next section.
One obvious way to show your native language skills in an educational setting is to mention any studying abroad, especially if you studied in that foreign language. Just list it like you would your domestic college education so— university name, location, dates attended.
If you took classes in your other mother tongue, took part in student clubs, events or any other extracurricular activities during college, you can definitely add that in.
Here's what the education section of a bilingual resume would look like:
Bilingual on a Resume: Education Section
B.Sc. in Business
Arizona State University, Phoenix, AZ
2016-2018
Member of Los Diablos — helped create a safe space and community for Spanish-speaking students to discuss financial and student related challenges.
Read more: Adding Education to Your Resume
When making a resume in our builder, drag & drop bullet points, skills, and auto-fill the boring stuff. Spell check? Check. Start building a professional resume template here for free.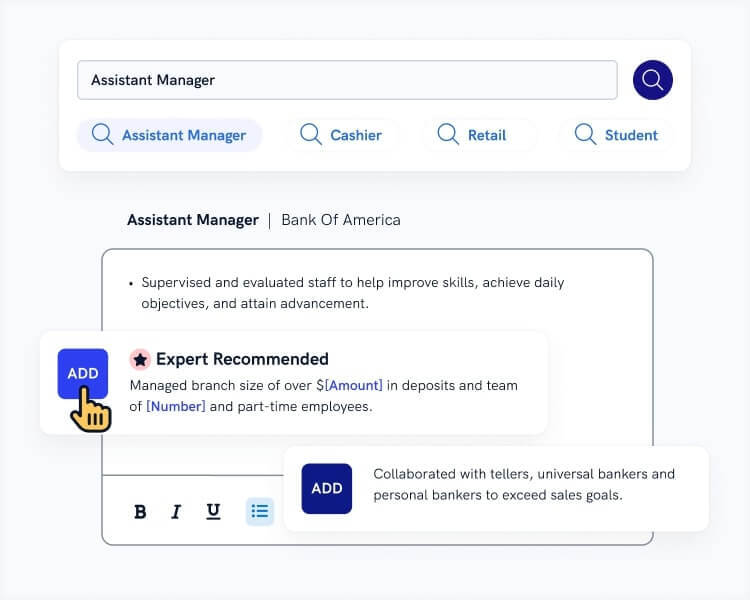 When you're done, Zety's resume builder will score your resume and our resume checker will tell you exactly how to make it better.
Adjust Your Work Experience to Show Your Bilingual Skills
This is a great place to demonstrate how and in what capacity you used your bilingual skills in your everyday job responsibilities.
Add your work experience according to the standard rules for any resume—your job title, place of employment, dates worked, and bullet points highlighting your key achievements. To put emphasis on your language proficiency, add the word "Bilingual" to the beginning of your job title. Also mention in what languages you performed your daily duties.
Here's what the work experience section of a bilingual customer service resume would look like:
Sample Resume: Bilingual in the Work Experience Section
Bilingual Customer Service Representative
Gumshoe Ltd.
Mar 2018 - Feb 2020
Discussed footwear products and services with customers in both Spanish and English.
Managed footwear sales and instructed customers on proper care and use of purchased products.
Assisted in creating special Spanish language ads and flyers to attract Spanish-speaking customers. This led to a 15% increase in sales.
See how the language knowledge was mentioned in a couple of different places and made it really clear that both Spanish and English were a staple in the job experience? That's exactly how you make this section of a resume bilingual.
Read more: How to Add Work Experience to a Resume Professionally
Use the Additional Sections of Your Bilingual Resume to Your Advantage
The additional sections of your bilingual resume can also offer up a multitude of opportunities to mention your native language knowledge.
Brainstorm all the different things you've done or do both personally and professionally where you use your native language skills. This could involve things like projects, volunteer work, or hobbies and interests.
Use the job ad as a guide to know what the hiring managers are looking for. It will help you tailor your resume so as not to spam them with irrelevant information.
Here's how to add 'bilingual' to resume additional sections:
Highlighting Bilingual Skills on a Resume: Other Sections
Volunteer
YMCA
2018-2019
Tutored Chinese-speaking teenagers in sciences who had English as a second language by explaining complex concepts in Chinese. Students' grades overall rose by one letter.
Read more: What to Include in a Resume
Plus, a great cover letter that matches your resume will give you an advantage over other candidates. You can write it in our cover letter builder here. Here's what it may look like: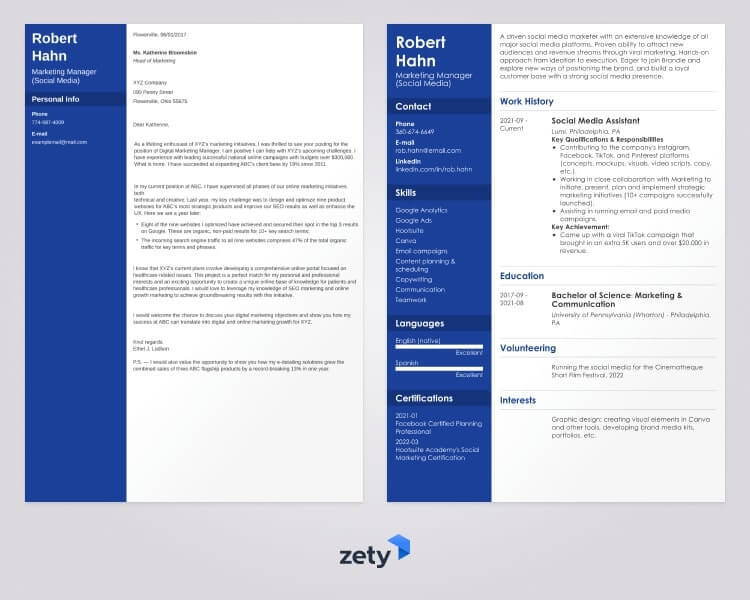 See more cover letter templates and start writing.
Key Takeaway
No matter if the job ad is looking for a bilingual employee or if you want to underline your language skills as something unique about you, highlighting you're bilingual on a resume is pretty simple.
Remember to:
Always add your bilingual skills to the skills section, but don't have to stop there.
Sprinkle your bilingual skills in other resume sections like work experience, education, your resume profile, and additional sections.
That's it!
Thanks for reading! Still have questions about showing bilingual skills on a resume? Let us know down below!
About Zety's Editorial Process
This article has been reviewed by our editorial team to make sure it follows Zety's editorial guidelines. We're committed to sharing our expertise and giving you trustworthy career advice tailored to your needs. High-quality content is what brings over 40 million readers to our site every year. But we don't stop there. Our team conducts original research to understand the job market better, and we pride ourselves on being quoted by top universities and prime media outlets from around the world.