Operating Room (OR) Nurse Resume Sample & Guide
This guide will show you an operating room nurse resume example you can copy, adjust, and use. Plus, pro tips on how to create a resume to land the best OR nurse jobs.
Can many people boast of the fact they make sure no gator is left inside a patient (on a daily basis)?
Only a select few, and you're one of them.
Is it a good enough statement for your operating room nurse resume, though?
Probably not.
So what do you include that's just as impressive, and also equally compelling?
How do you showcase your outstanding skills and get the job you want?
You're about to find out—that, and also some more indispensable resume-writing tips!
This guide will show you:
An operating nurse resume example better than 9 out of 10 other resumes.
How to write an operating nurse resume that will land you more interviews.
Tips and examples of how to put skills and achievements on an operating nurse resume.
How to describe your experience on a resume for an operating nurse to get any job you want.
Want to save time and have your resume ready in 5 minutes? Try our resume builder. It's fast and easy to use. Plus, you'll get ready-made content to add with one click. See 20+ resume templates and create your resume here.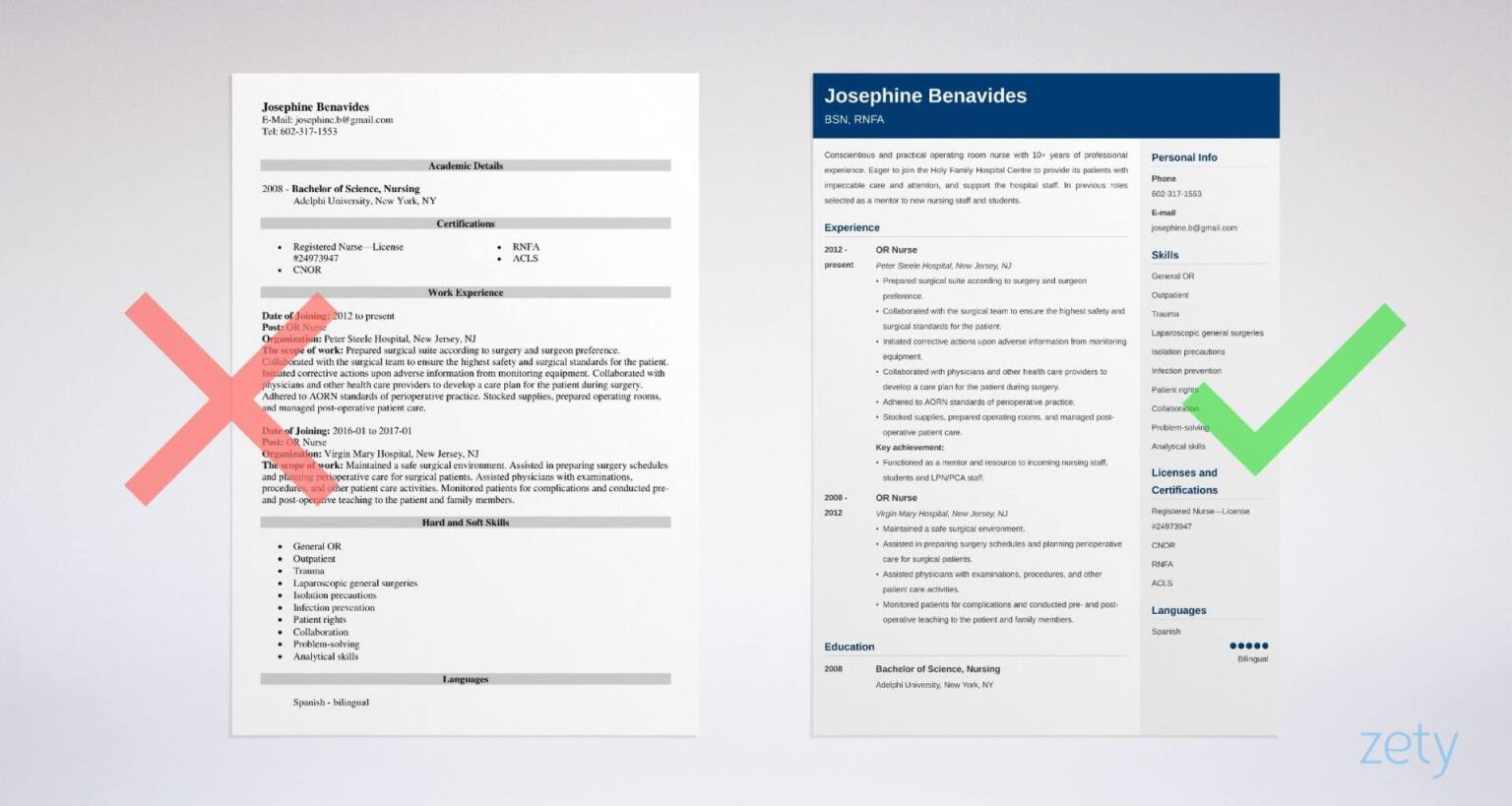 Sample Operating Room Nurse resume—See more resume templates here.
Targeting other medicine, or healthcare jobs? See one of our dedicated guides:
Operating Room Nurse Resume Sample
Josephine Benavides, BSN, RNFA
josephine.b@gmail.com
602-317-1553
Objective
Conscientious and practical operating room nurse with 10+ years of professional experience. Eager to join the Holy Family Hospital Centre to provide its patients with impeccable care and attention, and support the hospital staff. In previous roles selected as a mentor to new nursing staff and students.
Work Experience
OR Nurse
Peter Steele Hospital, New Jersey, NJ
2012–
Prepared surgical suite according to surgery and surgeon preference.
Collaborated with the surgical team to ensure the highest safety and surgical standards for the patient.
Initiated corrective actions upon adverse information from monitoring equipment.
Collaborated with physicians and other health care providers to develop a care plan for the patient during surgery.
Adhered to AORN standards of perioperative practice.
Stocked supplies, prepared operating rooms, and managed post-operative patient care.
Key achievement:
Functioned as a mentor and resource to incoming nursing staff, students and LPN/PCA staff.
OR Nurse
Virgin Mary Hospital, New Jersey, NJ
2008–2012
Maintained a safe surgical environment.
Assisted in preparing surgery schedules and planning perioperative care for surgical patients.
Assisted physicians with examinations, procedures, and other patient care activities.
Monitored patients for complications and conducted pre- and post-operative teaching to the patient and family members.
Education
Bachelor of Science, Nursing
Adelphi University, New York, NY
2008
Licenses and Certifications
Registered Nurse—License #24973947
CNOR
RNFA
ACLS
Key Skills
General OR
Outpatient
Trauma
Laparoscopic general surgeries
Isolation precautions
Infection prevention
Patient rights
Collaboration
Problem-solving
Analytical skills
Languages
Here's how to write your OR nurse resume that shows you're instrumental:
1. Choose the Best Format for Your Operating Room Nurse Resume
An operating room and your resume have a lot in common.
Both must be perfectly organized, for one.
Here's how to format your operating nurse resume:
Make sure the resume header has all your contact information.
Add large reader-friendly headings to each resume section.
Pick out the best resume format for your needs. Most often, the chronological format is preferred as it puts your experience and achievements in the limelight.
Choose an elegant and legible resume font.
Don't be afraid of white space. Stuffing your resume with irrelevant information won't work to your advantage.
Save your resume as a PDF or MS Word file. In most cases, PDF is preferred. Unless they specifically ask the candidates to send an MS Word format file.
2. Write an Operating Room Nurse Resume Objective or Summary
A resume objective and summary are collectively referred to as a resume profile.
Consider it an abbreviated version of your entire OR resume.
Since it's one of the first things the hiring manager will see on your resume, it should immediately show you're second to none.
If you're an experienced nurse with 2+ years of experience, go for a resume summary. This is a brief paragraph summarising your work history and key achievements.
A resume objective is more suitable for entry-level candidates and freshers. In contrast to the resume summary, it highlights the skills you learned to show you've got potential.
Pro Tip: Write your resume profile as the last step of making your resume. It will be much easier to abbreviate your resume once you have the full-length version.
3. Create the Perfect Operating Room Nurse Job Description for a Resume

If your resume profile is the first incision, the work experience section is where the operation is well underway.
It's the part that must show the recruiter you have it all. So, make sure you bring up the best you can offer.
Here's how to nail your operating room nurse job description:
Start with listing your most recent position and then move on to the previous ones.
Include your job title, company name, and dates worked in each section.
Use bullet-point lists to present your duties and achievements. 6–7 bullets are enough for each position.
Concentrate on the experience relevant to the job. Always tailor your resume.
Use action verbs in your bullet points. For example, prepared, collaborated, stocked, conducted, etc.
Quantify whatever you can. Numbers speak louder than words.
Pro Tip: There's a larger skills gap in healthcare than in overall economy now, so let your experience section display both: your technical expertise and soft skills.
4. Make Your Operating Room Nurse Resume Education Section Indispensable
Your OR resume won't be fully operational without a proper education section.
Here's how to list your operating room nurse education:
If you have more than 5 years of experience. Simply list your degree, school name, location, and graduation year.
Less than 5 years of experience? Add info on your GPA (if above 3.5), relevant coursework academic achievements, extracurricular activities.
List your professional certifications and licenses in a separate section or subsection.
5. Highlight Your Operating Room Nurse Skills
Here's a list of operating room nurse skills you might want to use as a source of inspiration.
Operating Room Nurse Resume Sample—Skills
Technical Skills:
Thyroidectomy
Scrub general surgery
Malignant hyperthermia protocol
Administering and monitoring moderate sedation
Universal protocol for wrong site surgery
National patient safety goals/core measures
Fall risk assessment/prevention
CVOR
Abdominal perineal resection
Appendectomy/cholecystectomy
Breast biopsy
Colon resection/surgery
Gastrectomy
Pressure ulcer risk assessment/prevention
Restraints/use of least restrictive device
Age-specific/population-based care
Transferable and Soft Skills:
Remember: Focus on the hard skills and soft skills relevant to the position. Do not list everything.
Here's how to identify relevant OR nurse skills:
Start off with listing all your job skills (incl. soft skills & hard skills, and technical skills.)
Consult the job ad to see what skills are identified by name. Note them down.
Now compare both skills sets, see where they overlap. The overlapping skills are the skills you'll want to highlight on your resume.
Sprinkle your entire resume with skills. Don't just put them on a list in your key skills section.
Pro Tip: Show only your strongest skills and limit yourself to listing up to 10. This way you'll avoid the so-called presenter's paradox.
When making a resume in our builder, drag & drop bullet points, skills, and auto-fill the boring stuff. Spell check? Check. Start building a professional resume template here for free.
When you're done, Zety's resume builder will score your resume and tell you exactly how to make it better.

6. Add Other Sections to Your Operating Room Nurse Resume
If you want to stand out from the crowd by far, consider including several additional sections:
7. Attach a Cover Letter to Your Operating Room Nurse Resume
Contrary to popular belief—

Cover letters are still going strong.
Suffice it to say 50% of recruiters still expect you to send a cover letter. Use these 4 simple tips to get your cover letter just right in no time:
Pro Tip: Follow up on your job application. Send an thank-you email or make a phone call. It doesn't cost much effort but can help you a lot.
Your operating room nurse resume is ready.


Plus, a great cover letter that matches your resume will give you an advantage over other candidates. You can write it in our cover letter builder here. Here's what it may look like: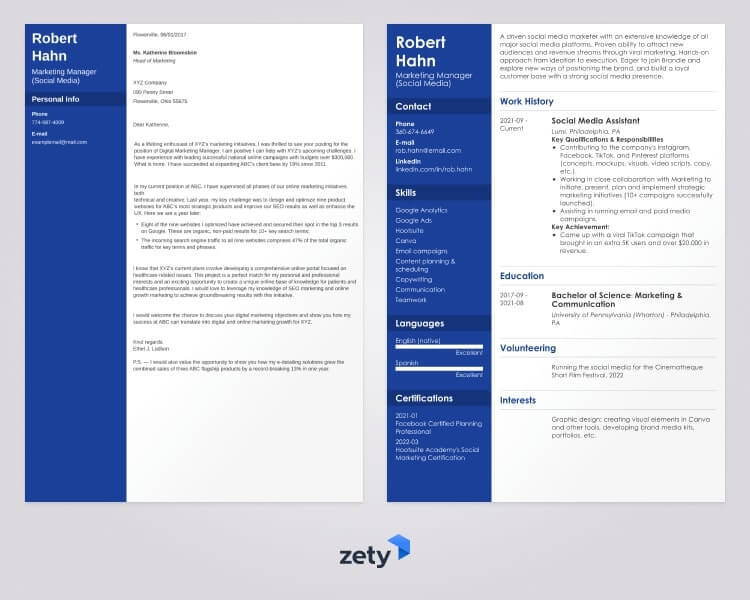 See more cover letter templates and start writing.
Are you writing an operating room nurse resume for the first time? Or perhaps you're a seasoned pro eager to help the rookies out? We'd love to hear from you, leave your comment below!