Medical Surgical Nurse Resume Sample [Job Description Tips]
This guide will show you a med-surg nurse resume example you can copy, adjust, and use. Plus, pro tips on how to create a resume to land the best med-surg nursing jobs.
Medical Surgical Nurse Resume Sample
Mathilde Fraga, BSN, CMSRN
mathilde.fraga@gmail.com
516-456-8294
Objective
Attentive and qualified Medical Surgical Registered Nurse with 10+ years of professional experience. Eager to join Trinity Hospital to deliver compassionate nursing care to patients with medical and surgical conditions. In previous roles managed a team of RNs in a 10-bed PACU unit, and coached incoming nursing staff.
Work Experience
Med/Surg Registered Nurse
Brookdale Medical Center, New York, NY
2012–
Monitored patients' vital signs.
Administered medication via IV/PO/SQ/IM.
Established IV access to take blood samples.
Monitored and recorded input and output in patients with renal failure, gastroenteric, and cardiac conditions.
Removed secretions using aspiration technique in patients with endotracheal tubing.
Key achievements:
Managed a PACU RN team in a 10-bed ward.
Mentored and coached inexperienced licensed and unlicensed staff.
RN
St. Adalbert's Hospital, New York, NY
2008–2012
Maintained and managed patients database in EMR software.
Performed patient's assessment incl. cardiovascular, urinary catheters, respiratory, neurologic, tracheostomy, and trauma.
Managed oral and intramuscular subcutaneus medications.
Assisted patients with bathing, dressing, maintaining personal hygiene, moving in bed, standing and walking.
Educated patients and their families on disease processes, med/surg procedures and medication.
Key achievement:
Regularly exceeded call of duty by working additional shifts.
Education
Bachelor of Science, Nursing
Molloy College, New York, NY
2008
Licenses and Certifications
Registered Nurse—License #24973947
CMSRN
CPR
ACLS
IV Certification
Key Skills
Pain management
Administration of blood and blood products
Obtaining blood from central venous line
IV Therapy
Care of drains/tubes (i.e. hemovac, etc.)
Providing for safe patient environment
Communication
Patient rights
Collaboration
Problem-solving
Languages
Want to save time and have your resume ready in 5 minutes? Try our resume builder. It's fast and easy to use. Plus, you'll get ready-made content to add with one click. See 20+ resume templates and create your resume here.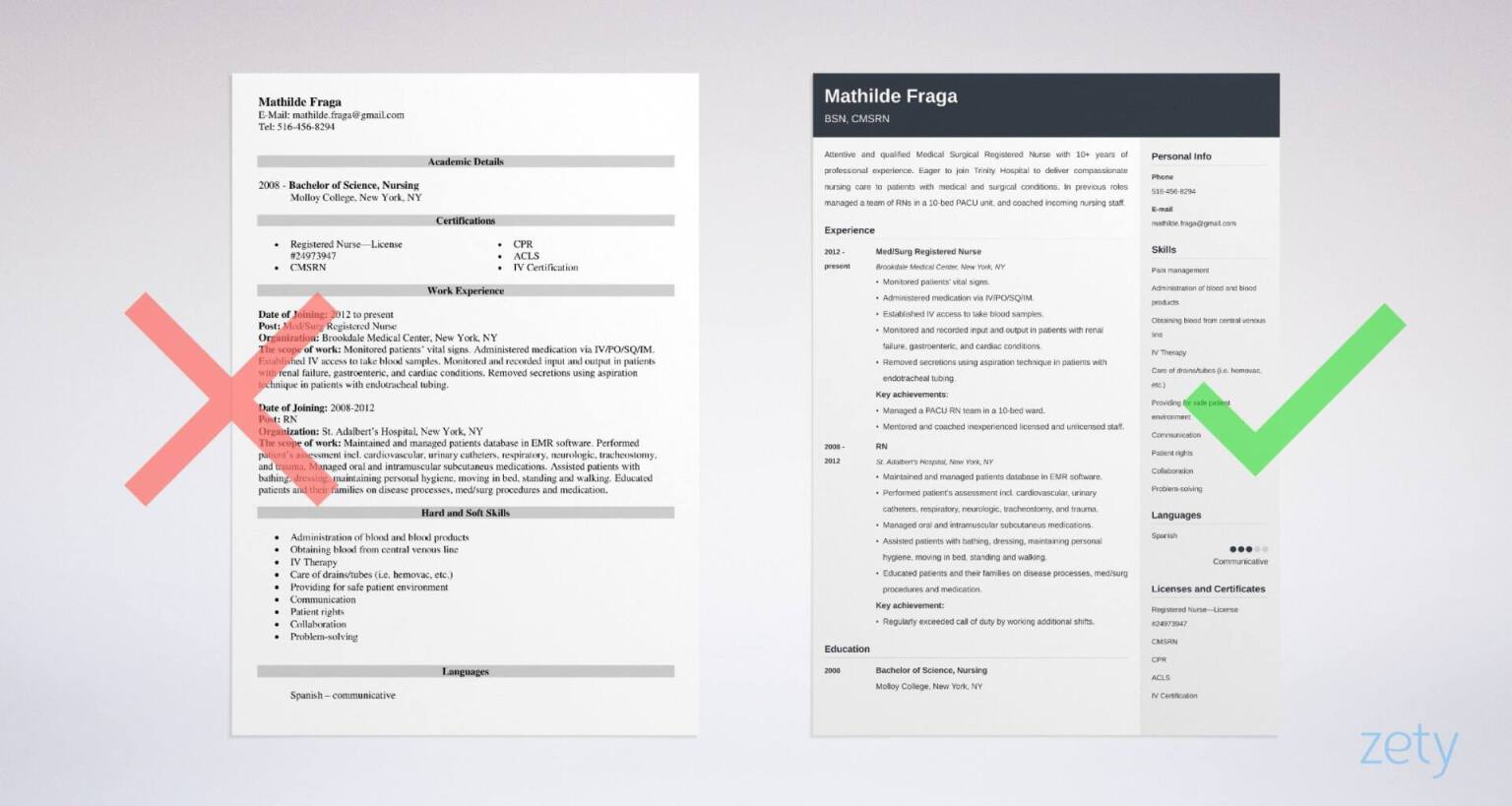 Sample Med-Surg Nurse Resume—See more templates and create your resume here.
Targeting other medicine, or healthcare jobs? See one of our dedicated guides:
Here's how to write your med-surg nurse resume that proves you're indispensable.
1. Choose the Best Format for Your Med Surg Nurse Resume
Med-surg nurses are well-known for both their organizational skills.
To get a chance to prove yours you need to—
Put your resume in order:
2. Write a Medical Surgical Nurse Resume Objective or Summary
Your resume profile, as the objective and summary are collectively referred to, is one of the first things a recruiter will look at on your resume.
It serves as a short version of the entire document.
As such it should concentrate on the highlight on your resume.
If you have more than 2 years of experience, go for a resume summary. It's a short paragraph presenting your professional experience and key achievements that show the potential you have to a prospective employer.
If you have less than 2 years of experience, a resume objective is more suitable. It's a short blurb that demonstrates your skills and education to show the employer you're a perfect fit.
Pro Tip: It's a good idea to write this section once you come up with a full-length version of your resume. Since it's a short version, it would be good to have the long version first.
3. Create the Perfect Medical Surgical Nurse Resume Job Description

The work experience section is where the vital fluids of your resume flow. It calls for special care and attention.
Why?
This section shows the recruiter you've got exactly what it takes to succeed in the role.
Here's how to nail your med-surg nurse job description on a resume:
Start off with your latest workplace and position. Follow it up with the previous ones.
Make sure each entry includes the job title, company name, location, and dates worked.
Put your med-surg nurse duties and achievements on a bullet-point list.
Let every entry comprise up to 6–7 bullets.
List your relevant experience, and tailor your resume to the job offer.
Use action verbs (e.g. administered, managed, assessed, etc.) for maximum impact.
Quantify whatever you can.
Pro Tip: Your safest bet is to use the phrasing from the job offer, in case the employer uses the ATS software. It is especially important in the context of a large skills gap in the healthcare sector.
4. Make Your Med-Surg Registered Nurse Resume Education Section Shine
The education section on your medical-surgical registered nurse resume is essential.
Here's how to what you need to do:
Have more than 5 years of professional experience? Simply list your degree, school name, and graduation year. That's it.
Less than 5 years of experience? Add information on your GPA (if upwards of 3.5), extracurricular activities, academic achievements, and relevant coursework.
List your professional licenses and certifications. You can put them in a dedicated section.
5. Highlight Your Med-Surg Nurse Skills
The list of skills below might help you identify your own key abilities.
Med-Surg Nurse Resume—Skills
Technical Skills:
Burn patients
Inserting IV's/IV therapy
Set-up for cutdown
Performing complex dressing changes
Monitoring and assessing I&O
Using PCA System
Using SCD or venidyne devices
Using PICC, Hickman, Central Line
General medicine/surgery expertise
IV Certified
Obtaining peripheral venous blood
Administering and monitoring IV anticoagulants
Transferable and Soft Skills:
It's important you focus on the skills relevant to the job.
Here's how you can identify the key med-surg nurse skills:
Make a master list of all your job skills. Include both your hard skills and soft skills.
Go back to the job ad to see what skills they require.
See which skills from your list appear in the job ad. Found them? Great. These are your key skills.
Make sure your key skill section doesn't exceed 10 items. And focus on your top skills to avoid presenter's paradox.
Now, remember: it's not enough to put them on your med-surg nurse resume under in a key skills section. Pepper your entire resume with them—place some in your resume profile and job description sections as well.
Find more in our comprehensinve guide on Nursing Skills: A Checklist For Your Career & Resume
When making a resume in our builder, drag & drop bullet points, skills, and auto-fill the boring stuff. Spell check? Check. Start building your resume here.
Pro Tip: Read this article to get inspired about what skills a med-surg nurse can put on a resume.
When making a resume in our builder, drag & drop bullet points, skills, and auto-fill the boring stuff. Spell check? Check. Start building your resume here.
When you're done, Zety's resume builder will score your resume and tell you exactly how to make it better.
6. Add Other Sections to Your Med-Surg Nurse Resume
Make your resume stand out from the crowd by adding some of the following sections:
7. Attach a Cover Letter to Your Med-Surg Nurse Resume

You might be tempted to think otherwise, but—
Cover letters are still in the game.
Five out of ten recruiters will expect you to send a cover letter along with your resume.
Follow these hints to make writing cover letter as easy as taking temperature:
Pro Tip: Follow up on your job application. A simple email or phone call can help you a lot.
And that's all!
That's how you make a resume for med-surg nurse positions.


Are you writing a medical-surgical nurse resume for the first time? Or perhaps you're a seasoned pro eager to help the rookies out? We'd love to hear from you, leave your comment below!