Pediatric Nurse Resume: Sample & Writing Guide [20+ Tips]
This guide will show you a pediatric nurse resume sample you can copy, adjust, and use. Plus, pro tips on how to create a resume to land the best pediatric nurse jobs.
There are many steps on the way to becoming a nurse. Studying for the nursing degree. Passing exams. Getting a license. Completing an internship.
On top of that, if you want to work with children, you need to specialize in pediatric nursing. But that's not all. After fulfilling all requirements, there's still one more step: finding a job.
To do that, you need a pediatric nurse resume. And it needs to perfectly describe your work experience and highlight your credentials.
This guide will show you:
A pediatric nurse resume example better than 9 out of 10 other resumes.
How to write a pediatric nurse resume that will land you more interviews.
Tips and examples of how to put skills and achievements on a pediatric nurse resume.
How to describe your experience on a resume for a pediatric nurse to get any job you want.
Want to save time and have your resume ready in 5 minutes? Try our resume builder. It's fast and easy to use. Plus, you'll get ready-made content to add with one click. See 20+ resume templates and create your resume here.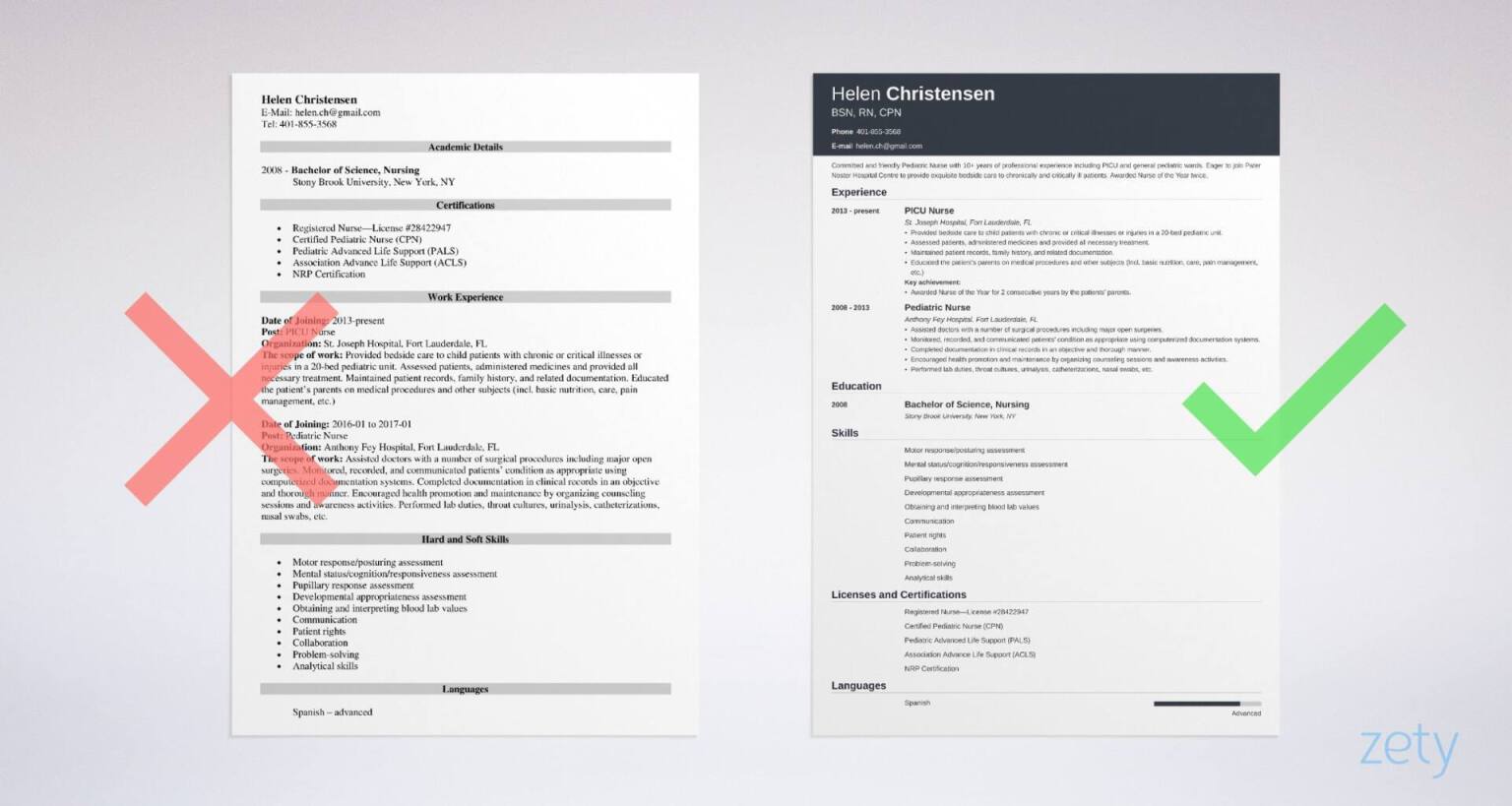 Sample Pediatric Nurse Resume—See more resume templates here.
Targeting other medicine, or healthcare jobs? See one of our dedicated guides:
Pediatric Nurse Resume Sample
Helen Christensen, BSN, RN, CPN
helen.ch@gmail.com
401-855-3568
Objective
Committed and friendly Pediatric Nurse with 10+ years of professional experience including PICU and general pediatric wards. Eager to join Pater Noster Hospital Centre to provide exquisite bedside care to chronically and critically ill patients. Awarded Nurse of the Year twice.
PICU Nurse
St. Joseph Hospital, Fort Lauderdale, FL
2013–
Provided bedside care to child patients with chronic or critical illnesses or injuries in a 20-bed pediatric unit.
Assessed patients, administered medicines and provided all necessary treatment.
Maintained patient records, family history, and related documentation.
Educated the patient's parents on medical procedures and other subjects (incl. basic nutrition, care, pain management, etc.)
Key achievement:
Awarded Nurse of the Year for 2 consecutive years by the patients' parents.
Pediatric Nurse
Anthony Fey Hospital, Fort Lauderdale, FL
2008–2013
Assisted doctors with a number of surgical procedures including major open surgeries.
Monitored, recorded, and communicated patients' condition as appropriate using computerized documentation systems.
Completed documentation in clinical records in an objective and thorough manner.
Encouraged health promotion and maintenance by organizing counseling sessions and awareness activities.
Performed lab duties, throat cultures, urinalysis, catheterizations, nasal swabs, etc.
Education
Bachelor of Science, Nursing
Stony Brook University, New York, NY
2008
Licenses and Certifications
Registered Nurse—License #28422947
Certified Pediatric Nurse (CPN)
Pediatric Advanced Life Support (PALS)
Association Advance Life Support (ACLS)
NRP Certification
Key Skills
Motor response/posturing assessment
Mental status/cognition/responsiveness assessment
Pupillary response assessment
Developmental appropriateness assessment
Obtaining and interpreting blood lab values
Communication
Patient rights
Collaboration
Problem-solving
Analytical skills
Languages
Here's how to write your pediatric nurse resume that proves you're a serious candidate.
1. Choose the Best Format for Your Pediatric Nurse Resume
Don't worry about formatting your pediatric nurse resume.
Just follow the guidelines below, and you'll see it's child's play.
2. Write a Pediatric Nurse Resume Objective or Summary
Your resume profile (as it's often called) should top your resume for a pediatric nurse.
It's a kind of short version of the entire document. Let it show the recruiter you've got what it takes to succeed in the role.
A resume summary is suitable for candidates with over 2 years in the workforce. It's a short paragraph focused on your professional experience and achievements.
A resume objective is great for entry-level positions. It concentrates on the skills you've learned to demonstrate your future employer how you can help them achieve goals.
To make your resume profile stand out, add numbers or percentages that demonstrate your professional or academic accomplishments (e.g. years of experience, GPA, etc.). You can mention your biggest wins or awards.
Prove you're the best right off the bat.
Pro Tip: Write this section once your entire resume is ready. This way it will be much easier for you to write it. You need to have the full-length version first to be able to come up with a short one.
3. Create the Perfect Pediatric Nurse Job Description for a Resume

It's the professional experience section that's the lifeforce behind your pediatric nurse resume.
It needs to show the recruiter three most important things.
One: you've got all the technical skills and experience necessary.
Two: your little patients are going to love you for the kind of person you are.
Three: you know what it means to work as part of a team.
Here's how to get your pediatric nurse job description for a resume right:
List your latest position first and move on to the previous ones.
For each position list a job title, company name, location, and dates worked.
Use a bullet point list to present your responsibilities and achievements. Up to 6-7 bullets for each position are enough.
Concentrate on the experience relevant to the job by tailoring your resume to the job ad.
Make sure your resume bullets start with strong resume action verbs: monitored, performed, maintained, assisted, etc.
If you can, put numbers anywhere you can.
Pro Tip: There is a large skills gap in the healthcare industry, so let your experience bullets focus on your technical and soft skills.
4. Make Your Pediatric Nurse Resume Education Section Smile
The education section on a pediatric nurse resume is just as crucial as every other section.
Candidates with over 5 years of experience can limit themselves to listing the degree, school name and location, and graduation year.
Candidates with less experience should consider adding the GPA (if higher than 3.5), extracurricular activities, academic achievements, and relevant coursework.
Professional certifications and licensescan go straight to a separate section to make them visible.
5. Highlight Your Pediatric Nurse Skills
Here's a list of soft skills and hard skills you may want to consider putting on your resume.
Pediatric Nurse Resume—Skills
Technical Skills:
Administering fluids on continuous IV pumps
Setting up and monitoring PCA
Assessing the respiratory system
Administering and monitoring 02 therapy
Chest tube management
Bowel sound assessment
Administering blood and blood values
Appearance/character of urine and stool assessment
Caring for child patients with Meningococcemia
Immunocompromised patient care
Knowledge of Jehovah Witness patient protocol
Obtaining cultures for septic workup (e.g. blood, sputum, catheter tips)
Transferable and Soft Skills:
Remember: pick out your key skills. Don't be tempted to list everything.
Here's how you can identify the skills to put on your resume:
First, make a list of all your job skills (soft skills, hard skills, and technical skills).
Look what skills the job ad mentions.
From your list pick out the ones that also appear in the job ad. Go for the ones you're exceptional at.
Put those skills on your resume in a key skills section.
Cover nursing skills you might have otherwise forgotten.
Sprinkle your skills throughout your entire resume. Put some in your resume profile and job description sections.
Pro Tip: Match your skill set with the type of position you're seeking. For example, a pediatric home health nurse resume would highlight different skills than a pediatric ICU nurse resume.
When making a resume in our builder, drag & drop bullet points, skills, and auto-fill the boring stuff. Spell check? Check. Start building a professional resume template here for free.
When you're done, Zety's resume builder will score your resume and tell you exactly how to make it better.
Follow up with Nursing Skills for Your Career & Resume
6. Add Other Sections to Your ICU Nurse Resume
If you want to make your pediatric nurse resume truly stand out, consider including such sections as:
7. Attach a Pediatric Nurse Resume Cover Letter

Cover letters aren't a thing of the past.
In fact, around 50% of recruiters would like your job application to consist of a resume and a cover letter.
Use the tips below to write your cover letter in a flash:
Pro Tip: To up your chances, consider following up on your job application. A simple email or phone call will show you're a serious candidate.
Plus, a great cover letter that matches your resume will give you an advantage over other candidates. You can write it in our cover letter builder here. Here's what it may look like: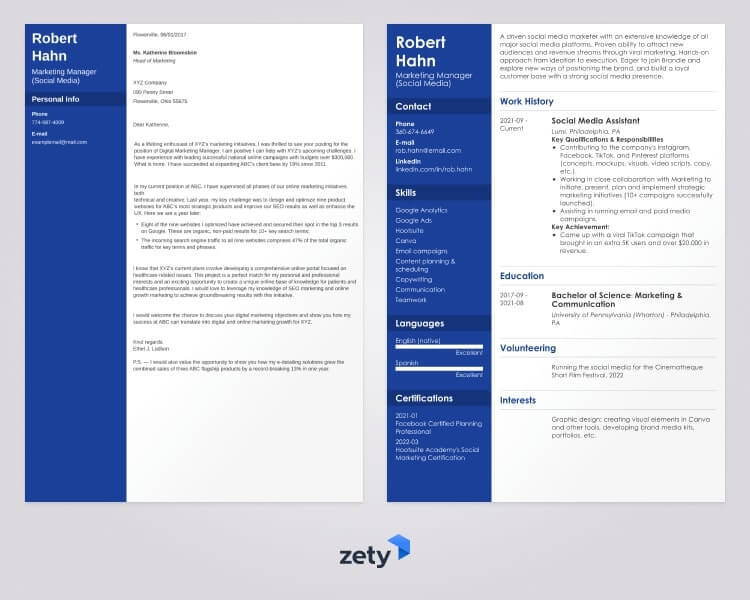 See more cover letter templates and start writing.
There you go.
This is how you make a resume for pediatric nurse positions.
Are you writing a pediatric nurse resume for the first time? Or perhaps you're a seasoned pro eager to help the rookies out? We'd love to hear from you, leave your comment below!