Insurance Claims Adjuster Resume Sample with Skills
You get to the bottom of every case fast, and people like you. But the employer won't know that unless you tell them. Do it with this convincing sample claims adjuster resume.
Claims Adjuster Resume
John Britton, Claims Adjuster
john.q.britton@gmail.com
612-483-2271
Professional Summary
Licensed claims adjuster (Minnesota) with 6+ years of experience, skilled in property & casualty and investigating. Seeking to further adjustment excellence at UPRA Insurance. At Rappaccini & Associates, discovered 28% more frivolous claims than company average. Maintained customer service satisfaction level of 84%.
Work Experience
Claims Adjuster
Rappaccini & Associates
April 2014–April 2019
Found an additional 400 unwarranted claims per year over company average across 25 full-time adjusters.
Maintained record-high customer service satisfaction level at 84% through excellent up-front and post-claim communication with clients.
Coached 10 new employees. Given coaching role because of excellent performance to goals.
Developed 45+ strong business relationships with both external and internal customers.
Claims Adjuster
At Home With Us Insurance Company
Feb 2013–March 2014
Processed 15 claims per week to determine company liability.
Trained colleagues in proprietary investigation and claims processing software.
Handled over 400 calls per month, maintaining 85% satisfaction rating.
Education
2011–2015 University of St. Thomas
B.S. in Business Administration
Excelled in finance, accounting, and business law classes.
Elected as treasurer of student government.
Certification
Minnesota State Claims Adjuster License
Skills
Soft skills:

Interpersonal skills, communication, negotiation, decision making

Hard skills:

Property & casualty, investigating, estimating, policy knowledge
Activities
Volunteer security administrator, BSA Northern Star Council
Leader, cross-country skiing club, increased membership 95%.
Are you sure you need a claims adjuster resume? See these other guides:
Want to save time and have your resume ready in 5 minutes? Try our resume builder. It's fast and easy to use. Plus, you'll get ready-made content to add with one click. See 20+ resume templates and create your resume here.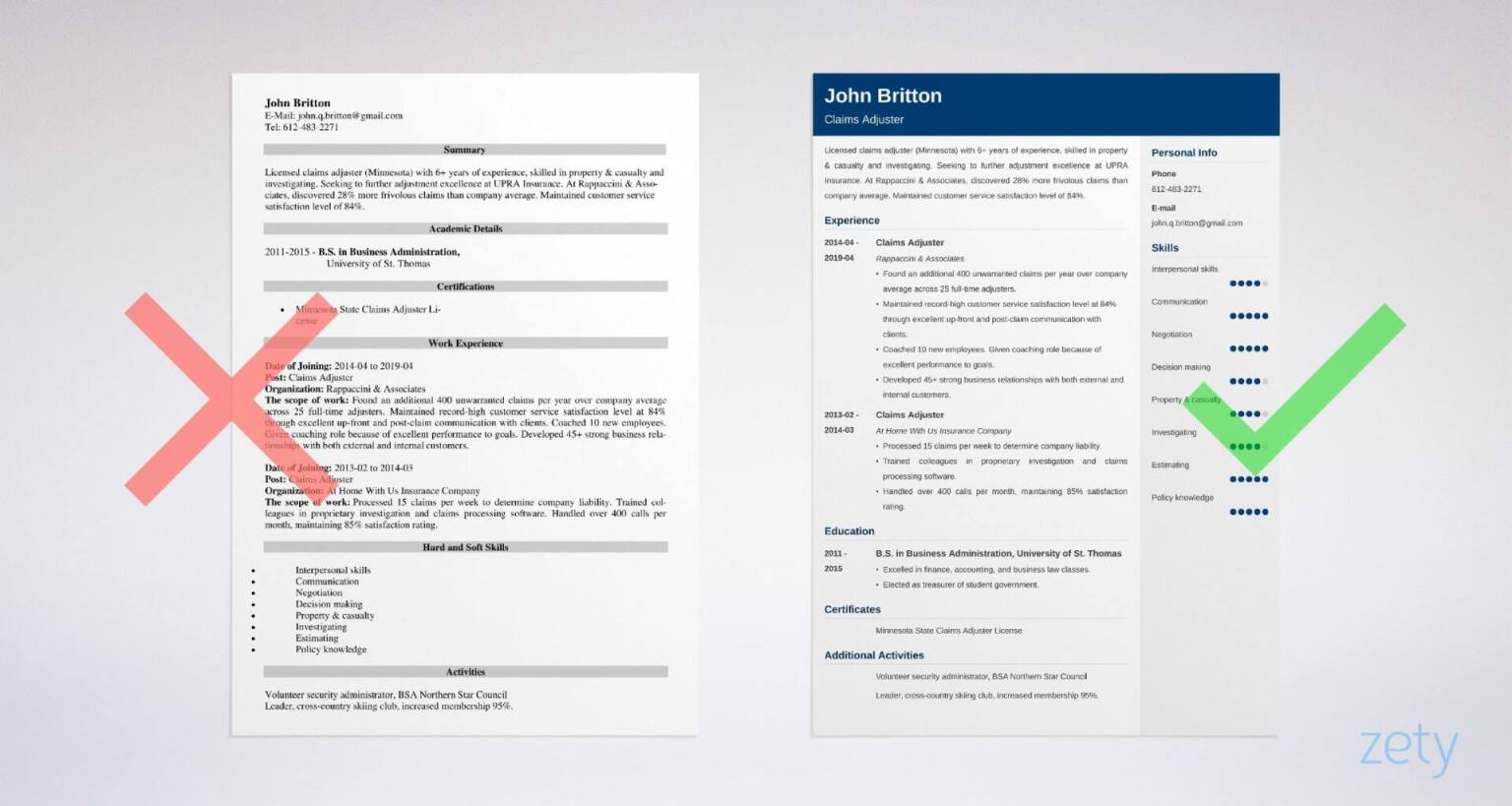 Sample Claims Adjuster Resume—See more templates and create your resume here.
Here's how to write a claims adjuster resume that gets jobs:
1. Format Your Claims Adjuster Resume
You'd never turn in a sloppy claims investigation.
So why would you turn in a poorly-formatted claims adjuster resume?
To show you're on it:
Pro Tip: If you're asking how long should my resume be, the answer is a single page. It's not the entire tale of your career. It's the best snips that fit on that one 8x11 sheet.
2. Write a Claims Adjuster Resume Objective or Resume Summary
Get noticed
You know the hiring manager is swamped.
So put your most compelling features in the first five seconds of your property claims adjuster resume.
Do that with a profile for your resume.
Been adjusting claims more than 2 years? Use a professional career summary in your resume. That's an elevator pitch for a job in about three sentences.
Making an entry-level resume for claims adjusters? Use a career objective for your resume. It zeroes in on skills, not work history.
Add a short list of professional accomplishments to either one.
Pro Tip: In a claims adjusting resume with no experience, highlight your common skills from other jobs, like people skills, communication, or teamwork.
3. Make a Claims Adjuster Job Description for Your Resume
Here's who they'll hire:
Not the claims adjuster candidate who's "handled" the job before.
They'll hire the one who proves she did it well.
Be #2 by showing your relevant work experience like this:
Show the company name, job title (Claims Adjuster), and work months and years.
Put some duties in your bullet points, but also tailor your resume to the job like this:
Pick the most important claims adjusting skills in the job ad. Then find your past accomplishments that show you've used them.
Include numbers like 28% or 84% to show you really helped the company.
Use action verbs for resumes to keep them interested.
Pro Tip: Want to show claims adjuster experience on a resume? Find achievements in your claims adjuster job that prove skills from the new career.
4. Adjust Your Claims Adjuster Resume Education Section
Don't waste this chance.
Your auto claims adjuster resume education section should prove something.
Do it by showing more evidence you've done things well:
First list school name, degree, and dates.
Add things like groups, projects, professor comments, or classes you excelled in.
Put your claims adjuster certificate in a bullet near the end.
Pro Tip: Does GPA matter in an insurance resume? Only if it's shockingly high or really recent. Otherwise, use the extra resume space on something more eye-popping.
5. Prove Claims Adjuster Skills in Your Resume
Use this claims adjuster resume skills list:
Claims Adjuster Resume Skills
Hard Skills:
Liability
Property & casualty
Customer service
Claims handling
Property claims
Investigating
Litigating
Estimating
Business claims
Fire insurance
Hail and crop damage
Water & flood claims
Health insurance
Life insurance
Working with industry experts
Computer skills
Policy knowledge
Soft Skills:
Collaboration
Perceptiveness
Attention to detail
Integrity
Innovation
Negotiation
Here's a tip—
What are hard skills? Those are technical skills that match the job precisely. Mix them in with soft skills. But focus on the ones that this job wants.
Pro Tip: If the job you're applying to doesn't care about fire insurance skills and you're a whiz at them, consider focusing on different skills. Or—pick a different job opening.
When making a resume in our builder, drag & drop bullet points, skills, and auto-fill the boring stuff. Spell check? Check. Start building your resume here.
When you're done, Zety's resume builder will score your resume and tell you exactly how to make it better.
6. Add Other Sections to Your Claims Adjuster Resume
What will make them notice you?
Adding "other sections to your independent claims adjuster resume.
Use them to show energy and passion.
Choose from::
Activities
Associations
Publications
Conferences
Freelance work
Groups, clubs
Employer commendations
Exercise
Pro Tip: Put your claims adjuster certification in a special section under "education." You can also put it in your summary and in your resume heading. Redundancy is good.
7. Send a Cover Letter With Your Claims Adjuster Resume
Do you need a cover letter in a claims adjuster resume?
Of course.
Most employers want them.
But don't be cookie-cutter. Show passion.
The format of a cover letter should meet these criteria:
Pro Tip: Send a job application follow up email. That can be a one-line nudge that gets the hiring manager to say, "Oh yeah. I meant to call her."
That's it!
That's how to write a resume for claims adjuster positions.
Need more tips on how to write a claims adjuster resume? Got great ideas for new insurance resume writers? Give us a shout in the comments. We'd love to talk!