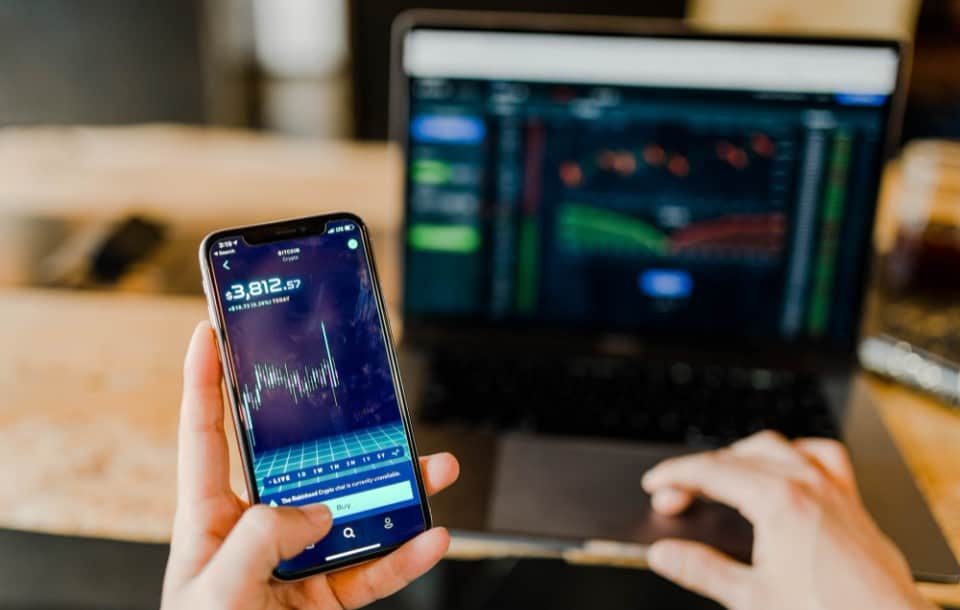 Budget Analyst Resume: Sample & Guide
You write budget reports for a living, and you're great at it. But do all your numbers add up? Read our budget analyst resume writing guide and you'll get any finance job you want!
As a budget analyst, you're a financial whiz who can make every dollar count. But is your resume as impressive as your number-crunching skills?
We'll help you craft a budget analyst resume to make the recruiter's eyes glow like matchsticks. Because, unlike all the other candidates, you will write an eye-catching budget analysis resume that checks all the right boxes.
This guide will show you:

A budget analyst resume example better than 9 out of 10 others.
How to write a budget analyst resume that will land you more interviews.
Tips and examples of how to put skills and achievements on a budget analyst resume.
How to describe your experience on a resume for a budget analyst to get any job you want.
Want to save time and have your resume ready in 5 minutes? Try our resume builder. It's fast and easy to use. Plus, you'll get ready-made content to add with one click. See 20+ resume templates and create your resume here.
Sample resume made with our builder—See more resume examples here.
And if you're after other economy/financial positions, we have guides for them, too:
Budget Analyst Resume Sample
Jake Hurd
Budget Analyst
781-543-0751
Jakehurd@gmail.com
Linkedin.com/in/jakehurd
Objective
Passionate and motivated recent graduate of economics at the University of Madison. Completed 3 internships, and was offered a full-time position based on excellent performance and merit at Goldman Sachs. Currently driving growth through data-driven budget analysis for 5 different clients. Seeking to employ great budgeting and trend analysis skills at Freeman&Co to increase yearly profits.
Work Experience
Junior Budget Analyst
Goldman Sachs, Boulder, CO
2018–present
Prepared and proofread monthly financial reports for a portfolio of clients with businesses in 5 different fields.
Advised clients on how to divert flow of funding in an ever-changing financial market based on analyzing recent trends, leading to total savings of 3–12% across the board.
Streamlined reporting methods while maintaining 100% accuracy.
Ensured complete compliance with federal and state financial regulations.


Internships
Assistant Budget Analyst
Various, Madison, WI
2016–2018
Assisted in preparing thought-out budgets through detailed reports financial records.
Shadowed senior budget analysts and learned proper business practices.
Attended client meetings, taking minutes and preparing notes to ensure nothing got lost in preparation for subsequent meetings.
Education
Bachelor's Degree in Investment Banking
University of Wisconsin-Madison
Graduated: 2018
Relevant Coursework: Financial Accounting, Personal and Professional Foundations in Business, Principles of Macroeconomics, Investment Theory, Business Law
Club Memberships: Capital Management Club, Investment Banking Club (President in 2015)
Skills
Hard skills: generating reports, trend analysis, MS Access, MS Office, investing
Soft skills: communication, analytical thinking, interpersonal skills
Interests
Investment banking
Cryptocurrency investment and trend tracking
Here's how you can write a remarkable budget analyst resume that gets jobs:
1. Select an Appropriate Format for a Budget Analyst Resume
Budget analysts use data on a company's finances to develop accurate and appropriate budget plans, alongside managing funds and producing cost efficiency reports. Your budget analyst resume needs to prove you have the analytical skills and attention to detail needed to succeed in this field.
Wow, that's quite a lot on your plate!
Everything needs to be planned and accounted for—just like in your resume. Get it done right by following these resume formatting rules:
Now, how many pages should your resume be? Good question. Definitely shorter than a financial report. Your best bet is to keep it at one page only.
Read more: What Does a Perfect Resume Look Like? Guide + Examples
2. Write a Budget Analyst Resume Objective or Resume Summary
Recruiters need to be dazzled by an eye-catching resume profile, else they won't pass your application to their superiors. You want to grab and hold their attention from the very first glance: and this is why writing a great resume profile is crucial.
Have plenty of experience under your belt, say 2+ years? Right on! Write a succinct resume summary, where you talk up your budget analyst game and state your strengths and proudest accomplishments.
Changing careers? Fresh grad? Not enough experience to be boastful yet? Go with a bold resume objective. Describe the knowledge and skills you have, and impress your addressee with ways you believe those same attributes could apply to a budget analyst job, and also make their company and life better.
Trust me, if you put enough emphasis on transferable skills, you're bound to make a good impression.
However, it's true that writing a resume profile can be more tedious and exhausting than crunching the numbers in a never-ending Excel spreadsheet. If you're burned out, come back to this later after you've written all the other sections first.
Read more: How to Start Your Resume: Guide, Tips & Examples
3. Describe Your Work Experience on a Resume for Budget Analysts
Did you know the demand for budget analysts is estimated to grow up to 7% by 2024? That's some hefty competition brewing for you…
Therefore, creating a great work experience section is paramount to your success. This is where you put your skills, all of them, proudly up on display in an embellished trophy case. But you have to make sure those trophies are lined up nice and tight.
List your past positions, starting from the most recent one as we've discussed.
Each position should come equipped with the company's name, your job title, and the years you worked there. You will also have to add bullet points to describe your accomplishments, with the freshest job having the most, and others progressively fewer.
Include action words when talking about your achievements. They draw attention.
Speaking of relevant professional achievements, provide numbers when you describe them. "Raised efficiency of X program by Y%" is miles better than "Did one thing, helped with another".
Lastly, to get past the resume Applicant Tracking System, you need to utilize specific resume keywords extracted from the job listing. That way you'll end up submittinga tailored resume, which is what you should strive to do anyway, rather than mass-sending generic and bland copies.
Read more: Relevant or Not So Much? How to Choose Relevant Experience for Your Resume
4. Touch Up Your Education Section on Your Budget Analyst Resume
Who cares about education, all that matters is your job experience, right?
Couldn't be further from the truth.
Sure, if you're really experienced, you can almost skip this—all you need to do are the basics. The school name, degree, and year of graduated.
But if you're not, that's a different story all together. With less than 5 years of experience, the education section can come to your rescue and help you fill in the gaps. You can include information such as relevant coursework, honors on your degree, a GPA that's high enough for a resume, and extracurricular activities, just to name a few.
Read more: How to Put Your Degree on a Resume
5. Demonstrate Your Budget Analysis Skills
According to this US government write-up, there are over 20 skills critical for a budget analyst.
Phew, that's quite a lot, even if you're writing a budget analyst resume for federal government.
But if you just copy-pasted all of them into your job skills section, it would blow up in your face.
Here's how to go about creating a skills portfolio the right way:
Create a master list of all the skills you possess. Doesn't matter what the nature of the skill is, be it hard skills, soft skills, or technical skills: compile them all.
Cross-reference your list with the job posting to see what the company is after and what they want to focus on. It should give you a clear idea which skills will be considered most valuable.
Finally, on your actual skills section, include 7–10 of those skills that make the best matches.
Here's a sample list of budget analyst skills:
Budget Analyst Resume Skills
Economics
Financial planning
Preparing forms
Automated data processing
Aggregating information
Knowledge of law and regulations
Accounting skills
Data analysis
Report preparation
Accounting software
Trend analysis
Budgeting
Mathematics
Read more: What Skills to Put on Your Resume: Guide with 99+ Key Skills
When making a resume in our builder, drag & drop bullet points, skills, and auto-fill the boring stuff. Spell check? Check. Start building a professional resume template here for free.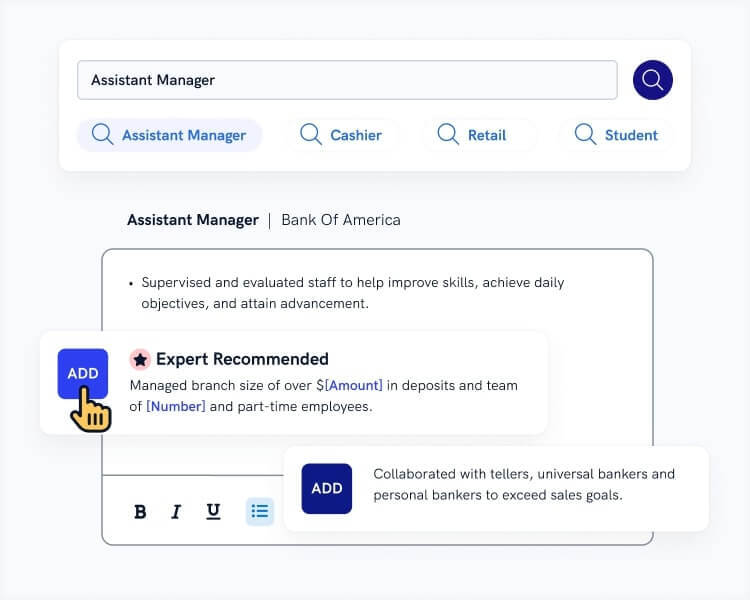 When you're done, Zety's resume builder will score your resume and our resume checker will tell you exactly how to make it better.
6. Include Other Sections on Your Budget Analyst Resume
So far, you've got a decent resume on your hands. To make it even better, you have to show passion for the job, or some special and unique qualities about you. That will make the recruiter happier than your inbox makes you when it's clean from unresolved funding requests.
Here's how you do that:
Read more: What to Put on a Resume to Make It Perfect
7. Compose a Cover Letter and Send It with Your Budget Analyst Resume
Think you don't need a cover letter?
Well, statistically, a cover letter will increase your chances of getting hired. That's because a good chunk of recruiters won't bother reading your resume at all if they don't see a cover letter was attached as well.
So you better get to writing.
Follow these cover letter writing tips to get there error-free:
Lastly, remember that the ideal length for a cover letter should not exceed a single page.
Plus, a great cover letter that matches your resume will give you an advantage over other candidates. You can write it in our cover letter builder here. Here's what it may look like: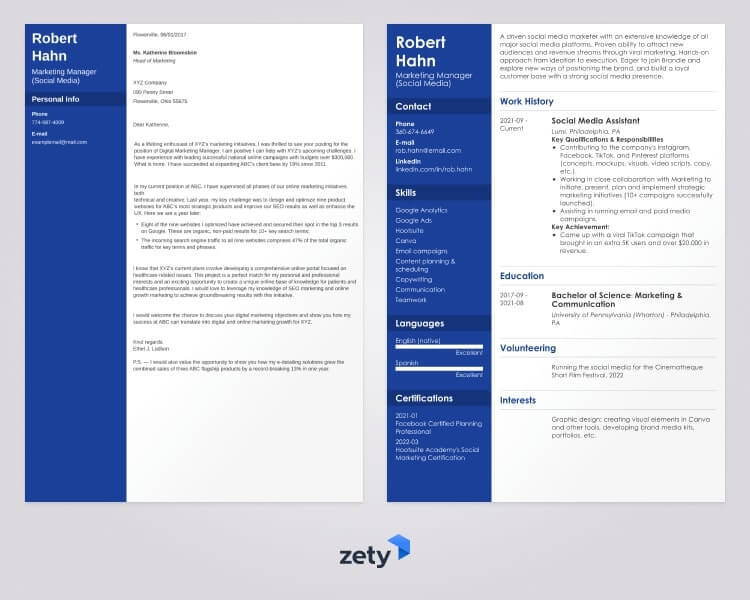 See more cover letter templates and start writing.
And there you have it! A perfect budget analyst resume!
Enjoy our guide? Why not let us know in the comments below! You can also feel free to leave any questions you may have, and our experts will get back to you. Let's chat!
About Zety's Editorial Process
This article has been reviewed by our editorial team to make sure it follows Zety's editorial guidelines. We're committed to sharing our expertise and giving you trustworthy career advice tailored to your needs. High-quality content is what brings over 40 million readers to our site every year. But we don't stop there. Our team conducts original research to understand the job market better, and we pride ourselves on being quoted by top universities and prime media outlets from around the world.
Sources