Financial Advisor Resume Sample & Guide (20+ Examples)
You help clients realize their dreams. That is, you will if someone hires you. Use this standout sample financial advisor resume to prove you've got the skills like no-one else.
Everyone knows how stressful life as a financial advisor can get. The only thing that's more stress-inducing? Finding a new financial advisor job.
We've all been there. Sending dozens of resumes, getting little to no response. Working with numbers is easier than working with people, right?
To land your dream job, your financial advisor resume should be as special as the Pi. The process is as simple as 1-2-3.
This guide will show you:
A financial advisor resume example better than 9 out of 10 other resumes.
How to write a financial advisor resume that will land you more interviews.
Tips and examples of how to put skills and achievements on a financial advisor resume.
How to describe your experience on a resume for a financial advisor to get any job you want
Want to save time and have your resume ready in 5 minutes? Try our resume builder. It's fast and easy to use. Plus, you'll get ready-made content to add with one click. See 20+ resume templates and create your resume here.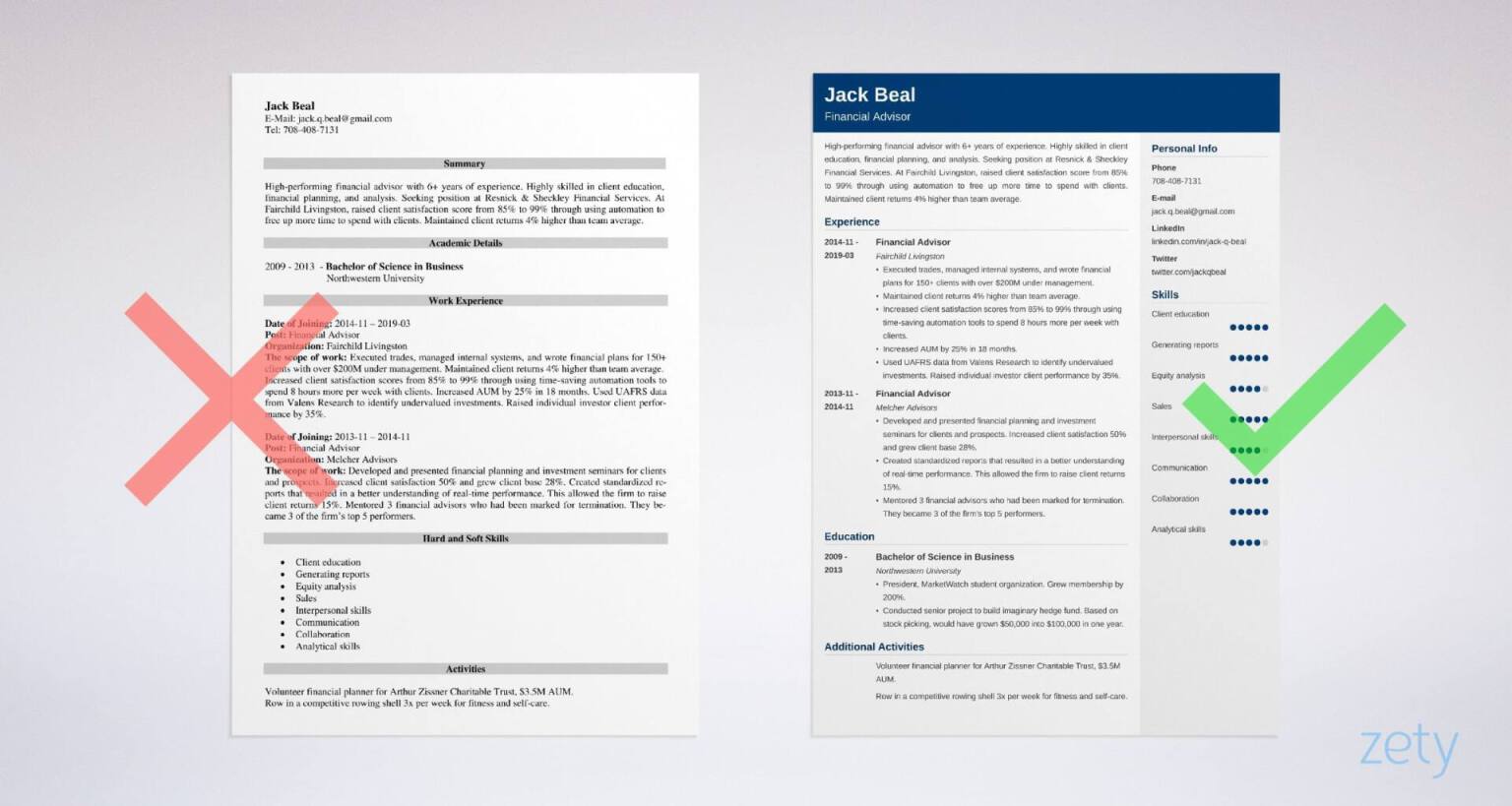 Sample Financial Advisor Resume—See more resume templates here.
Writing just a financial advisor resume or something more? See our other guides:
Sample Financial Advisor Resume Sample
Jack Beal
jack.q.beal@gmail.com
708-408-7131
LinkedIn.com/in/jack-q-beal
Twitter.com/jackqbeal
Professional Summary
High-performing financial advisor with 6+ years of experience. Highly skilled in client education, financial planning, and analysis. Seeking position at Resnick & Sheckley Financial Services. At Fairchild Livingston, raised client satisfaction score from 85% to 99% through using automation to free up more time to spend with clients. Maintained client returns 4% higher than team average.
Work Experience
Financial Advisor
Fairchild Livingston
Nov 2014–March 2019
Executed trades, managed internal systems, and wrote financial plans for 150+ clients with over $200M under management.
Maintained client returns 4% higher than team average.
Increased client satisfaction scores from 85% to 99% through using time-saving automation tools to spend 8 hours more per week with clients.
Increased AUM by 25% in 18 months.
Used UAFRS data from Valens Research to identify undervalued investments. Raised individual investor client performance by 35%.
Financial Advisor
Melcher Advisors
Nov 2013–Nov 2014
Developed and presented financial planning and investment seminars for clients and prospects. Increased client satisfaction 50% and grew client base 28%.
Created standardized reports that resulted in a better understanding of real-time performance. This allowed the firm to raise client returns 15%.
Mentored 3 financial advisors who had been marked for termination. They became 3 of the firm's top 5 performers.
Education
2009–2013 Northwestern University
Bachelor of Science in Business
President, MarketWatch student organization. Grew membership by 200%.
Conducted senior project to build imaginary hedge fund. Based on stock picking, would have grown $50,000 into $100,000 in one year.
Skills
Hard skills:

Client education, generating reports, equity analysis, sales

Soft skills:

Interpersonal skills, communication, collaboration, analytical skills
Activities
Volunteer financial planner for Arthur Zissner Charitable Trust, $3.5M AUM.
Row in a competitive rowing shell 3x per week for fitness and self-care.
Here's how to write a financial advisor resume that gets jobs: