Financial Advisor Resume Sample & Guide (20+ Examples)
You help clients realize their dreams. That is, you will if someone hires you. Use this standout sample financial advisor resume to prove you've got the skills like no-one else.
Sample Financial Advisor Resume Sample
Jack Beal
jack.q.beal@gmail.com
708-408-7131
LinkedIn.com/in/jack-q-beal
Twitter.com/jackqbeal
Professional Summary
High-performing financial advisor with 6+ years of experience. Highly skilled in client education, financial planning, and analysis. Seeking position at Resnick & Sheckley Financial Services. At Fairchild Livingston, raised client satisfaction score from 85% to 99% through using automation to free up more time to spend with clients. Maintained client returns 4% higher than team average.
Work Experience
Financial Advisor
Fairchild Livingston
Nov 2014–March 2019
Executed trades, managed internal systems, and wrote financial plans for 150+ clients with over $200M under management.
Maintained client returns 4% higher than team average.
Increased client satisfaction scores from 85% to 99% through using time-saving automation tools to spend 8 hours more per week with clients.
Increased AUM by 25% in 18 months.
Used UAFRS data from Valens Research to identify undervalued investments. Raised individual investor client performance by 35%.
Financial Advisor
Melcher Advisors
Nov 2013–Nov 2014
Developed and presented financial planning and investment seminars for clients and prospects. Increased client satisfaction 50% and grew client base 28%.
Created standardized reports that resulted in a better understanding of real-time performance. This allowed the firm to raise client returns 15%.
Mentored 3 financial advisors who had been marked for termination. They became 3 of the firm's top 5 performers.
Education
2009–2013 Northwestern University
Bachelor of Science in Business
President, MarketWatch student organization. Grew membership by 200%.
Conducted senior project to build imaginary hedge fund. Based on stock picking, would have grown $50,000 into $100,000 in one year.
Skills
Hard skills:

Client education, generating reports, equity analysis, sales

Soft skills:

Interpersonal skills, communication, collaboration, analytical skills
Activities
Volunteer financial planner for Arthur Zissner Charitable Trust, $3.5M AUM.
Row in a competitive rowing shell 3x per week for fitness and self-care.
Writing just a financial advisor resume or something more? See our other guides:
Want to save time and have your resume ready in 5 minutes? Try our resume builder. It's fast and easy to use. Plus, you'll get ready-made content to add with one click. See 20+ resume templates and create your resume here.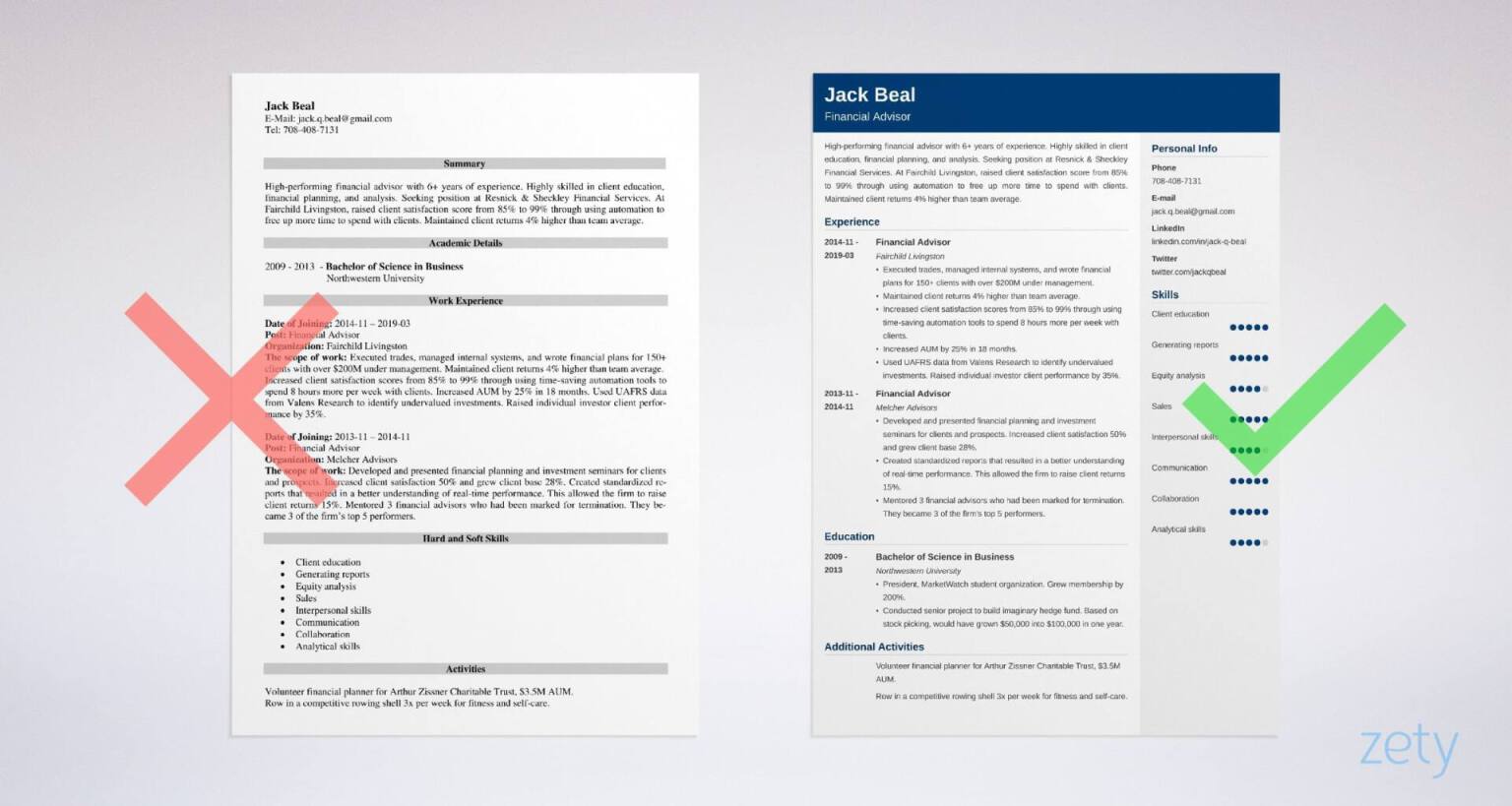 Sample Financial Advisor Resume—See more templates and create your resume here.
Here's how to write a financial advisor resume that gets jobs:
1. Choose the Best Format for Your Financial Advisor Resume
A shoddy financial advisor resume makes you look shoddy.
For a financial advisor, that's the death knell.
So use these template steps to get your ducks in a row:
Pro Tip: How long should your resume be for financial advisor jobs? If you've got so many stunning moments you can't fit them all in one page, use two or more.
2. Write a Financial Advisor Resume Objective or Resume Summary
You need them to notice you.
So, write a financial advisor resume job profile with a difference:
Fund it with your juiciest accomplishments.
Got 2+ years of financial advisor experience? Use a well-written resume summary. That's a few sentences, a couple of skills and achievement-based proof.
Got less than 2 years of experience? Use an appealing resume objective. You'll center on your skills, but still add a transferable "win" or two from another job.
For instance? If you had a sales job, show you raised sales 25%. That's a skill that works in financial advisor jobs too.
Pro Tip: Don't jump right into writing your financial skills resume profile with both feet. Write your other sections first. Then come back and summarize them in your profile.
3. Write a Valuable Financial Advisor Job Description for Your Resume
How can you prove you're perfect for the job?
Well, what is a financial advisor?
It's someone who advises, creates financial plans, and provides financial services to clients.
So—
Show you've done that. Not by saying, "I did XYZ" but by saying, "I raised X metric by Y%."
That's what your financial advisor resume work history section must do.
Cite your last job at the top. Use a job title that's professional (Financial Advisor).
List the firm's name and the dates you started/stopped.
Include a few bullet points (3–5 is best).
In those bullets, write a mix of duties and achievements. Remember, not just, "handled report generation," but, "slashed reporting errors 55%."
Customize your resume accomplishments to the FP&A job you're applying to.
Use numbers. Dollars, percents, hours, and numbers of clients or trainees make the story real.
Employ resume power or action words to get the employer's pulse rate up.
Pro Tip: Put 5 bullets in your most recent job, then 4 in the next and 3 in the next. Taper off your bullets to put the focus on your newest financial advisor job.
4. Write a Strong Financial Advisor Resume Education Section
You know this:
A great resume for financial advisors needs a strong education section.
But—
You need to make it sell.
Prove your financial advisor skills with key educational achievements:
List your school name, degree, and years attended.
Want to show leadership? Talk about the student group you led.
Need to show passion for investing? List a student portfolio project you completed.
You can also talk up sports teams, academic honors, and even kudos from professors.
Leave your GPA out of it unless it scorched the sky or you just graduated.
Pro Tip: In an entry-level resume for financial advisor positions, you can divide your education into projects and roles to use more real estate. Just make sure to focus on financial accomplishments.
5. Prove Your Financial Advisor Skills
Use this financial advisor resume skills list in your resume:
Financial Advisor Resume Skills
Hard Skills:
Client education
Generating financial reports
Sales
Equity analysis
Financial planning
Financial plan analysis
Investing
Research
MS Excel
Preparing and giving presentations
Soft Skills:
Accountability
Confidence
Dependability
Honesty
Detail oriented
Organization
Hey, wait!
Don't drop all those professional skills in a resume for financial advisor jobs.
Target just a few shown in the job ad. Use both hard skills and soft skills.
Pro Tip: Do you lack financial advisor experience? Career changers and entry-level candidates should focus on skills that transfer. That just means showing achievements from other jobs.
When making a resume in our builder, drag & drop bullet points, skills, and auto-fill the boring stuff. Spell check? Check. Start building your resume here.
When you're done, Zety's resume builder will score your resume and tell you exactly how to make it better.
6. Add Other Sections to Your Financial Advisor Resume
Where's your passion?
You need to show it stretches to your life outside of work.
To do that, add a couple "other" sections to your financial advisor resume.
Load them with more accomplishments. You can add:
Financial advisor certifications
Conferences
Media mentions
Publications
Activities
Sports
Awards & honors
Kudos
Don't overdo it, but definitely add at least a few non-work accomplishments that show your financial skills are worthy.
How to list certifications on a resume: Put your CFP right near your name, and in a special "Certifications" section under "education." You can work it into each job title too.
Pro Tip: Volunteer work looks great on a financial planner resume. Just make sure you link it to the job skills by showing how you helped in a big way.
7. Attach a Cover Letter to Your Financial Advisor Resume
"Nobody reads financial advisor cover letters."
Actually they do.
You must write a cover letter because most hiring managers love them. But don't waste yours.
Instead:
Pro Tip: Set a calendar reminder to follow up on your submission and financial advisor resume. If you don't remind the busy hiring manager, your chance at getting hired will crash.
That's it!
That's how to write a resume for financial advisor positions.
Still confused about how to write a financial skills resume? Not sure what financial advisor duties to talk about? Give us a shout in the comments. We'd love to talk!