Our customers have been hired by:
There's a lot on your plate. Collecting and verifying documents, processing paperwork, keeping all parties informed… It's exhausting. And it doesn't help when your manager nags you while borrowers keep asking for updates.
If you've been feeling stuck with this routine for a while, maybe t's time to reevaluate your career. You don't have to work for shady mortgage companies that don't value their employees. If your loan processor resume is high value, you can easily get a better job.
This guide will show you:
A loan processor resume example better than 9 out of 10 other resumes.
How to write a loan processor resume that will land you more interviews.
Tips and examples of how to put skills and achievements on a loan processor resume.
How to describe your experience on a resume for a loan processor to get any job you want.
Want to save time and have your resume ready in 5 minutes? Try our resume builder. It's fast and easy to use. Plus, you'll get ready-made content to add with one click. See 20+ resume templates and create your resume here.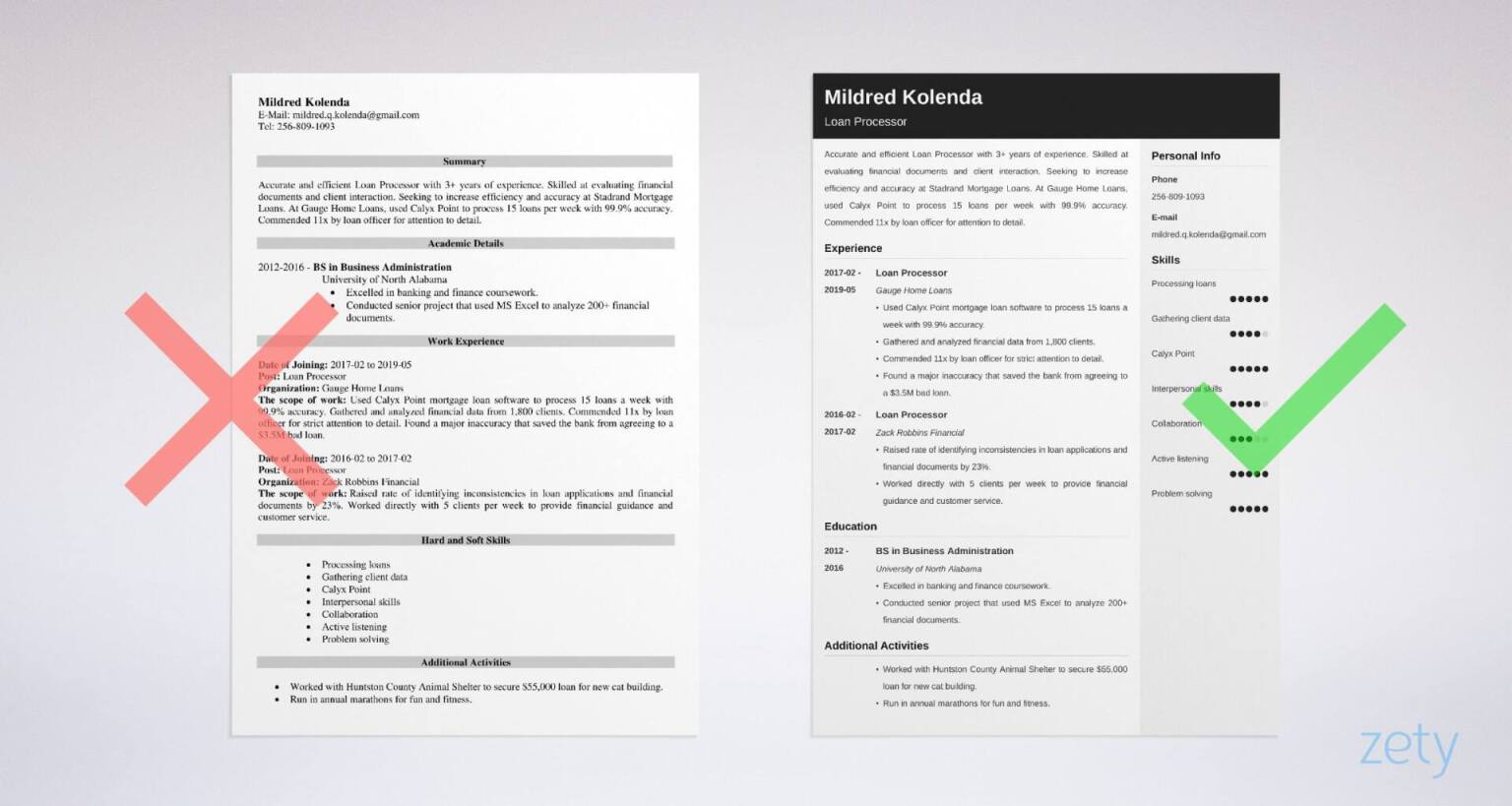 Sample resume made with our builder—See more resume examples here.
Is a resume for loan processor jobs your best bet? Diversify with our other guides:
Loan Processor Resume Sample
Mildred Kolenda, Loan Processor
mildred.q.kolenda@gmail.com
256-809-1093
Professional Summary
Accurate and efficient Loan Processor with 3+ years of experience. Skilled at evaluating financial documents and client interaction. Seeking to increase efficiency and accuracy at Stadrand Mortgage Loans. At Gauge Home Loans, used Calyx Point to process 15 loans per week with 99.9% accuracy. Commended 11x by loan officer for attention to detail.
Work Experience
Loan Processor
Gauge Home Loans
Feb 2017–May 2019
Used Calyx Point mortgage loan software to process 15 loans a week with 99.9% accuracy.
Gathered and analyzed financial data from 1,800 clients.
Commended 11x by loan officer for strict attention to detail.
Found a major inaccuracy that saved the bank from agreeing to a $3.5M bad loan.
Loan Processor
Zack Robbins Financial
Feb 2016–Feb 2017
Raised rate of identifying inconsistencies in loan applications and financial documents by 23%.
Worked directly with 5 clients per week to provide financial guidance and customer service.
Education
2012–2016 University of North Alabama
BS in Business Administration
Excelled in banking and finance coursework.
Conducted senior project that used MS Excel to analyze 200+ financial documents.
Skills
Technical Skills:

Processing loans, gathering client data, Calyx Point

Soft Skills:

Interpersonal skills, collaboration, active listening, problem solving
Activities
Worked with Huntston County Animal Shelter to secure $55,000 loan for new cat building.
Run in annual marathons for fun and fitness.
Here's how to write a loan processor resume that gets jobs:
1. Choose the Best Loan Processor Resume Format
Loan Processors gather and analyze financial data provided by loan officers. They put together puzzle pieces to form a clear financial picture for each loan applicant. They may order appraisals, inspections, or pull credit reports. A loan processor resume must show extreme attention to detail.
A garbled resume will prove the opposite.
The best professional resume formatis the chronological resume. That resume layout makes it easy for the hiring team to get a current picture of you.
Do it like this:
Pro Tip: Should you send your bank resume as a PDF or Word file? PDFs stay organized in transit. Only use word if the job ad specifies it.
2. Write a Loan Processor Resume Objective or Resume Summary
The hiring manager will assess your loan processor resume in seconds.
So write a profile for your resume that sums it up.
If you've got a couple years of experience, create a summary for your resume with one or two inspiring accomplishments.
In a resume for freshers looking for the first job, make an objective for your resume. Those are more skills-based.
In either, state that you're a loan processor. Say how much experience you've got, and list a couple loan processor skills.
Pro Tip: You're summarizing the rest of your resume for loan processor jobs, so do this step last. But—put the result at the top of your resume, just beneath the header.
3. Match Your Resume to the Loan Processor Job Description
Why aren't they approving you for jobs?
You probably don't look like a fit.
But you probably are one.
Here's how to write work experience in a resume for loan processor positions:
Add business position titles to each past job, with dates and the firm's name.
Create a tailored resume, like this:
Include loan processor achievements with each job description. Don't just write about responsibilities.
Use metrics like "99.9%" or "1,800" to show how much working capital you have.
Pro Tip: Use loan processor resume synonyms that won't bore the hiring team, like commended, gathered, found, or excelled.
4. Prep Your Loan Processor Resume Education Section
Here's a tip:
Tailor your loan processor resume educational background to the position.
After the name of your school, your degree, and the dates, add bullet points.
In them, put school accomplishments or extracurricular activities that used loan processor skills.
Did you use MS Excel in a school project? Get a high GPA in finance classes?
Say so.
Pro Tip: If you just graduated, make the education section longer in a resume for loan processor jobs. You can list a senior project so it looks similar to a job.
5. Show Loan Processor Skills in Your Resume
Here's a list of skills for loan processor jobs:
Loan Processor Resume Skills
Hard Skills:
Processing mortgage loans
Evaluating financial documents
Gathering data from clients
Knowledge of loan underwriting
Legislation knowledge
Mortgage loan software
Calyx Point, The Mortgage Office
Customer service
Verifying and analyzing data
Investigating inconsistencies
Correcting mistakes
Reviewing files
Organizing files and documents
Submitting loans
Interacting with clients and loan officers
Soft Skills:
Coaching
Detail oriented
Efficiency
Perceptiveness
But—
Center on the loan processor skills from the job description, plus 3–4 more.
Pro Tip: You need soft skills in a resume for loan processor jobs. Often the job ad will say which ones they value. If not, try to get a sense for them from the company's job description.
When making a resume in our builder, drag & drop bullet points, skills, and auto-fill the boring stuff. Spell check? Check. Start building a professional resume template here for free.
When you're done, our professional resume builder will score your resume and our resume checker will tell you exactly how to make it better.
6. Add Other Sections to Your Loan Processor Resume
Prove you'll soar.
How?
With added sections in your loan processor resume.
You can use:
Associations like NAMP
Activities
Honors & awards
Conferences (bonus points for speaking on a panel)
Publications
Media appearances
Fitness
Volunteer pursuits
Loan processor certifications on a resume go in a bonus section under education.
Put language skills on a resume for loan processor jobs in their own section if the hiring team specifically mentions multilingualism as a make-or-break. Otherwise, add them as a skill.
Pro Tip: Here's how to add volunteer work to a resume: If it shows you have loan processor skills, list it like a job with its own achievements. If not, add it to "Activities."
7. Send a Cover Letter With Your Loan Processor Resume
Do cover letters matter with loan processor resumes?
Yep.
A loan processor cover letter can green-light you.
Here's how to write an application letter that gets interviews:
Format your cover letter with the 3-paragraph method.
There are many ways to start a cover letter, but the best is with a hook.
That can be a fact about you ("received 11 commendations") or about the company ("I'm a huge fan of your dedication to employee development").
The middle paragraph should glue you to this loan processor job. Tout a couple more loan processor achievements that show skills they want.
Make an offer in your cover letter ending. Example: "I'd be happy to discuss how I saved the bank from a $3.5M bad loan."
Don't make your loan processor cover letter too long. It should be ½ page.
A follow up email after sending a resume for loan processor jobs can boost your interview rate.
But—
Don't send one follow up. Send three. The first in 3 days, the second in a week, and then the last in two weeks. (You don't have to stop after that.)
Plus, a great cover letter that matches your resume will give you an advantage over other candidates. You can write it in our cover letter builder here. Here's what it may look like: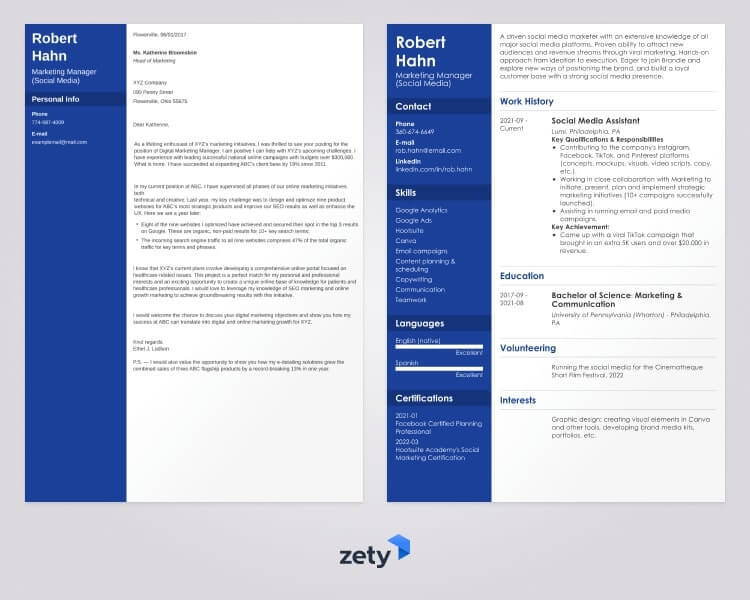 See more cover letter templates and start writing.
That's it!
That's how to write a loan processor resume.
Be honest: how good is your resume for loan processor jobs? Is your loan processor resume subprime? Give us a shout in the comments. We'd love to talk!
About Zety's Editorial Process
This article has been reviewed by our editorial team to make sure it follows Zety's editorial guidelines. We're committed to sharing our expertise and giving you trustworthy career advice tailored to your needs. High-quality content is what brings over 40 million readers to our site every year. But we don't stop there. Our team conducts original research to understand the job market better, and we pride ourselves on being quoted by top universities and prime media outlets from around the world.