Our customers have been hired by:
You might think that banking will always be around if only for the reason that there simply aren't enough mattresses around to keep our money underneath. Think again. Advances in financial technology have candidates in a scramble to show that they're top-notch employees and better than an app will ever be.
Which means you have a lot of fierce competition and need to put your money where your mouth is. So how do you get that coveted banking job without bouncing like a bad check? Write a banking resume so impressive it'll have recruiters spitting out interviews like an ATM.
Want to save time and have your resume ready in 5 minutes? Try our resume builder. It's fast and easy to use. Plus, you'll get ready-made content to add with one click. See 20+ resume templates and create your resume here.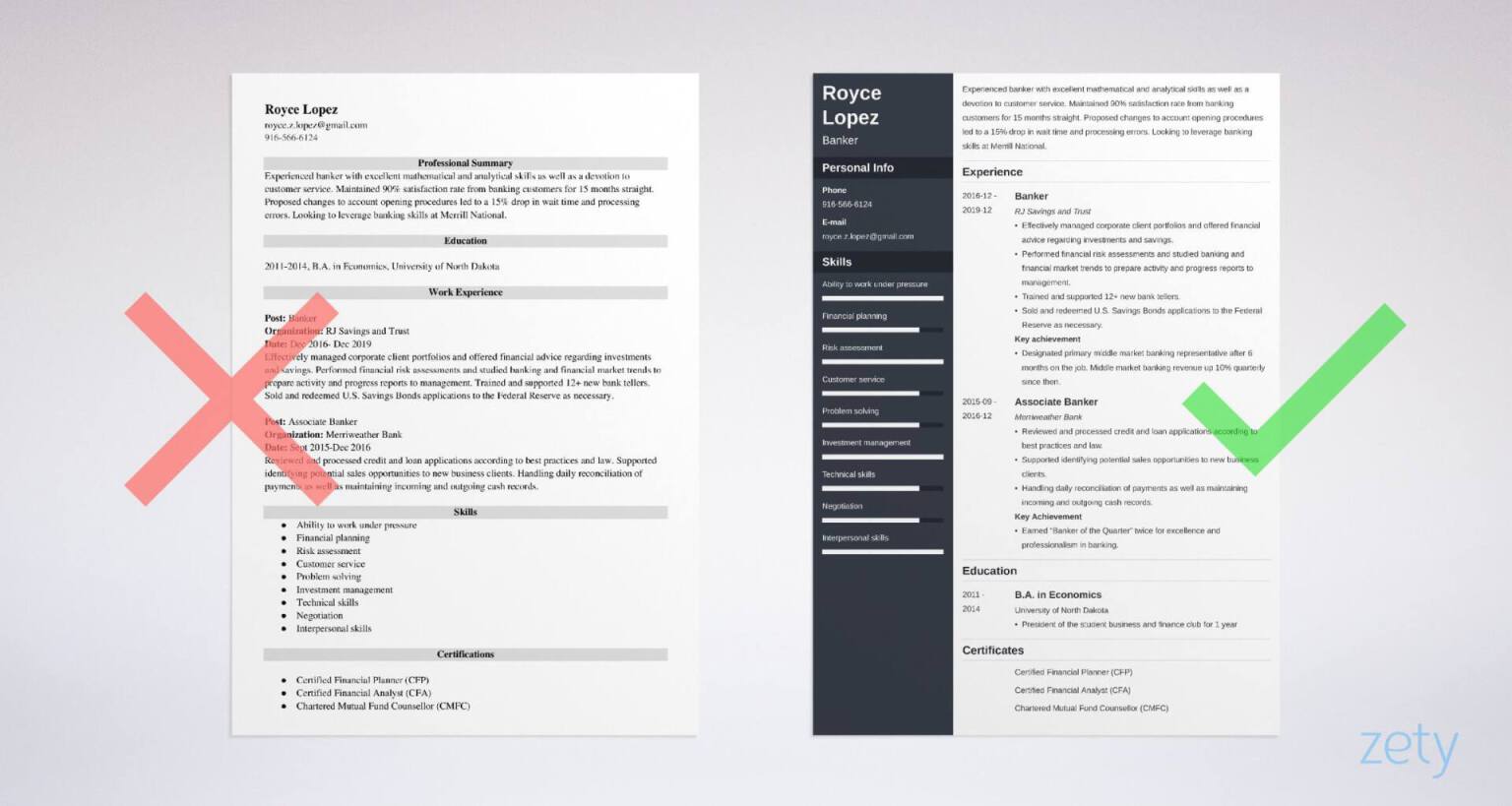 Sample resume made with our builder—See more resume examples here.
Check out our other articles centered around finance:
Banking Resume Example
Royce Lopez
royce.z.lopez@gmail.com
916-566-6124
Professional Summary
Experienced banker with excellent mathematical and analytical skills as well as a devotion to customer service. Maintained 90% satisfaction rate from banking customers for 15 months straight. Proposed changes to account opening procedures led to a 15% drop in wait time and processing errors. Looking to leverage banking skills at Merrill National.
Work Experience
Banker
RJ Savings and Trust
Dec 2016- Dec 2019
Effectively managed corporate client portfolios and offered financial advice regarding investments and savings.
Performed financial risk assessments and studied banking and financial market trends to prepare activity and progress reports to management.
Trained and supported 12+ new bank tellers.
Sold and redeemed U.S. Savings Bonds applications to the Federal Reserve as necessary.
Key achievement
Designated primary middle market banking representative after 6 months on the job. Middle market banking revenue up 10% quarterly since then.
Associate Banker
Merriweather Bank
Sept 2015-Dec 2016
Reviewed and processed credit and loan applications according to best practices and law.
Supported identifying potential sales opportunities to new business clients.
Handling daily reconciliation of payments as well as maintaining incoming and outgoing cash records.
Key Achievement
Earned "Banker of the Quarter" twice for excellence and professionalism in banking.
Education
2011-2014, B.A. in Economics
University of North Dakota
President of the student business and finance club for 1 year
Skills
Ability to work under pressure
Financial planning
Risk assessment
Customer service
Problem solving
Investment management
Technical skills
Negotiation
Interpersonal skills
Certifications
Certified Financial Planner (CFP)
Certified Financial Analyst (CFA)
Chartered Mutual Fund Counsellor (CMFC)
This is how to write a job-winning banking resume:
1. Use the Best Format for Your Banking Resume
Bankers work for banks or other financial institutions to service and counsel individual and corporate clients in their financial needs. The purpose of your banking resume is to show that you have the skills and experience it takes to fulfill both the bank's and customers' financial goals.
But just like bank branches, banking itself separates off into various different specializations, all with their own specific requirements and expectations. The rapid spread of technology is also leading to a disruption in the way banking is now perceived and some banking employees are in danger of being taken over by apps and bots.
To top it off, the recruiter isn't going to take the same time to read your resume as they would with your loan application. According to HR statistics, all you get is about 6 seconds to pitch yourself. To get the recruiter buying into what you have to say, you need to follow these resume formatting rules:
There's a lot of advice out there about how long your resume should be. A good rule of thumb is that a one-page resume template should do the trick, unless you've really been in banking as long as the Rockefellers.
Read more: Best Resume Structure
2. Write a Summary or Objective for a Banking Resume
Make a professional introduction through your resume profile, or more specifically, a career objective or summary. It's a short and sweet paragraph that starts off your banking resume and drives home the point that the hiring manager is looking for exactly you.
If you've been crunching numbers for more than a couple of years, write a career summary:
Think about the key points in your experience and banking skills and jot those down. Don't forget any career accomplishments you might have had.
Choose around 4 great points and include those in your bank resume summary section to show the hiring manager that they're dealing with an experienced professional who knows their stuff.
If you're an entry-level banker, choose the career objective for your banking resume:
Highlight skills and knowledge you've accumulated until now and how good of a fit you'd be for the company.
Think of relevant transferable skills and quantifiable achievements from other gigs you've had throughout your life and school. If they can prove certain skills or characteristics, definitely add them in.
About 3-4 sentences long max is all you really need for this section. Remember to tailor it to the job description just like you tailor loan contracts to an individual's income.
Read more: How to Start a Resume
3. Create the Perfect Banker Resume Job Description
If you want to land that dream interview, your resume experience section needs to be more appealing than a super low APR:
Start from your current position and then list previous positions while you go back in time.
Make each entry easy to understand by including: job titles, company name, dates of employment, and no more than 6 bullet points mentioning your achievements.
Limit the number of bullet points with your earlier jobs and focus more on your current positions. Positions far in the past should have no more than 3 bullet points.
Use an action verb to start off each bullet point.
Don't just list meaningless, boring duties. Instead, use quantifiable achievements to wow the recruiter. You're a banker, you know how to use numbers to impress.
Tailor your banking experience section to match the position you're applying for and increase your chances for getting that dream interview.
Read more: How Far Back Should a Resume Go
4. Make Your Banker Resume Education Section Shine
Your education is quite crucial in banking and it could be the thing that gets you a seat in that sweet, leather chair. That's why you need to focus on getting it right the first time around.
Here's how to get your education section to make an impression:
Don't get into too much detail if you already have several years of job experience. In this case simply list the following: college/university name and location, years you studied, degree, major and minors.
If you've spent more years in school than on the job or you're writing a recent college grad resume, garnish your education resume section with achievements from your college days (such as a GPA or Latin honors). Make sure to keep them relevant to the job description and list no more than 4-6 items.
If you're as new as a shiny penny, you should put your education section above your work experience. It'll help you focus on your strengths and start off your resume with no experience with a lot more oomph.
Read more: How to List a Degree on a Resume
5. Highlight Your Banking Skills to Win That Bank Job
Skills are important in the workplace and that goes double for banking where analytical skills are just as necessary as people skills. We've covered a list of skills resume examples for banking to make sure they wow an employer. But first...
Here's how to list your banking skills to show the recruiter that you're the one they need:
Brainstorm over all the job skills you have—this means soft skills and hard skills, technical skills, and any other relevant skills you've got in your wallet. Jot them down in a list.
Pick the banking skills that are most relevant to the position by using the job ad for reference. Include those top skills in your bank resume. Get extra interest if you can mention skills that both your experience and education sections can prove.
See these skills resume examples for banking:
Banking Skills List for a Resume
Investment management
Due diligence
Cash handling
Debt and credit management
Mutual & hedge funds
Negotiating
Financial analysis
Risk assessment
Pro Tip: You might be tempted to think that banking is primarily mathematics and financial analysis. Given the rise of tech in banking, there is a greater emphasis on relationship banking and here your soft skills will play a major role and give you a one up on the competition.
When making a resume in our builder, drag & drop bullet points, skills, and auto-fill the boring stuff. Spell check? Check. Start building a professional resume template here for free.
When you're done, Zety's resume builder will score your resume and our resume checker will tell you exactly how to make it better.
6. Add Extra Sections to Your Banking Resume
By now, you're still holding the recruiter's interest, but they haven't opened an account with you yet. Show them that you're the candidate to close the deal with. See these extra section resume examples for banking:
Add language skills that can be beneficial to the role you're applying for. In a globalized world, the knowledge of foreign languages can only be an asset, especially in banking customer service.
Include volunteering, achievements and awards, projects, and even hobbies and interests if they're relevant to banking or prove a certain skill set or approach. Bankers need to have a wide array of skills to be excellent and versatile, so include things that demonstrate that to the hiring manager.
Don't forget about your certifications! These are super important in general and absolutely crucial in getting more specialized roles in investment, corporate, or retail banking, for example.
Read more: What to Put on a Resume
7. Attach a Cover Letter to Your Banker Resume
Yes, you should include a cover letter, even if the job ad doesn't explicitly ask for one. Recruiters do want to see them and it gives you a chance give the hiring manager even more reasons to ask you for an interview.
Write a banking cover letter that will have the Fed take notice with the following tips:
Use a modern cover letter format that shows you're a professional from the very first moment.
Start your cover letter off with a "hook" to grab the hiring manager's attention from the beginning.
Show that your experience and job skills translate into exactly what they need by using specific examples and experiences.
Use an impactful call to action to end your cover letter.
The ideal length of an effective cover letter is around one page so try to keep it concise and to the point.
Read more: Bank Teller Cover Letter and Investment Banking Cover Letter
Plus, a great cover letter that matches your resume will give you an advantage over other candidates. You can write it in our cover letter builder here. Here's what it may look like: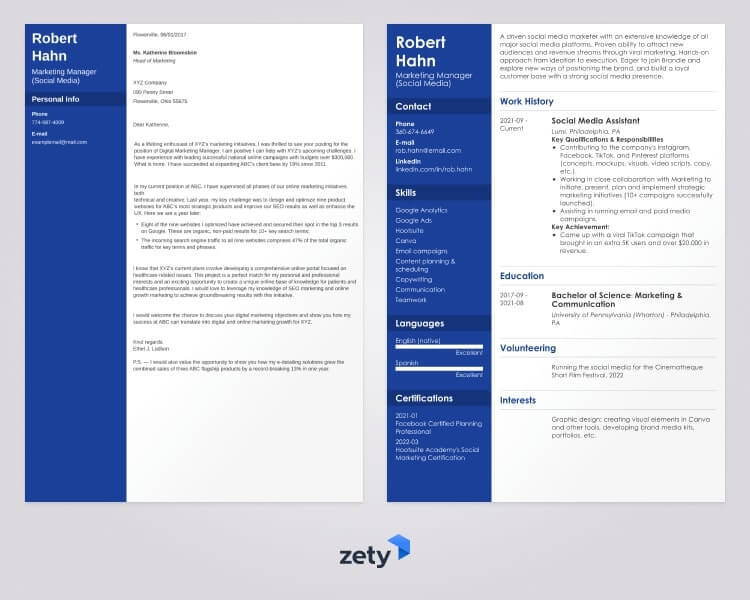 See more cover letter templates and start writing.
And once you have all that sent, remember to follow up on your job application! You know how to track financial markets so tracking your own application for a bank job should be a sinch!
That's the magic behind a successful banker resume.
Thanks for reading. Have any insider tips or tricks to share about creating the perfect banking resume? Any questions regarding banking resume examples? Share them in the comments below!
About Zety's Editorial Process
This article has been reviewed by our editorial team to make sure it follows Zety's editorial guidelines. We're committed to sharing our expertise and giving you trustworthy career advice tailored to your needs. High-quality content is what brings over 40 million readers to our site every year. But we don't stop there. Our team conducts original research to understand the job market better, and we pride ourselves on being quoted by top universities and prime media outlets from around the world.
Sources