Bank Manager Resume Examples & Writing Tips for 2023
Ready to take your banking career to the next level? Our step-by-step guide to writing a bank manager resume will get you there.
From balancing the books to crafting customer solutions, you know what's what when it comes to managing a bank. But presenting yourself as the best candidate on paper that's where the trouble begins.
In this post, we'll walk you through the process of creating a bank manager resume that will make you look like a million-dollar bill.
Want to save time and have your resume ready in 5 minutes? Try our resume builder. It's fast and easy to use. Plus, you'll get ready-made content to add with one click. See 20+ resume templates and create your resume here.
Sample resume made with our builder—See more resume examples here.
Looking for a different job? Check these guides:
Couldn't find your job? Check a list of resume samples for different jobs and industries.
Bank Manager Resume Sample
George Rainwater
Bank Manager
205-354-6799
georgerainwater@dayrep.com
linkedin.com/in/georgerainwater
Summary
An experienced bank manager with 7+ years of expertise in the financial industry. Successfully managed operations and boosted customer satisfaction levels. Accomplished significant growth in deposits by over 25% during my tenure at FirstTrust Bank. At TrustBank, implemented effective operational procedures, resulting in a 15% uptick in cross-selling. Seeking to drive profitability and achieve targets for PayCast.
Work Experience
Bank Manager
FirstTrust Bank, New York, NY
January 2017–Present
Key Qualifications & Responsibilities
Successfully managed daily operations, maintaining regulatory compliance and ensuring customer satisfaction.
Managed a team of 10 employees, effectively increasing employee engagement by 15%.
Streamlined operations resulting in a 20% increase in transactional efficiency.
Implemented a customer service training program, improving customer satisfaction scores by 10%.
Collaborated with other departments, such as marketing, human resources, and IT, to ensure smooth business processes and alignment on organization-wide goals.
Key Achievement:
Developed and implemented effective business strategies to increase deposits by 25% within 2 years.
Assistant Bank Manager
TrustBank, Chicago, IL
August 2014–December 2016
Key Qualifications & Responsibilities
Managed daily banking activities, ensuring a high-quality standard of service.
Conducted in-branch training sessions, improving employee performance by 12%.
Actively participated in community engagement initiatives resulting in increased brand recognition and a 10% increase in customer acquisition.
Successfully resolved complex customer complaints, maintaining high customer satisfaction levels.
Ensured compliance with all banking regulations and policies, including anti-money laundering and know-your-customer guidelines.
Key Achievement:
Assisted the Bank Manager in implementing effective operational procedures, contributing to a 15% increase in cross-selling.
Education
Master of Business Administration (MBA)
Harvard Business School, Cambridge, MA
September 2010–June 2012
Skills
Leadership and team management
Interpersonal communication
Banking regulations and procedures
Financial analysis and decision-making
Strategic thinking and problem-solving
Business development
Operations management
Project management and planning
Customer service
Adaptability and technology proficiency.
Certificates & Licenses
Certified Treasury Professional (CTP), 2020
Chartered Financial Analyst (CFA), 2018
Languages
English—Native
Spanish—Advanced
French—Advanced
Now, here's how to write a bank manager resume like that:
1. Format Your Bank Manager Resume Correctly
A bank manager is responsible for the day-to-day operations of a bank branch. They oversee the staff, manage the branch's finances, and ensure the branch meets all regulatory requirements. A bank manager's resume must prove their operational management and development skills above all.
One of the first steps to achieving a successful resume is going for the correct resume format. Here are some tips to help you do it:
Remember, your resume is your first impression on potential employers, and choosing the right format can make all the difference. So, take some time to craft it.
2. Withdraw the Best Bits for a Powerful Resume Summary
Your resume summary is the introduction to your bank manager resume and a chance to start strong. It's your opportunity to convince recruiters your application is worth their time.
For a resume summary:
Brainstorm by writing down your most impressive achievements, skills, and experiences, focusing on those that have prepared you for this role.
Choose the top three or four that are most relevant to the bank manager job (look those up in your job description) and craft a paragraph that encapsulates your career successes and expertise.
Make sure to highlight any leadership experience, along with any specific abilities.
Remember, keep it brief, confident, and tailored. Focus on how your skills and achievements align with the job requirements to make a great first impression.
Pro tip: Write this section last. When you have your work experience and skills sections ready, filling it in with accomplishments and the right qualifications will be much easier.
3. Highlight Work Experience in Your Bank Manager Resume
As you craft your bank branch manager resume, one of the most critical sections is the work experience section. That is where you provide a record of your most prominent but relevant experience that exhibits your strong fit for the job.
To ensure that this section is effective in grabbing the attention of hiring managers, follow these tips:
A targeted resume is like money in the bank. The more it matches the job requirements, the better chance you have.
Pro Tip: Go no more than 10–15 years back on your resume. This will ensure you include only relevant information about your career to the one you're currently pursuing.
4. Make a Deposit to Your Education Section
When crafting your bank manager resume, it's important to include your educational background, as bank managers typically have at least a bachelor's degree in business, economics, or a related field.
For the education part:
Highlight your academic achievements, such as honors or awards, using bullet points to present them effectively.
Even if the job posting doesn't require a degree, including educational achievements on your resume can highlight your commitment to personal and professional growth.
Read more about Putting Education on Your Resume
When making a resume in our builder, drag & drop bullet points, skills, and auto-fill the boring stuff. Spell check? Check. Start building a professional resume template here for free.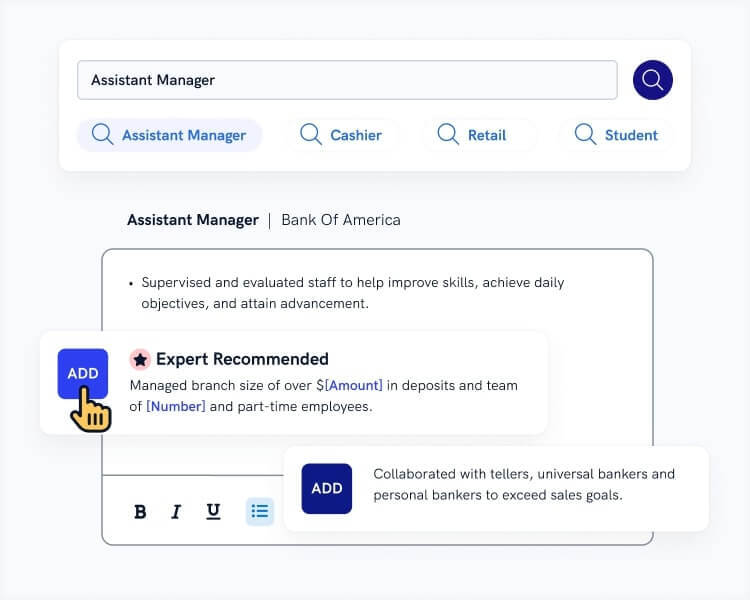 When you're done, Zety's resume builder will score your resume and tell you exactly how to make it better.
5. List Bank Manager Skills on Your Resume
Your unique skills likely already exist within the experiences and education you've accumulated over the years.
To get started, think about the skills that make you unique as a bank manager, such as your interpersonal skills, leadership abilities, and communication prowess. Also, consider any transferable skills that could be relevant to the specific job you're applying for. Then list out as many skills as you can thinking of what a bank manager needs and what you have.
Lastly, review the ad and ensure your list of skills reflects the position's requirements through the right terms and phrases. That can help demonstrate your right fit.
To give you a head start and inspire you with some ideas, here are 15 impactful bank manager skills to potentially include on your resume:
Bank Manager Resume: Skills
Financial analysis
Risk management
Customer service
Sales
Strategic planning
Product knowledge
Budgeting
Cash flow management
Regulatory compliance
You can convey your professional expertise to potential employers by highlighting the right bank management skills on your resume.
Give yourself more credit and see what else you can add to your skills section: 99+ Skills for a Resume
6. Balance Your Bank Manager Resume With Extras
As a bank manager, you have a wealth of experience and skills to include on your resume. However, additional information in your resume can be valuable in presenting yourself as a well-rounded candidate.
Here are some sections to consider adding to your bank manager resume:
Incorporating these extra resume sections demonstrates a holistic view of the experiences that have shaped you as a bank manager, painting a picture of a multifaceted and capable candidate.
7. Write a Bank Manager Cover Letter
You need more than your impressive bank manager resume to secure an interview. For 47% of job seekers, getting an invitation to an interview or two takes up to ten applications. And a thoughtful cover letter can significantly increase your chances of getting the job
Follow these easy tips to make sure your cover letter is effective:
Use a legible cover letter font and proper formatting, including a cover letter header with your contact information and the bank's details.
Keep your letter brief, with three to six paragraphs.
Start your cover letter with an engaging opening that shows your unique qualifications for the position.
Explain how your skills and experience align with the bank's goals and indicate your passion for banking.
Close your cover letter by inviting the hiring manager to contact you for an interview and use a professional sign-off.
By taking the time to create a strong and concise cover letter, you show that you're invested in the position and the bank. Don't skip this crucial step—give yourself the best possible chance of success.
Plus, a great cover letter that matches your resume will give you an advantage over other candidates. You can write it in our cover letter builder here. Here's what it may look like: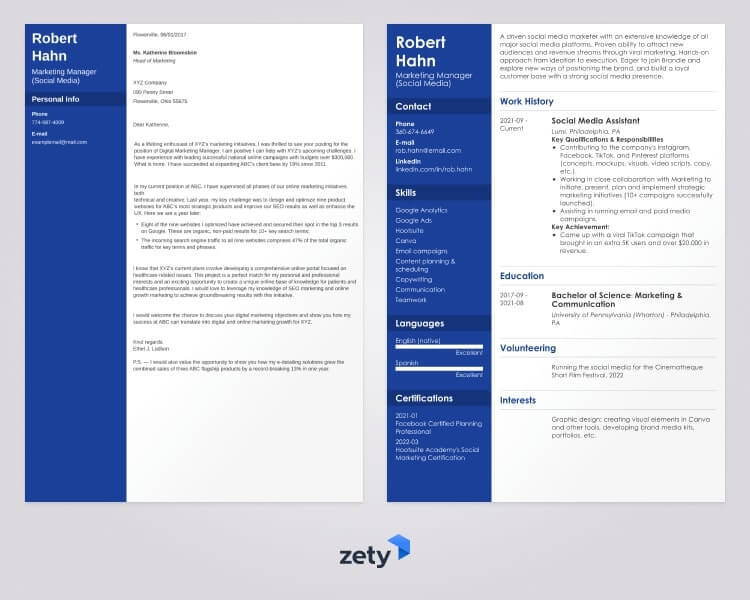 See more cover letter templates and start writing.
We're done! This is everything you need to know about writing a perfect bank branch manager resume.
Thanks for reading. If you have any questions about writing a bank manager resume, please ping us in the comments section. Alternatively, let us know your personal tips and tricks and help others succeed in their job-hunting efforts!
About Zety's Editorial Process
This article has been reviewed by our editorial team to make sure it follows Zety's editorial guidelines. We're committed to sharing our expertise and giving you trustworthy career advice tailored to your needs. High-quality content is what brings over 40 million readers to our site every year. But we don't stop there. Our team conducts original research to understand the job market better, and we pride ourselves on being quoted by top universities and prime media outlets from around the world.