Private Equity Resume: Examples and Guide [10+ Tips]
You deliver superior analysis, investment theses, and strategic thinking. Plus, you handle stress like it's your job. Now you need a private equity resume as smart as you are.
To show you're Carlyle-Group-ready, you need a private equity resume that works like the S&P 500. But it doesn't work by talking about past responsibilities.
Both Warren Buffett and the bottom feeders in small-town financial planning firms can say they've "handled investment accounts." You've got to show how much, how big, how many. Follow the steps below, and make your job line go up.
Want to save time and have your resume ready in 5 minutes? Try our resume builder. It's fast and easy to use. Plus, you'll get ready-made content to add with one click. See 20+ resume templates and create your resume here.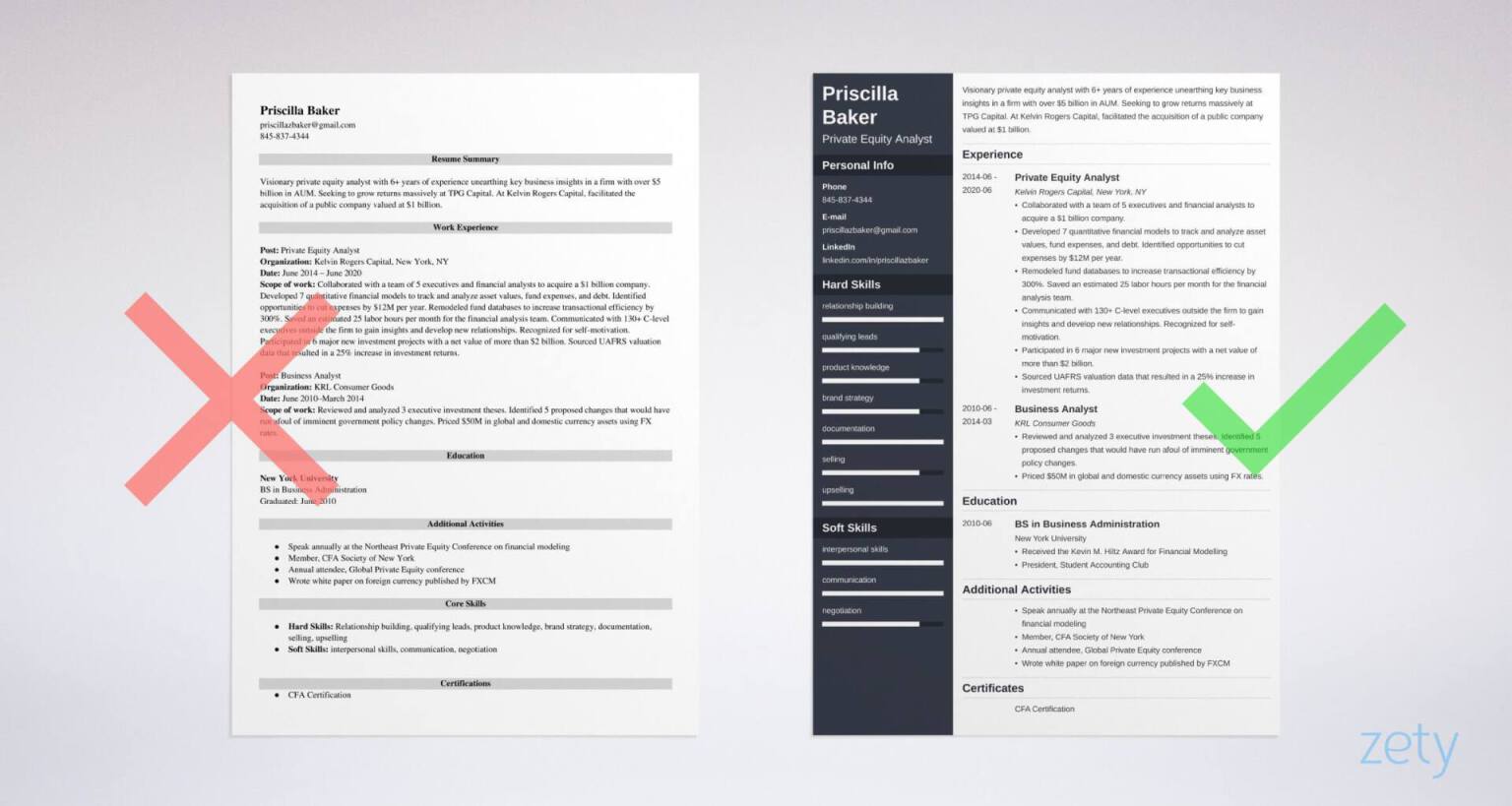 Sample resume made with our builder—See more resume examples here.
Want more financial resume examples? You're in the right place:
Sample Private Equity Resume Template
Priscilla Baker
priscillazbaker@gmail.com
845-837-4344
linkedin.com/in/priscillazbaker
Resume Summary
Visionary private equity analyst with 6+ years of experience unearthing key business insights in a firm with over $5 billion in AUM. Seeking to grow returns massively at TPG Capital. At Kelvin Rogers Capital, facilitated the acquisition of a public company valued at $1 billion.
Work Experience
Private Equity Analyst
Kelvin Rogers Capital, New York, NY
June 2014 – June 2020
Collaborated with a team of 5 executives and financial analysts to acquire a $1 billion company.
Developed 7 quantitative financial models to track and analyze asset values, fund expenses, and debt. Identified opportunities to cut expenses by $12M per year.
Remodeled fund databases to increase transactional efficiency by 300%. Saved an estimated 25 labor hours per month for the financial analysis team.
Communicated with 130+ C-level executives outside the firm to gain insights and develop new relationships. Recognized for self-motivation.
Participated in 6 major new investment projects with a net value of more than $2 billion.
Sourced UAFRS valuation data that resulted in a 25% increase in investment returns.
Business Analyst
KRL Consumer Goods
June 2010–March 2014
Reviewed and analyzed 3 executive investment theses. Identified 5 proposed changes that would have run afoul of imminent government policy changes.
Priced $50M in global and domestic currency assets using FX rates.
Education
New York University
BS in Business Administration
Graduated: June 2010
Received the Kevin M. Hiltz Award for Financial Modelling
President, Student Accounting Club
Additional Activities
Speak annually at the Northeast Private Equity Conference on financial modeling
Member, CFA Society of New York
Annual attendee, Global Private Equity conference
Wrote white paper on foreign currency published by FXCM
Core Skills
Hard Skills: Relationship building, qualifying leads, product knowledge, brand strategy, documentation, selling, upselling
Soft Skills: interpersonal skills, communication, negotiation
Certifications
Here's how to write your own job-winning private equity resume:
1. Format Your Private Equity Resume Correctly
Oh no! You've got the best resume for private equity jobs on the street, but they tossed it. What went wrong? You didn't use a good resume layout. Your margins, font choice, line spacing, and headings looked like a 5th-grader selected them. This part is easy to get right, but blow it and you're sunk.
To start off with the best format for a resume:
Read more: What Parts Should a Resume Have?
2. Grab Employers With a Resume Profile Statement
Success! You got the job. The first thing you did right? You wrote a resume introduction that got them interested in your resume. That's vital, because most hiring teams don't read resumes. They skim them.
If you're new to private equity, write a resume objective statement. That's where you share your hopes and dreams for how you'll help the organization's bottom line.
If you've been in the business since Wall Street had three e's, write a resume summary statement. Stuff it with your finest PE moments, plus a nod to your years of experience and a company or two you've worked for.
Read more: Ways to Make Your Resume Stand Out
3. Target Your Private Equity Resume Job Description
Disaster! Your resume for private equity jobs is getting zero response. Why the nosedive? Because you spend too much space talking about your job responsibilities. You didn't show your ROI or other metrics. To get the interview, put numbers and equity achievements in your job description.
List relevant work experience like this:
Start with your most recent PE job.
Write the job title, name of the business, its location, and the months and years you worked there.
Tailoring a resume to a job is everything in the job search world. That comes down to choosing the right professional achievements for your bullet points.
Make sure to use strong resume words to describe what you did. Collaborated, developed, and sourced work better than handled or performed.
Read more: How Far Back Should a Resume Go?
4. Write a Different Kind of Private Equity Resume Education Section
Do you think education on your resume doesn't matter? Think again. No, you don't need a PhD to get the job. But the way you list your BS or Master's makes a world of difference. To stand out like Bain Capital, put a couple of university accomplishments in your resume for private equity jobs.
Follow these resume tips:
Pro Tip: Private equity firms raised $582 billion in 2018. Your resume for private equity jobs needs to show you can participate in reaping massive returns.
5. Prove the Right Private Equity Skills
Most applicants stumble when they write their list of skills. They add too many PE skills, hoping the firm will see the few they really like. This is too big a choice to leave to chance. But if you put the right skills in your list and in your resume bullet points, your interview count will skyrocket.
Here's how to add private equity skills to a resume:
Read the job ad like it's got the secret to triple-digit returns in it. Find the most prominent skills in it, and write them down.
Take the most important 10 or 12 skills from that list. Make sure to include both soft and hard skills, and your top technical skills.
Go back to the bullet points in your education section and your work history. Do your bullets prove you've used those skills? If not, remodel them.
Private Equity Resume Skills
Financial modeling
Investment banking
Financial analysis
Finance
Economics
Investment thesis evaluation
MS Excel
Database management
Big data analysis
Pro Tip: The right resume keywords will get you through the applicant tracking system (ATS) to a live interviewer. That's why choosing the right private equity skills is so important.
When making a resume in our builder, drag & drop bullet points, skills, and auto-fill the boring stuff. Spell check? Check. Start building a professional resume template here for free.
When you're done, our free resume builder will score your resume and our resume checker will tell you exactly how to make it better.
6. Add Other Sections to Your Private Equity Resume
What kind of employee are you? Showing achievements from outside of work can help your resume stand out.
Here's how to put certifications on a resume, along with other extras:
Read more: What Sections Belong in a Resume?
7. Write a Cover Letter for Your Private Equity Resume
Should I write a cover letter? Each and every time. The reason is, the job market is overwhelmed with applicants who apply to hundreds of positions. A resume without a cover letter looks like just another in a sea of applications. Personalize yourself with the right kind of cover letter.
Write these cover letter parts:
A first paragraph with a notice-worthy cover letter introduction.
A second paragraph that points to the most John-Neff-level achievements in your resume.
A cover letter ending that explains what makes you want to work at the business and an offer to meet with the manager.
How long should an electronic cover letter be? The same length as a paper cover letter—three paragraphs and about 250 words.
Pro Tip: Wondering how to write a follow-up email for a job application? Make it short and to the point, and attach your resume and cover letter. Follow-ups pull you up out of the slush.
Plus, a great cover letter that matches your resume will give you an advantage over other candidates. You can write it in our cover letter builder here. Here's what it may look like: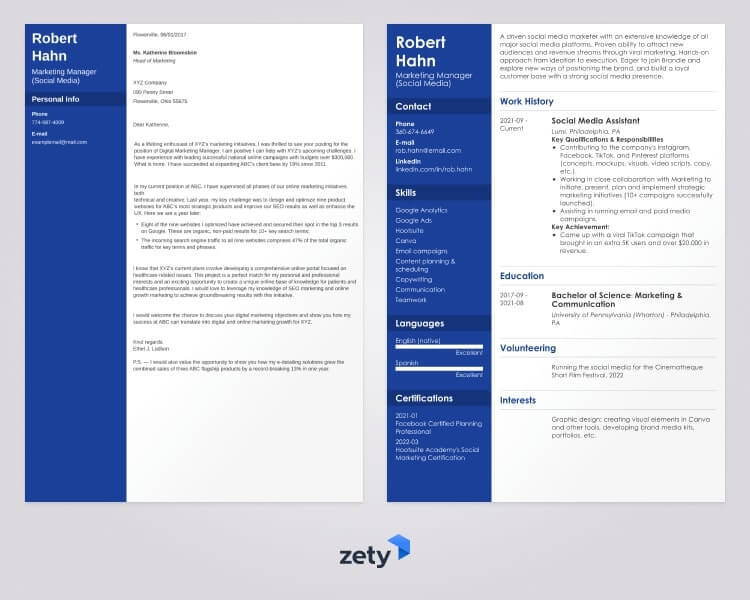 See more cover letter templates and start writing.
That's it!
That's everything you need to write a great private equity resume!
And if you're looking for a similar position, see our guides:
Thanks for reading! Do you have another question on how to make a standout private equity resume? Give us a shout in the comments section!
About Zety's Editorial Process
This article has been reviewed by our editorial team to make sure it follows Zety's editorial guidelines. We're committed to sharing our expertise and giving you trustworthy career advice tailored to your needs. High-quality content is what brings over 40 million readers to our site every year. But we don't stop there. Our team conducts original research to understand the job market better, and we pride ourselves on being quoted by top universities and prime media outlets from around the world.
Sources