Our customers have been hired by:
Management consulting is a numbers game. But so is recruiting. It's just that we're talking slightly different numbers.
Here's one to consider: you have 6 seconds to impress a hiring manager and get a shot at that interview for your new job. Not much, huh? Well, that's the way it works. Want to know how you write a top-notch management consultant resume without boiling the ocean? You got it.
This guide will show you:
A management consultant resume example better than 9 out of 10 other resumes.
How to write a management consultant resume that will land you more interviews.
Tips and examples of how to put skills and achievements on a management consultant resume.
How to describe your experience on a resume for a management consultant to get any job you want.
Want to save time and have your resume ready in 5 minutes? Try our resume builder. It's fast and easy to use. Plus, you'll get ready-made content to add with one click. See 20+ resume templates and create your resume here.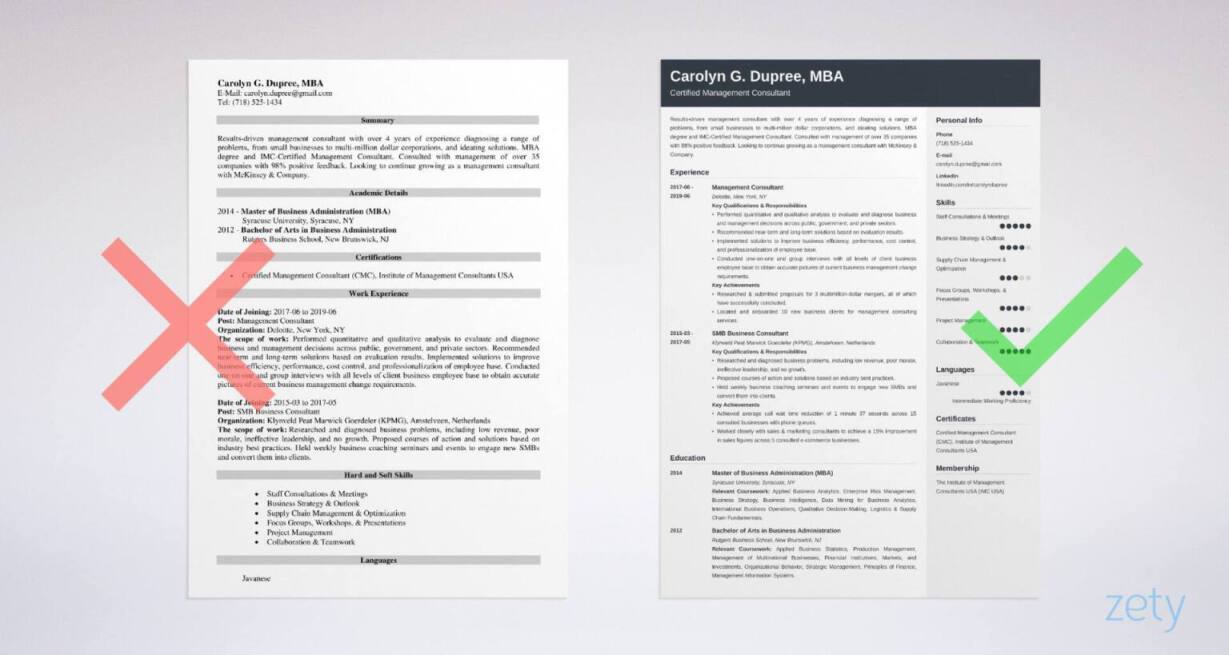 Sample resume made with our builder—See more resume samples here.
Here are a few more resume examples related to management analyst jobs:
You've just seen our interpretation of the best sample management consultant resume.
Management Consultant Resume Sample
Carolyn G. Dupree, MBA
Certified Management Consultant
carolyn.dupree@gmail.com
(718) 525-1434
linkedin.com/in/carolyndupree
Summary of Qualifications
Results-driven management consultant with over 4 years of experience diagnosing a range of problems, from small businesses to multi-million dollar corporations, and ideating solutions. MBA degree and IMC-Certified Management Consultant. Consulted with management of over 35 companies with 98% positive feedback. Looking to continue growing as a management consultant with McKinsey & Company.
Work Experience
Management Consultant
June 2017–June 2019
Deloitte, New York, NY
Key Qualifications & Responsibilities
Performed quantitative and qualitative analysis to evaluate and diagnose business and management decisions across public, government, and private sectors.
Recommended near-term and long-term solutions based on evaluation results.
Implemented solutions to improve business efficiency, performance, cost control, and professionalization of employee base.
Conducted one-on-one and group interviews with all levels of client business employee base to obtain accurate pictures of current business management change requirements.
Key Achievements
Researched & submitted proposals for 3 multimillion-dollar mergers, all of which have successfully concluded.
Located and onboarded 10 new business clients for management consulting services.
SMB Business Consultant
March 2015–May 2017
Klynveld Peat Marwick Goerdeler (KPMG), Amstelveen, Netherlands
Key Qualifications & Responsibilities
Researched and diagnosed business problems, including low revenue, poor morale, ineffective leadership, and no growth.
Proposed courses of action and solutions based on industry best practices.
Held weekly business coaching seminars and events to engage new SMBs and convert them into clients.
Key Achievements
Achieved average call wait time reduction of 1 minute 37 seconds across 15 consulted businesses with phone queues.
Worked closely with sales & marketing consultants to achieve a 15% improvement in sales figures across 5 consulted e-commerce businesses.
Education
Master of Business Administration (MBA)
Syracuse University, Syracuse, NY
Graduation: 2014
Relevant Coursework: Applied Business Analytics, Enterprise Risk Management, Business Strategy, Business Intelligence, Data Mining for Business Analytics, International Business Operations, Qualitative Decision-Making, Logistics & Supply Chain Fundamentals.
Bachelor of Arts in Business Administration
Rutgers Business School, New Brunswick, NJ
Graduation: 2012
Relevant Coursework: Applied Business Statistics, Production Management, Management of Multinational Businesses, Financial Institutions, Markets, and Investments, Organizational Behavior, Strategic Management, Principles of Finance, Management Information Systems.
Key Skills
Staff Consultations & Meetings
Business Strategy & Outlook
Supply Chain Management & Optimization
Focus Groups, Workshops, & Presentations
Project Management
Collaboration & Teamwork
Certifications
Certified Management Consultant (CMC), Institute of Management Consultants USA
Memberships
The Institute of Management Consultants USA (IMC USA)
Languages
Javanese: Intermediate Working Proficiency
Time to make yours.
Here's how to write a management consultant resume:
1. Choose the Best Format for Your Management Consultant Resume
A management consultant, sometimes called a management analyst, is an occupational professional, working alone or as part of a team, who conducts research and provides independent, objective, external advice to directors, management, board members and other leadership figures on how their companies can better proceed to increase revenue, profits, and growth in the future. A management consultant resume should show the agency or financial organization that you have the necessary financial, managerial, and analytical skills and experience to be the perfect candidate.
What you say matters.
Well—
Same on a management consultant resume.
But before you begin writing it, ensure it's formatted correctly and easy to read with the perfect resume template.
On a management consultant resume, here's how to format the layout:
Pro Tip: Send a resume PDF or Word document? Choose a management consultant resume PDF for better viewability, unless the job description specifically asks otherwise.
2. Write a Management Consultant Resume Objective or Summary
A resume objective or summary is also called a profile on a resume, and it is essentially your elevator pitch for the management consultant job.
This introductory paragraph is 3–4 lines long, and it gives HR managers insight into your consultation experience and abilities.
Been fixing business failures for years and years?
Choose the resume career summary.
The summary statement highlights your impressive past experience and management consulting skills. It also includes a numbered win to prove you hold the keys to their success.
New to consulting for management and businesses?
Choose the resume career objective.
An objective statement gives them your management consulting career goals rather than your storied background. However, it still gives a numbered achievement to prove your business acumen.
Pro Tip: The heading statement goes at the top of a management analyst resume, but save it for the end. It's hard to "sum it all up" if you haven't written anything else down yet. Plus, it lets you visualize which skills or achievements you want to mention for the most effective intro.
3. Create the Perfect Management Consultant Job Description for a Resume
Maybe you're applying for short-term management consulting jobs.
Or perhaps aiming for those prestigious McKinsey & Company careers.
Either way—
No one will hire you if you can't get your own experience in a resume right.
Here's how to nail the management consultant job description:
Place your most recent job first, followed by the one before it, and so on.
Below each job title, add your dates of employment, the company's name, the city and state, and up to a half-dozen bullet points detailing your responsibilities.
Use action words (e.g., consulted, analyzed, etc.) to start each entry.
Add achievements using numbers to prove how well you carried out your past jobs.
Pro Tip: Write a targeted resume customized for each management consulting job you apply to. You won't give generic advice as a consultant, so don't give a generic resume, either.
4. Make Your Management Consulting Resume Education Section Shine
When you start out as a management analyst, you'll likely need a bachelor's degree in business administration or something similar.
If you're to move up in the industry, an MBA or even a PhD may be required.
Either way—
You better understand how to write education on your resume in a way that gets results.
Mind these rules to get your education section just right:
Add your most advanced degree first, followed by lesser ones below it.
List your degree name, major, school and school's location, completion date, and relevant coursework for managerial consulting roles.
Don't be shy—if you have proud achievements such as Latin honors, add them!
Skip adding high school on your resume if you've finished a college degree.
Pro Tip: When deciding upon which courses you've taken are relevant to management consulting, don't forget the "softer" classes. Add any coursework related to communication, finance, and leadership in addition to general business administration classes.
5. Highlight the Skills Needed for Management Consulting Resumes
Management analyst jobs, including management consulting jobs, are set to grow by 14% between 2016 and 2026.
It means consultancies and auditors will add 115,200 more recruits to their ranks.
It also means a lot of competition.
So—
Show them you're up to the task by creating an awesome management consultant skills section:
Management Consulting Skills for Resumes
Attention to Detail
Strategic Management Consulting
Operations Management Consulting
Industrial Engineering
Organizational Psychology
Strategic Analysis & Partnerships
Industrial Psychology
Organizational Development
Marketing & Sales Consulting
Business Development
Risk Assessment & Mitigation
Mergers & Acquisitions
Solutions Delivery
Business Forecast Modeling
Statistics and Mathematics
But—
Don't just take this list and use it in your resume.
Different positions require different skills (remember tailoring?).
Do this instead:
Pro Tip: To optimize your resume for any recruitment software aimed at weeding out unfit candidates, use similar wording to the job description.
When making a resume in our builder, drag & drop bullet points, skills, and auto-fill the boring stuff. Spell check? Check. Start building a professional resume template here for free.
When you're done, our professional resume builder will score your resume and our resume checker will tell you exactly how to make it better.
6. Add Other Sections to Your Management Analyst Resume
Now, you've prepared the core resume sections.
However—
To really stand out as the best management consultant for the job, round out your resume by including a few additional sections.
Here are several ideal extras to add to management consulting resumes:
Management Consulting Resume Examples—Extra Sections
Management consulting association memberships
7. Attach a Management Consultant Cover Letter to Your Resume

Do you need a cover letter for a resume?
For sure.
A resume without a covering letter is passed on by, according to most employers.
So—
Here's how to write a cover letter for management consultant jobs they'll admire:
Also, we have the answers to your questions on how many words should a cover letter be and what to include in a cover letter.
Also, you may find helpful this detailed review of the Accenture interview process.
Check them out!
Pro Tip: As you get ready for the job interview, don't forget to send a follow up job email!
Plus, a great cover letter that matches your resume will give you an advantage over other candidates. You can write it in our cover letter builder here. Here's what it may look like: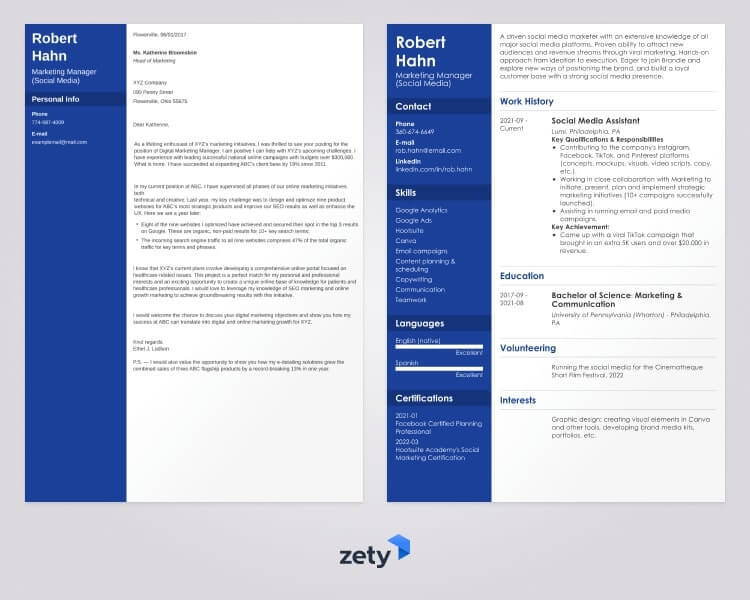 See more cover letter templates and start writing.
Got any questions about our management consultant resume sample? Not sure how to talk up your skills or achievements on a change management consultant resume? Let's chat below in the comment area, and thanks for reading!
About Zety's Editorial Process
This article has been reviewed by our editorial team to make sure it follows Zety's editorial guidelines. We're committed to sharing our expertise and giving you trustworthy career advice tailored to your needs. High-quality content is what brings over 40 million readers to our site every year. But we don't stop there. Our team conducts original research to understand the job market better, and we pride ourselves on being quoted by top universities and prime media outlets from around the world.
Sources