Our customers have been hired by:
Are you looking to cash in on a new job? You've come to the right place. This guide is the ultimate resource for crafting a bank teller resume that'll make other candidates green with envy (and not just because of their lack of banknotes).
From balancing cash drawers to maintaining customer relationships, you'll learn how to highlight your skills and experience in a way that's professional and personable. So grab your lucky pen. You'll write your way to the top!
Want to save time and have your resume ready in 5 minutes? Try our resume builder. It's fast and easy to use. Plus, you'll get ready-made content to add with one click. See 20+ resume templates and create your resume here.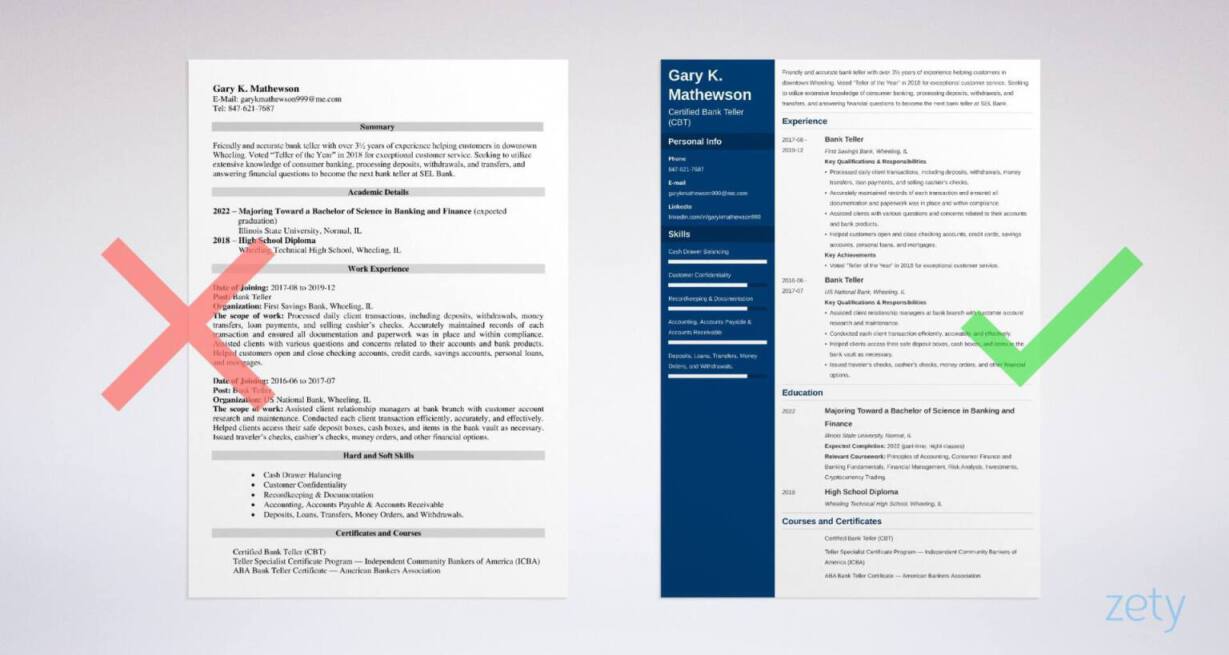 Sample bank teller resume —See more resume examples here.
We're about to begin, but first, here are some other bank-related resume examples:
Bank Teller Resume Sample
Gary K. Mathewson
Certified Bank Teller (CBT)
847-621-7687
garykmathewson999@me.com
linkedin.com/in/garykmathewson999
Summary
Friendly and accurate bank teller with over 3½ years of experience helping customers in downtown Wheeling. Voted "Teller of the Year" in 2018 for exceptional customer service. Seeking to utilize extensive knowledge of consumer banking, processing deposits, withdrawals, and transfers, and answering financial questions to become the next bank teller at SEL Bank.
Experience
Bank Teller
First Savings Bank, Wheeling, IL
August 2017–December 2019
Key Qualifications & Responsibilities
Processed daily client transactions, including deposits, withdrawals, money transfers, loan payments, and selling cashier's checks.
Accurately maintained records of each transaction and ensured all documentation and paperwork was in place and within compliance.
Assisted clients with various questions and concerns related to their accounts and bank products.
Helped customers open and close checking accounts, credit cards, savings accounts, personal loans, and mortgages.
Key Achievements
Voted "Teller of the Year" in 2018 for exceptional customer service.
Bank Teller
US National Bank, Wheeling, IL
June 2016–July 2017
Key Qualifications & Responsibilities
Assisted client relationship managers at bank branch with customer account research and maintenance.
Conducted each client transaction efficiently, accurately, and effectively.
Helped clients access their safe deposit boxes, cash boxes, and items in the bank vault as necessary.
Issued traveler's checks, cashier's checks, money orders, and other financial options.
Education
Majoring Toward a Bachelor of Science in Banking and Finance
Illinois State University, Normal, IL
Expected Completion: 2022 (part-time, night classes)
Relevant Coursework: Principles of Accounting, Consumer Finance and Banking Fundamentals, Financial Management, Risk Analysis, Investments, Cryptocurrency Trading.
High School Diploma
Wheeling Technical High School, Wheeling, IL
Graduation: 2018
Skills
Cash Drawer Balancing
Customer Confidentiality
Recordkeeping & Documentation
Accounting, Accounts Payable & Accounts Receivable
Deposits, Loans, Transfers, Money Orders, and Withdrawals.
Courses and Certificates
Certified Bank Teller (CBT)
Teller Specialist Certificate Program — Independent Community Bankers of America (ICBA)
ABA Bank Teller Certificate — American Bankers Association
Now, here's our carefully calculated formula for a perfect bank teller resume:
1
Structure a Bank Teller Resume Template Perfectly
Want to make sure your value as a bank teller candidate achieves accelerated appreciation?
Then—
Format your resume for bank teller jobs just right.
Here's how to format any kind of banking resume:
Layout: stick with the reverse-chronological formatting order.
Subheading: Make it easy for bank HR staff to find what they need with bold headings.
Font: choose good resume fonts which are easy on their eyes.
Font sizing: 11 or 12-pt font size for general text and 2–4 pts bigger for headings.
Margin: use a 1-inch resume margin around all 4 sides.
Line spacing: use single-line spacing in the regular text areas.
Sections: use lots of white space to keep the teller resume readable.
File type: export resumes in PDF format, unless they ask for a different format specifically.
This is what we recommend a resume for bank tellers include:
Header: include your name and address on a resume contact section.
Introduction: a brief intro stating why you're the perfect bank cashier for the job.
Work experience: 5 or 6 bullet points with job duties and quantifiable wins.
Education: a short recap of your college and/or high school completion details.
Skills: deposit a list of the most relevant bank teller skills for this specific branch.
Extra sections: any additionals which give your candidacy a boost.
Learn more about formatting a resume: How to Choose the Best Resume Format
One last trick that earns interest—
Save the bank resume intro paragraph for last. That's right, even though it comes first, writing it at the end lets you avoid writer's block and add the perfect details to wow them.
2
Start With a Bank Teller Job Description on Your Resume
Here's some scary news:
Bank teller jobs, between 2018 and 2028, will decline by 12% in the United States itself.
This comes out to 57,800 less jobs a decade from now, and more competition for the remaining bank jobs.
So—
Show the bank your creditworthiness is high while the rest of the applicants are a credit risk by making a top-notch work experience section.
Here's what you need to add to your bank teller description on a resume:
Add your past jobs in reverse-chronological ordering, starting with your last or current job.
Include a job title, company name, location, and dates worked for each job entry.
Give up to six bullet points with details about your past job responsibilities.
Use resume action verbs to start each bullet point, and always tailor resumes to match the bank teller job requirements.
Submit one or two quantifiable achievements to verify your banking skills.
Now—
Here are two experienced bank teller resume job descriptions for reference:
Bank Teller Resume Examples (Experienced)
Right
Bank Teller
March 2015–December 2019
Bank of the South, Jacksonville, FL
Key Qualifications & Responsibilities
Maintained in-depth knowledge of bank products, services, and best practices.
Provided customers with high level of service, privacy and confidentiality, and friendly, welcoming attitude.
Handled all transactional services, including bank deposits, monetary withdrawals, financial transfers, and other bank transactions.
Ensured compliance with all Florida State laws and regulations during every shift.
Key Achievements
Achieved 100% accuracy rate throughout almost 4 years of cash drawer audits.
wrong
Bank Teller
March 2015–December 2019
Bank of the South, Jacksonville, FL
Key Qualifications & Responsibilities
Accepted cash and check deposits.
Made cash withdrawals.
Advised customers on loans.
Helped clients apply for mortgages.
Above, the second example is just not detailed enough. If you don't bother with the details, they won't bother calling you in for a bank interview.
The first one, though, pays dividends. It's detailed, tailored to the specific bank teller job description, and it includes a numbered accomplishment for the gold.
What if you're writing an entry-level bank teller resume?
No problem. You just need to show the most bank-related job responsibilities in your work history section.
Here are two bank teller resume no experience examples to consider:
Bank Teller Resume Examples (No Experience)
Right
Salesfloor Associate
February 2017–October 2019
Jamie's Super Outlet Store, Anchorage, AK
Key Qualifications & Responsibilities
Assisted store customers with product and purchase questions, suggestions, and advice.
Helped at the front lanes with checkout and cashier duties when necessary.
Maintained up-to-date product knowledge and awareness of product portfolio.
Key Achievements
Won the 2018 "Salesperson of the Year" award for having 99.57% customer satisfaction rating.
Wrong
Salesfloor Associate
February 2017–October 2019
Jamie's Super Outlet Store, Anchorage, AK
Key Qualifications & Responsibilities
Helped customers carry products when too heavy to handle.
Bagged groceries and other items at the front lanes.
Cleaned up messes which happened on the sales floor.
See, even if you weren't a bank teller in the past, you can still add banking-relevant job duties in your bank teller work history section.
When making a resume in our builder, drag & drop bullet points, skills, and auto-fill the boring stuff. Spell check? Check. Start building a professional resume template here for free.
When you're done, Zety's resume builder will score your resume and our resume checker will tell you exactly how to make it better.
For more on a work experience section for a resume: Here's How to Create a Job-Winning Past Employment Resume Section
3
Enter Your Education (It's Not So Straightforward!)
A high school diploma or GED certificate is all you need to have to get most bank teller jobs.
But—
Whatever education level you have, you need to add it to your resume for bank tellers correctly if you want to get deep in the money and land the job.
So, here's how to do it.
When you have plenty of experience as a bank teller, keep the details of your college or high school history to a minimum.
Experienced Bank Teller Resume Education Sample
Right
Bachelor of Business Administration in Finance
Florida International University, Miami, FL
Completion: 2017
However—
When you're writing a resume with less experience, or none at all, list extras, such as relevant classes, achievements, and extracurriculars:
Entry-Level Bank Teller Resume Education Sample
Right
Bachelor of Science in Finance and Accounting Management
Northeastern University, Boston, MA
Completion: 2016
Relevant Coursework: Applications for Managerial Finance, Advanced Financial Recordkeeping & Accounting Practices, Financial Management.
Minor: English Studies
If you have a college degree under your belt, skip high school on your bank teller resume.
Also, if you have no experience (or very little), swap places, education for work history. This way you'll put the most impactful items on the top for the bank manager to see first.
Read More: How to Include Education History on a Resume
4
List Bank Teller Skills Relevant to the Position You're After
You've got a bank vault's worth of skills in your arsenal.
But you can only list a few.
Which banking skills to list on resumes for bank teller jobs?
Here's what you should do:
Read the bank teller job description and identify resume keywords they're looking for.
Next, create a list of all your bank teller and finance skills.
In your bank teller skills section, include the few skills which came up in both of the above steps.
Always give a good mix of both hard and soft skills.
Let's begin by looking at common bank teller resume skills:
20+ Bank Teller Skills for a Resume
Balancing Ledgers
Deposits and Withdrawals
Loans and Mortgages
Investments
Financial Account Maintenance
Risk Assessment & Analysis
Cash Drawer & Cash Handling
Basic Math Skills
Financial Transactions
Safety Deposit Boxes
Vault
Privacy & Confidentiality
Foreign Currency & Currency Exchange
Next—
Let's have a look at how to put your bank skills on a teller resume:
Bank Teller Skills Resume Example (Experienced Candidate)
Right
Basic Math & Accounting Skills
Deposits and Withdrawals
Opening and Closing Bank Accounts
Bank Clerk Skills Resume Example (No Experience Candidate)
Right
Verbal Communication Skills
Problem-Solving Skills
Customer Service Skills
Simple, right?
Whether you're Jamie Dimon or just starting out in the world of finance, you definitely have skills relevant for resumes for bank tellers.
Read more about adding skills on a resume: How to Add a Skills List to a Resume.
5
Show Don't Tell: Add "Extra" Sections to Your Bank Clerk Resume
Extra bank cashier resume sections help to set you apart from the other qualified bank job candidates.
Here are a few examples to consider:
Bank Teller Resume Additional Sections
Certificates prove you have skills when your college and past work experience doesn't.
If you have a volunteer job in your past, that's potentially great experience to list on bank teller resumes.
Knowledge of a second language is powerful, especially for a customer-facing job such as those at a bank.
Hobbies and interests can look great, but be sure to choose those passions which have at least a little to do with bank jobs.
6
Sum Up the Best Portions Into a Bank Teller Resume Objective or Summary
The heading statement goes at the very top of your banker resume.
Because it's the first thing the bank manager or branch supervisor will see, you need one you can bank on.
There are two types: the summary and the objective.
Are you a seasoned teller?
A summary on a resume is perfect for you.
A career summary shows the finance director or banking manager that you have plenty of experience under your belt and the skills to do the bank proud. It also includes a numbered achievement to quantify one (or more!) of your proudest past wins.
Take a gander at these two banking resume examples of summary statements:
Sample Bank Teller Resume Summary Statements
Right
Personable bank teller at high-volume bank with 5 years of expertise with financial customer service. 99.75% client happiness rating over 5-year period of employment. Seeking to leverage knowledge of advanced banking tasks and banking product experience to become the next senior bank teller at Global Savings Bank.
Wrong
As a veteran bank teller, I know I have the skills and experience necessary to perform standard banking and transactional duties at any bank branch of any financial institution.
The wrong example above is way too generic to get more than a passing glance.
The right example, on the other hand, has everything needed to impress the bank supervisor and vault right to the top: a tailored approach, powerful details, and a numbered win.
But—
How about when this is your first job at a bank branch?
In this case, an objective on a resume is right for you.
A career objective introduces you with a compelling statement about your professional background and a mention about your career goals. It also includes a past win that uses numbers to show them what you bring to the table.
Have a look at these two bank teller resume examples of objective paragraphs:
Resume Objective for a Bank Teller —Example
Right
Current college student majoring in finance with 3 years of experience at a retail store with heavy traffic. Excellent customer service, communication, and interpersonal skills. 100% score on Bank Teller Certification Exam. Seeking to use client-centered skills and retail experience to become a junior bank teller at Overseas Investment Bank.
Wrong
While I finish up my bachelor's degree, I'm looking for a part-time bank teller job to tide me over financially. I haven't worked at a bank before, but I have lots of retail skills which translate well to jobs at banks.
Which candidate would you prefer? The choice is obvious.
Read more: How to Write a Powerful Resume Opening Statement
7
Write and Attach a Bank Teller Cover Letter
Want the bank manager to give your application a fair value when auditing it?
Here's how to write a bank teller cover letter:
Cover letters for bank teller jobs give you freedom to talk about things your resume couldn't, such as an employment gap or showing enthusiasm for finance.
Like finding a tax deduction, use it to your advantage!
To get some helpful advice: 35+ Successful Cover Letter Tips
Plus, a great cover letter that matches your resume will give you an advantage over other candidates. You can write it in our cover letter builder here. Here's what it may look like: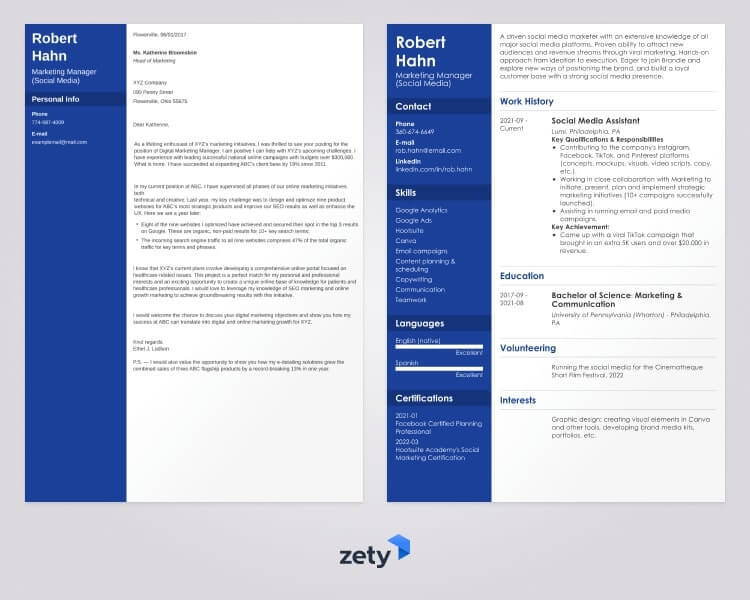 See more cover letter templates and start writing.
Recap—Bank Teller Resume In a Nutshell
Let's do some arithmetic and sum this all up.
Here's how to write a bank teller resume step-by-step:
Format your bank teller resume template according to our guidelines.
Detail your past work experience using bullet points tailored to the bank job description.
Offer an achievement or two with numbers to quantify how well you performed in past roles.
Document your education history and relevant extras when you have less experience.
Add a list of bank teller skills and financial abilities found as resume keywords from the job ad.
Include additional sections on your bank resume that are relevant to the job.
Go back to the top and craft a powerful bank teller resume summary or objective.
Always include a cover letter for bank tellers before you send your application.
We'd love to hear from you:
Do you have any questions about how to write a bank teller resume?
Need any help with coming up with banking skills or accomplishments?
Got any tips from past bank teller jobs you want to share with us?
Leave us a comment below and let's have a discussion. Thanks for reading!
About Zety's Editorial Process
This article has been reviewed by our editorial team to make sure it follows Zety's editorial guidelines. We're committed to sharing our expertise and giving you trustworthy career advice tailored to your needs. High-quality content is what brings over 40 million readers to our site every year. But we don't stop there. Our team conducts original research to understand the job market better, and we pride ourselves on being quoted by top universities and prime media outlets from around the world.
Sources