Give us a minute, and we'll show you how to write the best bank teller resume out there. Just give this a thought first—
Bank tellers have a lot in common with mafia bosses. They have good people skills, and they can handle enormous amounts of money without batting an eye.
But unlike mafia bosses, bank tellers need to be 100% honest and reliable to get the job.
Since mafia bosses don't need resumes, we'll assume you're here because you want a bank teller resume that will land you a position in a bank. Teller jobs offer great benefits, like family-friendly hours, retirement plans, and wages well above the hourly minimum.
There's one problem though.
You'll have less than 6 seconds to convince your local bank's HR manager that you have all the skills needed.
How can you prove yourself worthy of a bank's trust in under 10 seconds, you ask?
We'll show you exactly how. With this guide, you will learn:
This guide will show you:
A bank teller resume example better than 9 out of 10 other resumes.
How to write a bank teller resume that will land you more interviews.
Tips and examples of how to put skills and achievements on a bank teller resume.
How to describe your experience on a resume for a bank teller to get any job you want.
Here's a sample resume for a bank teller made using our resume builder.
Want to save time and have your resume ready in 5 minutes? Try our resume builder. It's fast and easy to use. Plus, you'll get tips and right vs. wrong examples while writing your resume. See +20 resume templates and create your resume here.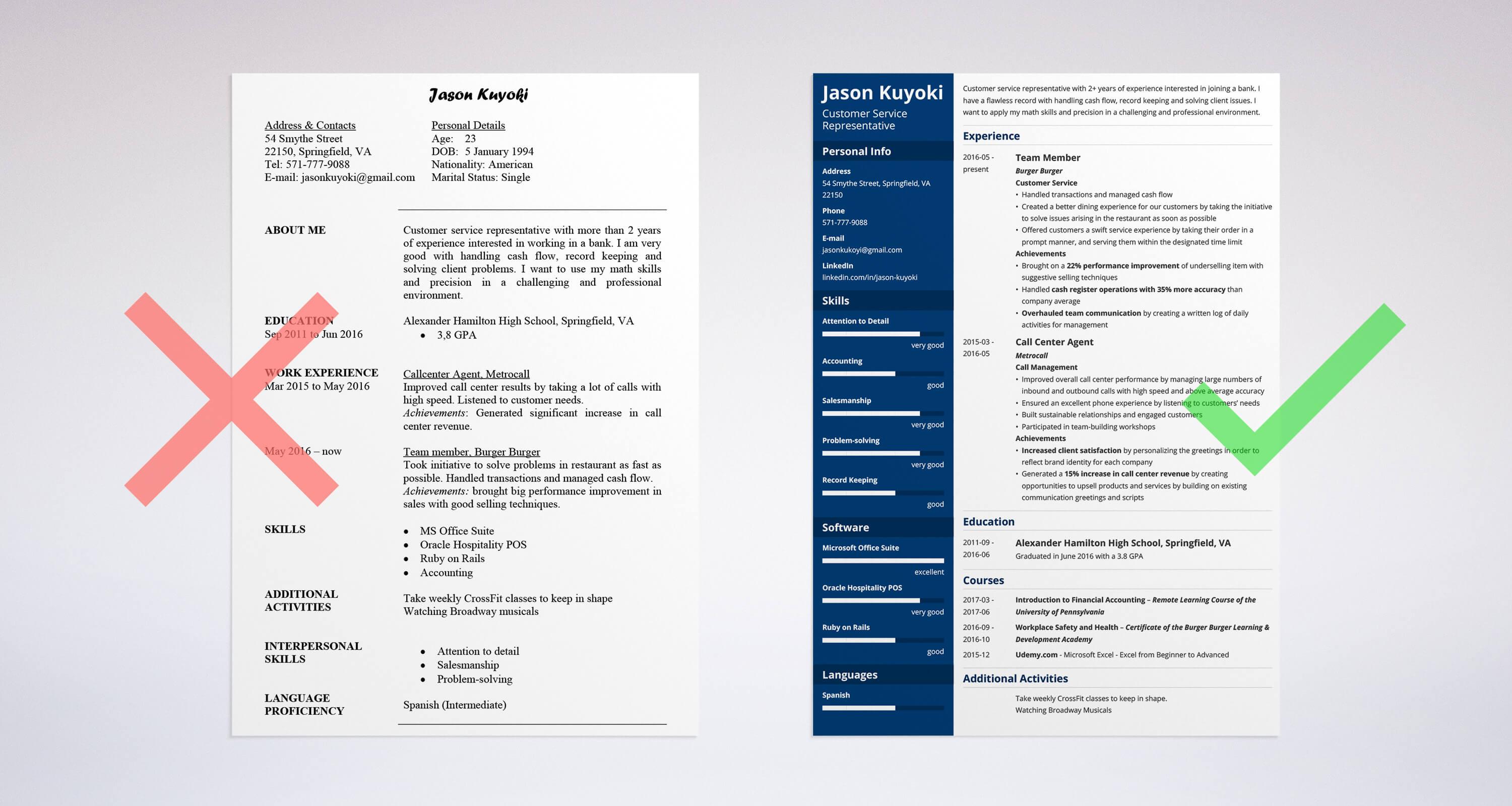 Bank Teller Resume Example - See +20 resume templates and create your resume here.
See more resume examples for jobs in banking and finance:
1
What's the Best Format for a Bank Teller Resume?
You're trustworthy, so all you need to do is write so in the intro of your resume, right?
Wrong.
In fact, there's no quicker way to appear suspicious than to shower yourself with praise without providing any proof.
To show hiring managers that you're reliable, you need to prove that other people have relied on you in the past.
That means your best choice when it comes to resumes for bank tellers is to go reverse-chronological.
How? Easy-peasy. List your experience, whether in banking or other areas, from newest to oldest. By doing so, you will let your potential new boss know that hiring you is a safe bet.
Most banks will expect reverse-chronological format. These resumes also have the advantage of being readable by Applicant Tracking Systems. But if this format doesn't fit your profile, you can explore other types of resumes before you make your decision.
Want to make sure your resume will hook every recruiter and get you that interview? Get our free checklist and learn what makes a job-winning resume: 46 Things You Need To Do Before You Send Your Resume.
Pro Tip: Bank tellers need to be lightning-quick while assisting customers. Be sure to include any experience where speedy service is key, like fast-food restaurant experience, even if it's not related to banking.
The overall format of a resume for bank tellers should be neat and clean – no one likes a long, cramped resume. If you're unsure what that looks like, go back to our bank teller resume sample and observe the visual layout.
Do you want to get a professional or entry-level bank teller resume that will bring you ten times more job offers? Follow the easy formula presented in these guides: How to Make a Resume, First Resume With No Experience, How to Start a Resume, and Resume Dos and Don'ts.
2
Contact Information Is Not as Basic as it Seems
Close your eyes and think about the last time you went to the bank. What was the bank teller like? Chances are, he or she looked professional and competent.
Now get this: there is a way to present your contact information that will make you come across as professional and competent, and there is a way that will do just the opposite.
Which one is which?
Here is a great example of a bank teller resume contact section:
right
Jason Kukoyi
54 Smythe Street, Springfield, VA 22150
jasonkukoyi@gmail.com | 571-777-9088
Note how:
The name stands out
The address is complete and follows a standard format
The email address is name@gmail.com
Are you doing it right? If your contact details look anything like the example below, then the answer is no.
wrong
Ja$on K. Springfield 54 Smythe
jassbass@hotmail.com 5717779088
Remember to:
Avoid nicknames
Format your address and phone number properly
Create an official email address if you don't have one already
Here's a thing you need to know about social media accounts: since banks often conduct background checks on potential employees, it's quite likely that your social media presence will be closely examined.
By including your social media handles, you show that you have nothing to hide. But first, make sure that your posts and comments are well-written – 72% of recruiters will disqualify candidates if they find typos on their social media profiles!
Pro Tip: Your name@gmail.com is already taken, and you don't fancy being martindavies78349? Feel free to throw in your middle initial in there. Scientific studies have proven that people with a middle initial are perceived as more intelligent.
Adding a LinkedIn handle to your bank teller resume will give your resume an extra boost, especially if your abilities are endorsed by former colleagues and employers.
LinkedIn can be a powerful tool in helping you land your dream job. To learn how, read How to Optimize Your Linkedin Summary and Profile to Get Jobs.
3
Bank Teller Resume Summary or Resume Objective
Remember how long hiring managers look at each resume?
That's right, a few seconds only. That means that once they read the contact information, they will give one single look at the summary of a bank teller resume and decide on which pile it belongs.
You literally have one shot at making a good impression.
To get the most bang for your resume buck, write a resume summary that will tell managers all they need to know in as little time as possible.
Think about it: even if they make they make snap judgments, bank managers are looking for a candidate who checks several requirement boxes. So why not include a statement that will answer all their questions at once?
While writing this section of your resume, keep in mind the usual tasks performed at a bank.
What is a bank teller's job description ?
Customer service representatives in banks assist clients with deposits and withdrawals, log transactions, and sell additional bank services.
Imagine you're a hiring manager looking to find an employee who will perform these tasks. What are you looking for while scanning an objective on a bank teller resume?
A bank manager will look for three things:
A record of successful customer service
Proven math abilities, especially with money
Attention to detail
And that's exactly what your summary should contain.
Bank teller resume summary example
right
Experienced customer service representative interested in joining a bank. Flawless record with handling cash flow. Looking to apply my outstanding math skills and precision in a professional and challenging environment.
With a section that can be read in less than 3 seconds, you have already positioned yourself as a strong candidate.
Is there a wrong way to write a bank teller resume summary? Yes, there definitely is.
wrong
Looking for a challenging job that will make the most of my wide range of abilities.
HR staff will look at your resume with questions in mind. And this gives them zero answers.
Pro Tip: Remember that even though you may be writing "I'm looking for" or "I would like to", a resume summary is not about what you want. Don't go into your personal motivations for wanting a bank teller job (flexible hours, good salary, etc.) and stick to a statement that showcases your skill.
Our resume builder (you can create your resume here) will give you tips and examples on how to write your resume summary or any other section. You can easily copy them straight into your resume - it will save you a ton of time.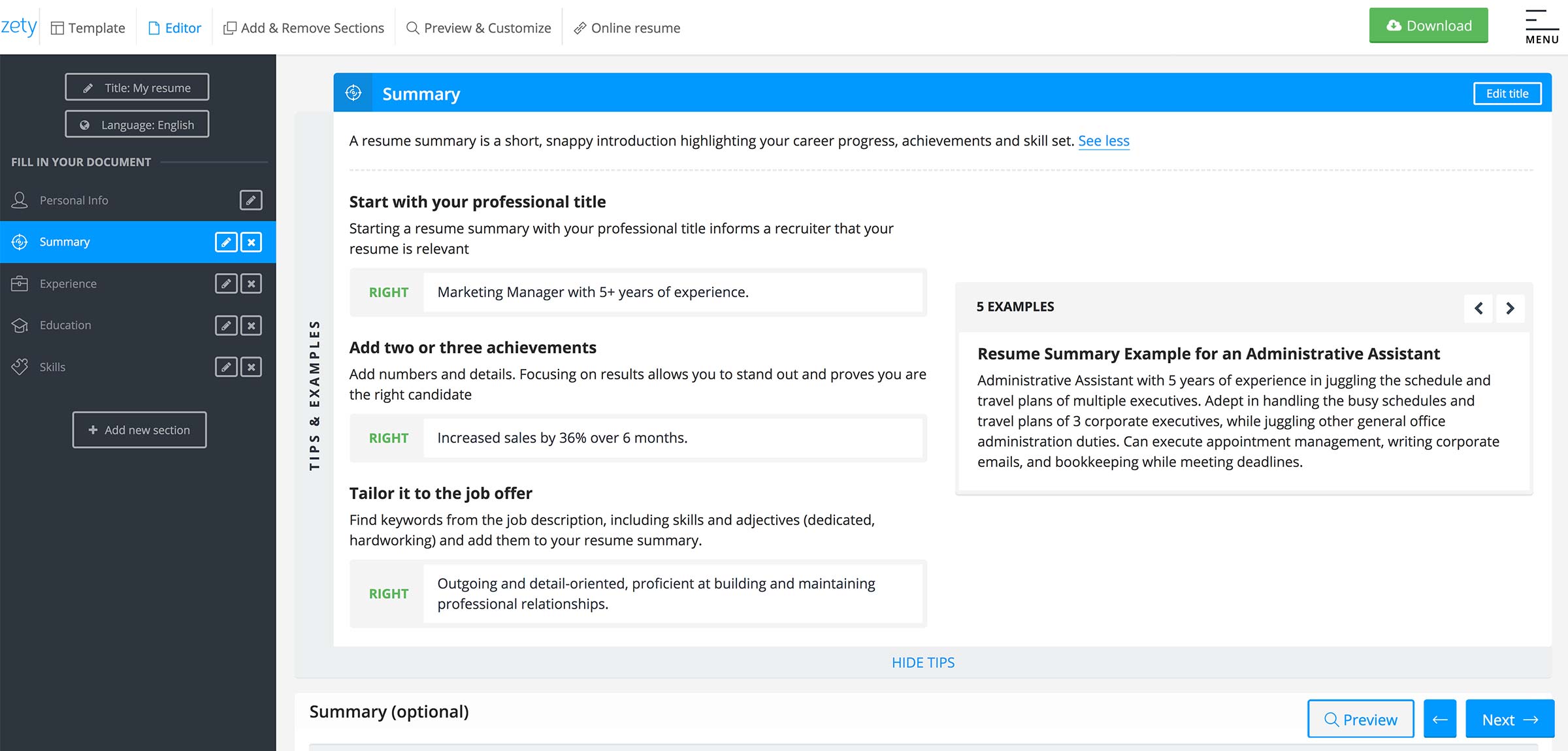 Inside Zety's resume builder you will find tips and examples for your resume.
How to Write a Resume Objective for a Bank Teller Position
If you just graduated or you're looking to change careers, you may want to consider writing a bank teller resume objective instead of a summary.
Again, the trick is to look at the job description of a bank teller and match it to your resume objective.
Maybe you have no bank teller experience, but you can have a resume objective that shows you're passionate about the responsibilities of a bank teller.
right
Reliable and detail-oriented employee looking to apply my record keeping and accounting skills in a banking environment. My people skills and accuracy will allow me to make a significant contribution to any team.
If you're wondering how to sum up your experience in a way that will boost your chances of getting a bank teller job, check out How To Write A Resume Summary: 21 Best Examples You Will See. For more tips on how to write a bank teller resume objective with no experience, read +20 Resume Objective Examples - Use Them On Your Resume (Tips).
4
How to Describe Your Bank Teller Experience
Banks will ALWAYS give your resume a second look. But how to make the most of that second read?
You have to keep them interested.
Here's where your experience section comes in. You already know that you should be listing your experience from newest to oldest, but the way you describe your previous employment is what will keep an employer reading.
The best way to keep a potential boss engaged is to use descriptions that contain a Problem (P), an Action (A) and a Result (R).
By using the PAR structure (similar to the STAR method), you show that your presence made a positive impact on your work environment. Saying you rock is easy, but with this formula, you'll be proving it.
For example, at your last job, you increased ice cream sales by 22% because you decided to always offer ice cream to customers whenever the weather rose above 80 °F.
Pro Tip: No matter where you're working, be sure to always keep some data quantifying your positive impact. It will make your life much easier the next time you're on a job hunt.
Start by stating or implying what was the issue with the initial situation. Then describe your initiative, and finish up by adding the outcome. If you're writing a bank teller resume with no experience, you can apply the same advice to volunteering or academic situations.
How to describe experience on a resume for bank tellers
right
To raise customer satisfaction levels (P), I created a customer satisfaction survey (A) that allowed our bank to double its levels of satisfied customers. (R)
See how your impact stands out? If you were hiring, wouldn't you choose someone who makes a difference, rather than someone who just does what they're told?
wrong
Greeted customers according to company script.
This goes for professional bank teller resumes too. Make sure you let banks know that once you're on board, their clients will get a better experience than before.
right
To raise customer satisfaction levels (P), I created a customer satisfaction survey (A) that allowed our bank to double its levels of satisfied customers. (R)
To get more advice tailored to your specific situation, check out Achievements to Put on Resume - Complete Guide (+30 Examples).
5
Is Your Education Section Underperforming? It Might Be
Just because banks don't have specific education requirements doesn't mean they don't care about it.
Most banks will favor candidates with a high school diploma. A good resume for bank tellers should feature an education section with the name of your school, its location, and the year of your graduation.
Here is the right format for the education section on a perfect bank teller resume.
right
Alexander Hamilton High School, Springfield, VA
Graduated 2016
If you have a college degree, include your major/minor. If your GPA was above 3.0, you may want to include it. Here's how:
right
2017 BA in Psychology
University of Virginia, VA
3.8 GPA
Pro Tip: Education matters, but most banks will care more about your experience than your education. Put your experience first, then education.
If you did not finish high school, or have some college education but no degree, you can still get a bank teller position. Find out how to format incomplete education by reading how to put your education on a resume, or check out our complete guide on how to choose a major.
6
How to Put Skills on a Resume for a Bank Teller
At this point, you should have figured out what most banks are looking for in bank teller candidates.
Skills, skills, skills.
Look at bank teller job postings in your areas. Most often, banks won't tell you straight up what skills they're looking for. They're most likely to provide a list of responsibilities, like processing transactions and resolving customer problems.
What the banks really mean is that they're looking for someone with the skills to perform these actions. And good luck to you if these skills are nowhere to be found on your resume.
What are good skills for a bank teller resume, you ask?
Let me give you a head start.
As a rule, to perform the main responsibilities of a bank customer service representative, a candidate has to possess a unique mix of hard and soft skills:
Soft skills:
Friendliness and courtesy
Patience with customers
Salesmanship
Attention to detail
Hard skills
Basic accounting
Money handling
Cash drawer maintenance
Record keeping
There is a high likeliness that your local bank is looking for some combination of the skills above. List all the relevant stuff – and lose the rest.
Here is what is relevant on a professional resume for bank tellers:
right
Skills
Ability to work with money transactions with a high degree of accuracy
Demonstrated accounting skills
Able to solve customer issues efficiently and courteously
wrong
Timely
Experienced copywriter
Mastery of Adobe Creative Suite
Every job posting is unique and that your resume should be adapted to each application. Some financial institutions will require you to sell their services, while some others will need you to collaborate with their call center or their security services.
The key to success here is to provide the full range of skills necessary to carry out the listed responsibilities.
Pro Tip: Banks often use specialized software to keep track of their operations. Include your skills with industry-specific software to show that you are able to master similar systems.
If you're still wondering what are the best bullet points for a bank teller resume, be sure to check out this article: +30 Best Examples of What Skills to Put on a Resume (Proven Tips).
7
How to Add Other Sections for an Effective Bank Teller Resume
You listed all the right experience, you listed all the right skills and you formatted your contact information just the right way. Done deal, right?
Sorry to disappoint you, but not yet.
You're one in a pile of a hundred applicants, and there's a good chance someone else in there also did everything right so far.
So what does it take to get noticed?
You need to have that little extra something that will make your resume stand out.
Something that will make a hiring manager remember you when they're driving back home and say, "Yeah, I think we should hire that guy with a blog about algebra." Or "Maybe I'll call the girl who got an award for customer service when she was working at Best Buy."
This is your time to show off. Won loads of awards and prizes? Create an award section. Have interesting hobbies that fit your bank's style? Create a hobby section. Went on internships and study visits? That too can be a section.
How to list your hobbies on a resume for bank tellers
right
Interests
World news and global economic trends
Fintech and app development
While extra sections can often give a good bank teller resume a bit of zing, remember to keep things formal. Your political or religious affiliation or your social activism is best kept private at that point of the recruitment process.
Pro Tip: Hobbies can be a subtle way to show off your skills as well. Basketball says team player, whereas chess says detail-oriented.
This is only the tip of the iceberg when it comes adding a spark of individuality to resumes for bank tellers. Read +20 Best Examples of Hobbies & Interests to Put on a Resume to get 5 great tips on how to stand out.
8
Here's the Most Common Myth About Cover Letters
You're tired. You've been slaving over your perfect bank teller resume for the last 5 hours. You fixed every typo and changed the font 5 times. Your finger slides towards the send button…
Stop right now.
You have to write a cover letter.
Really, you do. Surveys show that up to 45% of recruiters will reject an application without a cover letter. Some recruiters might think they're unimportant, but if almost half of them think they matter, do you really want to take that risk?
Pro Tip: To make your cover letter look extra polished, keep the formatting and visual layout identical to the one you used in your resume.
Cover letters offer additional possibilities. This is the perfect time to spell out why you want to work at that particular bank or to describe an especially impactful contribution you made at your last job.
Clearly state why you're applying, and why you would be the best candidate for the job. Make sure you know what to include in a cover letter, and check out our cover letter tips and tricks.
Plus, a great cover letter that matches your resume will give you an advantage over other candidates. You can write it in our cover letter builder here. Here's what it may look like: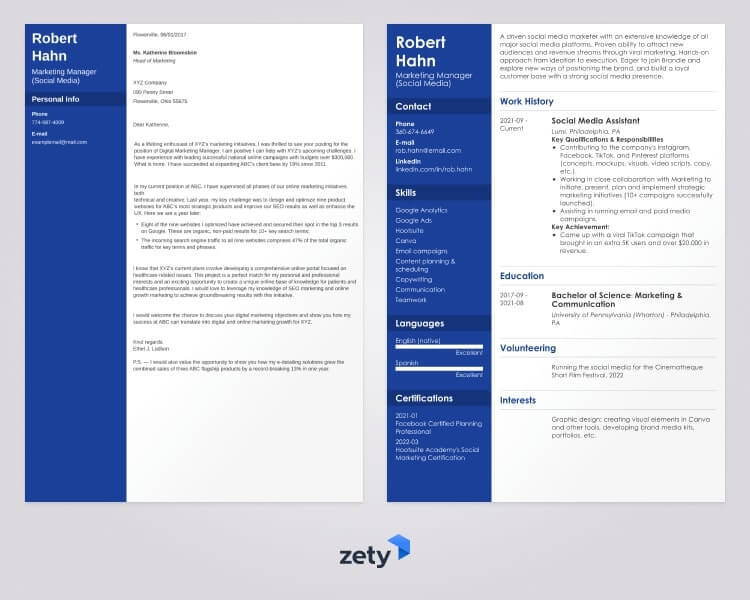 See more cover letter templates and start writing.
There are simple but foolproof tricks to make your cover letter stand out. To find out more, read How To Write A Cover Letter [Complete Guide With Examples].
Key Takeaway
Composing a great bank teller resume is tricky business, but this is how you become a bank teller. There is room for creativity, but on the whole, your resume should follow these golden rules:
Include key skills in your resume summary, and make sure you're not committing any formatting faux-pas.
Prove your skills with examples of your past success in your work experience section.
Add extra sections that show off your verifiable, unquestionable wins.
Make the details work for you. Choose a neat format and make sure you fix all typos.
Ready to apply? If you have any other questions, just write them down in the comments section and we'll answer! Got the job you wanted? Let us know as well, we'll pop open the champagne!