Internal Auditor Resume: Sample & Writing Guide
You're an expert at detecting the smallest income discrepancies, but you can't miss even the tiniest details on your internal auditor resume if you want to advance your career.
You are a champion of procedure-following.
An eagle-eyed detective, scrutinizing each and every word on financial reports.
You're not the only one with those skills.
Recruiters will judge your resume just as ruthlessly, and if they don't like what they see?
Thumbs down.
Read on to find out how to make your internal auditor resume pass all scrutiny with compliance.
This guide will show you:
An internal auditor resume example better than 9 out of 10 other resumes.
How to write an internal auditor resume that will land you more interviews.
Tips and examples of how to put skills and achievements on an internal auditor resume.
How to describe your experience on a resume for an internal auditor to get any job you want.
Want to save time and have your resume ready in 5 minutes? Try our resume builder. It's fast and easy to use. Plus, you'll get ready-made content to add with one click. See 20+ resume templates and create your resume here.
Sample resume made with our builder—See more resume examples here.
And if it's other positions you're after, check out these guides below:
Internal Auditor Resume Sample
Timothy Schüler
Internal Auditor
304-832-2000
timschuler@ymail.com
Linkedin.com/in/timothy.a.schuler
Professional Summary
Effective and thorough internal auditor with 12+ years' experience at companies of various sizes. Performed financial statement audits of government agencies, managing budgets upwards of $4 billion. Seeking to strengthen the ranks of Rutherford Advisory with extensive knowledge of tax regulations, and experience in waste prevention and auditor training.
Work Experience
Internal Auditor
S&L Entertainment, Tampa, FL
March 2012–April 2020
Key Qualifications & Responsibilities
Interfaced with management & coordinators to create detailed auditing plans on a yearly basis.
Supervised a team of 8–10 auditors, delegating tasks, conducting evaluations and mentoring junior hires.
Led successful fraud investigation efforts, saving the company $13 million in a potential lawsuit.
Collaborated with full transparency with external auditors receiving much praise for astoundingly open communication.
Key Achievement
Spearheaded company's reporting and finance tracking measures to remove obsolescence, speeding up the year- and quarter-end audits by up to 5 weeks.
Junior Financial Auditor
LanceDelta, Tallahassee, FL
January 2009–February 2012
Key Qualifications & Responsibilities
Conducted detailed interviews with senior managements of client companies to gain a full understanding of their businesses.
Charted significant processes, identified and tested key internal controls.
Tailored an audit approach to ensure all significant risks areas are identified and tested.
Education
Bachelor's Degree in Accounting
Texas A&M University, Killeen, TX
Graduated: June 2007
KeySkills
Tax Regulation Compliance
Financial Auditing
Risk Management & Prevention
Identifying High-Risk Areas
Excellent Communicator
Great Time Management & Attention to Detail
Certifications
Certified Internal Auditor, IIA, 2013
ISO 9001 Internal Auditor Certification, ASQ, 2013
Languages
German: Native-Level Proficiency
French: Professional Proficiency
This is how you write an internal auditor resume:
1. Pick the Right Format for Your Internal Auditor Resume
Internal auditors evaluate a company's finances to check if funds are being mismanaged. They also verify compliance with relevant regulations and give recommendations on maintaining a transparent and compliant financial record. A successful internal auditor resume needs to show superb attention to detail alongside relevant knowledge.
And while that is easier said than done, it should all start with a well-thought-out and structured plan.
Follow these formatting steps to get you there:
Unless instructed otherwise, save your resume as a PDF. Not every device can open .docx files, and that could instantly void your chances of getting hired.
Read more: What Should a Great Resume Look Like? Examples and Guide
2. Create a Stunning Internal Auditor Resume Profile
The resume introduction statement is a quick, well, introduction, briefly talking about your biggest strengths at the top of your resume.
It comes in two flavors: a resume summary and a resume objective.
With more than 2 years of internal auditing experience, you'll want to write a resume summary. You present your most impressive skills and add numbered achievements to convince the company you're clearly the right fit for the job.
Otherwise, if you're a fresh graduate or career changer, write a resume objective. Focus instead on any transferable skills you have to demonstrate how your knowledge would help you acclimate yourself to the world of internal auditing.
This is a super important part of any resume, and it pays off to put lots of effort into it. Reserve this till the end of your writing process to create the very best resume profile you can.
Read more: Resume Profiles: How to Write & Examples
3. Write a Compliant Internal Auditor Experience Section
The work experience section of your resume plays a major role in the overall scheme of your job application—your success could very well hinge on it.
Accountants and auditors will see a 7% increase in job openings by 2030, per the BLS. If you want to pass the recruiter's audit ahead of the other 135,000 or so other candidates, do this:
As you know, your resume will be following the reverse-chronological format, so the last job goes first, the first job goes last.
Adjust your job titles to make them compliant with the job you're applying to. If you did financial auditing, and you are applying for a "Financial Auditor" position, don't call yourself an "Internal Auditor".
List your duties and numbered accomplishments in succinctly written bullet points, up to 5 at a time.
Use action verbs to keep the hiring manager engaged. They might doze off otherwise.
Lastly, adjusting your job title was just the first step. Actually tailoring your full resume to the job is the most reliable way to avoid the risk of your application going to the trash.
Read more: How to Write a Targeted Resume
4. Make Your Internal Auditor Education Section Shine
Typically, internal auditor jobs require a bachelor's degree. However, no employer will reject you for having a master's, in fact, they tend to expect that.
Keep your head up high, though. Even without that kind of degree, you can still make a good impression if you know how:
With more than 5 years of experience, adding just the degree, institution name and location, and graduation year is enough. Congrats, you passed, you can move on!
If you're not quite at that stage, fill in the gaps with additional details, like extracurricular activities, academic achievements, scholarships or grants, or relevant coursework you liked or excelled at.
Finished university? No need to add high school. Still completing that degree? List your unfinished college degree and add high school below it.
Read more: How to Put Your Degree on a Resume
When making a resume in our builder, drag & drop bullet points, skills, and auto-fill the boring stuff. Spell check? Check. Start building a professional resume template here for free.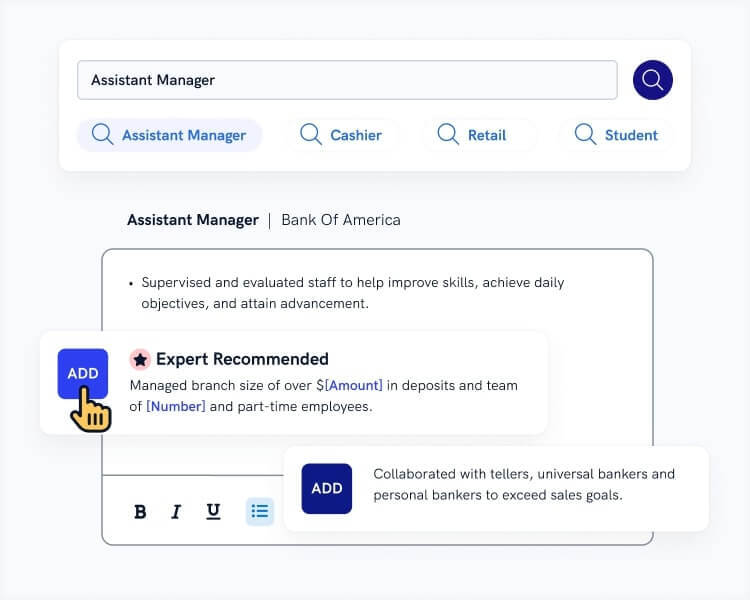 When you're done, our professional resume builder will score your resume and our resume checker will tell you exactly how to make it better.
5. Highlight Your Internal Auditing Skills
A GAAP-certified resume needs a great skills section to boot.
Check out the example list below:
Best Internal Auditing Skills
Financial Auditing
Capital Analysis
Risk Assessment & Management
Federal & International Tax Regulation
Fraud Investigation
SMO Reports
Identifying High-Risk Areas
Inventory Review
Profit and Loss Reports
Auditor Training
Budgeting & Projections
Preparing Financial Statements
Accounting
Math Skills
Now, don't be tempted to just paste that onto your resume. That would surely set off fraudulent activity alarms.
Instead, there's a procedure you can follow:
Separate all your skills into sections on a master spreadsheet. Soft skills, hard skills, technical skills, and any other professional skills you can think of.
Open the job ad you're responding to.
Check what skills they are after, typically stated in a "Skills" (duh) or "Requirements" section. There, you can find the exact resume keywords that will help you advance in the recruiting process, straight to a job interview.
Cross-reference your skills list with the keywords that appear in the job ad and mark the skills that match. Pick 10 of the most relevant ones and list them on your resume in a separate section.
Pro Tip: According to the UK's IIA, internal auditors need to exhibit stellar interpersonal and communication skills. Therefore, remember to always triple-check your emails and be well-mannered in all messaging between you and the company.
6. Throw in Additional Sections on Your Internal Auditor Resume
This is the final stretch, the best time to pull ahead of your competition.
And I can tell you for a fact—
They've all structured their resumes just like you.
To gain a few inches on them, include extra sections that set you apart from the crowd. These could be:
Memberships
Awards you've earned
Read more: What to Put on a Resume: Guide and Examples
7. Attach a Cover Letter to Your Internal Auditor Resume
Do you need a cover letter, really?
Yes, you do.
Plenty of managers say outright that without one, they won't care about your resume. According to our HR statistics, as many as 45% of recruiters will automatically reject resumes that aren't accompanied by a cover letter. That's not a risk worth taking, right?
Here are a few basic cover letter writing tips:
Pro Tip: Following up on a job application after about a week has elapsed is always a good idea if they didn't hit you back before then!
Plus, a great cover letter that matches your resume will give you an advantage over other candidates. You can write it in our cover letter builder here. Here's what it may look like: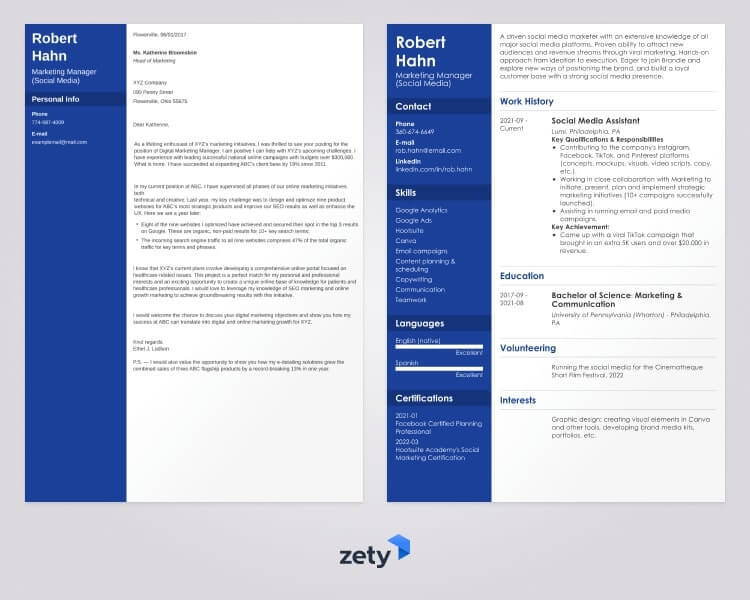 See more cover letter templates and start writing.
That's all you need to know!
A fully compliant internal auditor resume with minimal risk!
Thanks for reading. Do you have any additional insight to contribute? Or maybe there are some questions about creating a resume profile that are still bugging you—whatever it is, our comments section is always open.
About Zety's Editorial Process
This article has been reviewed by our editorial team to make sure it follows Zety's editorial guidelines. We're committed to sharing our expertise and giving you trustworthy career advice tailored to your needs. High-quality content is what brings over 40 million readers to our site every year. But we don't stop there. Our team conducts original research to understand the job market better, and we pride ourselves on being quoted by top universities and prime media outlets from around the world.