Auditor Resume: Sample & Guide (20+ Examples)
Whether you're internal or external, inventory or IT, specialist or senior, this guide on writing a resume has everything needed to get the auditing job you've been searching for.
You've got better eyesight than an eagle because you can spot a badly spent dollar among thousands of financial transactions.
Most recruiters, on the other hand, should get their eyesight checked because they keep overlooking your resume.
The solution? Write an auditor resume that makes your value so clearly visible that no one in their right mind would fail to see it. We'll show you how.
This guide will show you:
An auditor resume example better than 9 out of 10 other resumes.
How to write an auditor resume that will land you more interviews.
Tips and examples of how to put skills and achievements on an auditor resume.
How to describe your experience on a resume for an auditor to get any job you want.
Want to save time and have your resume ready in 5 minutes? Try our resume builder. It's fast and easy to use. Plus, you'll get ready-made content to add with one click. See 20+ resume templates and create your resume here.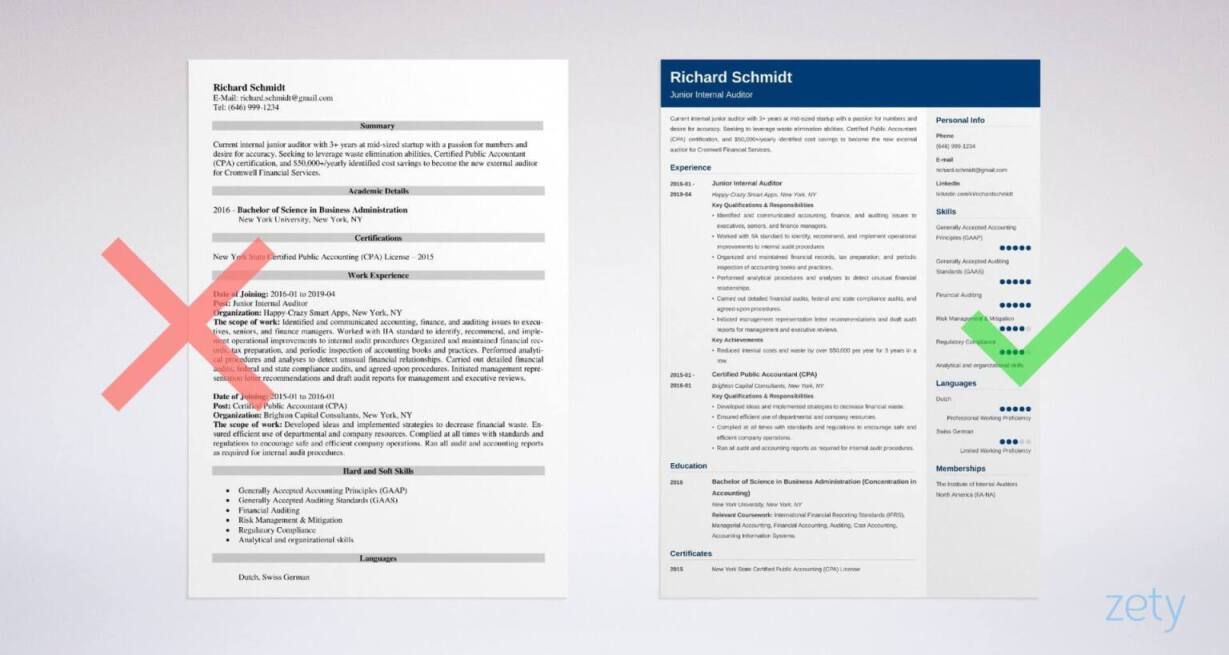 Sample resume made with our builder—See more resume samples here.
Auditor Resume Sample
Richard Schmidt
Junior Internal Auditor
richard.schmidt@gmail.com
(646) 999-1234
linkedin.com/in/richardschmidt
Summary of Qualifications
Current internal junior auditor with 3+ years at mid-sized startup with a passion for numbers and desire for accuracy. Seeking to leverage waste elimination abilities, Certified Public Accountant (CPA) certification, and $50,000+/yearly identified cost savings to become the new external auditor for Cromwell Financial Services.
Work Experience
Junior Internal Auditor
January 2016–March 2019
Happy-Crazy Smart Apps, New York, NY
Key Qualifications & Responsibilities
Identified and communicated accounting, finance, and auditing issues to executives, seniors, and finance managers.
Worked with IIA standard to identify, recommend, and implement operational improvements to internal audit procedures
Organized and maintained financial records, tax preparation, and periodic inspection of accounting books and practices.
Performed analytical procedures and analyses to detect unusual financial relationships.
Carried out detailed financial audits, federal and state compliance audits, and agreed-upon procedures.
Initiated management representation letter recommendations and draft audit reports for management and executive reviews.
Key Achievements
Reduced internal costs and waste by over $50,000 per year for 3 years in a row.
Certified Public Accountant (CPA)
January 2015–January 2016
Brighton Capital Consultants, New York, NY
Key Qualifications & Responsibilities
Developed ideas and implemented strategies to decrease financial waste.
Ensured efficient use of departmental and company resources.
Complied at all times with standards and regulations to encourage safe and efficient company operations.
Ran all audit and accounting reports as required for internal audit procedures.
Education
Bachelor of Science in Business Administration (Concentration in Accounting)
New York University, New York, NY
Graduation: 2016
Relevant Coursework: International Financial Reporting Standards (IFRS), Managerial Accounting, Financial Accounting, Auditing, Cost Accounting, Accounting Information Systems.
Key Auditor Skills
Generally Accepted Accounting Principles (GAAP)
Generally Accepted Auditing Standards (GAAS)
Financial Auditing
Risk Management & Mitigation
Regulatory Compliance
Analytical and organizational skills
Certifications
2015 New York State Certified Public Accounting (CPA) License
Memberships
The Institute of Internal Auditors North America (IIA-NA)
Languages
Dutch: Professional Working Proficiency
Swiss German: Limited Working Proficiency
Check out other auditing-related resume guides:
Now, here's how to write an auditor resume:
1. Choose the Best Format for Your Auditor Resume
Whether it's computing taxes owed or suggesting ways to cut costs, you've got a framework in place to keep things in order.
Do the same on auditing resumes—
A great external or internal audit resume format ensures everything is organized and easy to read.
Here's how to format your audit associate resume template:
Pro Tip: If you are writing a resume with no experience in auditing, highlight your mathematical skills, understanding of basic programming concepts, and knowledge of accounting fundamentals, as appropriate.
2. Write an External / Internal Auditor Resume Summary or Objective
Also called a resume profile, the resume objective or summary goes at the top.
This 3- or 4-sentence paragraph intro gives chief audit executives (CAEs) or hotel managers a quick report on your financial background, accounting skills, auditing experience, and career goals.
And—
Like a single 9-digit number in pages-worth of 3-digit numbers, it has to immediately catch their eye.
The resume summary works for more than 2 years of auditing job experience. It tabulates up your auditing skills and accounting experience with a numbered accomplishment to prove you're the best and most cost-efficient choice.
The resume objective is ideal for those with less auditor or accountant experience. This one states your audit career goals, while still giving the CAE a quantifiable achievement to verify your competence with numbers.
Pro Tip: The resume heading goes at the top, but don't write it first. Instead, save it for the end. You can't "sum up" your auditing resume when it hasn't even been finished!
3. Create the External or Internal Audit Job Description for Resumes

Whether a daily internal staff auditor or an external audit consultant, the work experience section on your resume is not the area to slack on.
So—
Here's how to write the best auditor job description for a resume:
Start with your most recent job, and go back from there.
Place your job title at the top, then dates worked, the company name, and up to 3–5 bullet points describing your auditor job duties.
As you go further back, reduce the number of job description bullet points you give.
Include only the most relevant audit-related accomplishments with numbers.
Begin each entry with resume action verbs (e.g., initiated, implemented, spearheaded, etc.).
Target each resume to this one job. No general resumes, because that's just spam!
Pro Tip: Even if you don't have experience as a financial auditor or IT auditor, give them relevant bullet points from other jobs. Counted the cash drawer at the end of your previous barista job? That's great experience for a night auditor position!
4. Make Your Junior or Senior Auditor Resume Education Section Shine
Show conformity rather than non-conformity by getting your resume education section right.
How?
Here are some tips for the perfect academic section on an audit resume:
Plenty of audit experience? Add only your degree, major, relevant coursework (if applicable), and university name.
New to auditing and accounting? Include extra details, such as academic achievements, extracurricular activities, minors, or favorite fields of study.
Completed college? Don't add high school on your resume.
Still working on college? Include high school below.
Pro Tip: If you have just graduated or have little professional experience for your resume, place your resume job descriptions below your education section. This will help you put your best foot forward, and it helps the hiring manager see the most important info first (at the top).
5. Highlight Your Auditor Skills for Resumes
Accountant and auditor jobs are expected to increase by 10% between 2016 and 2026 in the US alone.
That's 140,000 new people to compete against for the job.
That math is scary no matter how you crunch those numbers.
If you want to beat the others, show the chief audit executive you're the most skilled choice.
No worries.
First, here is a list of top resume skills for auditor jobs:
Top Auditing Skills for a Resume
Generally Accepted Accounting Principles (GAAP)
Generally Accepted Auditing Standards (GAAS)
Financial Auditing
Enterprise Risk Management & Mitigation
International Tax & Finance
Financial Account Analysis
Federal Regulatory Filings
Microsoft Office
Detail Oriented
Attention to Detail
Regulatory Compliance
Bill & Debt Collections
Industry Regulations & Standards
IT/ICT Tools & Frameworks
Financial Statements
Payroll & Invoicing
Asset Management
Payroll Taxes
Income Taxes
State Taxes
Federal Taxes
Revenue Projections
Account Reconciliation
Budget & Tax Compliance
General Ledger
Profit and Loss
However—
If you just copy-paste this list into your auditing resumes, you'll be audited out of the running.
Do this, instead:
Pro Tip: Prospective auditors should focus evenly on hard skills (e.g., auditing software, Google Sheets) and soft skills (e.g., problem solving, critical thinking).
When making a resume in our builder, drag & drop bullet points, skills, and auto-fill the boring stuff. Spell check? Check. Start building a professional resume template here for free.
When you're done, Zety's resume builder will score your resume and our resume checker will tell you exactly how to make it better.
6. Add Other Sections to Your Audit Associate Resume
You have the makings of a good staff auditor resume.
However—
Every other audit candidate has the same resume sections.
Let's turn that good to awesome.
Stand out by including additional resume sections as solid as your accounting records.
Here are some great extras on a resume for auditors:
projects
licenses
memberships
7. Attach a Cover Letter to Your Auditing Resume

Thinking of skipping your cover letter?
Don't.
More than half of employers say a resume alone isn't sufficient.
So—
Whether internal or external, junior or senior, hotel or IT, attach an auditor cover letter.
Here's how to write a cover letter for audit jobs they'll approve:
Finally, check out our list of cover letter tips to ensure yours is top-notch.
Pro Tip: Follow up on your job application by sending a quick email or making a brief call. It could just be what gets you hired.
So, that's it—
Now THAT'S a resume for auditing jobs you can count on!


Plus, a great cover letter that matches your resume will give you an advantage over other candidates. You can write it in our cover letter builder here. Here's what it may look like: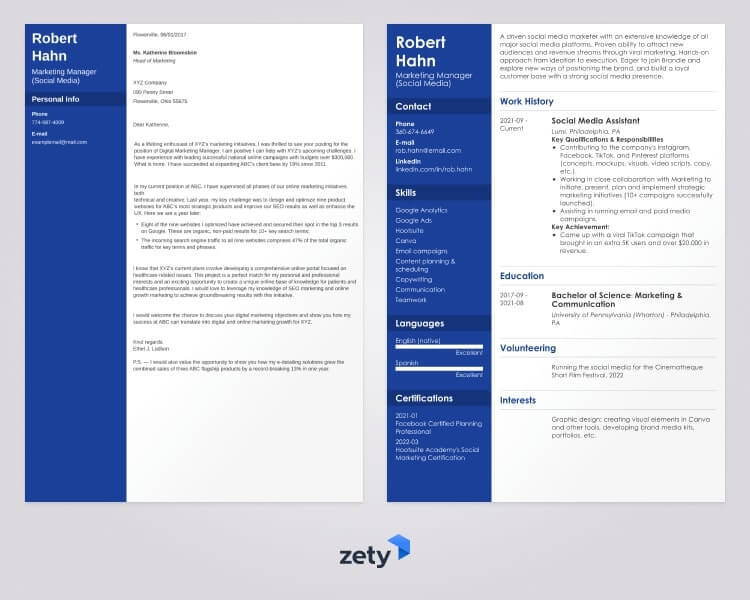 See more cover letter templates and start writing.
Got any questions on how to write an audit resume? Need more auditor resumes samples? Not sure how to talk about accountant skills, auditor certifications, or numerical achievements? Get at us in the comments below, and thanks for reading!
About Zety's Editorial Process
This article has been reviewed by our editorial team to make sure it follows Zety's editorial guidelines. We're committed to sharing our expertise and giving you trustworthy career advice tailored to your needs. High-quality content is what brings over 40 million readers to our site every year. But we don't stop there. Our team conducts original research to understand the job market better, and we pride ourselves on being quoted by top universities and prime media outlets from around the world.
Sources