Our customers have been hired by:
Think back to your first job. Remember how excited you were to learn new skills and take on new challenges? And now, as an experienced professional, you're ready to take on even more responsibilities. You're aiming for the top and nothing less. That's right, you're ready to become a branch manager!
But before you can start running the show, there's one crucial step you need to take—create a killer branch manager resume that demonstrates your skills and experience in the best way possible.
In this blog post, you'll get all the steps you need to create a branch manager resume that commands attention and leaves a lasting impression.
Want to save time and have your resume ready in 5 minutes? Try our resume builder. It's fast and easy to use. Plus, you'll get ready-made content to add with one click. See 20+ resume templates and create your resume here.
Sample resume made with our builder—See more resume examples here.
Looking for a different resume? Check these guides:
Haven't found your profession? See our list of 500+ resume samples for different jobs and industries.
Branch Manager Resume Sample
Anne Traylor
Branch Manager
937-240-9879
annejtraylor@rhyta.com
linkedin.com/in/annejtraylor
Summary
An experienced branch manager with a track record of managing operations and exceeding profit targets for over 5 years in the financial industry. Proficient in developing effective business strategies, building strong customer relationships, and managing complex projects. Increased customer satisfaction by 20% through organizational changes at CashPulse. Seeking a branch manager position at CapitalCore to drive profitability for the team and deliver exceptional results for the company.
Work Experience
Branch Manager
CashPulse, New York, NY
February 2020–Present
Key Qualifications & Responsibilities
Successfully managed branch operations and exceeded profit targets by 15% through a creative marketing strategy and effective team management.
Initiated organizational changes that resulted in a 20% increase in customer satisfaction levels.
Led a team of 12 employees to achieve record monthly sales figures, resulting in an average of $2.5M in monthly deposits.
Developed and implemented a training program that resulted in an 80% increase in employee productivity in one quarter.
Cultivated strong relationships with key clients, resulting in additional referrals and increased revenue.
Key Achievement:
Awarded "Manager of the Year" in 2021 for outstanding performance and team development.
Assistant Branch Manager
BlueBay, New York, NY
November 2017–January 2020
Key Qualifications & Responsibilities
Assisted Branch Manager in overseeing branch operations and staff, resulting in a 10% increase in sales over two years.
Developed and delivered weekly training sessions to ensure employee product knowledge and customer satisfaction.
Instrumental in implementing new customer service protocols, leading to a 15% improvement in customer satisfaction rates.
Collaborated with the Branch Manager to develop and manage budgets, sales goals, and marketing initiatives.
Key Achievement:
Designed and implemented a new employee incentive program that led to a 40% increase in employee engagement and productivity within three months.
Education
Bachelor of Science in Business Administration
New York University, New York, NY
September 2014–June 2017
Skills
Customer service
Sales management
Team management
Financial analysis
Risk assessment
Marketing strategy
Business development
Training and development
Talent acquisition and retention
Budget planning and management
Awards
"Outstanding Branch Performance," Financial Management Association, 2021
"Manager of the Year," The American Business Awards, 2021
Memberships
National Association of Professional Women, 2021
American Bankers Association, 2020
Languages
English—Native
Spanish—Intermediate
Putting that into words, here's what you should include on a branch manager resume:
1. Make Your Branch Manager Resume Format Noticeable
A branch manager oversees the operations of a financial institution's branch office. They're responsible for the office running smoothly and efficiently and satisfying customers with the services provided.
About that; for things to run smoothly, having a well-organized team is crucial. Structure communicates better and helps understand the relationships and patterns. How to transfer that onto a resume?
A great branch manager resume format will ensure everything is clear, concise, and easy to read.
Here are some tips on how to format your resume template:
By following these format guidelines, you'll ensure that your branch manager resume is structured in a way that allows hiring managers to identify the key points more effectively.
2. Impress With Your Branch Manager Resume Summary
To attract business, you need a community. To attract hiring managers, you need a powerful resume summary. This brief paragraph at the top of your resume is your chance to give hiring managers a quick snapshot of your skills, experience, and career goals.
To do that, in just a few sentences, highlight your top managerial skills and include a measurable accomplishment to demonstrate your value. Think of it as a "highlight reel" that showcases your expertise.
Remember to keep your resume summary concise and focused on your most significant career achievements. A well-crafted summary can help place your branch manager resume at the top of the hiring manager's stack.
3. Elevate Your Brand in the Work Experience Section
As a branch manager, your career experience is the foundation upon which you build your resume. So it's vital to ensure that your job descriptions accurately reflect the skills and expertise you've acquired over the years.
By following these tips, you can write the best branch manager job description for your resume:
Begin with your most recent position and work your way backward, listing your job title, dates of employment, and company name.
Tailor your resume to the job description you're applying for rather than submitting a generic resume that could be considered spam.
Use 3-5 resume bullet points summarizing your job duties and accomplishments.
Remember to add numbers or metrics to back them up. That's a powerful technique demonstrating the value you can bring to the role.
When describing your previous roles, focus on the most relevant and impressive accomplishments demonstrating your leadership skills, management abilities, and problem-solving capabilities.
Be sure to highlight any notable accomplishments or awards you received during your previous positions, such as increasing revenue or leading a successful team.
Use strong action verbs to describe your achievements and responsibilities, such as "initiated," "directed," "oversaw," and "implemented."
By crafting a compelling and targeted resume for your next branch manager position, you'll make a strong case for yourself as a qualified and capable candidate ready to take on any challenge.
Find out more: How to Successfully Describe Your Work Experience
4. Meet Your Targets With a Compelling Education Section
Your educational background is as important a part of your overall qualifications as your years of experience. According to the U.S. Bureau of Labor Statistics, a typical branch manager has at least five years of relevant experience and a degree in a financial-related field.
If you have ample branch management or related experience under your belt, keep your education section streamlined this way:
Degree and major
University name and location
Dates studied
This simple way will clearly indicate your educational credentials and signal to the hiring manager that you have what it takes to take on the role.
When making a resume in our builder, drag & drop bullet points, skills, and auto-fill the boring stuff. Spell check? Check. Start building a professional resume template here for free.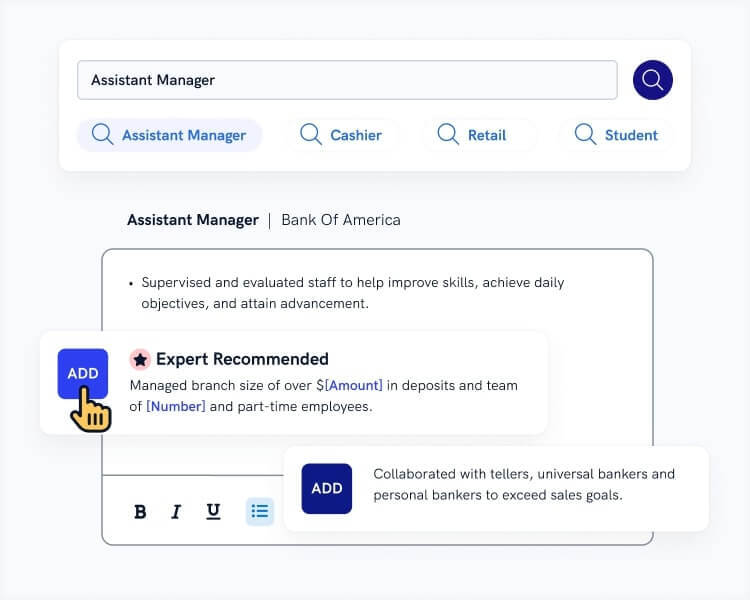 When you're done, Zety's resume builder will score your resume and tell you exactly how to make it better.
5. Highlight Your Top Branch Manager Skills
Creating a stand-out skills section on your branch manager resume is essential if you want to impress potential employers. To make sure you're highlighting the right skills, try following these three simple steps:
Step 1: Brainstorm
Start by brainstorming all the skills you possess as a branch manager, from leadership and communication to problem-solving and financial management. Write them all down in a list.
Step 2: Research the job posting
Next, research the job posting to identify the specific skills that the employer is looking for. This will help you tailor your skills section to match the employer's needs.
Step 3: Prioritize and highlight
Finally, prioritize and highlight the top 10 skills that match the job posting. Include specific examples of how you've used each of these skills in your past roles.
Here are the top 10 skills you can include in your branch manager resume:
Branch Manager Resume Skills
Leadership and management skills
Strategic thinking
Financial management skills
Staff training and development skills
Sales and marketing skills
Project management skills
Customer relationship management skills
6. Diversify Your Branch Manager Resume
It's time to unlock the secret to a branch manager resume that leaves hiring managers in awe. You already have a solid foundation in place, but why settle for just a good resume when you can have a great one?
Adding more resume sections to highlight your uniqueness can be the difference between landing your dream job and getting lost in the shuffle.
Consider adding some of the below extra information to your resume:
Relevant Certifications: Did you earn a specialized certification or license? Make sure to include it in a dedicated section of your resume.
Team Achievements: Have you succeeded in leading teams to accomplish remarkable results? Showcase those accomplishments in a separate section to impress hiring managers.
Language Proficiencies: Fluency in multiple languages is a valuable skill set, especially if you are applying to a company with a global presence.
Community Involvement: Highlighting volunteer work or community involvement shows that you are a team player invested in giving back to society.
By including these additional sections in your branch manager resume, you will have a distinct advantage over other candidates and showcase your diverse skill sets beyond just managerial experience.
7. Craft a Branch Manager Cover Letter
A well-crafted resume is indeed essential, but more is needed to land the interview. According to our hiring statistics, up to 40% of recruiters seek an attached cover letter.
So, a branch manager cover letter is a must-have if you want to create a great impression from the very first moment. Here's how to make a cover letter that will get you noticed:
Plus, a great cover letter that matches your resume will give you an advantage over other candidates. You can write it in our cover letter builder here. Here's what it may look like: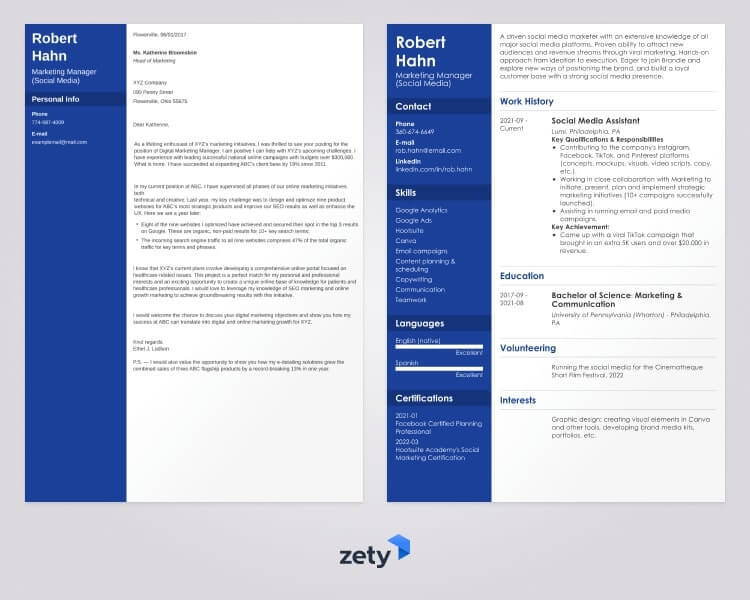 See more cover letter templates and start writing.
That's how you write a perfect branch manager resume!
Got any questions on how to write a branch manager resume? Need more branch manager resumes samples? Feel free to leave any questions you may have, and our experts will get back to you. Let's chat!
About Zety's Editorial Process
This article has been reviewed by our editorial team to make sure it follows Zety's editorial guidelines. We're committed to sharing our expertise and giving you trustworthy career advice tailored to your needs. High-quality content is what brings over 40 million readers to our site every year. But we don't stop there. Our team conducts original research to understand the job market better, and we pride ourselves on being quoted by top universities and prime media outlets from around the world.
Sources