Is It OK Not to Include Dates on Your Resume? Date Format
Do you have to list dates on a resume? What about job-search ageism? Here's the definitive answer, plus how to align dates on resume, format, and how to head off discrimination.
Older job seekers are right to wonder if they can leave off resume dates. After all, dates on resumes show your age, and that can be deadly to your job search. In a massive FRBSF study of 40,000 resumes, older applicants got 20% to 50% fewer callbacks. But is it OK not to include dates on your resume?
The definitive answer? You must include dates on your resume if you want to get hired. But there's a silver lining to this employment-search cloud. In short, they'll find out your age anyway during the interview. Plus—there are some great ways to put dates on a resume and come out smelling like a rose.
This guide will show you:
How to list dates on a resume to show your experience.
What to do about job search ageism to prove you're the best one for the job.
How to align dates on resumes so they don't waste space.
Why you have to put dates on your resume, but why that's not the death knell.
Want to save time and have your resume ready in 5 minutes? Try our resume builder. It's fast and easy to use. Plus, you'll get ready-made content to add with one click. See 20+ resume templates and create your resume here.
Sample resume made with our builder—See more resume examples here.
Looking to build the best resume in the stack? See our resume samples and templates for every profession: Resume Examples for Every Profession
Is It OK Not to Include Dates on Your Resume?
No, you have to include resume dates despite the sad fact of ageism in hiring. Without dates in your work history, applicant tracking systems (ATS) and live hiring managers can't tell if you're worth interviewing. Plus—they'll figure it out in the interview anyway, unless you've found the fountain of youth.
But here's a breath of fresh air: there are tried-and-tested ways to list resume dates and still prove you're the best employee for the job. Ready?
Read more: How many Years Should You Go Back on a Resume?
What Resume Dates to Include
Your resume needs months and years for every job in your work experience section. Also list the year you graduated college, joined professional associations, or got a certification. You should also include the year and months you started and stopped working on an internship.
Read more: How to Put Expected Graduation Date on a Resume
How to Fight Ageism in the Job Search
"She's too old." If the hiring manager says that (or thinks it) your chances fade fast. The manager will think your experience is outdated. Or that you won't listen to a younger manager. Or that your technical skills are weak. To combat those things, tailor your resume and cover letter.
1. Write a Short Resume
Keep your resume short. I don't mean, "write a one-page resume." If you've got the experience, show it! But show it a special way. In your work history section, write detailed descriptions of every job you've had in the past 10 years. Write 3–6 bullet points per job, stuffed with achievements.
Think about it—those last 10 years matter most, don't they? They prove your skills are fresh, no matter how old you are. Think about Warren Buffett, Lee Iacoca, and Jack Welch. They all achieved massively in their older years. (Buffett is still going strong!) But their achievements at age 30 don't matter.
Should you still list older jobs? Yes! But just list them. Don't add bullet points to anything past 10 years—unless it's a stunning achievement.
Pro Tip: Job search ageism is real, but you can overcome it. The trick? Show the details that prove your last few years have helped employers succeed massively. Bye-bye ageism!
2. Write a Powerful Cover Letter
If you're older and you're worried about resume dates, you need a cover letter. But don't write just any cover letter. In yours, highlight your major achievements from the last 10 years. This works even better if you focus on the last five years. Then, make it clear you can work for a young manager.
That last bit's important. Many hiring managers worry that an older employee will be stubborn. Show you're still a vital part of the workforce by talking about working with young managers. Bonus points if you mention specifics.
Read more: What is a Cover Letter for a Job?
3. Show Tech Skills in Your Resume
While you have to show dates on resumes, proving tech skills can help. If you worry that resume dates will make you look long in the tooth, show your technological achievements. Your resume should have a few tech accomplishments in the last 5–10 years that really moved the needle.
If what you did is impressive enough, highlight it in your cover letter, too. Proving technical skills in a resume and cover letter can make your age look irrelevant.
Read more: Employability Skills: List and Examples
4. Leverage Your Network
If you've been in the workplace for long enough to want to write a resume without dates, I have good news. You've probably got an exceptional network that most younger applicants would drool over. Tap your network and announce that you're in the job market. It won't make you look weak.
Far from it! There are almost certainly people out there who'd love to hire someone with your experience. And if you've just lost your job, they'll pitch in to help.
5. Use LinkedIn
Now that 80%+ of hiring managers use LinkedIn to screen candidates, you'd better use it. Update your LinkedIn profile now. It should basically be an online resume, integrated with proof of your achievements. You can overcome the resume dates issue by beefing up your profile to show you're still active.
Want more? See our guide: 99 LinkedIn Profile Tips: from Summary & Headline to Images
When making a resume in our builder, drag & drop bullet points, skills, and auto-fill the boring stuff. Spell check? Check. Start building a professional resume template here for free.
When you're done, our easy resume builder will score your resume and our resume checker will tell you exactly how to make it better.
What if You're Young and Have Resume Gaps?
Here's another reason to ask if it's OK not to include dates on your resume—employment gaps. If you're young and you've got a rocky work history, you may think you can dodge it by leaving the months off your resume. Nope. That just makes you look dishonest. Leave them on, and explain the resume gap in your cover letter.
How to Align Dates on a Resume
Put the start and finish dates under your job title and organization name and location. Separate them with a dash or an "en dash" (two dashes together).
Resume Dates Format
Brief Job
Waitress
Snug Harbor Camps, North Belgrade, ME
May–September 2019
Internship
Software Development Intern
Blue Ocean Development
June–August 2020
Long-Term Job
CFO
Sarsa Tech Inc.
May 2015–July 2020
Certification
Six Sigma Black Belt 2019
Professional Association
American Society of Manufacturing Engineers (member since 2015)
Education
Bachelor of Arts in English
Colby College, 2012
Education (Incomplete)
Bachelor of Science in Accounting
DePaul University
Expected Graduation May 2021
Read more: How to Build a Resume for a Job
Plus, a great cover letter that matches your resume will give you an advantage over other candidates. You can write it in our cover letter builder here. Here's what it may look like: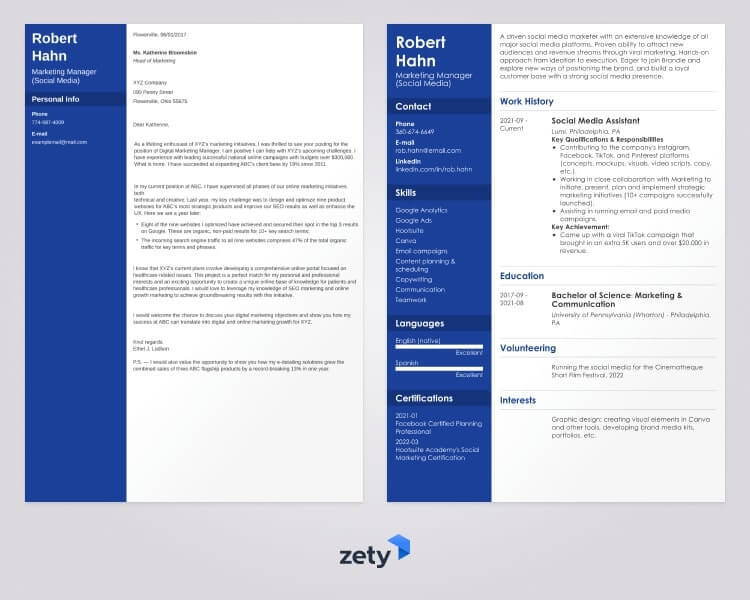 See more cover letter templates and start writing.
Key Takeaway
Here's why it's not OK not to include dates on your resume:
You must include resume dates to show the details of your experience. But—
Don't worry that resume dates will give away your age or make you look overqualified (or underqualified). They'll find out in the interview anyway.
To overcome ageism in a resume, focus on specifics. What have you done in the past few years to help organizations meet their goals?
Make your resume work history as specific as you can, with bullets that show achievements with numbers. How much and how many? Show your results!
Add dates on resumes for jobs, education, internships, certifications, and memberships.
To align dates on a resume, left-justify and use an "en-dash."
About Zety's Editorial Process
This article has been reviewed by our editorial team to make sure it follows Zety's editorial guidelines. We're committed to sharing our expertise and giving you trustworthy career advice tailored to your needs. High-quality content is what brings over 40 million readers to our site every year. But we don't stop there. Our team conducts original research to understand the job market better, and we pride ourselves on being quoted by top universities and prime media outlets from around the world.