Supervising is like a game of chess – you need the right strategy to win. And if your resume is anything less than a grandmaster-worthy opening move, you're setting yourself up for checkmate. But don't throw in the towel yet!
Our guide will help you transform your supervisor resume into a winning gambit that'll have recruiters eager to crown you king (or queen) of their office. Ready to show them you're the champion they seek? Let the games begin!
This supervisor resume guide will show you:
Supervisor resume examples better than 9 out of 10 other resumes.
How to write a supervisor resume that gets more interviews.
Tips on how to write resume supervisor skills and achievements.
How to describe your management experience to get any of the supervisor jobs you want.
Want to save time and have your resume ready in 5 minutes? Try our resume builder. It's fast and easy to use. Plus, you'll get ready-made content to add with one click. See 20+ resume templates and create your resume here.
Sample resume made with our builder—See more resume samples here.
Looking for specific resume samples for supervisory positions? We've got you covered:
Targeting a more specialized supervisory job? See:
Sales & Marketing:
Retail & Customer Service:
Manufacturing & Warehousing:
Transportation:
Construction:
Still need more examples? Check Sample Resumes to Land Any Job.
Now, here's how to write a supervisor resume:
1
Suprevisor Resume Example
Richard Diamond
Supervisor
123-456-7890
richard.diamond@email.com
linkedin.com/in/richard.diamond
Summary
Highly experienced and motivated professional supervisor with over 10 years of managerial experience. Committed to helping Synthex Innovations achieve its goals through the efficient use of resources and exemplary leadership skills. Led and oversaw a team of 25 employees at NovaQuest Technologies, resulting in a 40% increase in productivity by restructuring the department.
Experience
Supervisor
NovaQuest Technologies, Brookings, SD
October 2014–Present
Key Qualifications & Responsibilities
Oversaw day-to-day operations of the department, including managing staff schedules, monitoring performance, and training new hires.
Developed work processes that improved efficiency by 30%, resulting in higher customer satisfaction ratings and greater profits for the company.
Provided guidance and feedback to team members on a regular basis, ensuring that tasks were completed accurately and on time.
Identified areas for improvement within the department and implemented strategies to help achieve desired results.
Key Achievement
Successfully managed a team of 25 employees, which resulted in increased productivity by 40%.
Project Manager
OptiCore Dynamics, Brookings, SD
August 2012–September 2014
Key Qualifications & Responsibilities
Led project teams in the design, implementation, monitoring, and evaluation of projects within timeline constraints, keeping stakeholders informed throughout the development process.
Developed models for analyzing costs associated with projects from concept to completion resulting in successful budgeting decisions on new initiatives.
Coordinated with client representatives from the initial stages through launch, ensuring their needs were met without compromising quality standards or deadlines.
Conducted risk assessment halfway through each project, alerting stakeholders of any potential crisis that could arise and formulating effective solutions to avert such events whenever possible.
Key Achievement:
Developed a novel method for predicting future trends, allowing us to forecast accurately up to three months ahead, resulting in higher revenues generated per quarter by 32%.
Education
Bachelor's Degree in Business Administration
University of South Dakota, Brookings, SD
July 2009–May 2012
Relevant Extracurricular Activities:
Treasurer for the Business Club.
Member of the Ski and Snowboard Club.
Academic Achievements:
Skills
Leadership
Delegation
Organizational Development
Resource Allocation
Strategic Planning
Problem-Solving
Conflict Resolution
Time Management
Interpersonal Skills
Certification
Certified Project Manager – International Project Management Association – 2017
Awards
Employee Of The Year Award – Brookings – 2018
Memberships
Member of the International Project Management Association since 2018
Languages
English - Native
Spanish - Fluent
Interests
Cycling - Completed 50km bike ride charity event raising funds for disadvantaged children (2019).
Basketball - Won 1st place at Inter-college basketball tournament (2011).
Format Your Supervisor Resume
Without a good leader, your team will fail. Well—without a proper structure, your resume will fail as well.
When preparing a resume for supervisors, use the reverse-chronological format. HR managers love and are all familiar with this resume layout, and that's who you need to impress first.
Here's what to put in a resume for supervisors:
Open with a brief and captivating introduction statement.
Add relevant work experience and education in reverse-chronological order.
List the most appropriate supervisor skills.
Use additional sections to stand out as a leader.
If you are only starting out as a supervisor or coming from another field, place your education over your work history section.
Also, make sure to use legible fonts, white space, and headings to guide the recruiter through all of the valuable sections of your resume.
Pro Tip: Save your supervisor resume as a PDF. A PDF ensures it renders correctly so the HR manager sees it how you meant for it to be seen.
Not convinced using the reverse-chron format for an operations supervisor resume is right for you? See our guide: Best Resume Format & How to Choose It [Guide with Examples]


2
Write a Supervisor Resume Summary or Objective
To paraphrase Mandela, effective leaders lead from behind. However, an effective resume must lead from the top. How? By penning a compelling heading statement to begin your supervisor resume.
It comes in two forms, a resume summary or a resume objective, but they both follow a similar structure. Write an opening paragraph 3–4 lines in length, which is about 2–4 sentences.
If you have lots of supervisor experience or some management experience from a similar industry, use a resume summary. This summarizes your relevant supervisory jobs, skills, and accomplishments so the recruiter can easily picture you as their next team leader.
Also, give a key win or achievement with numbers to prove your resume is B.O.S.S.—Based On Significant Success.
Supervisor Resume Resume Summary Example
right
Detail-oriented production supervisor with 2+ years experience managing and improving the effectiveness of daily operations at a large pharmaceutical warehouse. Increased on-time deliveries to clients by 11% and earned an employee satisfaction score of 9.9/10 based on yearly team surveys.
wrong
I am a production supervisor of the highest quality at a chemical warehouse. My knowledge includes directing the daily workflow, following production planning, and ensuring a safe working environment for all employees supervised.
In the wrong example, you give just some standard responsibilities and you don't prove how awesome you handled those supervisor task. In the right supervisor resume summary example, you make your skills as a supervisor apparent with the numbers.
Now, let's move on to a different scenario: Never been a supervisor, or you have, but in a completely different industry? Write a resume objective.
Again, provide numbers to back up any claims, just like in the resume summary. Here, though, show the recruiter what you've got, what your goals are, and how they can profit hiring you as their new supervisor.
Supervisor Resume Objective Examples
right
Award-winning customer service representative with 2+ years communicating with clients in a personable manner and reaching mutually-agreeable solutions. Seeking to leverage new rep training knowledge (50% decrease in onboarding time for new hires) to grow with SSYG as the new customer service shift supervisor.
wrong
I've been a client service rep for over 2 years now, and I've become quite familiar with all the duties and responsibilities of the shift supervisor role.
The wrong example is just weak. All it says is "I had a low-level job and I finally want to have a higher position." The right example is much stronger. It gives a personal win related to a managerial position along with your goal.
And, you mentioned the company's name—an easy way to score points at the very start!
Pro Tip: Resumes for supervisors start with your objective or summary, but don't write it first. Instead, save writing it for the very end so you have a better idea of what to highlight after completing the other resume sections.
Want more advice on writing a career summary or career objective on a resume for supervisor positions? Check out our guides: Professional Resume Summary: 30 Examples of Statements [+How-To] and 20+ Resume Objective Examples for Any Career [+General Proven Tips]
When making a resume in our builder, drag & drop bullet points, skills, and auto-fill the boring stuff. Spell check? Check. Start building a professional resume template here for free.
When you're done, our easy resume builder will score your resume and our resume checker will tell you exactly how to make it better.
3
Describe Your Supervisory Experience
Management positions are projected to grow 8% between 2016–2026. This will result in nearly a million new leaders required. The rivalry for manager roles is getting crazy.
Want to land that cushy supervisor job? Then write a work experience section with relevant supervisor duties for a resume. This section must be a clear leader of all sections of your supervisor resume.
Look at these supervisor duties resume examples:
How to Describe Supervisory Experience
right
Production Shift Supervisor
January 2016–December 2018
Select Industrial, New York, NY
Key Qualifications & Responsibilities
Ensured safe work environment for team members and contractors.
Collaborated with engineering teams staff to resolve production and processing issues.
Directed the daily workflow of the second shift plant operations crew.
Key Achievements
Earned employee satisfaction score of 9.9/10 based on yearly team surveys.
Increased on-time deliveries to clients by 11%.
wrong
Production Shift Supervisor
January 2016–December 2018
Select Industrial, New York, NY
Key Responsibilities
Safety.
Production.
Supervision.
The right example? It's got carefully-selected duties and key accomplishments with numbers to prove you're the one with all the management skills they need.
The wrong one? Well… Basic responsibilities tell them you'll be a basic hire—not management material. Also, no numbered accomplishments on your manager resume is a surefire way to fail.
And what if you're writing a resume job description section for a management position with no explicit supervisor experience? No worries. You can still have experience related to management that can help you land that supervisor job.
Here's how to show it in the work experience section of a resume for supervisor position:
Supervisor Job Description for a Resume
right
Customer Service Representative
January 2016–December 2018
SWA Call Center, Forest Hills, NY
Key Qualifications & Responsibilities
Communicated with clients in a personable way to reach agreeable solutions.
Onboarded and trained new hires on customer service protocol.
Mentored colleagues with performance issues to bring them back to green.
Key Achievement
Achieved 50% decrease in onboarding time due to implementation of new training methods.
This example gives relevant achievements and transferable management-related skills and responsibilities. Just remember, if you really have supervisory experience and supervisor duties to expose, they're relevant on your supervisor resume. If you don't have them, don't add them. Lying on a resume is always a bad idea.
Pro Tip: Keep the job ad open in front of you as you create your supervisor responsibilities resume section. Relevance is crucial, and this way you'll only list duties and achievements which match the job description (this is called tailoring your resume and it works miracles).
4
Mention Education in a Resume for Supervisors
Doesn't matter if you're writing a Starbucks shift supervisor resume or one for construction supervisors—a well-crafted education section is a must.
Here's how to list a completed degree or certificate:
Supervisor Certificate
DCCCD Management Program
Cedar Valley College, Lancaster, TX
Still working on it? Here's how to add it:
Majoring in Business Management
Community College of Philadelphia, Philadelphia, PA
Expected Graduation: 2021
Relevant Coursework: Leading in a Complex Environment, Management Information Systems, Principles of Management, Leadership and Influence, People Management.
Only high school? Include high school education on a resume like this:
Abraham Lincoln High School, Brooklyn, NY
Graduated 2016
If you've completed a degree, don't add high school. In all other cases, you may.
Have no work history but some management coursework under your belt? Move education to just below the resume heading statement.
Finally, remember to go reverse-chron, putting your most-recent education first.
Pro Tip: The term "supervisor" is quite broad—leaders exist in every trade. So, on a supervisor resume education section, relevant coursework includes industry-related classes too, not just management curricula.
Got something other than these common educational scenarios? Check this guide out: Education Resume Section: How to List High School & College Education
5
Put Skills on a Supervisor Resume
At one point, middle- and high-level managers who'll be your bosses were just supervisors, too. This means they know who they're looking for as a new leader.
How to satisfy them? By having the best supervisor skills resume section that exists. Whether it's a nursing supervisor resume or a construction supervisor resume, give them skills they're looking for.
Which ones? First, make a basic list of essential management skills. Here are sample resume supervisor skills:
Supervisor Skills for a Resume
Leadership Skills
Dedication
Empathy & Compassion
Persistence
Problem Solving
Confidence
Positivity
Accountability
Work Well Under Pressure
Results-Oriented
Attention to Detail
Conceptual Skills
Fair & Humble
But don't just stuff your supervisor resume with every supervisor skill you have. That's not a boss resume. Instead, refer to the job description.
Here's an example restaurant shift leader job description for resumes:
Lead stations in timely processing of in-house, catering and delivery orders. [1]
Professionally field and resolve guest complaints, concerns and feedback. [2]
Provide friendly and attentive service to all guests.
Lead team in maintaining neat and orderly FOH and BOH stations.
Accurately and efficiently navigate POS system to create, edit and finalize all order types. [3]
See that? You know what they need, so make a restaurant supervisor resume skills section customized uniquely for them:
Supervisor Resume Skills Section—Sample
right
Efficient in processing orders of all kinds [1]
Innovative and personable approach to resolving guest concerns [2]
Advanced knowledge of POS systems [3]
wrong
Confidence.
Conceptual skills.
Time management.
There's a job ad out there looking for someone with these wrong skills—but it's not this one. The job ad tells you exactly which skills the company is seeking so include them in your supervisor resume skills section, too. Don't go rogue or get lazy as in the wrong example.
Finally, satisfy the ATS. Applicant Tracking Systems are software which aids larger companies. Hiring managers scan resumes in, tell the software which keywords to search for, and get results back based on each candidate's match.
Easy for them, but harder for you. To beat the ATS, use keywords on your resume which the job ad requests. Write them word-for-word so the algorithm has no problem scoring you as the perfect fit for the supervisor job.
Pro Tip: Supervisor skills combine soft skills and hard skills. To find hard skills to add to you resume, check what's listed in the supervisor job ad but include specific industry skills, too.
Want more tips for writing the supervisor skills for resumes? See our guide: 99 Key Work Skills for a Resume (Best List of Examples for All Types of Jobs)
6
Add Other Sections for an Effective Supervisor Resume
The supervisor resume sections above are core—but you can give them even more. To rise above the other potential supervisors applying for the same job, add some relevant extra sections.
Here are additional resume sections to consider:
Supervisor Resume Sample: Extra Sections
Program certificates are very helpful in becoming a supervisor. If you got 'em, flaunt 'em!
Here are excellent certifications for supervisors and managers:
Don't have supervisory experience? Don't have any experience at all? Volunteer work works wonders, especially gigs where you played a management part.
3. Languages
Having another language in your arsenal only makes you a stronger supervisor—especially if you lead a multicultural team.
Your interests and hobbies say you're a great leader without actually saying it. Choose relevant ones (e.g., coaching the football team), not irrelevant ones (e.g., stamp collecting).
We've got a great guide on the right things to add to a resume, as well as a complete guide on resume sections and categories. Make sure to check them out!
Pro Tip: Certificates are super useful to add to a supervisor or management resume. If you don't have one, get one! You can take many online for little money, or even free. Check out edX and Coursera, for starters.
7
Write a Supervisor Cover Letter?
A supervisor resume without a supervisor cover letter? Not so super. You need a cover letter, especially when applying for a position of leadership. 53% of employers say a resume isn't enough.
Here is how to write a cover letter for supervisor jobs that'll make them swoon:
Write a tailored cover letter for a specific job ad, not a generic one sent everywhere.
Open with a strong introductory paragraph to compel them to read further.
Show them how you will benefit the company more than the other candidates.
Explain how the company is perfect for you.
End with a powerful closing statement and call to action.
Pro Tip: Add a postscript to the end of your supervisor cover letter. A P.S. always draws the attention of the reader, so it's a great way to add one more item to make your case.
Did you know our resume builder will also help you write a professional cover letter for supervisory positions? See these articles: 35+ Successful Cover Letter Tips, Advice & Guidelines (With Examples) and How to Write a Cover Letter in 8 Simple Steps (12+ Examples)
Plus, a great cover letter that matches your resume will give you an advantage over other candidates. You can write it in our cover letter builder here. Here's what it may look like: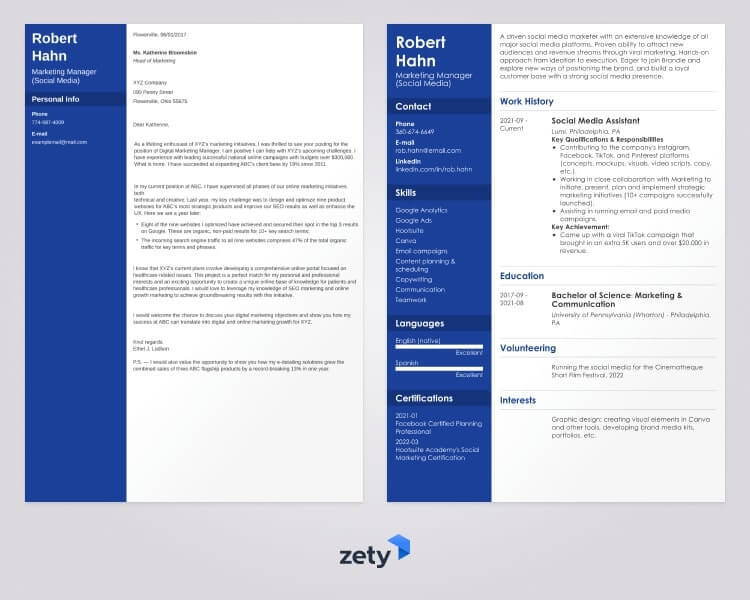 See more cover letter templates and start writing.
Key Takeaway
Remember about these tips when listing supervisory experience on a resume:
Use a reverse-chronological structure which is easily understood by hiring managers.
Create a captivating heading statement at the top of your supervisor resume.
Write a supervisor job description section with quantifiable accomplishments.
List supervisor skills which are relevant. Keep an eye on the job ad to guide you.
Add extra sections to make it unique, particularly certifications.
Include an intriguing cover letter along with your supervisor resume.
Now THAT'S a supervisor resume with an emphasis on the "super!"
Got any questions on how to write a supervisor resume? Not sure how to talk about your manager skills or leadership achievements? Get at us in the comments below, and thanks for reading!
About Zety's Editorial Process
This article has been reviewed by our editorial team to make sure it follows Zety's editorial guidelines. We're committed to sharing our expertise and giving you trustworthy career advice tailored to your needs. High-quality content is what brings over 40 million readers to our site every year. But we don't stop there. Our team conducts original research to understand the job market better, and we pride ourselves on being quoted by top universities and prime media outlets from around the world.