You are about to write the best project manager resume. But first—
Picture a desk. It belongs to Bob. He's the CEO of a major widget operation.
Nice golf trophy.
Near the trophy sits a pile of 700 professional project manager resumes. Yours hides somewhere in the middle.
See the problem?
The job market for project managers is growing fast. Construction, IT, healthcare, energy, and hospitality all see rapid hiring.
That doesn't mean the jobs come easy. Worse, the best jobs go to those who stand out from the crowd.
You need to match your passion, vision, and ability to a position with equal challenges and rewards.
That's why your senior project management resume is crucial. Unless it lights up like a rescue flare, that juicy job will pass by like a supertanker on a darkened sea.
This guide will show you:
A project manager resume example better than 9 out of 10 other resumes.
How to write a project manager resume that will land you more interviews.
Tips and examples of how to put skills and achievements on a project management resume.
How to describe your experience on a resume for a project manager position to get any job you want.
Here's a sample resume for a project manager made using our resume builder.
Want to save time and have your resume ready in 5 minutes? Try our resume builder. It's fast and easy to use. Plus, you'll get tips and right vs. wrong examples while writing your resume. See 20+ resume templates and create your resume here.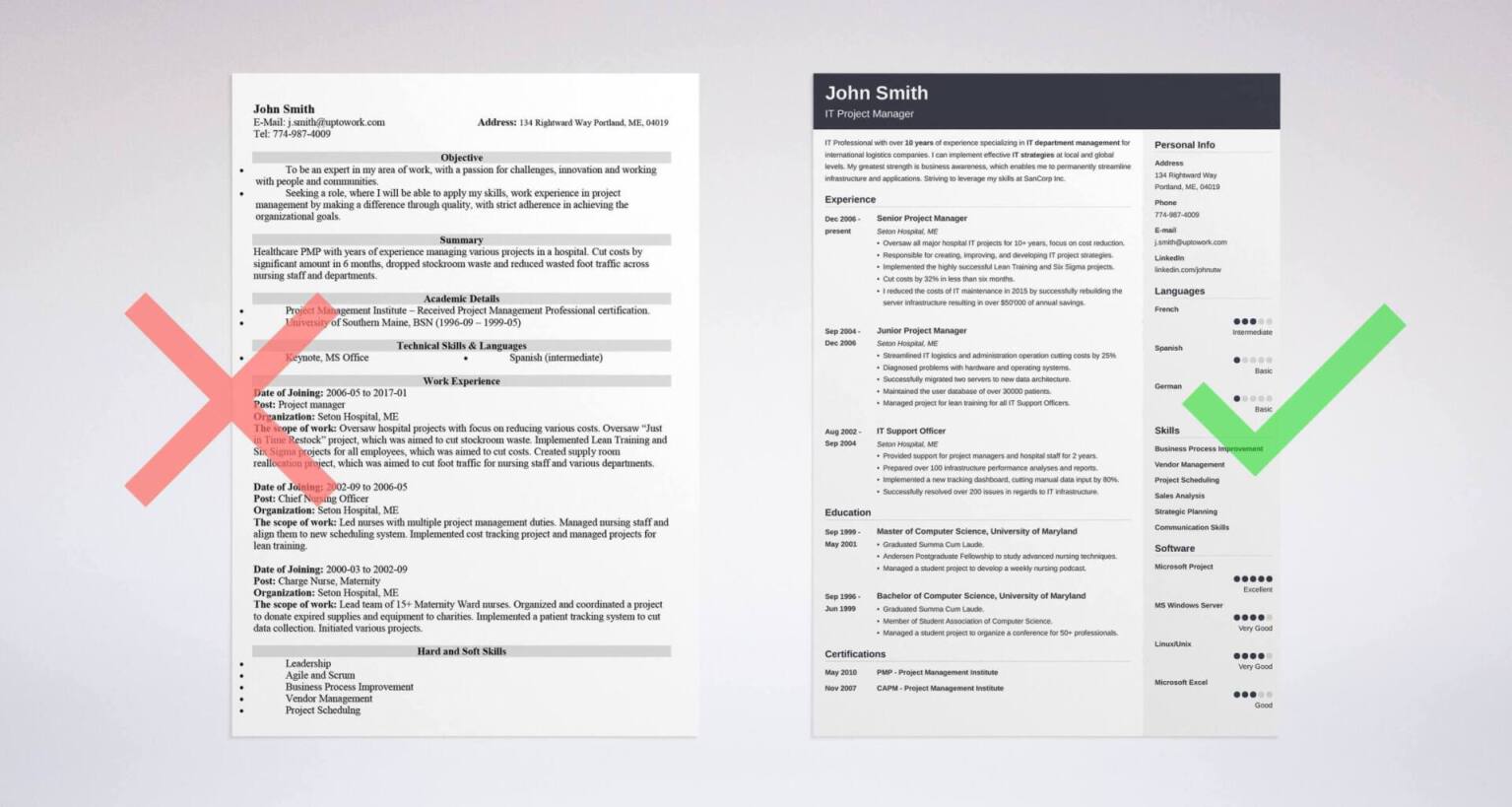 Project Manager Resume Examples—See more templates and create your resume here.
1. Pick the Best Format for Your Project Manager Resume
Project managers translate the big picture into small-but-crucial details.
It's no shock then that your resume must showcase this ability.
Choose a respected style like the reverse-chronological resume format. This format zeroes in on who you are right now. Your skills, your strengths, and your experience.
The average resume gets only six seconds of eye-time. To ensure your creative project management resume blows away that average, go all-in for layout.
Make good use of white space, eye-friendly headings, and clear, the best resume fonts.
Resume in .pdf or .doc? We say save your project management resume template as a PDF to keep the formatting intact. Word documents and other file formats can shred your formatting. And if the hiring manager can't read your resume, that beautiful job passes to someone else.
Not adept at layouts? We all know someone in the design or marketing world. A quick shout out on Facebook or LinkedIn will almost always turn up a helpful eye.
Pro Tip: While PDFs are best, check the job offer to make sure they're not prohibited. Some employers will reject experienced project manager resumes saved as PDFs.
Want to make sure your resume will hook every recruiter and get you that interview? Get our free checklist and learn what makes a job-winning resume: 46 Things You Need To Do Before You Send Your Resume.
Format your resume for greatest effect with this guide: Best Resume Formats: How to Format for Impact
Depending on your years of experience in project management, you have to get the page count right. Find out what works best for you: How Many Pages Should a Resume Be? Ideal Resume Length
2. Get the Contact Information Right to Hear Back
Every professional project manager resume needs contact information. The problem is, contact info can take up space and clutter up your shining skills.
Include this in the contact section:
Name
Up-to-date phone number
Professional email address
Add certifications and degree titles
Make your contact info easy to find without dominating the page's real estate. Consider using margins, putting contact info directly under the heading, or even making use of icons.
Add certifications and degree titles, even if you also list them further down. Employers often spend the most time looking at an applicant's name!
Right
Jane Ahlgren, PMP, MBA - JAhlgren@gmail.com - 208-314-3048
Wrong
Jane Ahlgren
135 Rightward Way
Boise, Idaho, 83701
JAhlgren@gmail.com
208-314-3048
Employers will look you up online, so make sure your online presence is perfect and optimize your Linkedin Summary & profile to boost your chances of landing a job.
3. Write the Perfect Project Manager Resume Summary or Objective
Should you use a project manager resume summary or a resume objective?
If you lack piles of on-the-job experience, an entry-level project manager resume objective is for you.
Fresh graduates, career changers, and project managers hunting a new niche should use a resume objective.
Applicants with experience in their chosen field should pick a project management resume summary.
A summary showcases skills and experience in one go:
Right
Experienced IT PMP with a background in law and 10+ years experience growing revenue for a Silicon Valley-based online banking firm. Seeking to leverage leadership expertise as IT project manager for Paylocity.
Wrong
IT PMP with 11 years experience working for an online banking firm.
Our resume builder (you can create your resume here) will give you tips and examples on how to write your resume summary. You can easily copy them straight into your resume—it will save you a ton of time.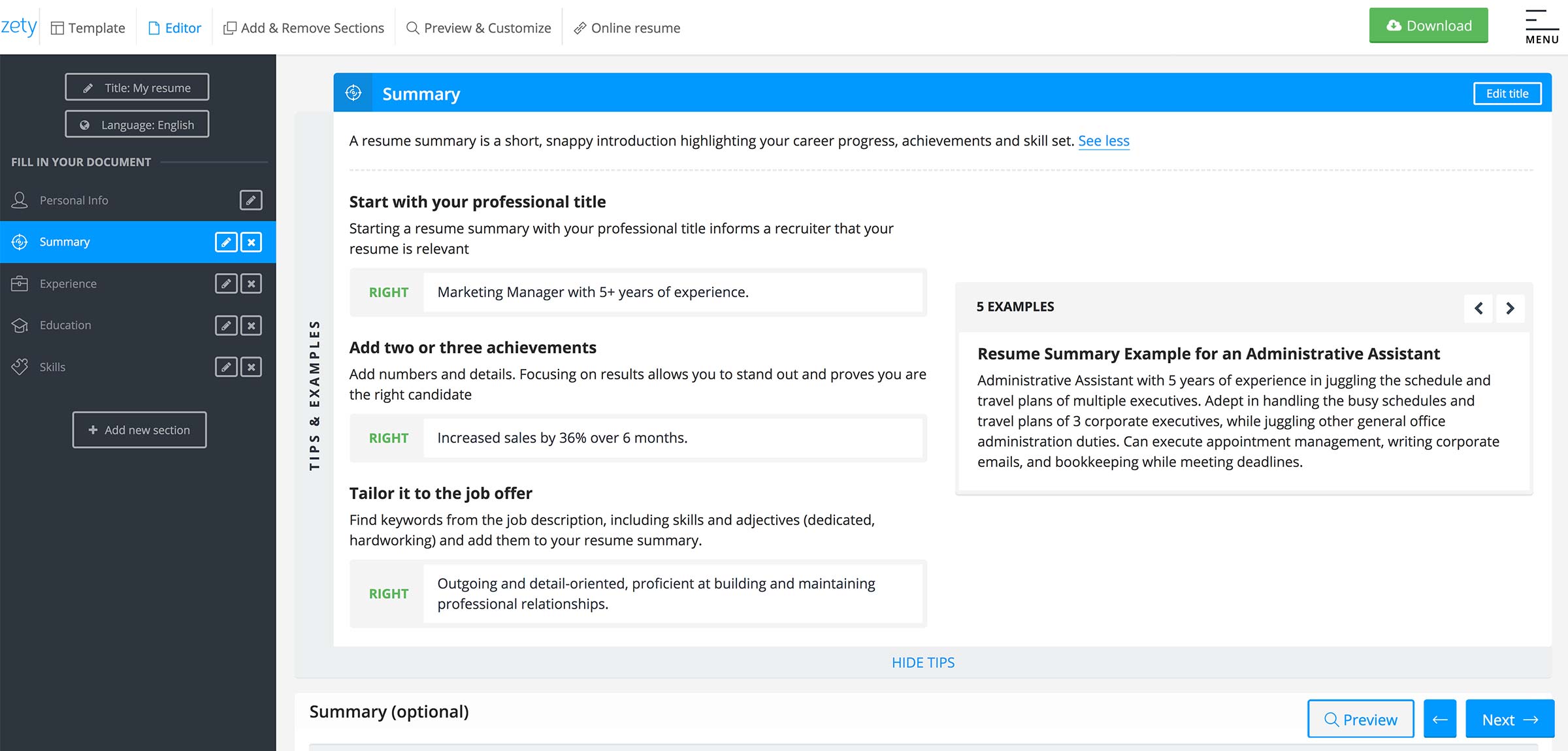 Inside our resume builder you will find tips and examples for your resume.
Get inspired and write the best professional summary or career objective with: How to Write a Resume Professional Summary with 20+ Examples and How to Write a Resume Career Objectives for Any Job
4. Describe Your Project Manager Experience in Terms of Achievements not Responsibilities
What is project management experience?
Projects.
So, the best project manager resume will spotlight, well... projects.
On-the-job experience is crucial for a project manager. Maybe more than for any other kind of applicant. And knowing how to put projects on a resume is also crucial for a project manager.
While listing previous positions and promotions on your resume is key, showcasing actual projects will be vital. But how to balance the two?
Solid project manager resume templates start with the most recent job. Use bullet points to play up project wins.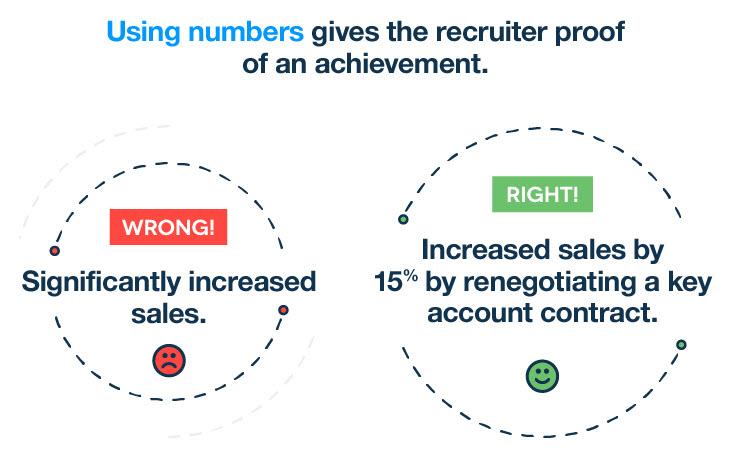 Be detailed about your roles and responsibilities.
Right
Project Manager
Electronics Fab
January 2007‒April 2014
Atheon MDC, Massachusetts
Led electronics fab project management for Raytheon MDC's 85 employees.
Managed the highly successful Lean Training project for three years. Improved quality by 32%, cut lead times 21%, cut costs 48%.
Managed the "Learn by Benchmarking" project. Created opportunities for 20 change-leaders to travel to other facilities. These employees then returned to share best practices with peers.
Wrong
Project Manager
Electronics Fab
2007‒2014
In charge of electronics project management for major manufacturing facility.
Managed lean training program for three years.
Ran the "Learn by Benchmarking" project.
Experience is crucial for project managers. A good layout will get your project management resume more eyeball time. But it's the experience you put on a resume that gets you the job.
Remember, no more responsible for this project, managed that project—use action/power words.
Also, you have to tailor your resume to the needs of the company. Learn how to do it right: How to Target Your Resume to the Job Description.
5. List Most Impressive Projects in Your Experience Section
Remember Bob, the CEO? He really wants to hire someone with an MBA and a PMP certification, but he doesn't care so much about experience. Right?
Wrong.
Bob cares about experience almost to the exception of all else. Especially for senior project manager resumes, experience is king.
What Bob wants to know is, "Can you get the job done?" You'll answer that question by showing Bob your big wins as a project manager.
Since experience is the most crucial part of an experienced project manager resume sample, take some time to brainstorm all the projects you have managed in the past.
Project Manager Experience Section—With Experience
Experienced project managers should have a long list of projects.
Take some time to flesh out this list, then add to it as you remember more over the coming days.
With each job application, go back to your master list. Choose the three to six past projects that best showcase your ability to do that job.
Right
Project Manager
Hospital-Wide
May 2008‒June 2014
Seton Hospital, Maine
Implemented Lean Training project for all employees. Cut costs by 32% in six months.
Oversaw the "Just in Time Restock" project.
Cut stockroom waste by 65%. Created our popular supply room relocation project. Cut wasted foot traffic by 88% across all nursing staff.
Wrong
Project Manager
Hospital-Wide 2008‒2014
Managed the "Healthier Hospital Food" project.
Created and ran the "never out of stock" project.
Ran a project to decrease software conflicts for our front desk staff.
See the difference? When listing projects on a resume, you need to walk the line between throwing in the kitchen-sink and not adding enough of the right info.
The sweet spot? Cherry-picking the right wins for your professional project manager resume. You have to prove you're the perfect candidate for this job.
Project Manager Experience Section—Without Experience
If you lack experience, you'll still want a nice long list of past projects you've managed.
Wait, what?
How can you make a long list of experience you don't have?
The beauty of building a project manager resume experience description is, everyone has some experience managing projects.
If you've set and met a work goal, managed a resource, led a team, or reshaped any process, you're a project manager.
Inexperienced applicants should follow the same steps outlined above.
Brainstorm all the projects you've managed in the past. The brainstorming will be harder for the "inexperienced." Really dig into your memory to pinpoint previous successes.
Right
Project Manager
August 2009‒September 2015
Geurney Bros. Well Drilling
Switched company to new high velocity air technique for better efficiency in big jobs.
Managed project to ensure all-staff-compliance to new Personal Protective Equipment standards.
Changed front office to new real-time scheduling software to ensure better job flow and customer satisfaction.
Wrong
Construction Assistant Project Manager
August 2009‒September 2015
Geurney Bros. Well Drilling
Assisted in general management of Guerney Bros. Well Drilling for four years.
Didn't work as a project manager but I'm very interested in learning.
Again, everyone is a project manager if they think hard enough. The key action is to show that in an entry-level project manager resume experience section.
See this guide for more inspiration on how to list accomplishments on your resume: Achievements to Put on Resume—Complete Guide (+30 Examples)
6. Highlight Project Manager Skills on Your Resume
For most resumes, the education section comes after the job experience section.
That's not the case with a professional project manager resume.
That's because project manager employers want to see a list of skills on your resume that match their needs.
We almost always take our skills for granted. We tend to see skills as complex abilities requiring degrees and certifications.
Often, skills are more mundane strengths learned on the job. That's why it's key to brainstorm a thick list of your skills.
Good examples of project management skills vary depending on field. For example, valuable skills for an IT project manager resume will differ from skills on a construction project manager resume.
Once you've mined the job description for professional skills to include on your resume, visit LinkedIn for a little bit of snooping. Why would you want to peep on other professionals? Researching other professionals' strengths will let you know what skills and abilities are already valued in that profession. Add any duplicates of your skills to your resume skills section.
Natalie Severt
Career Expert at Zety
Include any software project management resume skill, talent, or ability you can think of, as long as it's relevant to the current job offer.
Right
Wrong

Proficient in Scrum, MS Office, PowerPoint, Keynote, PHP, MySQL, Google Docs.
Project Scheduling
Strategic Planning
Exceptional Verbal and Written Communication Skills

Scrum
Project Scheduling
Strategic Planning
Never use a generic "skills list" on a professional project manager resume. Always pick the skills you showcase straight from the job description.
Next, add other skills not listed in the job description that fit what the employer is looking for.
Pro Tip: It's key to save a long list of your skills, then choose the five or six that best fit each particular job opening.
Hungry for more skills to include on your PM resume? Double-check your list with this guide: Examples of Skills to Put on a Resume
7. Make the Most of Your Education
The CEO in the head office cares most about your ability to get things done. He or she will focus on experience and skills. That means education doesn't matter, right?
Think again.
While education isn't the #1 thing employers look for, it can still help get you the job.
That's why a presentable, attractive education section is essential for a project management resume.
Make sure to include:
College name and location
Years in school
Degree obtained
Relevant coursework (if it'impressive and you're a junior PM)
Right
2010-2013 MBA
Colby College, Waterville, ME
Education is more important on an entry-level project manager resume. If you're fresh out of the mortarboard, include more info here.
To sweeten this section, add projects you led at school like student-driven charity drives, radio shows, school newspapers, or other campus projects.
Make sure you don't miss something: How to Put Your Education on a Resume
8. Prove Your PM Credentials with Projects on Your Resume
The right certifications can make or break even the best project manager resume.
The heavily certified candidate can create a separate certifications section on their project management resume. Otherwise, add certifications to your "education" section.
As always, make and keep a master list of all your certifications. For each job application, tailor your senior project manager resume certifications section to fit the job description.
A PMP certification is important but not always necessary. Other certifications from the Project Management Institute like a CAPM, PMI-RMP, or PMI-SP can also set you above the crowd.
Be sure to include non-PMI certifications too, like certifications in Lean training, Agile software, Scrum, Six Sigma, OSHA, or construction management.
Not sure which certifications to include?
From your master list, pick the entries that match the job requirements first.
Next, search the job description for clues about other valuable certifications. Construction firms might value an OSHA certification even if they don't mention it.
Need insight into other items to put in your perfect project manager resume? Read our guide: What to Include in a Resume To Make It Perfect
9. Add Other Sections to Tie Up Loose Ends
"Whoa, wait a second."
Let's go back to Bob, the CEO with the stack of resumes as high as his hairline. Your mission is to make him say the words above as he attempts to skim your project manager resume sample.
One way to do that is to add in eye-catching strengths you may not even know you have.
These can include achievements, conferences you spoke at, passions, publications, or awards.
Take the time to brainstorm these extra lures. Fifteen minutes spent typing ideas into a spreadsheet can turn up the gold nugget that will get you hired.
For example, one candidate we spoke with said:
Five years ago I spoke for ten minutes on a panel at SXSW. It wasn't a big deal in my life at all, but it's the one thing hiring managers always comment on.
Right
Awards and Accolades
Received the Shingo Research Prize for my "Eggs 'n' Bacon Policy Deployment" podcast.
Guest speaker at the Northeast Lean Conference in 2014.
Wrote an article on advanced organizational scheduling techniques for "Northeast PMP Weekly" magazine. Article was linked to by "Forbes" magazine.
Organized the local parent-built playground in Scituate, Massachusetts.
Wrong
Additional Info
Passionate about gardening.
Senior Scholar, Colby College, 1992.
Employee of the year, Briarwood Inc., 2014.
The key point is, the right/wrong project manager resume example above could be from the same person. In one case, she picked perks that matched the job description and in the other, well…
Polish off your application with extra information: What to Put on a Resume to Make it Perfect [Tips & Examples]
10. Write a Project Manager Cover Letter to Seal the Deal
Maybe you've heard conflicting opinions on how important a cover letter is. Here's the bottom line—
Most employers still expect a cover letter along with a creative project manager resume.
For a project manager cover letter, keep it brief. Highlight your most impressive accomplishments.
The cover letter is your best tool to make a hiring manager think, "I'd better give this resume a little extra time."
Pro Tip: Make the project manager cover letter personal. This doesn't mean you need to spend two paragraphs talking up the reader's golf game. Be brief.
To make a cover letter personal, just use the addressee's name. You can also check out the business' website and mention something about it that jumped out at you.
Plus, a great PM cover letter that matches your resume will give you an advantage over other candidates. You can write your cover letter in our resume builder here. Here's what it may look like:
See more templates and create your resume and cover letter here.
Sold on the idea of writing a cover letter for your PM resume? This guide will help you write the perfect one: How to Write a Cover Letter for Any Job
Key Takeaway
Cramming all the best parts of you into a professional project manager resume that glitters can be a real challenge.
You can make the process work for you by adhering to a few important guidelines.
Here's a recap of the strategies we covered:
Pay special attention to a layout that makes scanning easy.
Put the focus on wins from your history as a project manager.
Always match your project manager resume keywords to each job description.
Proofread your project management resume and craft a personalized cover letter.
If you need more information, you should also read: How to Email Your Resume to Get More Job Offers (Examples)
Do you have any questions on how to make a project manager resume? Give us a shout in the comments section!