Project Management CV: Example for Project Managers
Become the PRINCE2 of project management and get the scope to create a best-in-class project manager CV with the synergy for job hunting success.
Your execution metrics prove you're a PM who's going places. Your initiation and planning skills? Off the scale. But you can't just assume those skills are going to sell themselves. When it comes to scoring the best jobs you need a project manager CV that'll stand up to the most critical SWOT analysis a recruiter could unleash.
Read on and you'll see a professional project manager CV example you can adjust and make yours. Plus, you'll learn an easy formula for writing a CV for project management jobs that will land you 10x more interviews than any other CV you've written in the past.
Here's a project manager CV example made with our builder:
Want to save time and have your CV ready in 5 minutes? Try our CV builder. It's fast and easy to use. Plus, you'll get ready-made content to add with one click. See 20+ CV templates and create your CV here.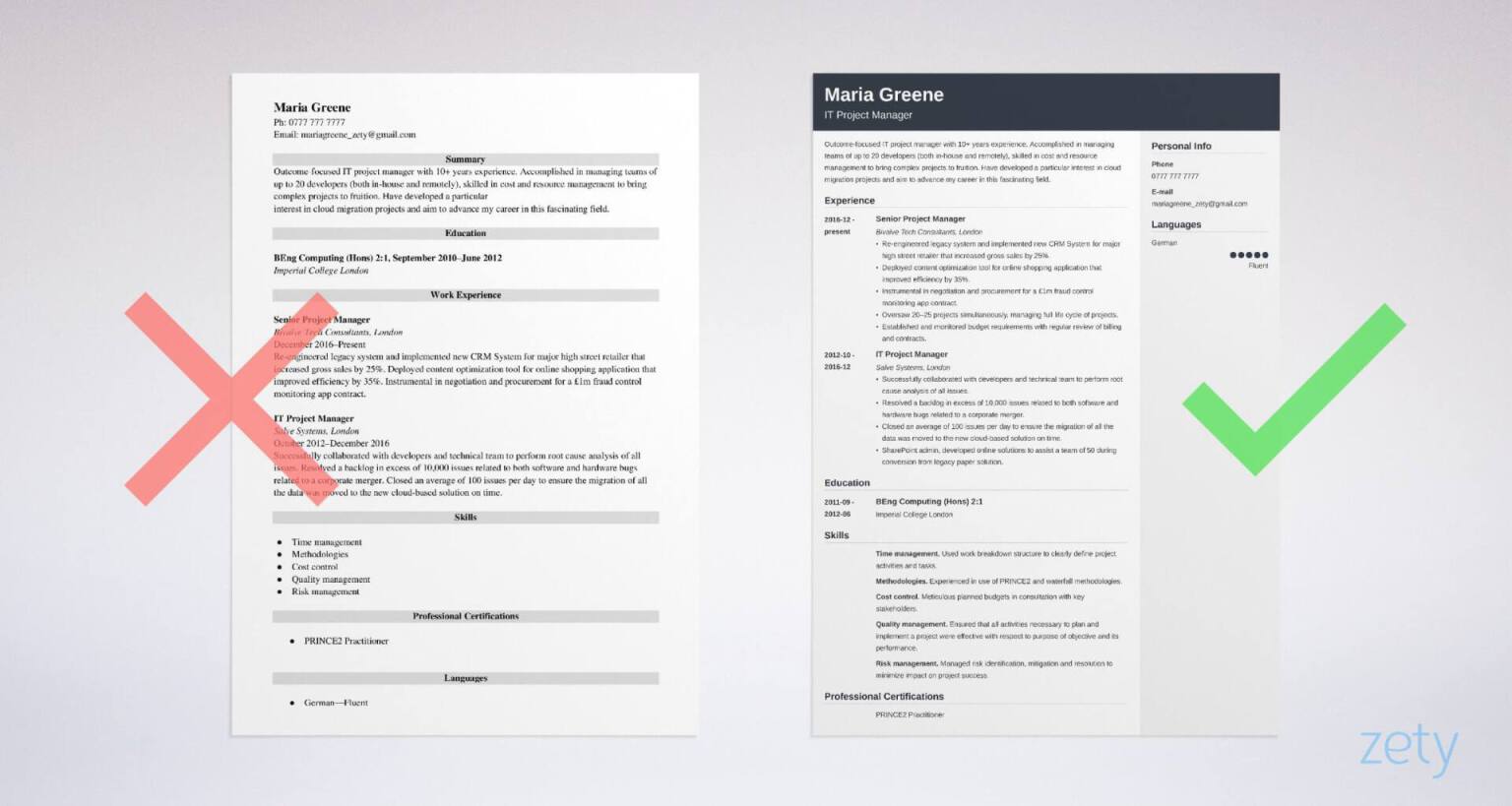 Project Manager CV made with our builder—See more CV examples here.
Looking for more general CV writing advice or guides for other jobs? Read more here:
Sample Project Manager CV Template
IT Project Manager CV
Maria Greene
Ph: 0777 777 7777
Email: mariagreene_zety@gmail.com
Outcome-focused IT project manager with 10+ years experience. Accomplished in managing teams of up to 20 developers (both in-house and remotely), skilled in cost and resource management to bring complex projects to fruition. Have developed a particular interest in cloud migration projects and aim to advance my career in this fascinating field.
Work Experience
Senior Project Manager
Bivalve Tech Consultants, London
December 2016–Present
Re-engineered legacy system and implemented new CRM System for major high street retailer that increased gross sales by 25%.
Deployed content optimization tool for online shopping application that improved efficiency by 35%.
Instrumental in negotiation and procurement for a £1m fraud control monitoring app contract.
Oversaw 20–25 projects simultaneously, managing full life cycle of projects.
Established and monitored budget requirements with regular review of billing and contracts.
IT Project Manager
Salve Systems, London
October 2012–December 2016
Successfully collaborated with developers and technical team to perform root cause analysis of all issues.
Resolved a backlog in excess of 10,000 issues related to both software and hardware bugs related to a corporate merger.
Closed an average of 100 issues per day to ensure the migration of all the data was moved to the new cloud-based solution on time.
SharePoint admin, developed online solutions to assist a team of 50 during conversion from legacy paper solution.
Education
BEng Computing (Hons) 2:1, September 2010–June 2012
Imperial College London
Skills
Time management.

Used work breakdown structure to clearly define project activities and tasks.

Methodologies.

Experienced in use of PRINCE2 and waterfall methodologies.
Cost control. Meticulous planned budgets in consultation with key stakeholders.
Quality management. Ensured that all activities necessary to plan and implement a project were effective with respect to purpose of objective and its performance.
Risk management. Managed risk identification, mitigation and resolution to minimize impact on project success.
Professional Certifications
Languages
Now here's the job-winning project management CV formula.
1. Use the Best Format for Your Project Management CV
A project manager is a professional specialising in project management. All industries make use of project management professionals. Your project management CV has to show you can take responsibility for the planning, procurement and execution of projects, in any endeavour that has a clearly defined scope, start and finish.
The potential scope of a project manager CV is vast. But somehow you have to distil that down into a brief, yet effective document that'll only get 8 seconds of attention from the hiring manager. To make sure your CV life cycle ends with success, follow these rules.
Use the right CV format. The best choice for a project manager CV is chronological format. It's the one recruiters are most familiar with and proves you can walk the walk by putting the spotlight firmly on your job experience.
Use an effective CV layout. Set your margins to one inch on every side, left align only (don't use justification) and double space between sections. This creates plenty of white space to keep it easy to read and help the recruiter find the information they need.
Choose a professional CV font. Calibri, Helvetica and Garamond are reliable choices.
Don't overdo it. Your CV length should be a maximum of two pages.
Save your CV as a PDF file. It's the best CV file format because it keeps your layout intact.
Read more: What to Include in a CV: Essential Sections
2. Write a Project Manager CV Profile
A CV personal statement, or personal profile is the introduction to your CV. It's a short paragraph designed to grab the hiring manager's attention. Think of it as the kick-off meeting that launches your CV project. All you need to do is answer 3 questions.
Who are you?
What can you offer to the employer?
What are your career goals?
The way you answer those questions will be different depending on how experienced you are. For a senior project manager CV follow this approach:
Make a list of all your selling points as a PM. Include all of the professional experience, skills and abilities that make you great at your job.
Then read the job description in the advert and match 3–4 points from your list to the skills and experience listed there.
Use these points to write a personal profile targeted to the project management job you're applying for.
For an entry-level junior project manager CV do this:
List any skills and abilities you already have. Think of your education and work experience you've already gained. Then highlight everything that's transferable to an entry-level PM job.
Use a combination of that skills and experience plus passion for the role, and knowledge about the employer to prove that you're a good fit for the job.
In either case, you'll find this section easier to write if you leave it until last. It's much easier when you've got your experience, skills and education ready to refer to.
Now for the next phase of your CV project life cycle, your work experience section.
Check out this guide for even more tips on how to write your personal profile: How to Write a CV Personal Statement [20+ Examples]
When making a CV in our builder, drag & drop bullet points, skills, and auto-fill the boring stuff. Spell check? Check. Start building a professional CV template here for free.
When you're done, Zety's CV builder will score your CV and tell you exactly how to make it better.
3. Write an Agile PM Work Experience Section
Your work experience section is mission-critical. Hiring managers need PM professionals who can step in and grab the bull by the horns. Here's how to show you've got what it takes.
Put your most recent PM gig first and work back from there.
For each role, include your job title, the name of your employer, dates of employment (use "present" as the end date if you work there now), then up to six bullet points about the job.
Start your bullet points with a CV action word like boosted, analysed or facilitated, to give them added impact.
Set out measurable achievements, not just a list of duties. It's not only about what you did, you've got to show how well you did it too.
Use the PAR (Problem Action Result) formula and accomplishment statements to structure your bullet points.
Target your work experience section to the job description. Pay attention to the PM skills and experience the hiring manager is looking for and match your experience to what's required.
Check out this guide for even more CV writing advice: 20+ CV Tips and Advice for Job Application Success
4. Include an Education Section
It might seem like I'm stating the obvious, but even if you're a well-established PM professional you still need an education section on your project manager CV. Here's how to write it:
Include the university name, years attended, and the name of your degree. If you're still studying, include your expected graduation date.
If you have post-graduate qualifications, follow reverse-chronological order and put the degree you completed most recently first.
Only include honours if they're a 2:1 or a first.
If you've just graduated and don't have much experience then change the order of your CV and put this section before your work experience section.
Read more: References on a CV: Should You Include Them?
5. Show Off Your Project Management CV Skills
The list of skills required for effective project management is endless. So how do you choose which skills to include on your CV to give your job application the edge? Here's what to do.
Carefully read the job advert and identify which skills are required by the role. Look at the job description and you'll see exactly what the hiring manager wants. Compile those skills into a list.
Now make a list of your own skills. Refer back to your work experience and education sections for inspiration.
Then compare your lists, see what matches, and choose 5–10 of those to include in your CV.
Aim for a mix of soft skills, hard skills and technical skills.
For each skill, add a sentence showing how you demonstrate it. Don't just show, tell. E.g. Time management. Used work breakdown structure to clearly define project activities and tasks.
These skills would make a great addition to a project manager CV.
Project Management CV Skills
Time management
Risk management
Methodologies (PRINCE2, Agile, Waterfall etc.)
Problem-solving
Organisation
Communication
Delegation
Cost control
Quality management
Read More: Best List of Skills to Put on a CV [Top Skills & Examples]
6. Add Additional Sections to Your Project Manager CV
Meeting targets is good, but smashing them is even better. The best way to write a CV that exceeds expectations is to include extra sections. They give your CV that extra bit of polish to make it shine brighter than the competition. Here are some ideas.
Add a languages section. Foreign language skills are needed at all levels of the workforce and are a great choice for PM roles in multinational corporations.
Including volunteer work is another effective strategy. 82% of managers prefer to hire people with volunteering experience.
You could also include professional certifications, projects (perfect for PMs), achievements, awards, conferences and publications. If it's relevant and makes you stand out as a candidate, include it.
7. Consider a Cover Letter
In a world of Gantt charts and organisational breakdown structures, it's easy to forget that a simple letter can be an incredibly powerful communication tool. Yes, you still need a cover letter. In fact, more than half of employers say they're a must-have. The best project management CV examples come with a matching cover letter.
Here's how to write a cover letter.
One last thing. Always follow up. You'd never just launch a project and let it run without monitoring it. Treat your job application with the same care and attention. If you haven't got a reply after one week, touch base with the employer by email or phone about the status of your application. It's an easy way to boost your chances of success.
And we're done. You're all set to write a project management CV to achieve your objective of job-hunting success.
Plus, a great cover letter that matches your CV will give you an advantage over other candidates. You can write it in our cover letter builder here. Here's what it may look like: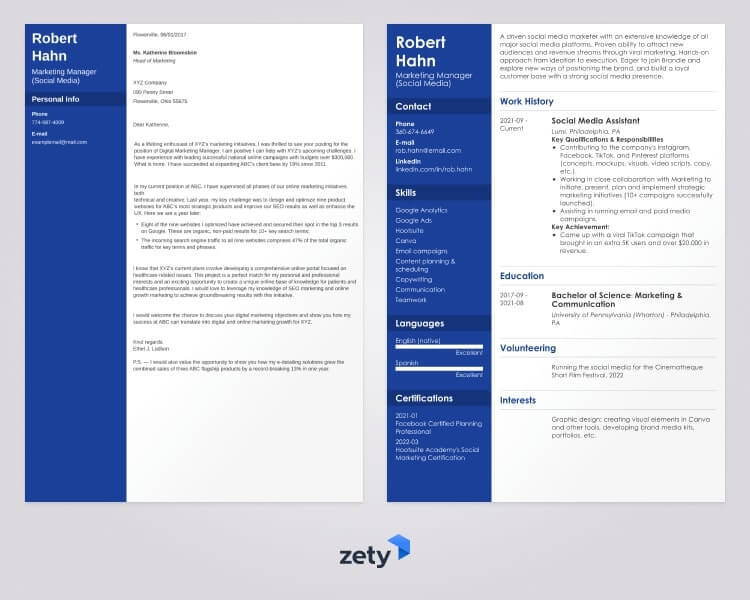 See more cover letter templates and start writing.
Thanks for reading. What did you think of our project manager CV sample? Got any PM CV tips and tricks you'd like to share? Need something specialist like an IT project manager CV? If you've got any questions at all, ask away in the comments section. I'm here to help.
About Zety's Editorial Process
Our editorial team has thoroughly reviewed this article to ensure it follows Zety's editorial guidelines. Our dedication lies in sharing our expertise and providing you with actionable career advice that offers you real value. Every year, the quality of our content attracts 40 million readers to our site. But that's not all – we conduct original research to gain a detailed understanding of the labour market. We take pride in being cited by top universities and leading media outlets in the UK and worldwide.
Sources