Project Coordinator Resume Sample (with Examples of Skills)
You rule the logistics, pulling together all the cross-functional team members that make the PM's work look like magic. Prove it with this sample project coordinator resume.
You can manage multiple calendars, forward emails to the right people, and chase up actions with your eyes closed.
Heck, you could even herd kittens if asked.
You just need to convince the hiring manager that you're the best project coordinator.
The first step is writing an excellent resume that showcases your skills. Without it, you're highly likely to miss your job-searching milestones. So treat your career like a highly promising project and don't let it get derailed at the very start!
But what if writing a project coordinator resume feels more complicated than coordinating the construction of a space rocket? Well, we're here to make it simple.
This guide will show you:
A project coordinator resume example better than 9 out of 10 other resumes.
How to write a project coordinator resume that will land you more interviews.
Tips and examples of how to put skills and achievements on a project coordinator resume.
How to describe your experience on a resume for a project coordinator to get any job you want.
Want to save time and have your resume ready in 5 minutes? Try our resume builder. It's fast and easy to use. Plus, you'll get ready-made content to add with one click. See 20+ resume templates and create your resume here.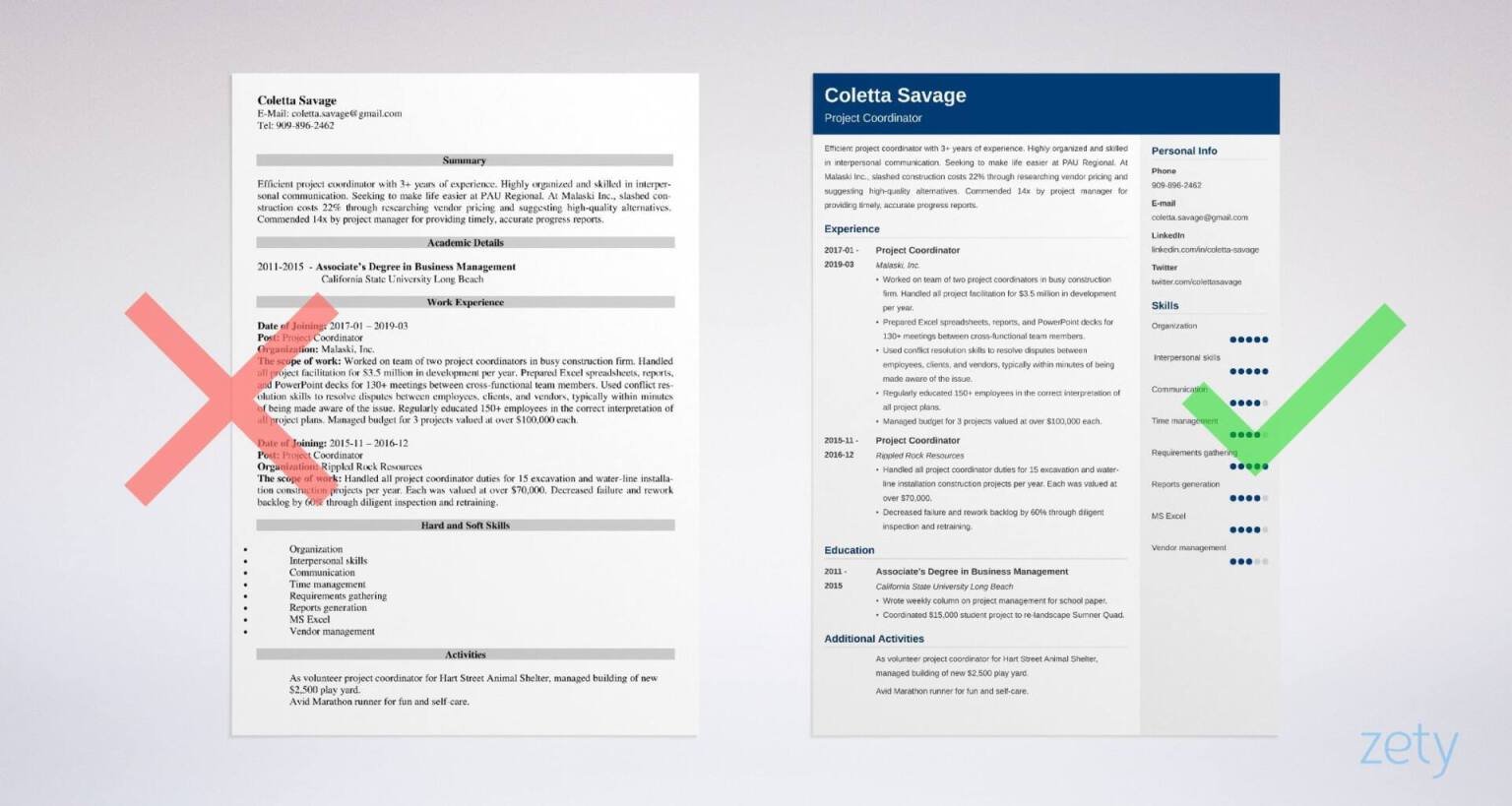 Sample Project Coordinator Resume—See more resume templates here.
All of the advice included here works equally well for a program coordinator resume.
If you are a project or program manager, we've got dedicated guides for you here:
Plus we've even got a guide on how to list projects on your resume. Read more: How to List Projects on Your Resume
Sample Project Coordinator Resume Sample
Coletta Savage
coletta.savage@gmail.com
909-896-2462
LinkedIn.com/in/coletta-savage
Twitter.com/colettasavage
Professional Summary
Efficient project coordinator with 3+ years of experience. Highly organized and skilled in interpersonal communication. Seeking to make life easier at PAU Regional. At Malaski Inc., slashed construction costs 22% through researching vendor pricing and suggesting high-quality alternatives. Commended 14x by project manager for providing timely, accurate progress reports.
Work Experience
Project Coordinator
Malaski, Inc.
Jan 2017–March 2019
Worked on team of two project coordinators in busy construction firm. Handled all project facilitation for $3.5 million in development per year.
Prepared Excel spreadsheets, reports, and PowerPoint decks for 130+ meetings between cross-functional team members.
Used conflict resolution skills to resolve disputes between employees, clients, and vendors, typically within minutes of being made aware of the issue.
Regularly educated 150+ employees in the correct interpretation of all project plans.
Managed budget for 3 projects valued at over $100,000 each.
Project Coordinator
Rippled Rock Resources
Nov 2015–Dec 2016
Handled all project coordinator duties for 15 excavation and water-line installation construction projects per year. Each was valued at over $70,000.
Decreased failure and rework backlog by 60% through diligent inspection and retraining.
Education
2011–2015 California State University Long Beach
Associate's Degree in Business Management
Wrote weekly column on project management for school paper.
Coordinated $15,000 student project to re-landscape Sumner Quad.
Skills
Soft skills: Organization, interpersonal skills, communication, time management
Hard skills: Requirements gathering, reports generation, MS Excel, vendor management
Activities
As volunteer project coordinator for Hart Street Animal Shelter, managed building of new $2,500 play yard.
Avid Marathon runner for fun and self-care.
So here's how to write a project coordinator resume that gets jobs:
1. Choose the Best Format for Your Project Coordinator Resume
Your program coordinator resume has to show you excel at pulling it all together.
To do that, follow these quick steps:
Pro Tip: How many page should a resume be for project coordinator jobs? One page is plenty unless you coordinated the building of the Three Gorges Dam or built the Space Shuttle.
2. Write a Project Coordinator Resume Summary or Objective
Here's a question:
How many project coordinator resumes will your next employer read?
Probably a couple hundred.
So, catch her eye fast with a well-crafted professional profile.
That means showing real project coordinator achievements.
If you've got more than a couple years of experience, use a career summary. Those are short paragraphs that show your best features in a flash.
With less experience, make it a career objective. In it, target your transferable skills, but add 1–2 accomplishments to prove them.
Pro Tip: Don't start right off by writing a construction project coordinator resume profile. Save that for last so you'll have plenty of material in your bullet points to pick from.
3. Create a Winning Project Coordinator Job Description for Your Resume
Here's where you prove yourself.
Don't list everything you've ever done in your project coordinator resume work experience section.
Just show a few cool things you've done. But—
Match them to the PC job ad. Tailoring your resume will get more attention:
First things first: your last job goes up top.
Next, write a your job title. Add the name of the company and the dates you worked.
Write 3–5 resume bullet points with a good mix of duties and accomplishments.
Show how big your "wins" were in each case by adding numbers like dollars saved, percents improved, and budget sizes.
Keep employers leaning in with resume action verbs.
Pro Tip: The first project coordinator job you show should have more bullet points than the last. Give them a picture of who you are now. For "how you got there," keep it short.
4. Make a Powerful Project Coordinator Resume Education Section
Here's a surprise:
The education section of your resume for project coordinator jobs can be the thing that gets you hired.
But you need to describe your accomplishments the right way.
Show you're qualified in just a few strokes:
Show what you did in school to build project coordinator skills.
Did you use communication to finish projects? Tech skills? Did you create reports? Add that.
You can also add positions, clubs, projects, teams, and anything that proves your power.
List your GPA if it was really high or if you're entry-level. Otherwise save the space for bigger feats.
Pro Tip: In an entry-level resume for a project coordinator position, you may lack experience. You can stretch your education section by dividing it into projects that look like mini-jobs.
5. Strut Your Project Coordinator Skills
Use this project coordinator resume skills list in your resume:
Project Coordinator Resume Skills
Hard Skills:
Vendor management
Generating reports
MS Excel
PowerPoint
Requirements gathering
Working with cross-functional teams
Meeting preparation
Scheduling
Budgeting
Soft Skills:
Collaboration
Writing
Organization
Caution!
Don't use all those job skills in your resume for project coordinator jobs. Just show the few the job ad really wants. Make sure to mix hard skills and soft skills.
Pro Tip: When you should you list more transferable skills from non-project coordinator positions? When you're starting out with no experience.
When making a resume in our builder, drag & drop bullet points, skills, and auto-fill the boring stuff. Spell check? Check. Start building a professional resume template here for free.
When you're done, Zety's resume builder will score your resume and tell you exactly how to make it better.
6. Add Other Sections to Your Project Coordinator Resume
Employers love passion.
Show it with "other sections" in your program coordinator resume.
Build them from your achievements that show you're the project manager's best friend.
You can add sections for:
Publications
Activities
Conferences
Sports
Awards & Honors
Professional associations
The more "wins" you show that fit the job, the more likely they'll interview you.
Pro Tip: When you lack work experience, like in an entry-level project coordinator resume, "other" sections help. They can show your project skills even without a job title.
7. Attach a Cover Letter to Your Project Coordinator Resume
"I never write cover letters."
Which is why you're having trouble getting hired.
Every applicant should write a cover letter. But here's the trick:
Don't make a cookie-cutter project coordinator cover letter:
Pro Tip: Create a calendar reminder to send a follow up on your job application and project coordinator resume. A nudge in time can land the interview.
Plus, a great cover letter that matches your resume will give you an advantage over other candidates. You can write it in our cover letter builder here. Here's what it may look like: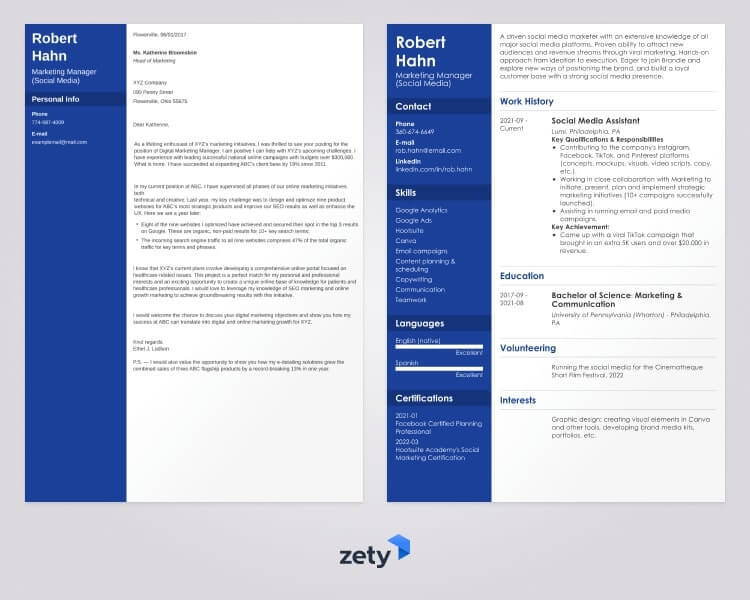 See more cover letter templates and start writing.
That's it!
That's how to write a resume for project coordinator positions.
Still wondering how to write a professional program coordinator resume? Got questions about what to pay attention to if you're applying for project coordination jobs? Give us a shout in the comments. We'd love to talk!