Night Auditor Resume: Example, Job Description & Guide
No matter if it's a 5-star hotel or an agro-tourism B&B, you man the desk and miss nothing when balancing reports. To go far, apply that same diligence to your night auditor resume.
A lonely hero stands wide awake in the middle of the night, handling accounting and welcoming night owls at the same time.
It's you.
But it doesn't matter if you're behind the desk at St. Regis or a local hostel from Booking.com, your night auditor resume needs to shine brighter than an Excel sheet with snazzy pivot tables.
And our guide will help you crunch those numbers optimally in an instant.
In this article, you'll see:
A night auditor resume example better than 9 out of 10 other resumes.
How to write a night auditor resume that will land you more interviews.
Tips and examples of how to put skills and achievements on a night auditor resume.
How to describe your experience on a resume for a night auditor to get any job you want.
Want to save time and have your resume ready in 5 minutes? Try our resume builder. It's fast and easy to use. Plus, you'll get ready-made content to add with one click. See 20+ resume templates and create your resume here.
Sample resume made with our builder—See more resume examples here.
Considering similar positions? If so, we prepared some of these guides you might like as well:
Night Auditor Resume Sample
Ted Mullins
Night Auditor
712-478-4364
tedmullins@zetymail.com
Summary
Efficient night auditor with 2+ years in the hospitality industry. Made a positive impression on guests while working the front desk, with 95% reporting a satisfactory stay. Balanced daily credit card transactions and filled banking summaries report with full accuracy and 100% on time.
Work Experience
Night Auditor
Ibis Budget, Norfolk, VA
January 2018–December 2019
Demonstrated exceptional level of customer service at all times.
Completed all night audit reports, filled out banking statements, and kept credit card balance records, always being 100% on time.
Used up-selling techniques with customers to generate an additional $3,500 per month on average by promoting hotel facilities, services, and amenities to hesitant guests.
Communicated pertinent shift information to Front Office Manager and suggested optimization, reducing uncovered shifts and necessary overtime by 80%.
Assistant Front Desk Representative
Homewood Suites, Atlanta, GA
March 2017–January 2018
Processed and organized reservation bills and accurately tracked room status to avoid conflict.
Provided guests with access to hotel services and advised them on local activities.
Scheduled guests' wake-up calls and ensured proper assignment of incoming messages and packages.
Education
High School Diploma
Leonardo High School, Chicago, IL
September 2011–June 2015
GPA: 3.75
Relevant coursework: Algebra 201, Algebra and Statistics, Geometry, Accounting, Calculus
Extracurricular activities:
Awarded 1st place in school-wide "Math Whiz" contest; runner-up at the regional level.
Founder & two-time president of math/data analysis student club.
Key Skills
Excellent Customer Service
Communication & Listening Skills
Processing Financial Transaction
Bookkeeping
Time Management
Front Desk
Certifications
International Accredited Business Accountant, ACAT, 2017
Language Skills
German: Advanced
French: Intermediate
Spanish: Intermediate
This is how you write a perfect night auditor resume:
1. Prepare Your Night Auditor Resume Format
Night auditors work the front desk in hospitality establishments to welcome arriving guests, take care of financial reports, and prepare balance sheets for the next day. An excellent night auditor resume will demonstrate your affinity for these tasks and prove customer service and accounting skills.
And let me be clear: you may have all of these skills out the wazoo, but it means zip if you can't promote them properly.
For that, you need to come prepared with a properly-formatted resume:
Pro Tip: Upload your resume as a PDF file, if it's not been explicitly forbidden. PDFs are just less buggy and will open properly on nearly any device or computer.
2. Write a Night Auditor Resume Summary or Resume Objective
Bad news, the recruiter threw your resume away. Oh well, there was nothing you could have done, right?
Nope, quite wrong, actually.
See, most recruiters won't trudge through an entire application, weigh the positives and negatives, compare to other candidates, and prepare a decision tree to see if they want to interview you.
Imagine you did that at the front desk—you'd end up with a mile-long check-in queue even during a graveyard shift!
No, HR stats show that a recruiter will on average decide yay or nay in merely 7 seconds.
Fact is, the auditing/accounting clerk position is scheduled to shrink, with over 48,000 positions likely to disappear by 2032. You have to give it your all.
So, do not go gentle into that good night, and write a crazy good resume introduction.
In 3–4 sentences, you simply describe your career thus far, peppering in some of your major accomplishments as well.
The paths diverge when you bring in the variable of experience:
Read more: What Does a Professional Resume Look Like?
3. Mention Past Work Experience as a Night Auditor
Wow, I need them manning my front desk during the witching hour.
…is what you want the recruiter to say when they read your resume.
The easiest way to get there is by writing a perfect work experience section, like so:
Start with your most recent job, then go back in time from that point (but don't go too far back on your resume—10–15 years is usually the limit).
Add your professional title, the name and location of the company, and dates/years worked to each entry.
In up to 6 bullet points, describe your tasks, duties, and achievements. Always remember: mention relevant experience and bring up numbers, percentages, and dollars saved. Quantifying your performance drives your chances up higher than bookings in high season.
To keep their attention from drifting away to other candidates, use resume power verbs like created, increased, boosted etc.
Prove your dedication by doing research ahead of time and tailoring your resume. They'll automatically book you for the VIP suite.
Read more: How to Write a Targeted Resume
4. Talk about Your Education on Your Night Auditor Resume
Depending on the job in question, night auditor positions may or may not require you to have a university or college degree.
But—
Not giving it a mention will put you on an express road to nowhere.
Got more than 5 years of experience? List the school name and location, when you graduated, and what type of degree you received.
Less job experience? Include extra bits such as relevant coursework, honors on your degree, and extracurricular activities. These will help you make a better impression on the recruiter.Only include your GPA on a resume if it's higher than 3.5.
Read more: How to List Your Education on a Resume: Tips & Examples for Every Situation
When making a resume in our builder, drag & drop bullet points, skills, and auto-fill the boring stuff. Spell check? Check. Start building a professional resume template here for free.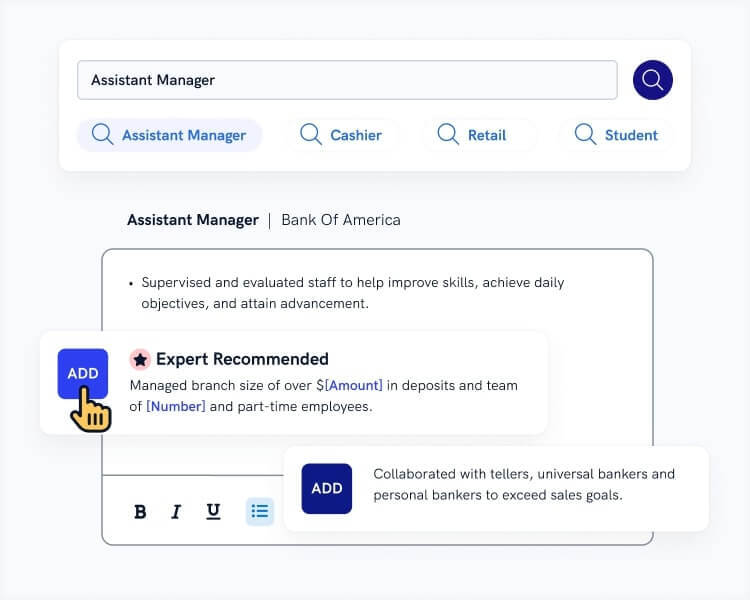 When you're done, our professional resume builder will score your resume and our resume checker will tell you exactly how to make it better.
5. Show off Your Night Auditor Skills
How you go about listing your professional skills on your resume makes a massive difference, like day and night (pun intended).
First, here's a list of the greatest skills for night auditors:
Night Auditor Resume Skills
Front of House
Customer Service
Personal Presentation
Answering Phones
Welcoming Guests
Responding to Complaints
Conflict Resolution
Tracking Room Status
Knowledge of Hospitality Regulations
Accounting Skills
Verifying Room Rates
Balancing All Accounts
Producing Managerial Reports
Keeping Accurate Financial Records
Processing Payments
Math Skills
Now, back to you.
You could list a million skills, make yourself look like you run the local Sheraton just for fun, and… get rejected.
That's because nobody would believe that! Even if you weren't lying on your resume, that kind of skills list looks… optimistic at best.
Alternatively, you could do this:
Create a large list of all of your skills. Divide them up into categories—soft skills, hard skills, and technical skills, all are welcome.
Once again, go over the job ad (you should have already done it more than once, for example, when working on your experience section). Look for the resume keywords to see what skills they seek from an ideal candidate.
Whatever matches should end up on your resume.
Pro Tip: Also, remember to weave in those same skills (or extra ones) into your job description or education sections for even more points.
6. Add Extra Sections to Your Night Auditor Resume
Repeat after me:
A generic resume is a bad resume.
If you don't stand out among the crowd, expect to get glossed over. At that point, you're just another checkmark in a spreadsheet.
To keep things spicy, add "other" sections to your night auditor resume. Impress with your personality, flair, and passion. That gets you the penthouse suite treatment from recruiters.
Here are a few potential additions:
Pro Tip: A great idea for an extra section is talking about your hobbies if you're into investment, or anything to do with the financial sector.Night auditors prepare a lot of paperwork in the form of banking reports and summaries, so showing your know-how in that area could turn out really beneficial!
7. Write a Night Auditor Cover Letter to Boot
A cover letter is a necessary addition to your application.
Every other recruiter claims they don't consider candidates that submit a resume with no cover letter.
Use these tips to get yourself checked in for the interview:
Pick a great cover letter format before starting.
Get your reader interested and write a promising and intriguing cover letter intro.
Turn the tables on them and, in the body, explain why, in reality, they would benefit from hiring you.
List off a few more of your impressive feats.
Then, finish off the cover letter and make them an enticing offer while reiterating how you know you're the right person for this night auditor job.
Read more: How to Write a Cover Letter for a Job
Plus, a great cover letter that matches your resume will give you an advantage over other candidates. You can write it in our cover letter builder here. Here's what it may look like: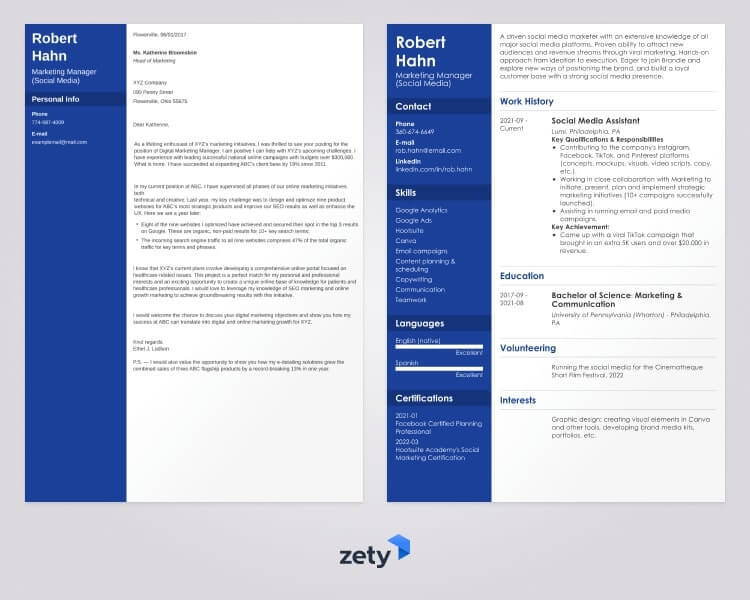 See more cover letter templates and start writing.
Got any burning questions? Need a hand in perfecting your night auditor job description? Our experts are ready to assist you down in the comments section!
About Zety's Editorial Process
This article has been reviewed by our editorial team to make sure it follows Zety's editorial guidelines. We're committed to sharing our expertise and giving you trustworthy career advice tailored to your needs. High-quality content is what brings over 40 million readers to our site every year. But we don't stop there. Our team conducts original research to understand the job market better, and we pride ourselves on being quoted by top universities and prime media outlets from around the world.