Restaurant Manager Resume Examples: Job Description, Skills
Ready to manage a restaurant or bar, fast food or fine dining? This complete resume guide and the expert tips will get you at the helm of the food establishment in no time.
Whether feeding the masses quickly in fast food or delivering dining experiences fit for royalty, you know you'll lead any restaurant to Michellin-worthy greatness.
But first, you've got to prove to your future employer you're the bar or dining GM they're looking for with the best resume for a restaurant manager in town.
Easier than evening inventory. See our restaurant manager resume examples, read our guide, and voilà! Your resume is almost on the plate!
This restaurant manager resume guide will show you:
Restaurant manager resume examples better than 9 out of 10 other resumes.
How to write a restaurant general manager resume that gets more interviews.
Tips on how to put skills and achievements on a restaurant GM resume.
How to describe experience to get any restaurant jobs or food service jobs you want.
Want to save time and have your resume ready in 5 minutes? Try our resume builder. It's fast and easy to use. Plus, you'll get ready-made content to add with one click. See 20+ resume templates and create your resume here.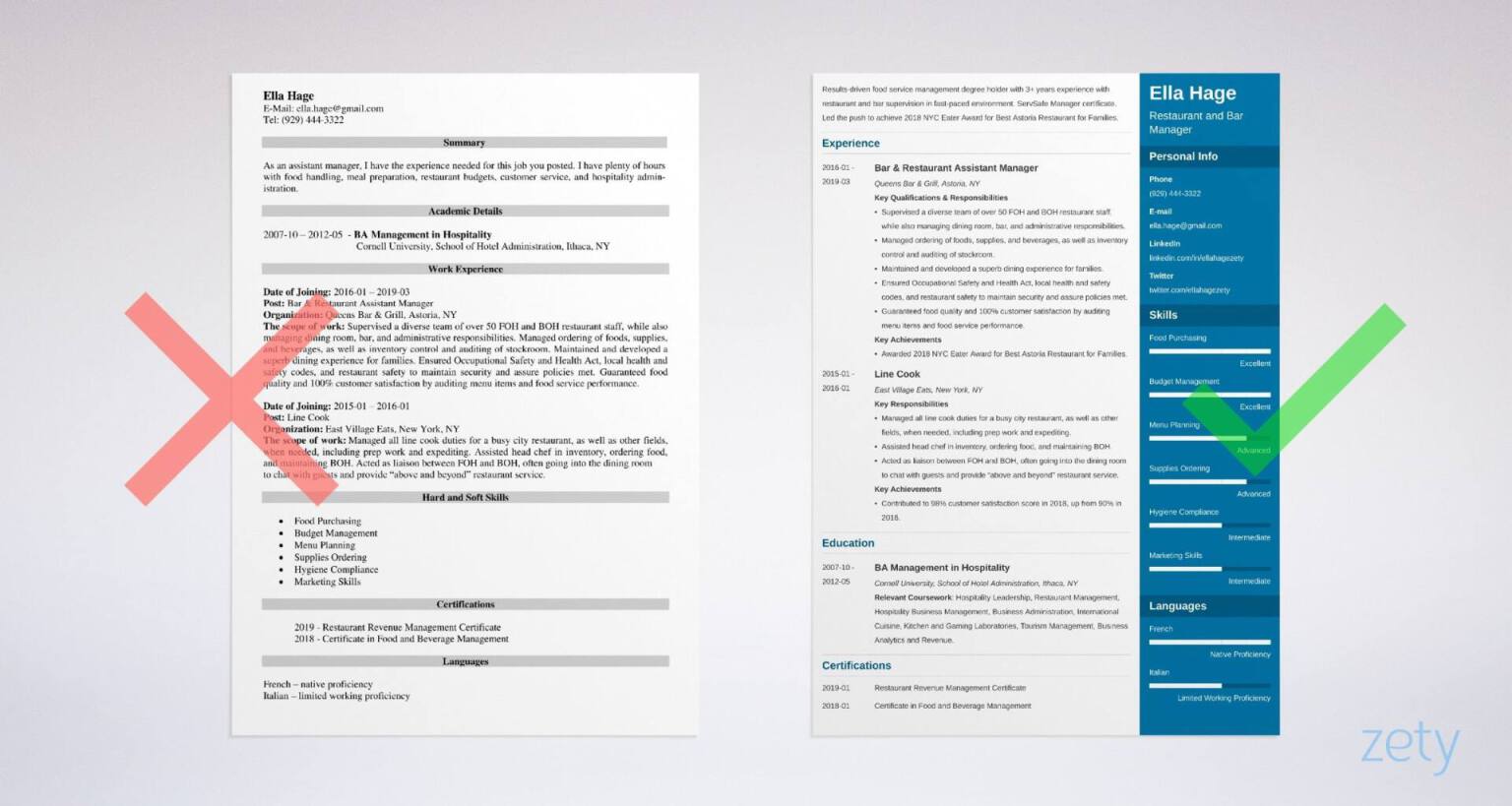 Sample resume made with our builder—See more resume samples here.
If you are targeting a managerial role in a bar, follow up with our Bar Manager Resume Guide. If you are transitioning to a managerial role, read more here:
1
What's the Best Format for a Restaurant Manager Resume?
Like any good food expediter, restaurant owners first scan each resume before accepting or rejecting it.
To make sure your restaurant management career doesn't end before it begins, format it for success.
First, choose the chronological resume format.
This format keeps your restaurant manager resume neat and in order like a divided lunch tray. Restaurant employers love this format for being familiar and easy to parse.
Here's how to assemble a restaurant management resume:
Start with a compelling restaurant manager resume objective or summary.
List past work experience, including management-related jobs and food service employment.
Talk up your academic achievements and any food or manager-related coursework.
Add your food service skills and management skills to win them over.
Include extra sections to stand out from the other restaurant applicants.
Garnish your resume by choosing the best fonts to keep your resume legible.
Make efficient use of white space and section headings to guide their eyes easily through the different resume sections.
Managed before but not in food service? Handled food but not in a managerial role?
Don't worry—
You still have just the right experience necessary for a restaurant manager resume.
Pro Tip: Save your fine dining or fast food manager resume in PDF format. The PDF format renders it correctly, like the perfect restaurant menu.
Not convinced using the chronological format is right for your restaurant general manager resumes? There are other options. See our guide: Best Resume Format: What Resume Model to Choose? [+ Examples]


2
Restaurant Manager Resume Objective or Summary?
Imagine operating one of those great murder mystery dinner theaters.
The heading statement is just like that—
It's got to be super compelling, or the reader, in this case, will simply leave.
At the top of your resume, start with a restaurant manager resume objective or summary.
These brief paragraphs are 3–4 lines long and give them a brief summation of your background, work history, achievements, and skills.
But which one to use?
Since restaurant managers need to have either management or food service experience to get this top role, use the resume summary.
Here're two restaurant manager resumes samples of summaries:
Restaurant Manager Resume Examples: Resume Summary
right
Results-driven food service management degree holder with 3+ years experience with restaurant and bar supervision in fast-paced environment. ServSafe Manager certificate. Led the push to achieve 2018 NYC Eater Award for Best Astoria Restaurant for Families.
wrong
As an assistant manager, I have the experience needed for this job you posted. I have plenty of hours with food handling, meal preparation, restaurant budgets, customer service, and hospitality administration.
They'll like the wrong one as much as they like a dine-and-dash customer.
You give several restaurant duties, but they have no clue how well you carried those tasks out.
The right example, however, gives a solid background and a crowning key achievement with numbers to back it up.
Resume temperature: well done!
Pro Tip: On any restaurant or bar manager resume, the objective or summary goes at the top. However, it's meant to "sum up" your resume, and it's hard to do that if you haven't written it yet. So, save writing it for the very end.
Want more advice on writing a career summary or career objective on a resume for restaurant work and food service jobs? Check out our guides: How to Write a Resume Summary: Professional Resume Summary Guide & 20+ Examples and General Resume Objective: Examples and Top Guide
When making a resume in our builder, drag & drop bullet points, skills, and auto-fill the boring stuff. Spell check? Check. Start building a professional resume template here for free.
When you're done, our easy resume builder will score your resume and our resume checker will tell you exactly how to make it better.
3
How to Describe Your Restaurant & Management Experience
Food service manager jobs in the US will grow by 9% between 2016–2026, according to the BLS.
That's almost 27,000 new managers to compete against—
You've got a lot of rivalry.
How to beat the other restaurant supervisor candidates?
Write a work experience section that is cooked to perfection.
Here are two sample restaurant manager resumes work history sections:
Restaurant Manager Job Description for Resume—Examples
right
Bar & Restaurant Assistant Manager
January 2016–March 2019
Queens Bar & Grill, Astoria, NY
Key Qualifications & Responsibilities
Supervised a diverse team of over 50 FOH and BOH restaurant staff, while also managing dining room, bar, and administrative responsibilities.
Managed ordering of food, supplies, and beverages, as well as inventory control and auditing of stockroom.
Maintained and developed a superb dining experience for families and couples.
Ensured Occupational Safety and Health Act, local health and safety codes, and restaurant safety to maintain security and assure policies are met.
Guaranteed food quality and 100% customer satisfaction by auditing menu items and food service performance.
Key Achievement
Awarded 2018 NYC Eater Award for Best Astoria Restaurant for Families.
wrong
Restaurant & Bar Assistant Manager
January 2016–March 2019
Queens Bar & Grill, Astoria, NY
Key Responsibilities
Managed waiters, waitresses, bartenders, and cooks.
Handled budget and inventory.
Talked to irate customers.
Like eating lobster without clarified butter, the wrong one is missing something important—
Perfectly-picked restaurant manager job responsibilities and quantifiable accomplishments, as the first one has.
But, what if you've worked in food service but not in a supervisory role?
No worries—
Here's how you play up the management skills from past food service jobs:
Restaurant Manager Resume—No Management Experience
right
Line Cook
January 2016–December 2018
East Village Eats, New York, NY
Key Qualifications & Responsibilities
Managed all line cook duties for a busy city restaurant, as well as other fields, when needed, including prep work, expediting, and acting head chef.
Assisted head chef in inventory, ordering food, and maintaining BOH equipment.
Acted as liaison between FOH and BOH, often going into the dining room to chat with guests and provide "above and beyond" restaurant service.
Key Achievement
Contributed to 98% customer satisfaction score in 2018, up from 90% in 2016.
See that?
You don't have management experience as a job title, but you do list manager-related responsibilities.
And—
What if the reverse is true? Got management experience but not in food service?
No worries here, either.
Simply list your managerial role in a way that's most relevant to food service work.
That's how you 86 the other candidates and get the job!
Pro Tip: Did you complete a food service internship or work in your culinary school's student restaurant? Add those to your work history section, as well.
4
Is Your Education Section Underperforming? It Might Be
Hiring managers are like a picky back-of-house employee taking inventory of the walk-in freezer.
Don't be audited out of the running.
Whether it's a fast food resume or slow food resume, your education section has to be up to speed.
Here's how to list education on resumes for restaurant manager:
Restaurants Manager Resume Samples—Education Section
BA Management in Hospitality
Cornell University, School of Hotel Administration, Ithaca, NY
Relevant Coursework: Hospitality Leadership, Restaurant Management, Hospitality Business Management, Business Administration, International Cuisine, Kitchen and Gaming Laboratories, Tourism Management, Business Analytics and Revenue.
What if you're still working on your university degree?
Add an unfinished college degree like this:
Majoring in Food Service Management
CUNY LaGuardia Community College , Long Island City, NY
Expected Graduation: 2021
Relevant Coursework: Foodservice Management, Dining Management, Meeting and Events Planning, Foodservice Administration, Culinary Arts, Quantity Food Purchasing, Food and Culture, Travel, Tourism & Hospitality Marketing, Principles of Accounting.
Only have high school?
Most food service management jobs don't require more than a high school diploma, but check the job ad for the educational requirements.
If putting high school on your resume, add it like this:
Flushing International High School, Flushing, NY
Graduated: 2016
Don't add high school if you have a completed uni degree. Otherwise, add it as a second entry (or the sole entry).
Pro Tip: Is your education more relevant than your work history? If you have culinary school under your belt, say, put that education section over your work history.
Took a less-common educational path to get where you are? Check this guide out: Education Resume Section: How to List High School & College Education
5
How to Put Skills on a Restaurant General Manager Resume
You've got so many skills they'd overflow from the largest stock pot.
However—
All your competitor restaurant manager candidates do, too.
Show the employer the rest are store-bought ice cream while you're a perfectly-executed, handmade Baked Alaska by listing the right skills.
But which restaurant and management skills?
First, make a basic list of both hard and soft skills related to food service management.
Hard skills are those you learn and develop (e.g., event planning, line cooking), and soft skills are those you develop throughout life (e.g., social skills, empathy).
Effective Restaurant Manager Skills Resume Section
Here are the top skills needed for restaurant managers:
Attention to Detail
Works Well Under Pressure
Accountability
Those are great skills for restaurant manager resumes.
However, they're just soft skills.
Complement them with some hard skills and food specialties to really win them over:
Restaurant Manager Skills

| | |
| --- | --- |
| Hard Skills | Food Specialties |
| Food Purchasing | Italian Cuisine |
| Budget Management | French Cuisine |
| Menu Planning | Burgers and Fast Food |
| Event Planning | Fine Dining |
| Catering | Molecular Gastronomy |
| Supplies Ordering | Beer, Wine, Liquor |
| Health & Safety | Seafood |
| Hygiene Compliance | Haute Cuisine |
| | Vegan & Vegetarian |
| Restaurant Operations | Nouvelle Cuisine |
| Bar Management | Fusion Cuisine |
| Wine Pairing | Table d'hôte |
But, don't just copy these skills and paste them into your restaurant or bar manager resume.
It's like serving a dish without taste-testing it first—
Not ready for their consumption.
Instead, use the job description to guide you through which skills this particular restaurant values most.
Here's an example restaurant manager job description from a job posting:
Ensure that all restaurant policies, procedures, standards, specifications, guidelines, and training programs are followed and completed on a timely basis. [1]
Monitor compliance with health and fire regulations regarding food preparation and serving and building maintenance.
Achieve company objectives in sales, service, quality, appearance of facility, sanitation, and cleanliness through training of employees and creating a positive, productive working environment. [2]
Monitor food preparation methods, portion sizes, garnishing, and presentation of food to ensure that food is prepared and presented in an acceptable manner.
Ensure compliance with all federal, state, county and municipal regulations that pertain to health, safety and labor requirements of the restaurant, employees, and guests. [3]
Based on this job description, there's a right way and a wrong way to add your management and restaurant skills to your resume:
Restaurants Manager Resume Example—Skills Section
right
Skilled with following restaurant guidelines and procedures [1]
Effective at achieving sales and service objectives [2]
Competent with state and municipal food regulations [3]
wrong
Deep fryers.
Sunday brunch.
Greek cuisine.
Those wrong skills are like using a ladle to whisk egg whites—
No match for the job.
The right ones, though, fit like a perfectly-sized chef jacket. It's tailored to match just what the restaurant owner is searching for.
Last but not least, remember the ATS.
Larger restaurant chains receive hundreds of job applications each day. The applicant tracking system software helps them manage them efficiently.
An HR manager scans restaurant manager resumes into the ATS. They next give it specific ATS keywords to look for. They receive a score back based on each candidate's match for the job.
No match, and they'll be like a colander and filter you out!
Pro Tip: On a fine dining or fast food manager resume, hard skills and specialties will be valued more than soft skills, so go heavier on those.
Want more tips for writing the skills section for restaurant assistant manager resumes or manager resumes? See our guide: 99 Key Skills for a Resume (All Types of Professional Skills with Examples Included!).
6
How to Add Other Sections for an Effective Restaurant General Manager Resume
You've got the base for a standard chicken noodle soup.
How do you get it to win a culinary award?
You'll spice it up to set it apart from the rest, and that's similar to your restaurant management resume.
Everyone has those stock resume areas, so make yours unique by tweaking the flavor with extra resume sections.
Here are the best ideas for restaurant manager resumes:
Restaurant Manager Resume Sample: Extra Sections
Restaurant owners and chain district managers love food and management certificates even more than most college diplomas
Here are several great food service certificates to add to your resume:
Volunteered as a supervisor of the local food kitchen? You are a saint, and it also goes well on a restaurant managers resume!
Don't add anything not relevant to management or food handling.
Got some French under your belt and applying to manage a French bistro? It'll definitely increase your chances of landing that job!
We've got great guides on the best things to add to a resume and which resume sections and categories to include. Check them out!
Pro Tip: These are just a few restaurant manager sample resume extra sections. Other great options include licenses, awards, hobbies and interests, and memberships.
7
How About a Restaurant Manager Cover Letter?
A resume without a cover letter is like Russian cuisine without dill—
Just not right.
More than half of employers say a resume alone isn't enough.
So, always attach a cover letter.
Here's how to write a cover letter for restaurant managers they'll eat up:
Open with a compelling cover letter intro statement to whet their appetite.
Show them your food or leadership background make you perfect for this job.
Give a few concrete achievements with numbers to back up your claims.
Explain why this particular restaurant and supervisor position are ideal for you.
End your cover letter with a powerful call-to-action and offer.
Remember: a great restaurant manager cover letter is like a meal at a Michelin-starred restaurant—
They'll be hungry to come back for more!
Pro Tip: Use Grammarly and proofread your restaurant resume before you send it off. Get a friend or family member to check for consistency and if it makes sense. Keep in mind—there's a lot riding on this!
Want more cover letter tricks that always work? See these articles: 35+ Best Cover Letter Tips, Advice & Guidelines and How to Write a Job-Winning Cover Letter in 8 Simple Steps (12+ Examples)
Plus, a great cover letter that matches your resume will give you an advantage over other candidates. You can write it in our cover letter builder here. Here's what it may look like: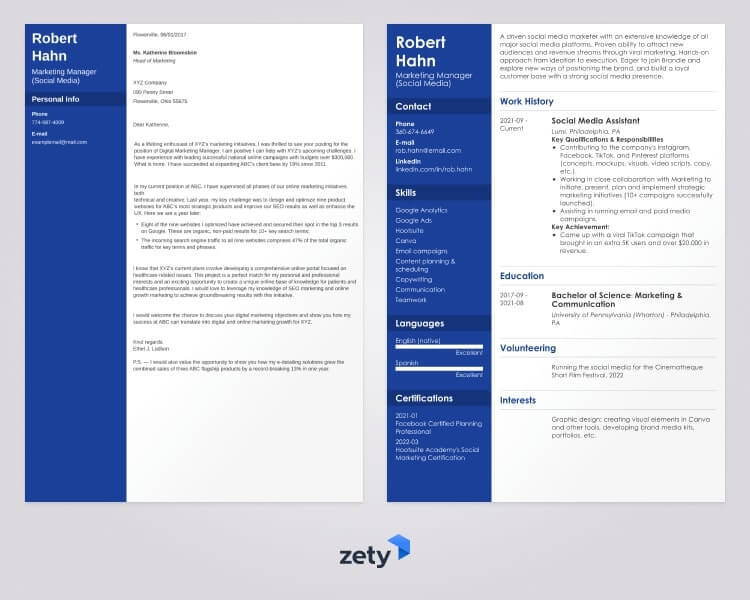 See more cover letter templates and start writing.
Key Takeaway
So, now you have a restaurant GM resume that's fresh as your veggies and ready to serve.
Let's sum it all up.
Here's how to write a restaurant manager resume:
Use a great restaurant resume template and the chronological format.
Start with a compelling bar or food service manager resume summary.
List your work experience with the appropriate restaurant manager duties.
Add an education section highlights relevant food management coursework.
Include restaurant resume skills using tailored keywords from the job ad.
Spice it up with extra sections, such as languages and food certifications.
Attach a restaurant or bar cover letter before you send your resume off.
Now THAT'S a resume hot as an oven and seasoned just right!
Got questions on how to write a restaurant GM resume? Not sure how to talk about bartending skills or food service experience? Need more restaurant assistant manager resume samples? Get at us in the comments below, and thanks for reading!
About Zety's Editorial Process
This article has been reviewed by our editorial team to make sure it follows Zety's editorial guidelines. We're committed to sharing our expertise and giving you trustworthy career advice tailored to your needs. High-quality content is what brings over 40 million readers to our site every year. But we don't stop there. Our team conducts original research to understand the job market better, and we pride ourselves on being quoted by top universities and prime media outlets from around the world.
Sources