Restaurant Manager Cover Letter Samples [+20 Tips]
Ready to take the helm of a restaurant, diner, or other eating establishment? Prove it to the restaurant owner or managing partners by handing them a perfect cover letter.
From the chefs in the kitchen to the servers on the dining room floor to the mixologists behind the bar. You can manage it all.
But now you're looking for a fresh job and must cook up a restaurant manager cover letter. Time to whet the recruiter's appetite by turning in the perfect cover letter for restaurant manager jobs.
This quick guide will give you a sample restaurant manager cover letter, as well as the best tips on how to write a cover letter for restaurant management jobs.
Want to write your cover letter fast? Use our cover letter builder. Choose from 20+ professional cover letter templates that match your resume. See actionable examples and get expert tips along the way.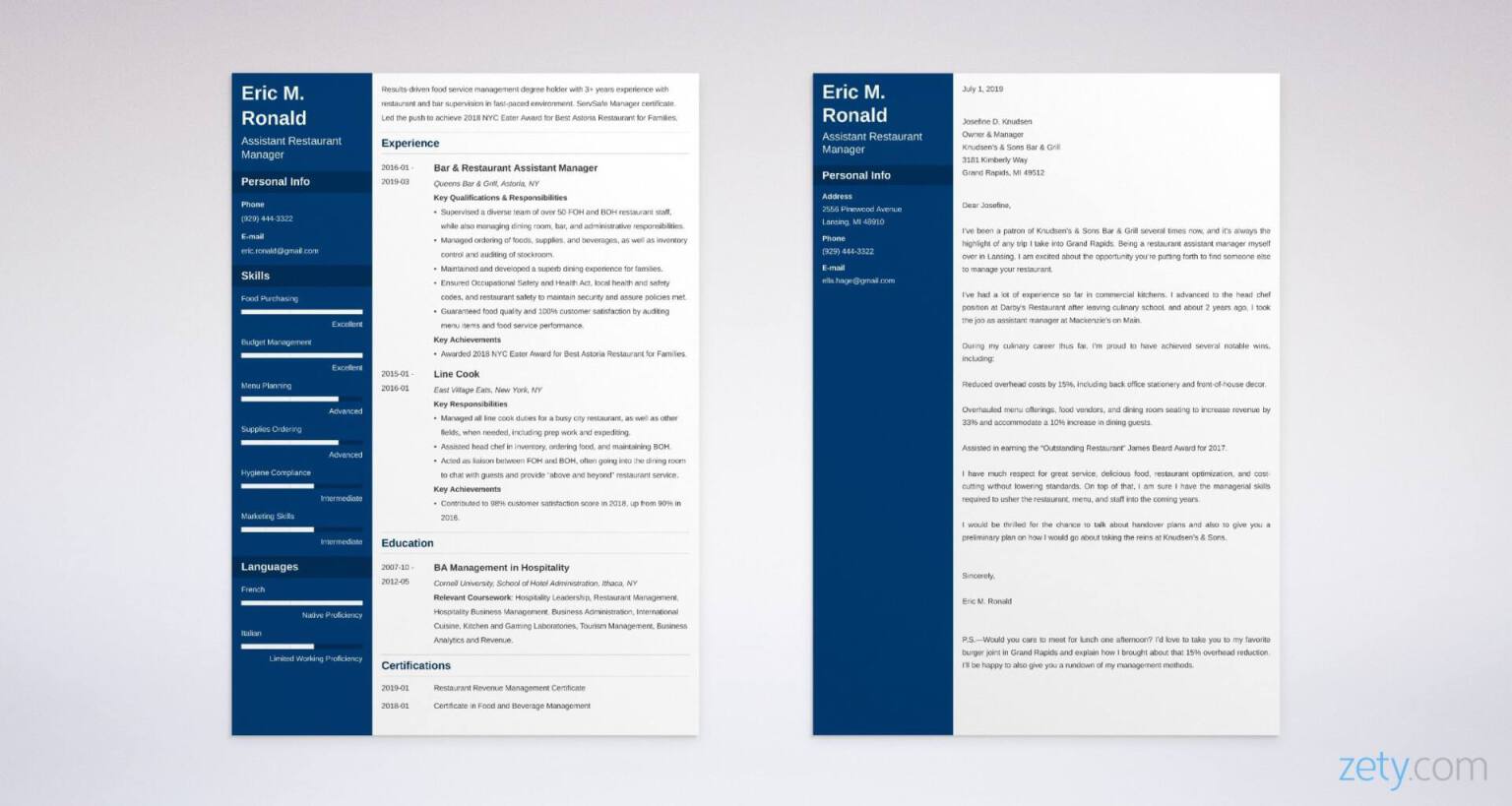 Restaurant Manager Cover Letter for a Resume—See more cover letter examples and create your cover letter here.
Considering similar positions too? See other cover letter examples for jobs in your industry:
Want to explore your options further? See our full selection of cover letter examples for every career: Best Cover Letter Examples for All Professions
Let's see what a great cover letter looks like.
This is our rendition of the best restaurant manager cover letter example:
Restaurant Manager Cover Letter Sample
Eric M. Ronald
Assistant Restaurant Manager
2556 Pinewood Avenue
Lansing, MI 48910

July 1, 2019

Josefine D. Knudsen
Owner & Manager
Knudsen's & Sons Bar & Grill
3181 Kimberly Way
Grand Rapids, MI 49512


Dear Josefine,

I've been a patron of Knudsen's & Sons Bar & Grill several times now, and it's always the highlight of any trip I take into Grand Rapids. Being a restaurant assistant manager myself over in Lansing, I am excited about the opportunity you're putting forth to find someone else to manage your restaurant.
I've had a lot of experience so far in commercial kitchens. I advanced to the head chef position at Darby's Restaurant after leaving culinary school, and about 2 years ago, I took the job as assistant manager at Mackenzie's on Main. During my culinary career thus far, I'm proud to have achieved several notable wins, including:
Reduced overhead costs by 15%, including back office stationery and front-of-house decor.
Overhauled menu offerings, food vendors, and dining room seating to increase revenue by 33% and accommodate a 10% increase in dining guests.
Assisted in earning the "Outstanding Restaurant" James Beard Award for 2017.
I have much respect for great service, delicious food, restaurant optimization, and cost-cutting without lowering standards. On top of that, I am sure I have the managerial skills required to usher the restaurant, menu, and staff into the coming years.
I would be thrilled for the chance to talk about handover plans and also to give you a preliminary plan on how I would go about taking the reins at Knudsen's & Sons.
Sincerely,

Eric M. Ronald
P.S.—Would you care to meet for lunch one afternoon? I'd love to take you to my favorite burger joint in Grand Rapids and explain how I brought about that 15% overhead reduction. I'll be happy to also give you a rundown of my management methods.
That was our take on the ideal cover letter for management jobs at a restaurant.
Now, just continue scrolling down for tasty tips on how to write yours.
However—
Keep in mind that, like mashed potatoes without gravy, an awesome cover letter is useless if it's not attached to a great restaurant manager resume. Check our guide to check yours before sending it off: Restaurant Manager Resume Sample and Writing Guide
Also, take a look at these management-related cover letter examples:
Want to explore your options further? See our full selection of cover letter examples for every career: Best Cover Letter Examples
.
Restaurant Manager Cover Letter Template
Here's how to make a restaurant general manager cover letter:
1. Use the Proper Format on a Restaurant Manager Cover Letter
Stick with the default 1" margin all around your cover letter restaurant manager template.
Use 1.00–1.15 line spacing. Don't double-space just to fill up your cover letter.
Choose an appropriate font for your restaurant manager resume cover letter, using 11pt or 12pt font size.
Align all your text to the left, including each address (yours and theirs) at the top. Don't use the justified alignment, as it just looks terrible.
Read more: How to Pick the Best Cover Letter Format
2. Create a Professional Restaurant Manager Cover Letter Header
Even at a restaurant, the cover letter is a formal document. So, use formal or business letter format when writing.
In the top left corner of your cover letter for restaurant manager jobs, add your full name and mailing address.
Leave a space, then add the date of writing, followed by another space.
Finally, their info. Include first the owner's name or the name of the district manager. Next, add their title, then the restaurant's name, and, lastly, the establishment's address.
Read more: How to Write an Address on a Cover Letter
3. Start With a Greeting and a Captivating Intro Paragraph
In your greeting (salutation), use a standard wording choice, such as "dear."
Address the restaurant owner or district manager by name (never say "dear sir or ma'am," because they hate universal cover letters like they hate returned dishes).
In your opening paragraph, introduce yourself briefly, and state exactly the position (the management of the restaurant) you're applying for. Don't make them guess.
Read more: How to Start Cover Letters the Right Way (Examples)
4. Show Them You're the Right Choice for This Restaurant Manager Job
Go back to the internet job posting or newspaper clipping and find the original job requirements. That is the exact recipe for their ideal hire.
Detail how you meet and exceed all their expectations.
Talk up your restaurant skills and supervisory expertise, and use quantifiable achievements ("increased dinner guests by 15%") to prove it all.
Don't make it too lengthy (or too short): How Long is the Perfect Cover Letter?
5. Explain Why You Want to Work for This Particular Restaurant
You've told them why you are the best manager for their restaurant. Now, show them why this restaurant is the perfect place for you.
Write using enthusiasm for this exact restaurant management opportunity.
Don't think you have enough experience to be their top choice? Consider earning an online certificate, such as this one from Cornell in strategic restaurant revenue management.
6. Make The Restaurant Owner an Offer They Can't Refuse
Bring it all to a close in one or two short sentences.
Reiterate your interest in the job, and highlight your value proposition.
Whip up a mouthwatering call to action before ending the restaurant manager application letter.
Read more: How to Close Out a Cover Letter (10+ Examples)
7. End the Cover Letter for Restaurant Managers With a Professional Sign-Off
In the complimentary closing, use a standard farewell, such as "sincerely."
Leave a line break, then follow it with your full name.
If you want to hand sign it (such as if you want to print it out), leave extra spacing between the farewell and your name.
To give your cover letter an extra kick, consider adding a postscript below your signature.
Read next about how to follow up after sending your restaurant manager resume and cover letter: How to Follow Up on an Employment Application
When making a resume in our builder, drag & drop bullet points, skills, and auto-fill the boring stuff. Spell check? Check. Start building a professional resume template here for free.
When you're done, our easy resume builder will score your resume and our resume checker will tell you exactly how to make it better.
Got any questions about our cover letter sample for restaurant manager jobs? Need assistance humblebragging about your past culinary skills and leadership abilities? Let's discuss it all down there in the comments, and thanks for reading!
About Zety's Editorial Process
This article has been reviewed by our editorial team to make sure it follows Zety's editorial guidelines. We're committed to sharing our expertise and giving you trustworthy career advice tailored to your needs. High-quality content is what brings over 40 million readers to our site every year. But we don't stop there. Our team conducts original research to understand the job market better, and we pride ourselves on being quoted by top universities and prime media outlets from around the world.