Restaurant Cover Letter: Examples & Writing Guide
You've seen everything—from busloads 5 minutes before closing to orders for well-done filet mignon. Prove your food service skills with a critic-pleasing restaurant cover letter.
Your restaurant cover letter has to satisfy like cajun ribeye. It's the appetizer for your resume, so if it doesn't whet their appetite, you won't get interviewed. Use your cover letter for restaurant jobs to show your resume is worth their time. Sound tough? Not if you follow this quick advice.
This guide will show you a restaurant cover letter sample and the best tips on how to write a cover letter for restaurant jobs step-by-step.
Want to write your cover letter fast? Use our cover letter builder. Choose from 20+ professional cover letter templates that match your resume. See actionable examples and get expert tips along the way.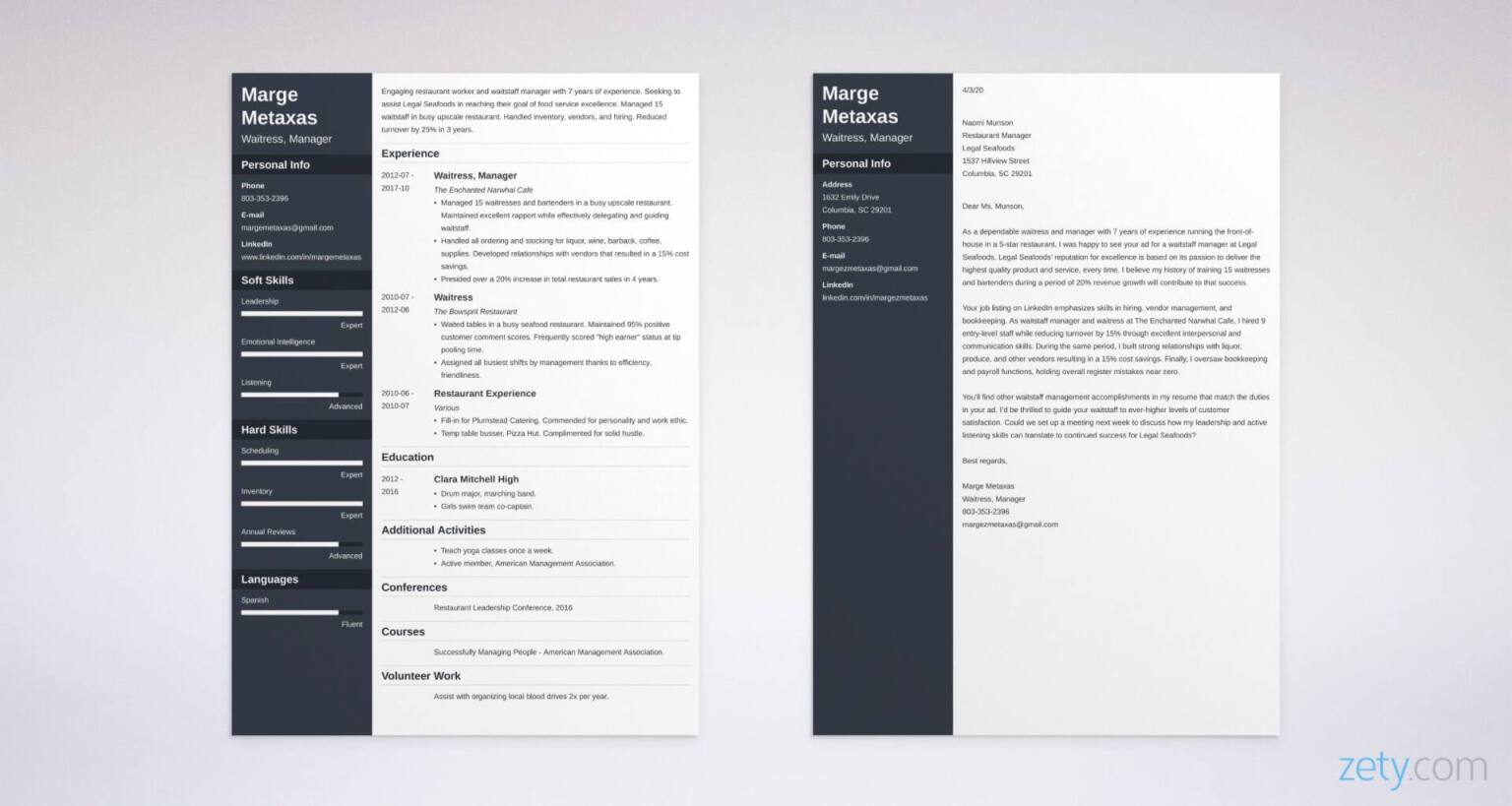 Restaurant Cover Letter for a Resume—See more cover letter examples and create your cover letter here.
Restaurant Cover Letter Sample
Marge Metaxas
Waitress, Manager
1632 Emily Drive
Columbia, SC 29201
803-353-2396
margezmetaxas@gmail.com
linkedin.com/in/margezmetaxas
4/3/20
Naomi Munson
Restaurant Manager
Legal Seafoods
1537 Hillview Street
Columbia, SC 29201
Dear Ms. Munson,
As a dependable waitress and manager with 7 years of experience running the front-of-house in a 5-star restaurant, I was happy to see your ad for a waitstaff manager at Legal Seafoods. Legal Seafoods' reputation for excellence is based on its passion to deliver the highest quality product and service, every time. I believe my history of training 15 waitresses and bartenders during a period of 20% revenue growth will contribute to that success.
Your job listing on LinkedIn emphasizes skills in hiring, vendor management, and bookkeeping. As waitstaff manager and waitress at The Enchanted Narwhal Cafe, I hired 9 entry-level staff while reducing turnover by 15% through excellent interpersonal and communication skills. During the same period, I built strong relationships with liquor, produce, and other vendors resulting in a 15% cost savings. Finally, I oversaw bookkeeping and payroll functions, holding overall register mistakes near zero.
You'll find other waitstaff management accomplishments in my resume that match the duties in your ad. I'd be thrilled to guide your waitstaff to ever-higher levels of customer satisfaction. Could we set up a meeting next week to discuss how my leadership and active listening skills can translate to continued success for Legal Seafoods?
Best regards,
Marge Metaxas
Waitress, Manager
803-353-2396
margezmetaxas@gmail.com
That's a satisfying restaurant cover letter sample.
Careers do not live on cover letters for restaurant jobs alone. See our guide: Restaurant Resume Sample
Looking for particular restaurant jobs? See these guides:
Restaurant Cover Letter Template
Here's how to write a cover letter for a restaurant job application:
1. Choose a professional cover letter format and layout
Margins: 1 inch on each edge.
Paragraphs: 3.
Line spacing: 1.15.
Cover letter font: professional fonts only (Garamond, Book Antiqua, Cambria, Noto).
Read more: Cover Letter Format
2. Create a presentable restaurant cover letter header
Address your cover letter in the top left.
Start with your name, job title, and street address.
Add your phone number, email address, and LinkedIn.
Make your resume header identical to your cover letter header.
Read more: How and to Whom Should I Address a Cover Letter?
3. Start with a personal greeting and a big restaurant achievement
Begin with "Dear [Restaurant Manager Name]," forget "To Whom It May Concern" cover letters.
Identify the job you're applying for.
Add a Zagat-worthy restaurant accomplishment to get them reading.
Read more: How to Start a Cover Letter
4. Show you understand the restaurant's needs
Mention 2–3 key restaurant job duties from the online ad.
Share your successes at performing those duties.
Don't make your letter a carbon-copy of your resume. Just give them a taste.
Do you need a restaurant cover letter? See our guide: Do I Need a Cover Letter? Are Cover Letters Necessary?
5. Prove you're interested in this restaurant job
In at least one of your paragraphs, say something that attracts you to the restaurant.
Can't find anything? Check their mission statement on their website.
You can also search restaurant reviews or press releases.
The U.S. Bureau of Labor Statistics points to 2.6 million server jobs in the U.S., growing by 17K a year. It's a growth industry, but the best jobs need Ruth's Chris Steakhouse-level letters.
6. End your restaurant cover letter with an offer
Direct the manager to more goodies in your resume.
Remind them that this restaurant is important to you.
Ask for the interview.
Promise an appetizing discussion.
Read more:The Best Cover Letter Closings
7. Include a formal sign-off at the end
End with, "Best regards,"
Add a digital version of your signature.
Restate your name, title, phone number, and email address.
Don't skip the follow-up. A brief email or phone call the next week can put your application back on the menu at the right time. Learn more: Job Application Follow-Up Email Templates
When making a resume in our builder, drag & drop bullet points, skills, and auto-fill the boring stuff. Spell check? Check. Start building a professional resume template here for free.
When you're done, our easy resume builder will score your resume and our resume checker will tell you exactly how to make it better.
Questions? Concerns? We're here for you. If you're still unsure how to write a Cheesecake-Factory-worthy cover letter for restaurant jobs, drop me a line in the comments.
About Zety's Editorial Process
This article has been reviewed by our editorial team to make sure it follows Zety's editorial guidelines. We're committed to sharing our expertise and giving you trustworthy career advice tailored to your needs. High-quality content is what brings over 40 million readers to our site every year. But we don't stop there. Our team conducts original research to understand the job market better, and we pride ourselves on being quoted by top universities and prime media outlets from around the world.
Sources