Barista Cover Letter Sample (Also With No Experience)
Coffee is the most important meal of the day for you. And billions of other people. Write a barista cover letter, and don't let fellow procaffeinators yawn ever again.
So you're Thor, and you like that drink?
Fantastic.
How about making it and people's work lives a bit more tolerable? Unless you're Rachel, you should do just fine.
Prove to the café manager that you can do better than just fine with your barista cover letter.
This guide will show you a cover letter for a barista position and the best tips on how to write a cover letter for a barista job with no experience step-by-step.
Want to write your cover letter fast? Use our cover letter builder. Choose from 20+ professional cover letter templates that match your resume. See actionable examples and get expert tips along the way.
Sample cover letter for a resume—See more cover letter templates and create your cover letter here.
Check out our other guides:
Barista Cover Letter Sample
William Kirkland
Barista
920-218-2406
bill.b.kirkland@email.com
linkedin.com/in/billbarrykirkland
Sheboygan Falls, 10 June 2019
Shawn Vernon
Manager
Grand Cafe
3465 Johnny Lane
Sheboygan Falls, WI 53219
Dear Shawn,
Fall is my favorite season. And it's not because of the nostalgic weather or the colors on the streets. I'm waiting an entire year to finally put my hands on your spiced latte that you serve only then. There's something to it that brings my friends and me together.
I've been growing my barista skills in busy chain cafés for 2+ years now. I'm also currently working towards a Culinary Arts degree at Wisconsin Culinary College, where Hospitality, Customer Service, and Beverage Operations Management are part of the coursework. A year ago, I received my Barista Guild Certification Level 2 from the Barista Guild of America.
Indeed, the certification is an achievement, but so is a year as a Barista & Cafe Server at Costa Coffee with a 99.3% CSAT based on receipt surveys. One of the customers called me out in their review, saying it'd been the fastest and best coffee they'd ever drunk. Ultimately, it made him stay in the coffee shop to work from there instead of the office that day. He loved the atmosphere and the friendliness of the staff he met. Jeff has his dedicated table at the café now.
I was thrilled to see a posting for a barista job at Grand Cafe because I've been your customer for as long I can only remember. It feels like home to me, and I'm not the only one who thinks that way. Knowing what my friends and family say about the place and looking at the reviews online, I'm positive it's the place you want to come back to each day.
Let's arrange a meeting or call to discuss my barista and customer service skills that you and Grand Cafe's clients will surely benefit from.
With kind regards,
Bill Kirkland
Barista Cover Letter Template
Here's how to write a cover letter for a barista job:
1. Choose a Clean Cover Letter Format
Choosing the best beans sets the grounds for the entire brewing process.
Start your barista cover letter from the beginning, too:
Get to the ins and outs of Cover Letter Layout And Formatting
2. Address the Barista Cover Letter to the Hiring Manager
So, you've seen managers brew coffee, take out the trash, check the inventory, hold job interviews, do all sorts of things. But—
Have you seen them write job ads? Nah, not really.
It doesn't mean that a pixie wrote it, though. You should address your cover letter to the hiring manager.
Find the hiring manager's name in the job posting, LinkedIn, or company website.
If you weren't successful, call the place or ask around. Your friends probably know them.
Use their name in the formal address and cover letter salutation.
Add the date of writing.
Make an immediate impression with a Professional Cover Letter Template
3. Find the Best Way to Open Your Cover Letter
"The usual?"
Before you thought about saying "Hi!," the barista's already making your favorite cappuccino on a double espresso with a pinch of cinnamon on top.
Make an impression in the opening, so your recruiter remembers you like that barista remembers your go-to drink.
Generic is bad. Personalization is key.
Build your opening on professional achievements and relevant skillset. Drop a few abilities that make you perfect for the job.
Show you're enthusiastic about the opportunity. Say it with a reason why you love the company.
Become a master of Crafting The Best Start To Your Cover Letter
4. Include Your Barista Experience and Skills
"Coffee for Karen, please!"
The air thickened. Sweat started dripping down your forehead. You thought she wouldn't notice, but—
Here she comes.
How foolish of you to add only 3 pumps to her iced, venti, ristretto, 4-pump, sugar-free, extra-whip soy latte…
Everything you need to know about Writing A Cover Letter
5. Show Your Excitement to Join the Baristas Crew
An award for the friendliest person behind the counter goes to—
You, of course.
Don't hold back and let your motivation speak for itself.
In the last but one paragraph, shift focus and say why you see yourself working at that particular place.
Refer to values and personality traits an employer wants to see in their baristas.
You can also comment on a recent event that particularly sparked your interest.
See What To Include & Where In Your Cover Letter
6. Make a Final Offer and Sign the Deal
And now's the time for some latte art—
Ask for the interview yourself. Don't wait up and look forward to hearing from the employer.
Reinforce your confidence in being an asset to the company.
Close the cover letter with a Thank You, Best regards, or Kind regards followed by your full name.
Successful Ideas To End A Cover Letter
When making a resume in our builder, drag & drop bullet points, skills, and auto-fill the boring stuff. Spell check? Check. Start building a professional resume template here for free.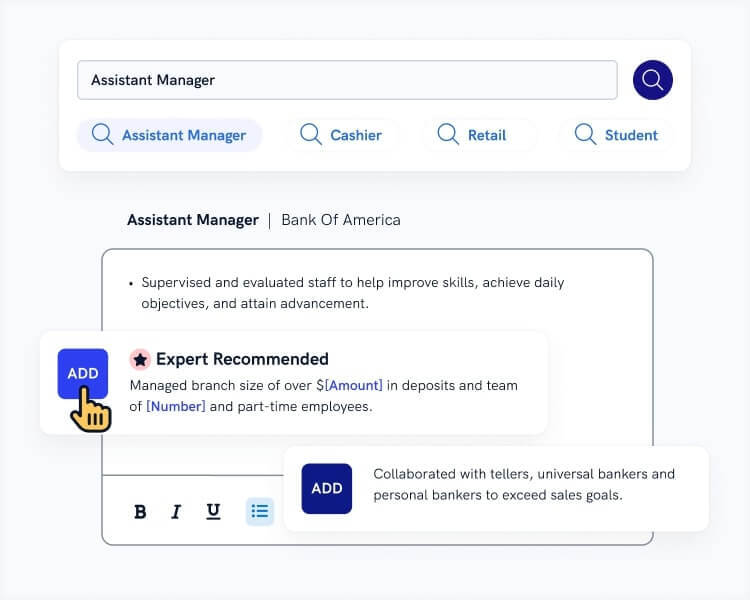 When you're done, Zety's resume builder will score your resume and our resume checker will tell you exactly how to make it better.
Let's call it a day.
Send your barista cover letter and keep your phone nearby.
And thank you for reading!
What do you think of this barista cover letter sample? Would you like to read more about cover letters for baristas with no experience? How about Starbucks barista cover letter applications?
Let us know in the comments!
About Zety's Editorial Process
This article has been reviewed by our editorial team to make sure it follows Zety's editorial guidelines. We're committed to sharing our expertise and giving you trustworthy career advice tailored to your needs. High-quality content is what brings over 40 million readers to our site every year. But we don't stop there. Our team conducts original research to understand the job market better, and we pride ourselves on being quoted by top universities and prime media outlets from around the world.